James Hardie Siding in Victoria
James Hardie siding (also goes by the name of fiber cement siding or Hardie), was created over a century ago. The main components of this siding are fiber cement, cellulose, sand, and water. This special formula makes James Hardie one of the most durable siding option in the market. It can withstand harsh weather, sun exposure, heavy rain, and even storms.
The main ingredient of James Hardie is indeed fiber cement which can give the exterior both a natural and man-made look.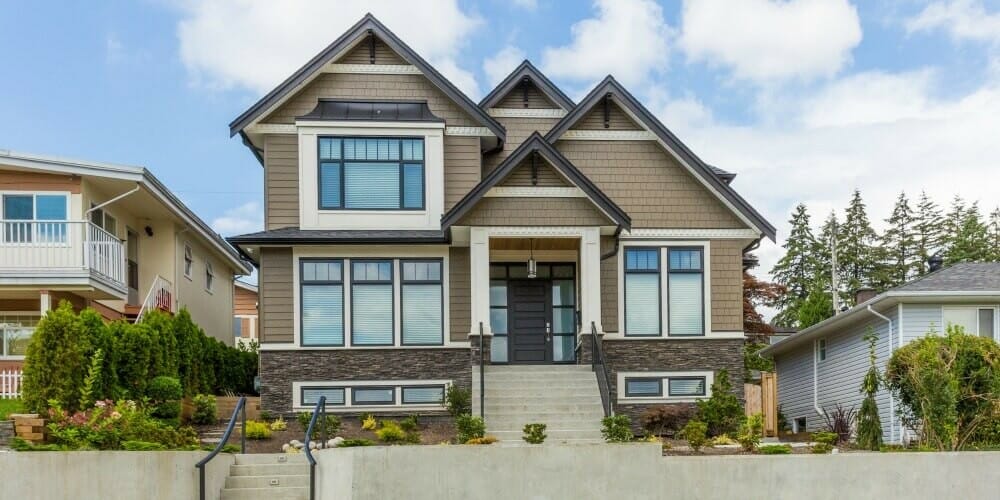 Over 5.5 million homes in the United States alone and thousands here in Canada now have this premium siding, a growing testament to the dedication to producing one of the world's most beautiful and durable siding products.
Why Consider James Hardie?
There are several main reasons why you need to consider James Hardie siding for your house:
Eco Friendly. James Hardie does not contain any toxic material that can cause any environmental issues. The siding is composed of the material that is biodegradable and recyclable. So, even when you dump the old fiber cement siding after 50 years it will be repurposed. This reason alone makes users satisfied with their choice.
Weather Resistant. No matter how hot the summer is, fiber cement will not crack or deform. James Hardie siding does no expand or contract when humidity fluctuates. It can endure very low temperatures. This weather resistance property makes James Hardie the finest match for houses in Victoria.
UV Rays and Fire Protection. Victoria is one of those cities that are top on the UV rays index, which makes James Hardie siding a good option. The fiber cement siding can bear the high UV rays and protect the house from its damage.
Soundproofing. Even though Victoria is not as huge as other cities, it can be pretty noisy sometimes. Many house owners get soundproofing material installed in their houses for optimum comfort. Soundproofing one room can cost around $500 so you can estimate your whole house. Meanwhile, if you are using James Hardie you might not need additional soundproofing.
Insulation Properties. Several months of winter is not easy to spend in a cold house. This is why many of the Canadians insulate their houses. So, what is the actual benefit of this insulation feature? Well, it means your heating and cooling bill will be much cheaper than usual. But you can save that bill by using James Hardie.
Low Maintenance. Because of its composition, fiber cement siding does not need extra protection from moisture. That saves money on water-resistant treatment. But in addition to that, James Hardie is very good in terms of resisting bacteria spreading or pest infestation. And cleaning this siding is a quicker task because unlike other sidings James Hardie is strong, which makes it possible for the user to use a power washer.
Longer Lifespan. James Hardie is durable – the cellulose and fiber cement composition gives James Hardie a longer life expectancy. The average lifespan of fiber cement siding is 50 years. But it also depends on other factors such as maintenance and proper installation.
On the price scale, James Hardie costs more than vinyl and almost the same as wood. So, if you want to cover one square foot of wall with fiber cement it will cost around $8 to $11 for material and labour together.
But this price is reasonable because of the longer life expectancy and ease of maintenance of this type of siding. This siding when installed correctly can preserve the exterior of your home for 50 years or even more.
JH Styling Options
There are 3 main options available – planks, panels and shingles:
Planks – This is the basic but the classiest siding style in the industry. If you do not know what style will suit your aesthetic, get planks. James Hardie comes offer planks with the thickness of 5/16". But there are 6 different width sizes available. You can get James Hardie planks in these sizes: 5.25", 6.25", 7.25", 8.25", 9.25", and 12".
Panels – If you want to get a cozy board and batten look or achieve a modern contemporary style, panels would be a great choice. They can be installed vertically or horizontally. The thickness of panels is the same as planks; 5/16". But it comes in 3 different sizes: 4×8 ft., 4×9 ft., 4×10 ft.
Shingles – Shingles is a popular cedar siding option but James Hardie is also offering the same siding style.  On top of that these shingles are available in both straight-edge and natural- or staggered-edge pieces. The width options are 4.2", 5.5", 6.75", 7.25" and 10". For a larger area, you can also get 48" long and 16" high shingle panels.
JH Colour Options
Our company is offering a wide range of colour options for James Hardie. There are 700 colour options available if you choose a primed version of the siding, or, alternatively, you could choose a pre-painted option from their factory and save some money on painting. Due to the ColorPlus technology, the paint will last longer and will not fade away for decades. The manufacturer's paint/coating warranty is 15-years.
Here is the colour palette of what we usually carry in stock in Victoria, BC: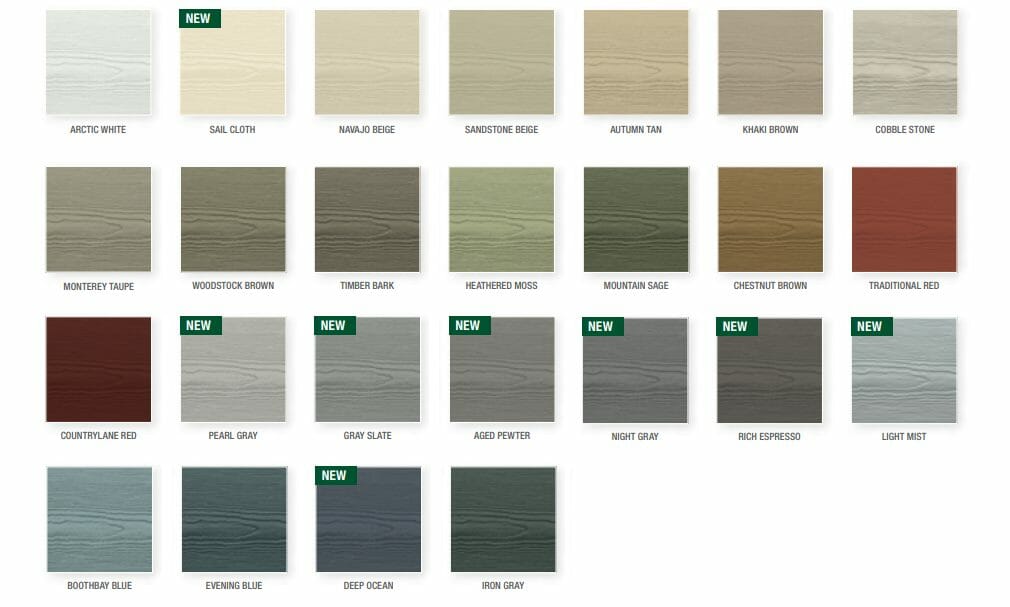 James Hardie Siding Installation
Installing James Hardie is a tricky and complex process that involves many steps. The main reason why the installation is difficult for newbies is the weight of the siding. Unlike professionals, house owners do not own the right tools. And the result might not be satisfactory.
When you shop for a contractor in Victoria for James Hardie siding there are few things you should ask yourself:
How much area you want to cover and what is your budget?
Is it important for you to hire a contractor that fully covered with insurance and with good standing?
Is the company you choose has good reviews and was on the market for a long time?
Is labour warranty important to you?
We can provide you with all of the above! Call us now and our professional estimators will give you a quote and answer all your questions for free!
We are also taking into account weather conditions when installing James Hardie siding to ensure the best result and extend its life. So, you'd better not tempt fate and not spoil expensive materials with improper installation, but attract our professionals who will perform all the stages of the task at a high level.
Call us to request a free estimation:
+1-778-400-0575
+1-8-555-SIDING

Or send an e-mail: info@idealsiding.com