We Find an Ideal Solution for You
As one of the fastest-growing siding companies in Canada, we've learned a thing or two from others' mistakes. We know that we would not be here without our customers, as they are our biggest asset.
We've taken standard customer service practices and put our own twist on them to see if we can do one better. What resulted is one of the best companies in the business for siding replacement in Canada.
We're not only excited to meet you but excited to hear about your goals of making your house more of a home and promise that we'll be there to help you figure out the best options each and every day.
Reasons to Work With Us
If there is one thing that we've figured out over the years, it's that we're all constantly learning. We use every job to understand our customers better and make sure that we leave with something to improve.
Whether it's getting the job done faster or offering more options, we are confident that you'll benefit from working with us, and we're here to tell you why.
Price Match Guarantee. There are all kinds of companies out there, and we know you can't trust them all, which is why we seek to match the best deals and provide the safest and most efficient siding solutions for your goals. Here at Ideal Siding Abbotsford, we offer a price match on services if you can find one that beats ours.
Leading Workmanship Warranty. We stand behind the work that we deliver and guarantee that you'll have the best setup every single time. Our 25-Year Workmanship Guarantee means that we search far and wide for the best materials and practices before we start working on your home renovations project.
Complimentary Design Mockups. Another thing we're sure of is that you'll need some time to find your perfect design. Maybe you have a few things in mind and are trying to decide between them. If that's the case, don't hesitate to call. We have an in-house design studio that can help you visualize your thoughts and ideas.
We know that money doesn't grow on trees. The last thing that our customers want is to pay for unnecessary or unknown things. That's why we put all of our efforts into providing the lowest price possible within our means.
Siding Styles We Offer
If you're new to the siding game, no worries! We thought we'd give you some of the trending styles and picks from homeowners across North America. Many homeowners in Abbotsford have been choosing some of these siding options, which you could also use as inspiration, adding your personal touches.
Lap Siding
One of the most popular choices is a siding plank. It basically puts a frame around the outside of your house, defining the edges and lines and making your house pop.
There are a ton of options to choose from, including horizontal, vertical, different colours, and different materials, including fiber-cement, cedar, or even aluminum and steel. Each option can help you put a unique spin on your home, making it all your own.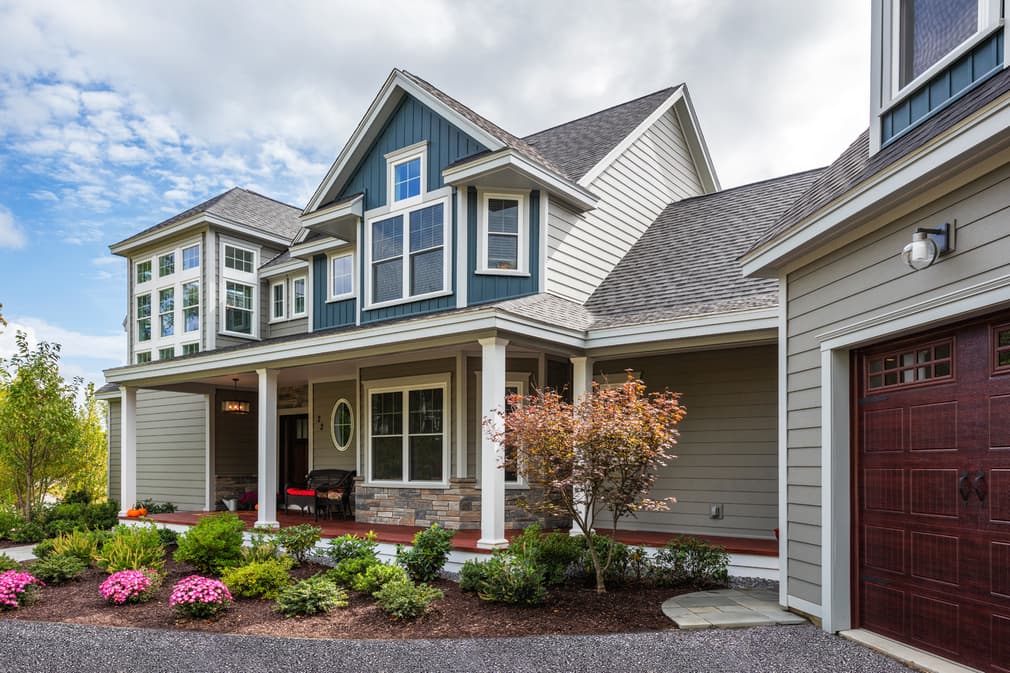 Siding Panels
If you're looking for something a bit more modern and minimalistic, then siding panels can be your best option. You have the option to add these panels all-around your house or putting emphasis on particular areas and making them pop.
If creating a custom look for your home is something you're looking forward to, this option could be a winner. Most of the time, panels are cut for each angle of a home, making each one its own unique set for each unique home.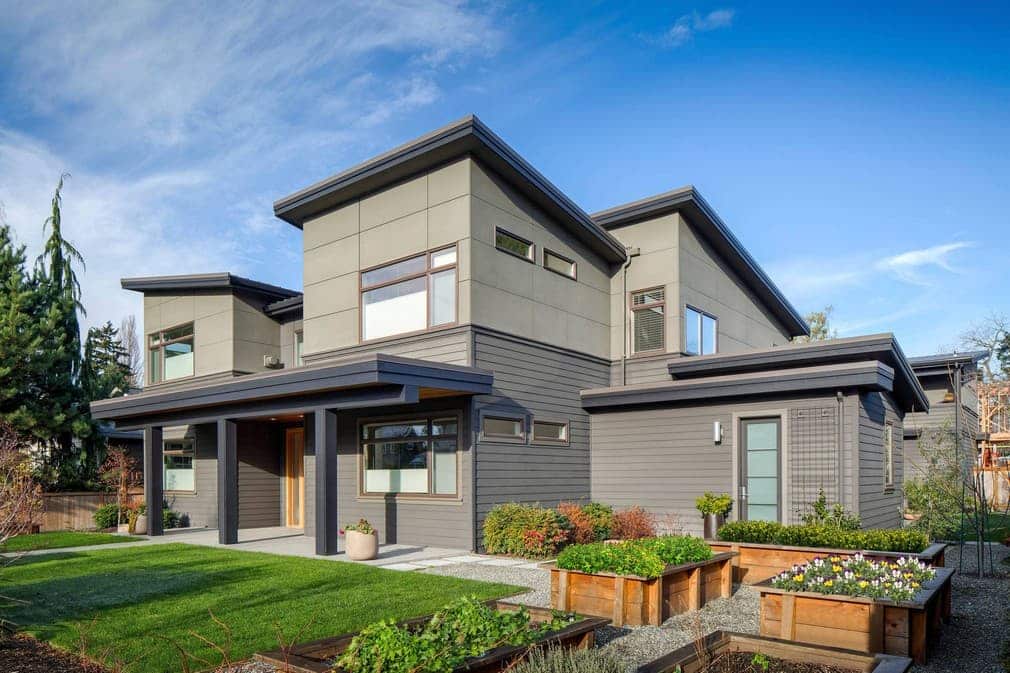 Shingles and Shakes
Using fiber-cement, vinyl, or cedar, homeowners have the choice to add shingles and shakes for a less structured but eye-catching design. Choosing shingles is an excellent way to create a unique design for your home while making it look put together and neat.
If you're not looking to go too far out with the changes, this could be the perfect way to add a few improvements while keeping many other parts of your home the same.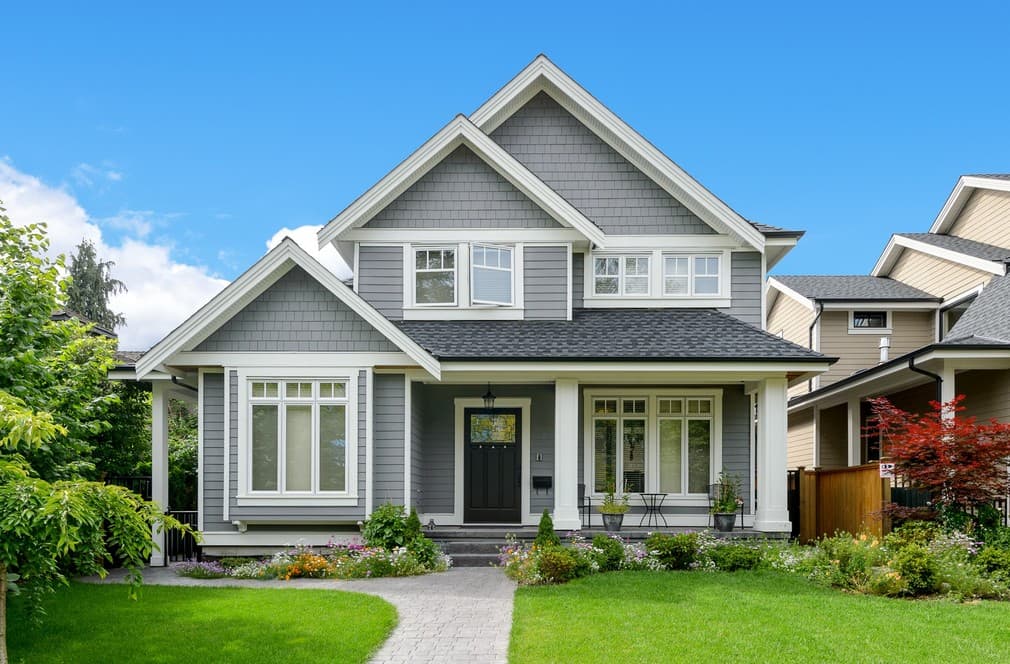 How Much Does the Siding Cost?
We know that one significant factor that plays in when choosing a siding is the total cost. If you've never purchased siding, you might not know what to expect, which is why we're here with the scoop on what you can expect to pay.
Vinyl siding is a popular choice for a few reasons. First of all, it won't cost you an arm and a leg. Secondly, it looks great on homes of all styles and colours. For siding made out of vinyl materials, you're looking at a price around $7.25 to $8.5 per square foot. If your home is 2000 sq ft, you may shell out anywhere from $14,500 to $17,000 to add siding to your whole house. Though that might be more than you bargained for, vinyl doesn't come with some of the additional costs that other siding types do, as it's not as complicated to work with.
Taking things up a notch, you could go for James Hardie fiber cement siding. If you choose this option, you're looking at the cost of around $10.25 to $12 per sq foot, which totals $20,500 and $24,000 respectively for a home that is 2000 sq feet. For an extra touch of uniqueness, you could go with this option for just a bit more and install custom trims and build unique columns.
Cedar siding is one of the most expensive, but for a good reason. Not only will it last you a long time, but it also has a solid look that no other material can provide. If you're looking into cedar, you can expect to pay anywhere from $12.5 to $14 per square foot, which is around $25,000 and $28,000 if we're using our 2000 sq ft home as an example. Not only is installation a factor, but painting/staining is one too, as you may want to have a unique colour on your cedar siding.
To guide you through other material used in your siding renovation have a look at the table illustrated below:
| | |
| --- | --- |
| Material | Price per sq ft* |
| James Hardie (Fiber Cement) | Starts at $10.25 |
| Vinyl Siding | Starts at $7.25 |
| Premium Vinyl Siding | Starts at $8.50 |
| Cedar Siding | Starts at $12.50 |
| Stucco | Starts at $13.50 |
| Longboard | Starts at $45.50 |
| AL-13 | Starts at $42.00 |
| Cultured Stone | Starts at $42.75 |
* Prices are guidelines only and can change based on the seasonality, availability of materials and complexity of your project.
We want all homeowners to know that they can afford the home of their dreams. That's why we offer an affordable financing payment plan that has been put in place to help those who want to make their dream home a reality can take advantage of it.
Get the best of both worlds and start watching your dream home come to life right before your eyes without having to break the bank to get it.
Our Work Process
Deciding how you want your home to look is only one step in the process. On top of that, we also have to plan out how to execute the job in the most efficient way to give you precisely what it is you're looking for. To do that, we have a specific set of protocols that we follow, some of which we'd like to share with you.
Old Siding Removal
Once the plan is ready to go and you let us know the look you want to achieve, we start to take off the old siding and make room for the new. One of the first things we do is removing the old siding. We need to find all the nails and carefully get them all out. This step could take anywhere from two days to an entire week.
Sheathing Inspection and Repair
Because we get a good view of the sheathing while we're removing the siding, we also make sure to repair any damages that need to be fixed while we are there. From our experience, most of the homes do not require any sheathing repairs. If the repair is necessary, you could be looking at an additional cost.
Preparation of the Wall for Siding
Because of the amount of rainfall that we can get in BC, specific regulations are in place. One of the critical things that we have to include is a rain screen, which will keep your siding in top shape for many more years. You'll get 5 to 10 more years if we put a rain screen in, which is why we take the time to install it and give you the best bang for your buck.
Siding Installation and Touch-up Work
Depending on the type of siding you choose, you could be looking at more than a week of installation. Understand that we're working as fast as we can, making sure it's not only done quickly but looks good too. We always make sure that we include bug screens, which we put around all of the areas in the home prone to infestation. Then, we add caulking to seal everything, protecting your home from whatever mother nature decides to throw its way.
Cleaning Up and Waste Removal
Before we call the job done, we inspect every inch of your yard to ensure that no mess is left behind. We also do a thorough inspection of deficiencies. Our goal is to leave your home as if we were never there, only leaving you with all new siding and nothing more to worry about.
After all the process of siding installation and clean-up is completed, one of our Project Managers will guide the homeowner through the process of siding maintenance and provide all the details of warranties, both of the materials and workmanship.
Contact Us Today
Now that you got a glimpse into our world, you may have many ideas and questions. If that's the case, don't hesitate to give us a shout.
We love to hear what you have to say and would love to chat about your options, what you can expect, and how you can make your visions into a reality.
We offer free estimates, so all you need to do is call and have one of our estimators come out and see what you're working with, so we can help you with the home you've always dreamed of.