We Find an Ideal Solution for You
Being a homeowner in Niagara means dealing with its humid continental climate, which brings cold winters, hot summers, and over 60" of snow annually, thanks to the lake effect from lakes Erie and Ontario. When you need to protect your home against the elements, nothing is more important than your choice of siding.
That's why you should choose Ideal Siding® for your next siding project. As the authorized dealer of the best siding brands in Canada, we offer a complete range of siding products to fit your personal style, individual needs and specific budget.
If you need to replace the siding on your entire house or just need repairs, Ideal Siding® is here for you. We can help you select the type, style and colour of the siding for your project. Our experienced team will help make the job as simple and cost-effective as possible.
You can be assured that you will be in good hands with Ideal Siding Niagara. After all, we're the largest siding company in North America, known for our high standards and our commitment to our thousands of homeowners just like you.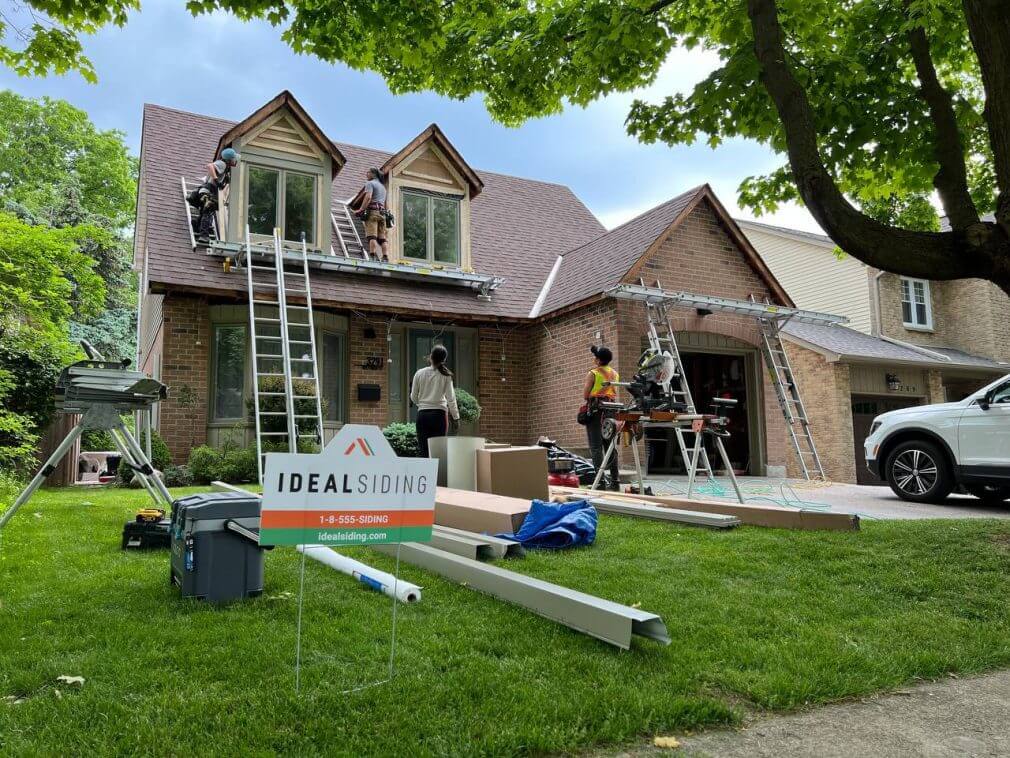 Not only will new siding protect your home against the elements, but it is also a great investment. We will tailor your siding project specifically to you and your home, providing customized, ideal solutions for your siding needs.
Siding Types and Styles We Offer
Because there are so many choices of siding design, style, material, and colour, it can be difficult to know how to make the right choices for your home. Ideal Siding is here to help! Our experts will walk you through the many options to meet your style, taste and budget.
Because of Niagara's humid, snowy climate as well as the types of architecture typically found in Ontario, we recommend using one of six different types of siding for your home. We are confident the one you choose will match your home's style and blend in with your neighbourhood, as well as provide the maximum amount of protection.
James Hardie® siding.  Known as fiber cement, this type of siding is made from a mixture of cement, sand and cellulose fibers. We believe James Hardie® siding is one of the best brands of fiber cement siding you can buy today.
Vinyl siding.  Vinyl has been around for over 70 years. Made from polyvinyl chloride (PVC) resin combined with ingredients to give it colour, opacity, gloss, impact resistance, flexibility, and durability, it's highly popular throughout Canada due to its low cost and high performance.
Everlast® composite siding.  If you like the look of real wood siding but don't want to deal with maintenance or extra cost, Everlast Composite siding is for you! It is made from thin strips of leftover wood that have been pressed and bonded together with a resin. Strong and durable, it looks just like natural wood siding, but it's less expensive and easier to maintain.
LP® Smartside® siding. This is another brand of composite wood siding. It's made using a wood strand technology that offers superior protection against all weather conditions. A great choice if you like the rustic natural wood aesthetic, it offers durability, versatility and long-lasting curb appeal.
Cedar wood siding.  Wood siding is the real deal! Known for its durability as well as its rustic good looks and charm, cedar siding is made from red or white cedar, trees that are native to North America.
Aluminum siding.  Aluminum siding is another very popular choice in Niagara due to its high performance and low cost. It's made from aluminum coil stock that is chemically coated to protect the metal and then painted for additional protection.
Still can't find what you're looking for? We offer many other styles and types of siding and exterior materials. Just give us a call to learn more.
Now it's time to choose the right style of siding for your home, which will determine its final look and curb appeal. Ideal Siding carries a wide range of siding styles for every taste, including lap siding, panels, board and batten, and shingles. We'll help you pick one that's right for your home's aesthetic as well as your personal preference and budget, from traditional and rustic to modern.
Lap Siding
For a classic, but cozy look, nothing beats lap siding. In fact, a majority of the houses we renovated last year were clad with lap siding. This style of siding is well-suited to the Queen Anne style of architecture which is so popular in Niagara.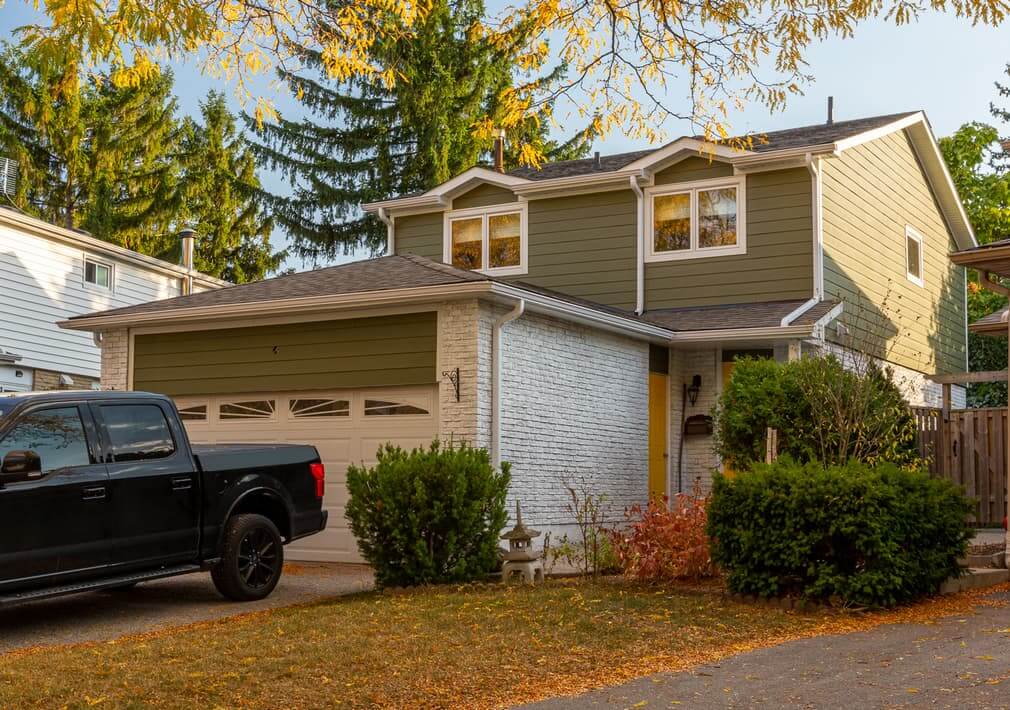 Shingles and Shakes
Shingles are ideal for a rustic look, adding warmth to your home's overall design. It's often chosen because of its distinctive shadow lines, which add contrast and depth to your home's exterior. Available in several shapes and sizes, you can't go wrong with shingles and shakes.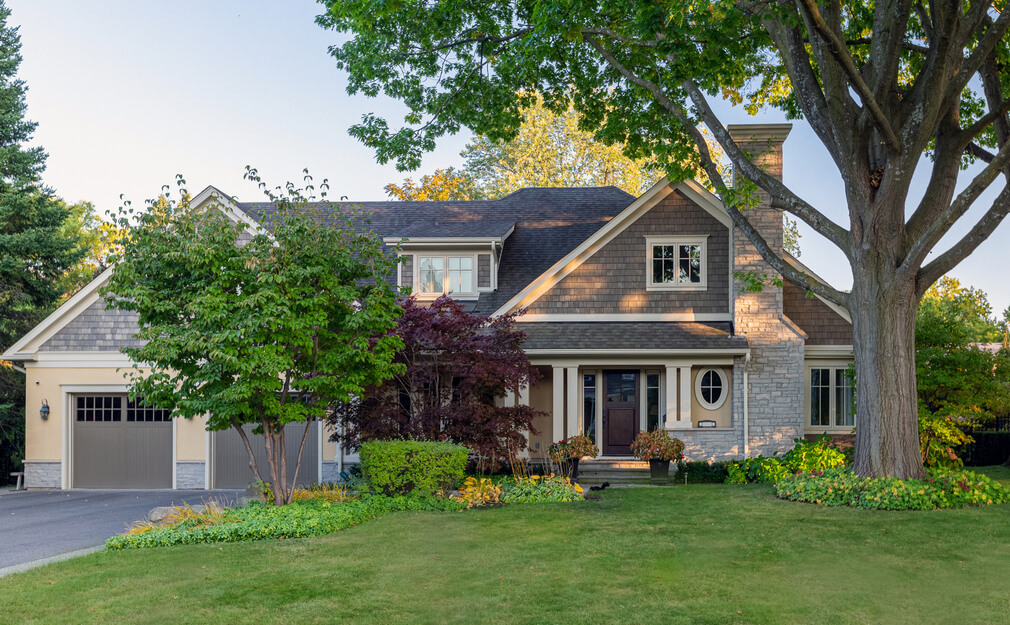 Board & Batten
Board and batten siding allows you to create a personalized aesthetic, whether you're going for a traditional or modern look. This type of siding has a clean, multi-dimensional look. It is often used on high walls or gable walls because of its elongating effect.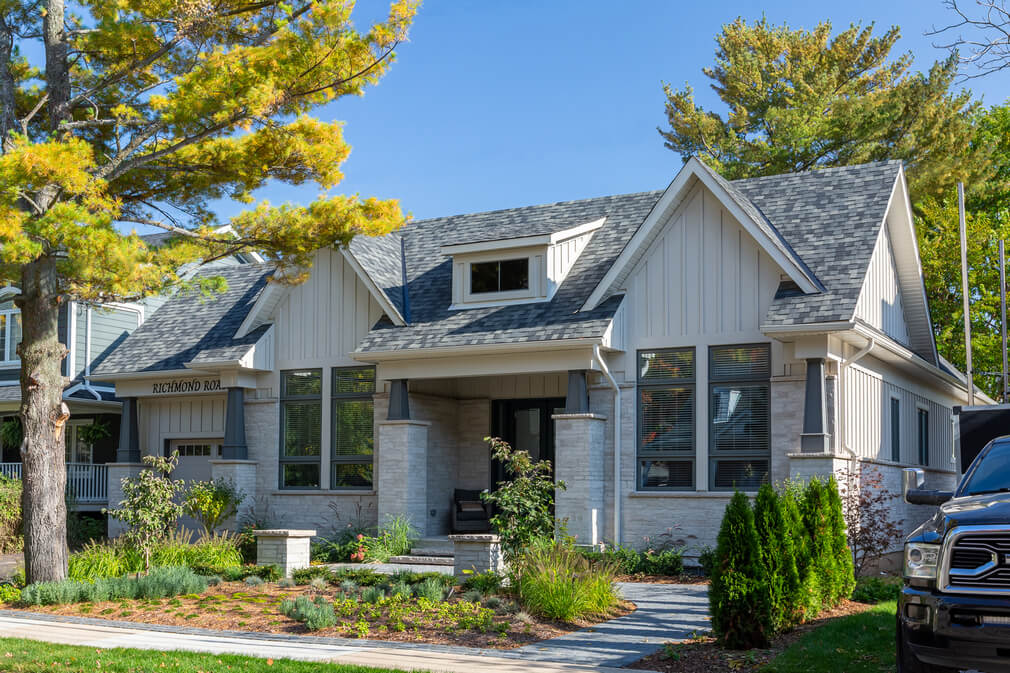 Siding Panels
Panels can be installed horizontally or vertically. One of its advantages is that it can be installed horizontally or vertically. Often used for contemporary homes, it is available in a smooth or cedar mill texture. The panels are cut on-site to ensure they are the perfect fit.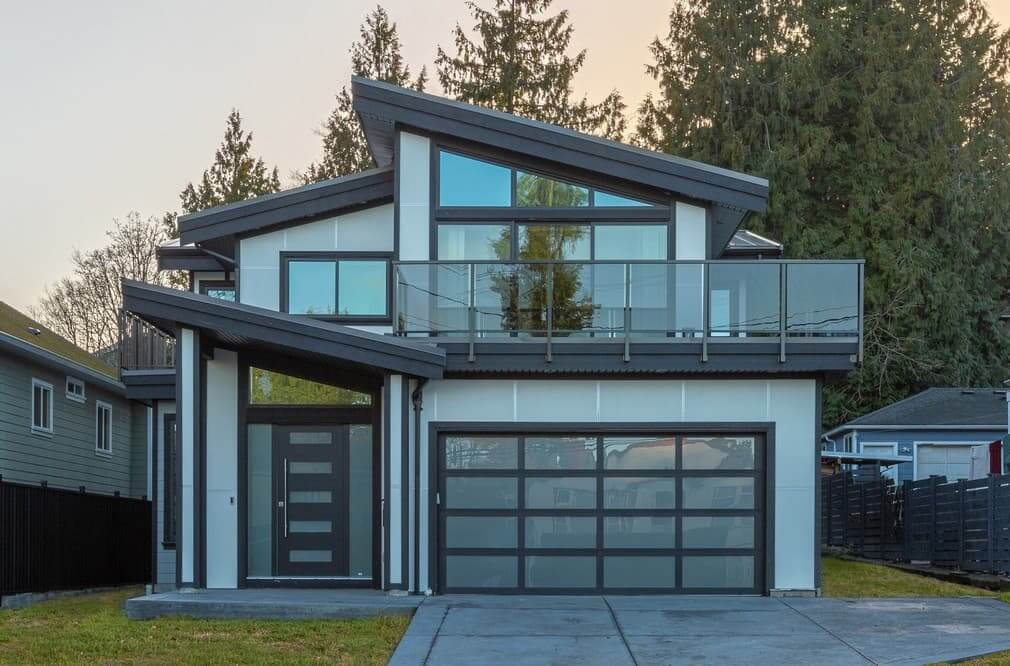 How Much Does the Siding Cost?
The cost of new siding on your home is based on several factors, such as your home's current condition, whether the job involves removing and demolishing old and whether you add items such as trim boards, soffits, and fascia boards. The material you choose plays a big role in your siding project's final cost.
We provide you with everything you need to know in order to make an informed decision. Our thorough inspection of your house at the beginning of your siding project allows us to give you a final price before we even start. Here is the approximate cost of siding your home in Niagara based on the most commonly used types of siding:
Vinyl siding is almost always the most affordable option due to its low material cost and ease of installation. It is very durable, requires very little maintenance and is available in a wide variety of colours. It usually costs between $10 – $12 per sq. ft. For a 1500 sq. ft. house, which is the average size in Niagara, your approximate total would be $15,000.
James Hardie siding is known for its durability and resistance to rot and insects. Its price is between $14 – $15 per sq. ft., bringing the total amount for the same-sized house to around $22,000.
Cedar siding is praised for its rustic, authentic look, but be prepared to pay a bit more. It also requires more maintenance than other types of siding. The cost of siding a 1500 sq. ft. house in cedar siding will run you about $19 per sq. ft., or $28,500.
To guide you through other materials used in your siding renovation, have a look at the table illustrated below:
| | |
| --- | --- |
| Material | Price per sq ft* |
| Vinyl Siding | Starts at $10.75 |
| James Hardie (Fiber Cement) | Starts at $14.00 |
| Maibec | Starts at $18.00 |
| Fraser | Starts at $18.00 |
| Cedar Siding | Starts at $19.50 |
| Cape Cod (Finished Wood) | Starts at $21.50 |
| Stucco | Starts at $22.75 |
| Longboard | Starts at $53.00 |
| AL-13 | Starts at $50.00 |
| Cultured Stone | Starts at $48.25 |
* Prices are guidelines only and can change based on the seasonality, availability of materials and complexity of your project.
At Ideal Siding®, we strive to be as accurate as possible with our estimates. Additional factors that might have an effect on the total cost of your siding project are your home's design, its size and the number of stories. Other considerations include the cost of removing existing siding, local labour rates and the terrain that your house is built.
Our Work Process
You can rest assured that you will be working with a team of knowledgeable professionals with a minimum of seven years of experience in the siding industry. From the initial prep work to the final walk-through, they are there by your side.
After you have reviewed and approved our complimentary design mock-up, we will order the materials and have them delivered to your home. Additional time might be required for the custom orders or if any of the materials are out of stock.
Then we go to work!
Old Siding Removal
The very first step is to remove the old siding on your home without damaging the underlying sheathing. We do this because leaving old siding on might compromise our work, leading to less durability and a rough appearance. This step can take anywhere from two to seven days, depending on the type of siding that needs to be removed and the size of your home.
Sheathing Inspection and Repair
Once we remove the old siding, we conduct a thorough inspection of the sheathing for any signs of damage. Fortunately, most homes don't require any repairs. However, if necessary, replacing the sheathing won't significantly increase the overall installation time. Keep in mind that any required repairs may result in additional expenses.
Preparing Walls for the New Siding
Once the sheathing of your home has been inspected and any required repairs have been completed, we proceed to install the rainscreen. This includes building paper and flashings to safeguard the walls against excess moisture. While the installation of strapping is not mandatory, it is recommended as it enhances airflow, which in turn increases the lifespan of your siding.
Siding Installation and Touch-up Work
To begin the installation, our team installs a trim board around windows, doors, soffits, overcap corners, and fascia boards. Other necessary work may include installing insect screens, flashings, dryer vents, and light fixture boxes. Our team ensures that the nails are painted to match the siding colour, giving a professional look. The installation process takes an average of seven to ten days, depending on the size of your home, design, and materials used.
Cleaning Up and Waste Removal
Once the installation process is finished, it's essential to tidy up the site. We take care of disposing of all construction waste and recycling any materials possible. Afterward, your project manager will conduct a thorough inspection of your siding, ensuring that it meets our high standards. We will go over the work done with you, providing helpful tips on maintaining your new siding. We will also provide you with detailed information about the warranties.
Rest assured, our dedicated team at Ideal Siding® consistently delivers prompt, efficient service with a keen eye for detail, guaranteeing your ultimate satisfaction with the finished product.
As one of the premier siding companies in Canada, we pride ourselves on swift project initiation. Once you've made your siding selection, we can kickstart your home's transformation in as little as a few days after signing the contract, subject to the availability of your chosen materials.
Reasons to Work With Us
When you choose Ideal Siding®, you're not just selecting a siding company – you're opting for a seamless and exceptional home improvement experience. We provide top-notch materials, expert installers, and unmatched customer service.
Here are three more great reasons to work with us:
Unbeatable price-match guarantee.  We take pride in offering high-quality siding and exceptional workmanship at highly competitive prices. That's why we confidently offer a price-match guarantee. Just share the details of your project and the samples you've chosen, and we'll match any other siding company's price!
Free customized visuals for your home.  Your siding should be as unique as your home, and we're here to ensure it is. We offer a complimentary design mockup, allowing you to see how your chosen siding will look on your house. Visualize the stunning end result and make any necessary adjustments before the project even begins!
Impressive 25-year workmanship warranty. In Niagara's humid climate and snowy winters, you need a siding company that truly stands behind its products and services. We protect your investment with an extensive 25-year workmanship warranty, ensuring you won't have to worry about repairs for as long as you live in your home!
At Ideal Siding®, we understand that new siding is a significant investment of time and money. That's why we're committed to delivering a worry-free experience that ensures lasting satisfaction with your home's exterior. Choose Ideal Siding® today, and let us exceed your expectations!
Contact Information
Whether you're looking for information about repairs or replacing the existing siding on your house, we are happy to answer any questions you may have. Call us today to speak with a specialist or get a free quote on the siding that works best for you and your home –  it's literally on the house!
We are serving the following municipalities:
Fort Erie, Grimsby, Lincoln, Niagara Falls, Niagara-on-the-Lake, Pelham, Port Colborne, St. Catharines, Thorold, Wainfleet, Welland, West Lincoln.