We Find an Ideal Solution for You
Here, at Ideal Siding, we understand how important your home is for you as that's where you spend a big part of your life and build beautiful memories. We want to help you to create the house of your dreams in Toronto, whether it's by helping you to fix a small repair or to re-side the entire house.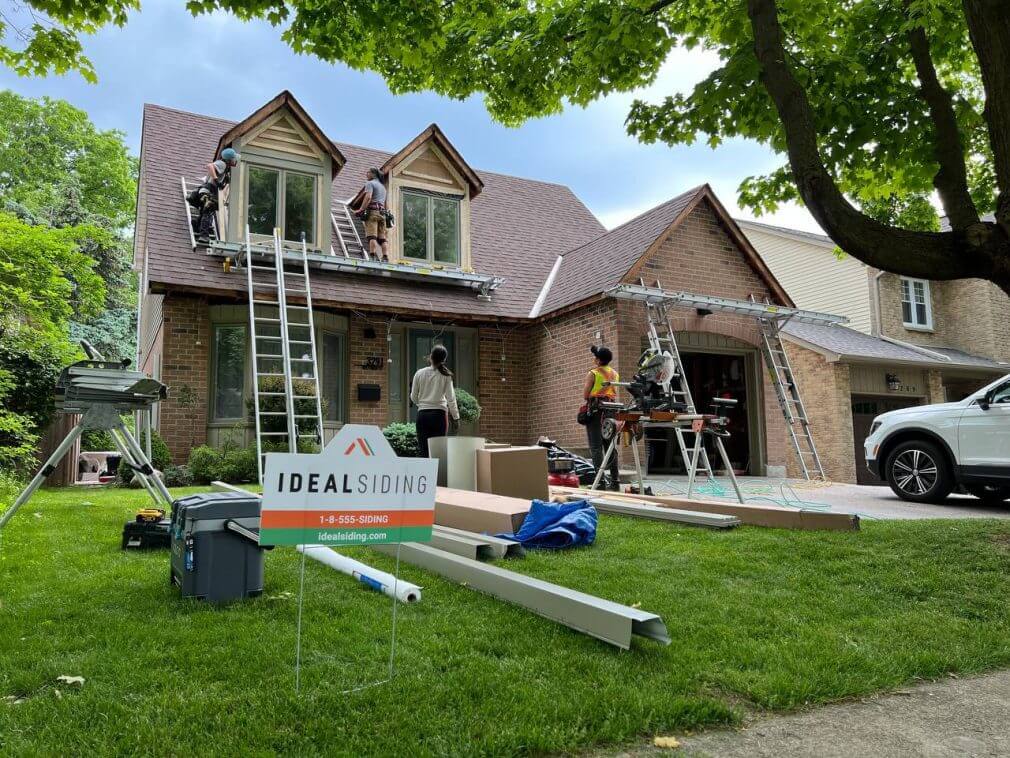 We've taken standard customer service practices and put our own twist on them to see if we can do one better. What resulted is one of the best companies in the business for siding replacement in Canada.
As contractors, our team of experienced siding specialists will guide you through each step of the siding project whether it is a repair, siding renovation or new construction, and provide you with the best solution to fit your siding needs. Each year more than 500 homeowners rely on our expertise and vast experience. We work only with the most reputable suppliers that offer a wide variety of siding materials. Our crews have extensive experience in siding installation, and your project will always be in good hands.
Reasons to Work With Us
We will help you to find a customized solution for your house, just like we've helped over 250 homeowners this past year between our divisions. We know that every home is unique, and we, as contractors, strive to find the best solution for each customer.
Here is what we offer you.
Price Match Guarantee. We offer the most competitive pricing on the market and transparency about what is included in each quote. We will match competitors' prices, given the scope of work and materials are the same. We do not cut corners and work only with reputable siding manufacturing companies, so each project is always completed with the highest quality and according to the best practices among contractors in the industry.
25-Year Workmanship Warranty. We take a lot of pride in the quality of the service we provide, that is why we offer a leading warranty on the workmanship. You won't have to worry about the repairs in the upcoming years.
Complimentary Design Mockup. Whether the colour of your siding faded over the years or you want to enhance the curb appeal of your home, we are here to help you to choose the right design. You will be able to make a better-informed decision about the style and the colour of the new siding on your home. We can offer you a wide variety of design styles to choose from, produced by the leading manufacturers in the industry. Our experienced siding estimators will advise you on the benefits of each option.
Overall, vast experience in the industry helps us to establish an efficient process for each project with the highest attention to every detail. Whether it's a small repair job or re-siding of the entire house – we've got the best solution for you.
Siding Styles We Offer
With many new siding options appearing every year, there are still a few favourites amongst homeowners in Toronto.
Lap Siding
This style of siding is the favourite of homeowners. The planks installation can be either horizontally or vertically, providing lots of design options. That's why more than 80% of homeowners chose this style of siding for their homes. There's also a wide variety of materials to choose from: fiber cement, vinyl, engineered wood, aluminum or cedar, to name a few.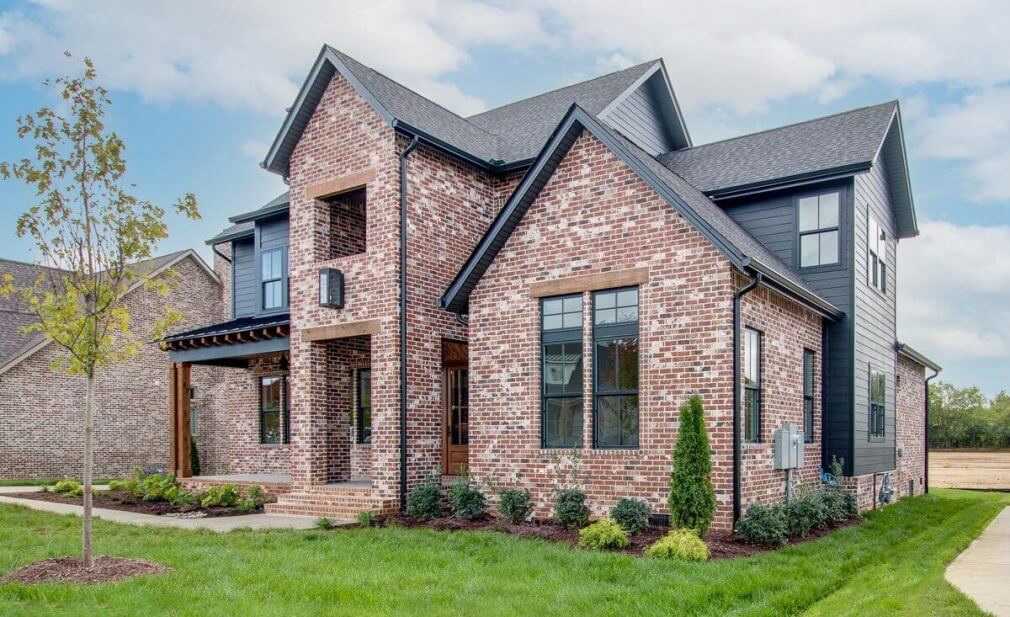 Siding Panels
Siding Panels are usually the choice for a contemporary polished look. The panels can be either smooth or with a textured finish. The most popular material choices for panels are fibre cement, engineered wood and metal with profiles like Board and Batten, Easy Trim Reveal and Open Joint Cladding.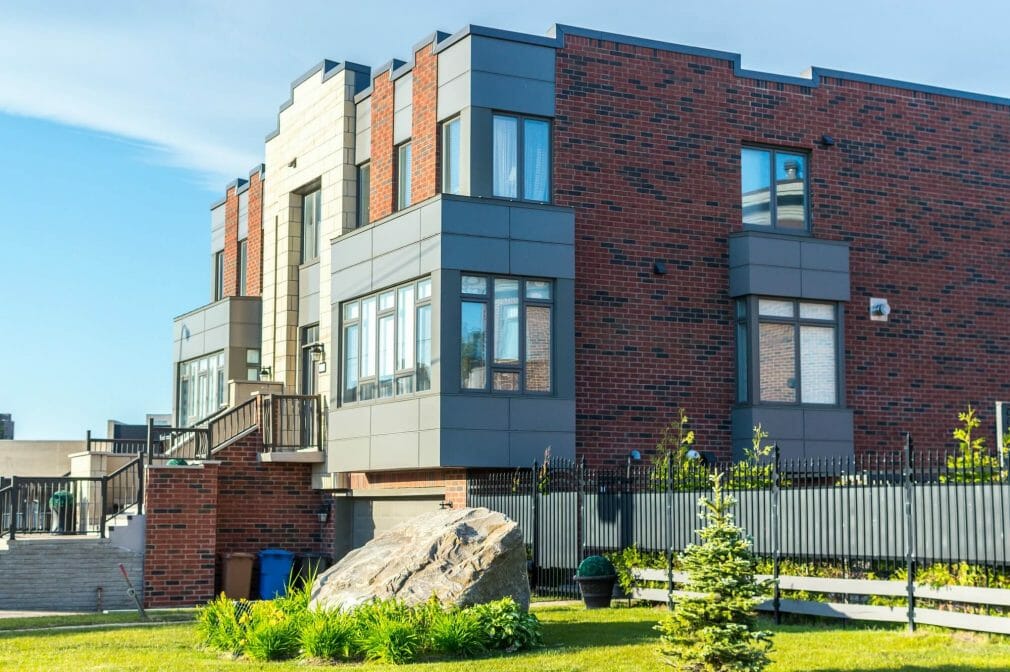 Shingles and Shakes
Siding Shingles are most commonly used to accentuate certain walls or give the entire house that cozy look. The most widely used material for shingles for many years has been cedar, but these days, fibre cement and engineered wood shingles are gaining popularity among homeowners. They can be manufactured from vinyl or aluminum as well.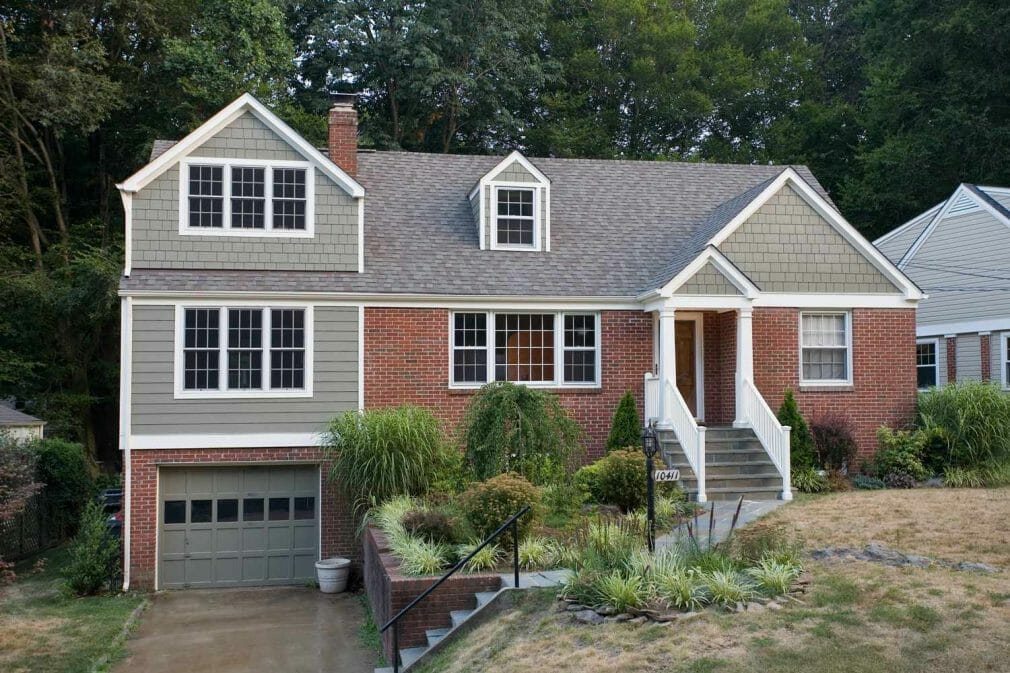 How Much Does the Siding Cost?
Here we show you the approximate price calculation:
If you choose vinyl siding that costs around $10 – 12 per sq ft, for the whole house, which is 2000 sq ft, you might end up paying $20,000 – $24,000. Vinyl siding is the easiest product to work with, which significantly lowers its installation costs.
James Hardie or Hardie Board siding will cost around $14 – $16 per sq ft, so for the same house, you will pay approximately $28,000 – $32,000.
Cedar or wood siding will be the most expensive option. Its price is $20 per sq ft, so the final price will be around $40,000, including the additional cost of painting or staining.
To guide you through other materials used in your siding renovation, have a look at the table illustrated below:
| | |
| --- | --- |
| Material | Price per sq ft* |
| Vinyl Siding | Starts at $10.75 |
| James Hardie (Fiber Cement) | Starts at $14.00 |
| Maibec | Starts at $18.00 |
| Fraser | Starts at $18.00 |
| Cedar Siding | Starts at $19.50 |
| Cape Cod (Finished Wood) | Starts at $21.50 |
| Stucco | Starts at $22.75 |
| Longboard | Starts at $53.00 |
| AL-13 | Starts at $50.00 |
| Cultured Stone | Starts at $48.25 |
* Prices are guidelines only and can change based on the seasonality, availability of materials and complexity of your project.
Our Work Process
Once you chose to work with us, you can rest assured that every detail of your siding project will be taken care of from the beginning till completion. Our Project Managers will guide you through each step of the siding project on your house and will gladly answer any questions you might have. Here is the step-by-step process.
Old Siding Removal
Most siding projects start with the removal of old siding. This process usually lasts between 2 to 7 days. When removing old siding from the walls, our crews work carefully pulling all the nails properly in order not to damage the sheathing underneath. In some cases, new siding can be installed on top of the existing one given it is in a good condition and all the necessary repairs have been completed. Our experienced Project Managers will advise you on the best solution that suits your house.
Sheathing Inspection and Repair
A sheathing inspection is always performed after the old siding had been removed in order to check for any rot or damage. If the repairs are needed, you could be looking at an additional cost. In our experience, most homes do not require sheathing repairs.
Preparation of the Wall for Siding
After sheathing has been carefully inspected, we proceed with the installation of the building paper. We recommend installing strapping with certain materials to prolong the lifespan of your siding by at least 5-10 years. Installation of the strapping is a highly recommended option. It protects your home from any rain damage creating an airflow between the wall and the siding. You can also choose to install the exterior insulation to keep your house warm on those cold winter days and save money on energy bills.
Siding Installation and Touch-up Work
This step, on average, takes between 7 to 10 days. The timeframe depends on the type of siding installed and design preferences. Besides siding, we also install flashings to keep the water away, bug screens to protect the house from insects, dryer vents and light fixture boxes. We finish up by applying touch-up paint on nail heads to match the siding colour and caulking between the siding boards. Allow for a couple more days for the installation of trim boards around windows and doors, detailing of the corners, soffit installation or any other additional elements.
Cleaning Up and Waste Removal
From the very start till the end of the siding project, we keep your yard and surrounding areas neat and clean of any construction debris. Once the installation is completed, we remove any leftover materials and the recycling bin. Our Project Manager will inspect the finished project to check for any deficiencies and will meet with the homeowner to provide guidance on how to take care of their new siding. During that meeting, the homeowner will also be provided with the details of the warranties on both materials and workmanship.
As one of the largest siding companies in Canada, we can start your project as soon as you decide on the siding you would like to have installed on your house whether it is James Hardie, Vinyl, or Wood siding, we can help. It can be as early as a couple of days after signing the contract, given the availability of the chosen siding materials.
Contact Information
Our professional team of siding specialists usually has multiple projects on the go and will gladly accommodate any siding project you might have in Toronto. Let us find the best siding solution for your home!
We are serving the following municipalities at the moment:
Toronto, York, Richmond Hill, Vaughan, Markham, Oakville, Milton, Burlington, Mississauga, Hamilton, Pickering, Ajax, Whitby, Oshawa, Guelph and Brampton.