We Find an Ideal Solution for You
Immediately addressing visible and unseen wear and tear of your home not only prolongs the longevity of its foundation but also reinforces its aesthetic appeal and value. This is why it's critical to select the right contractors' company to help you. However, with so many renovation companies in Austin tooting different claims, how do you decide?
As an installation company, we're happy and proud to have helped many homeowners in the country, and we're qualified and skilled in the intricacies of siding replacement and repair. Whatever your requirement, we have a resilient, durable, and affordable solution for you! When the installation is done properly, the siding on your home can last for decades without incident.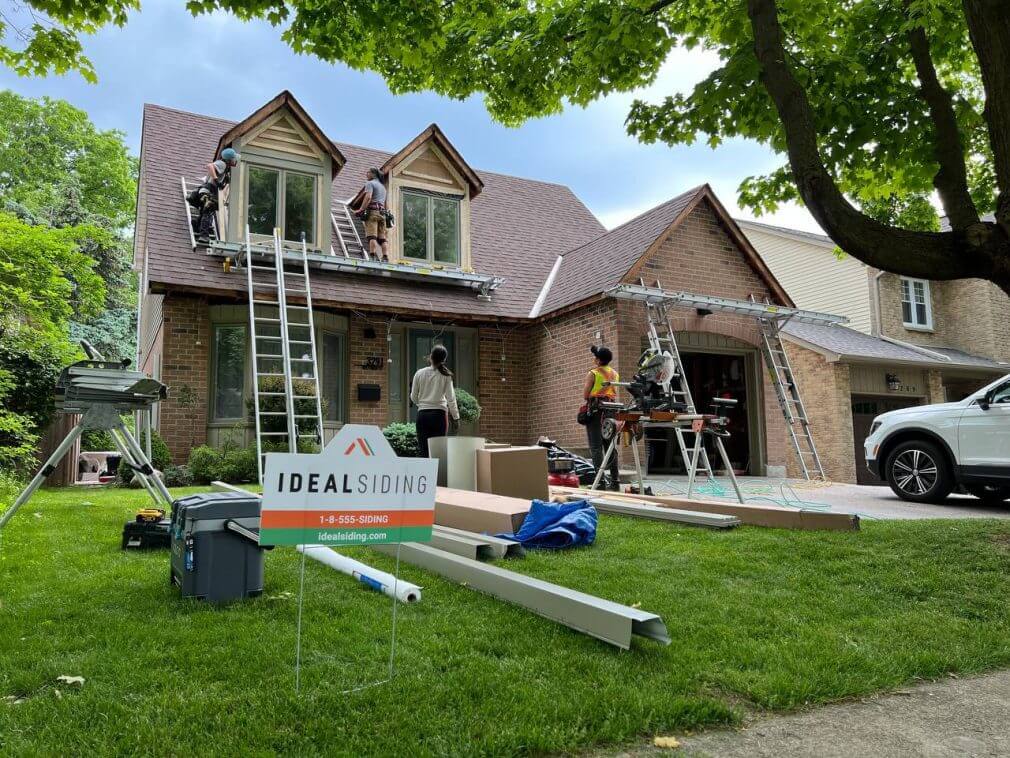 Siding Types We Offer
These days there are a lot of siding types and materials to choose from. When it comes to design, here are some of the most popular siding options on the market in Austin, TX.
Shingles and Shakes
Whether you prefer the more contemporary textured surface of shakes or the smooth, traditional surface of shingles, they both make excellent siding materials. These are often made with fiber-cement, vinyl, engineered wood, or cedar, depending on which material best suits a home.
Shingles lend a home a neat appearance by seamlessly marrying the look of siding panels and planks. Choosing this siding type can beautifully highlight a home's unique charm and character.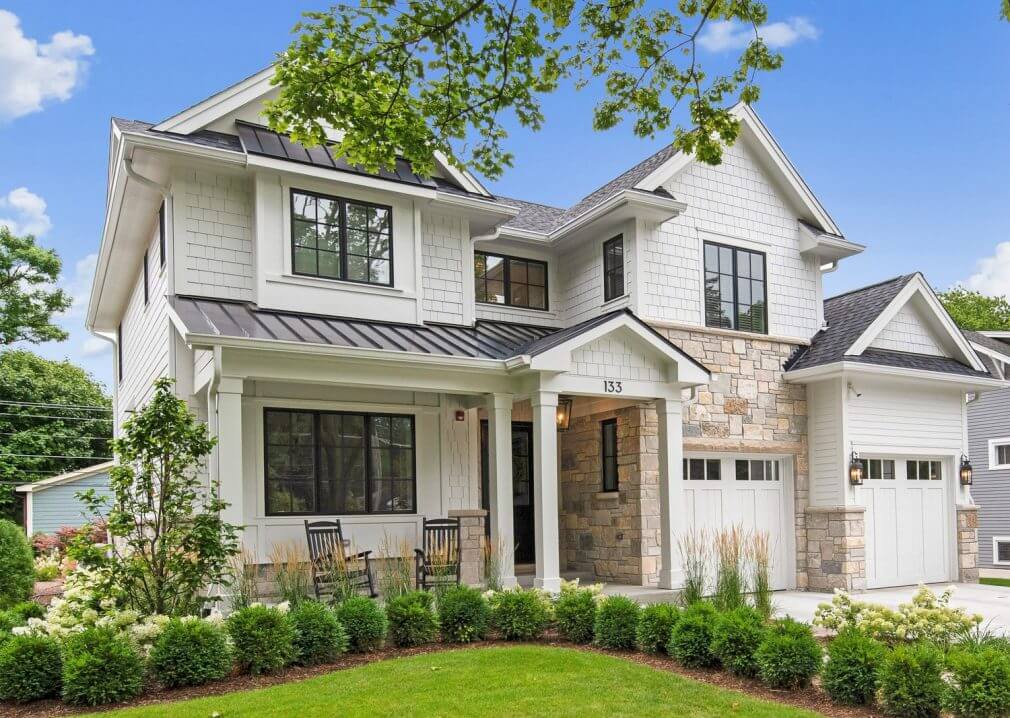 Lap Siding
Horizontal lap siding installation lends a clean, defined look to a home, elevating its curb appeal and the aesthetic of its exterior. These planks are often made from fiber cement, engineered wood, cedar, aluminum, and steel. The finish and designs of the planks we use for a siding project are determined based on what works for a home's look and feel.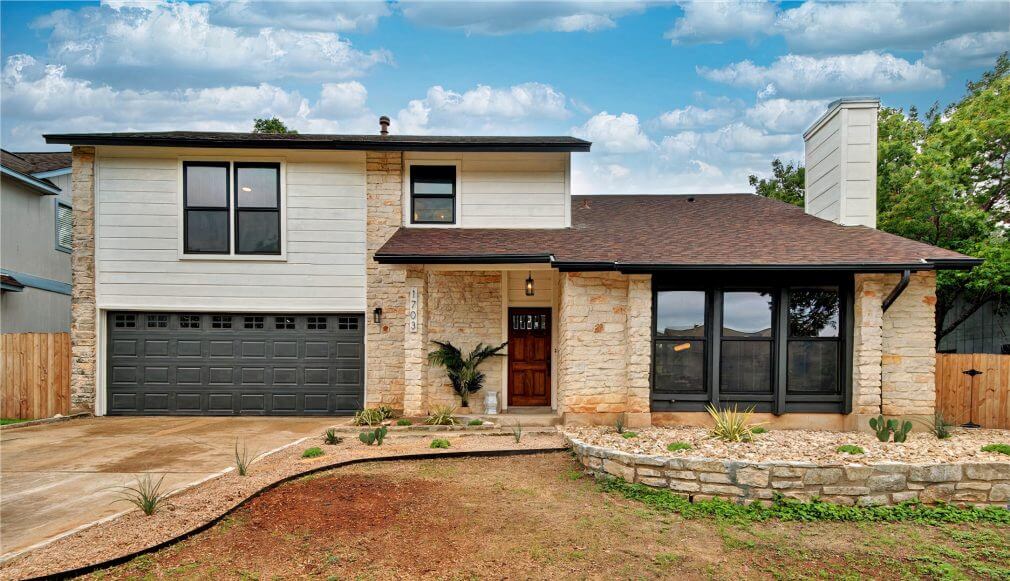 Panels and Vertical Siding
Also known as sheet siding and vertical siding, panels clad the sides of a house. Installation of different colors and designs are proposed to support a cohesive aesthetic. These panels are available in various formats, such as smooth-sided, cedarmill (wood texture imitation), stucco, and many others.
Panels are usually made from concrete, vinyl, James Hardie fiber-cement, aluminum, or engineered wood. Many non-conformist homeowners in Austin opt to have the interiors of a house remodeled with siding panels to anchor a distinct sense of taste.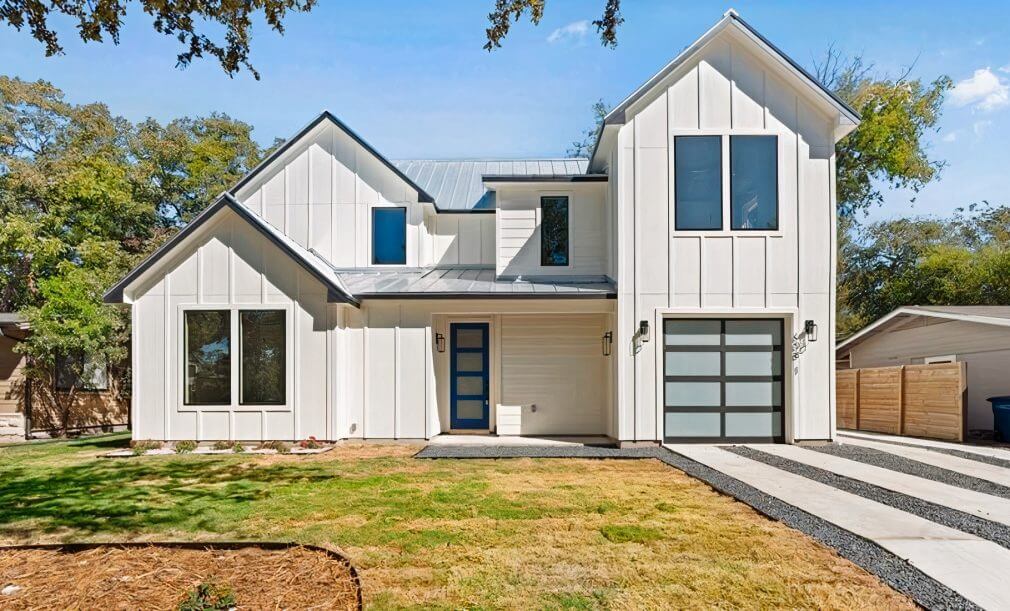 How Much Does the Siding Cost in Austin?
Renovating a house is a big job that requires careful planning and costing. As contractors, Ideal Siding helps its customers navigate through the potential costs that one has to incur based on the type of material (vinyl, wood, fiber cement, etc.), the extent of the renovation or repair, seasonal factors (high demand periods or working in challenging weather conditions), existing issues (if any), labor requirements, and so on.
The cost of a project starts with evaluating the magnitude of the project. It will change based on the customization and specified lengths of sheets or planks. Depending on the evaluation results, some siding may require maintenance, repair, or replacement. Things like age, wear and tear, and the condition of existing siding are considered before a final cost is reached.
Here's a rough picture of what costs to expect for a siding project on an average-sized 2,250 sq. ft. home in Austin:
Vinyl siding is the cheapest option, it can cost you between $6 to $8 per sq. ft. You're looking at spending approximately $15,000 for such a project. Vinyl is fairly easy to work with and doesn't consume much contractors' time to install. There are many distributing companies that offer vinyl siding.
Fiber cement siding by James Hardie is a popular choice but is priced slightly higher at around $10-12 per sq. ft. So, you're looking at spending about $18,000 to $20,000 on a project. James Hardie or other fiber cement type of siding material requires time and more labor to install. There aren't many fiber cement companies and James Hardie is usually the most common choice.
Engineered wood siding is the most expensive material to work with because it is designed to be caulked on every cut to avoid moisture damage. This wood can cost anywhere between $11 to $13 per sq. ft. You'll end up spending between $22,000 and $26,000 on a complete renovation. Contractors can offer specifics on the costs largely based on the design of a home and the extent of the work.
At Ideal Siding, we ensure that materials are priced fairly based on the above parameters. And additional costs (if any) are openly discussed and revealed to customers before the project begins.
The following table will give you an idea of the available materials in the siding market and how much they're likely to cost:
| | |
| --- | --- |
| Material | Price per sq ft* |
| James Hardie (Fiber Cement) | Starts at $13.25 |
| LP® Smartside® (Engineered Wood) | Starts at $16.00 |
| Vinyl Siding | Starts at $9.25 |
| Premium Vinyl Siding | Starts at $12.00 |
| Cedar Siding | Starts at $18.00 |
| Stucco | Starts at $19.00 |
| Longboard (Premium Aluminum) | Starts at $56.40 |
| Cultured Stone | Starts at $43.50 |
* Prices are guidelines only and can change based on the seasonality, availability of materials and complexity of your project.
Our knowledge and expertise in the siding industry make us a trustworthy partner for home improvement plans. Call us today to request a quote!
Once we evaluate your property and get the go-ahead, our team of home renovation experts will work tirelessly to make your vision a reality. We also offer an affordable financing payment plan to help you create the home of your dreams without breaking the bank.
Installation Process & What to Expect
As contractors, Ideal Siding is highly particular with how its team of master craftspeople performs their services. We approach every home renovation project with a fresh perspective and meticulous planning. Our in-house protocols are flawlessly executed with finesse so that we're the first company customers think of when they need our services again.
Here's a little preview of how we do things once a project begins.
Old Siding Removal
Once our proposed quotation and plans are accepted and ready to move into the next phase, we start with removing the old siding of your home. Nails are carefully extracted, and the siding is cautiously removed to maintain the foundation's integrity. This process can take anywhere between two days to a week to complete.
Sheathing Damage Inspection
Once the siding is removed, the underside reveals the sheathing that we either repair or leave untouched, depending on its condition. Repairing this will cost extra if the damage is extensive. In the many years of siding renovations projects, we have experienced that only a small percentage of homes require sheathing repairs.
Preparation of the Wall for Siding
The next step will be an installation of a rainscreen which consists of a few elements: building paper, flashings and strapping/mesh. Rainscreen prolongs siding life and allows airflow in the walls. Adding one also makes siding resistant to fire and insects. New siding with a protective rainscreen will last anywhere between 5 to 10 years longer.
Siding Installation and Touch-ups
While siding jobs can take up to a week or more in special cases, we prefer not to work hastily. Slow and steady wins the race when we work mindfully on siding projects. Our team also installs bug screens, flashings around openings, dryer vents and other elements. Once we're done with the nitty-gritty aspects, caulk is added to seal and protect the newly fabricated areas.
Cleaning Up and Final Walk
Siding jobs can leave a lot of mess. Fortunately, we believe in cleaning up after ourselves. As part of our work ethos, ensuring safety and hygiene is a paramount service that we take seriously. Our team of professionals performs such a thorough cleaning job that you won't even know we were there!
Our master siding professionals can be trusted to perform their responsibilities even when you're away or at the office. We assign dedicated field managers to oversee a project so that one is always available to answer your questions and take control of what's happening on-site.
No stone is left unturned when Ideal Siding takes over—whether it's evaluating your home's siding or performing a siding repair or installation. From inspection to quotation to after-service care, our team will ensure that you are completely satisfied with our services and that your home's siding is immaculate.
Reasons to Work With Us
When it comes to renovation projects, there's never the same approach, as each house is unique and requires tailored solutions. Over the past few years, we have helped many homeowners to transform their houses into the homes of their dreams.
Here is what we offer:
Price Match Guarantee. Ideal Siding believes in being upfront and honest with its customers about our project quotations. Since we don't believe in hyper-inflating our quotations, you'll find partnering with us a refreshingly affordable experience!
25-year Workmanship Warranty. We stand by the work of our home renovation professionals. Every member has a wealth of experience to bring to the table to ensure your expectations are met with the highest standards and quality. Our 25-year workmanship guarantee also puts us at the forefront of the siding industry. Using only the best, reliable materials and practices, Ideal Siding goes out of its way to deliver unparalleled excellence.
Complimentary Design Mockup. Caught between different ideas or wondering which designs or colors will suit your home? Our team can help you figure out the nuances of your vision through our in-house design studio. You can rest assured that our team is well-equipped to make your dream a reality, exactly how you envision it.
Each project is always completed following the industry's best practices, the manufacturer's recommendations, and the city's building codes.
Contact Us
We look forward to answering any questions you may have on the initial and final steps of a project. Our team is happy to walk you through your options so that you're getting the most out of every penny.
We can get you in touch with an estimator in Austin that will visit your home to evaluate the extent of your needs. Once you're happy with the quotation, Ideal Siding will get things rolling right away.
We are serving the following municipalities at the moment:
Austin, Bee Cave, Lakeway, Lago Vista, Manor, Marble Falls, Pflugerville, Round Rock, Rollingwood, Sunset Valley, West Lake Hills, Hays County, and Williamson County.