We Find an Ideal Solution for You
Selecting the appropriate siding for your home is a crucial decision that can have a significant impact on its overall appearance and maintenance. Beyond aesthetics, siding serves as a protective shield against the elements while also contributing to your home's energy efficiency and overall comfort.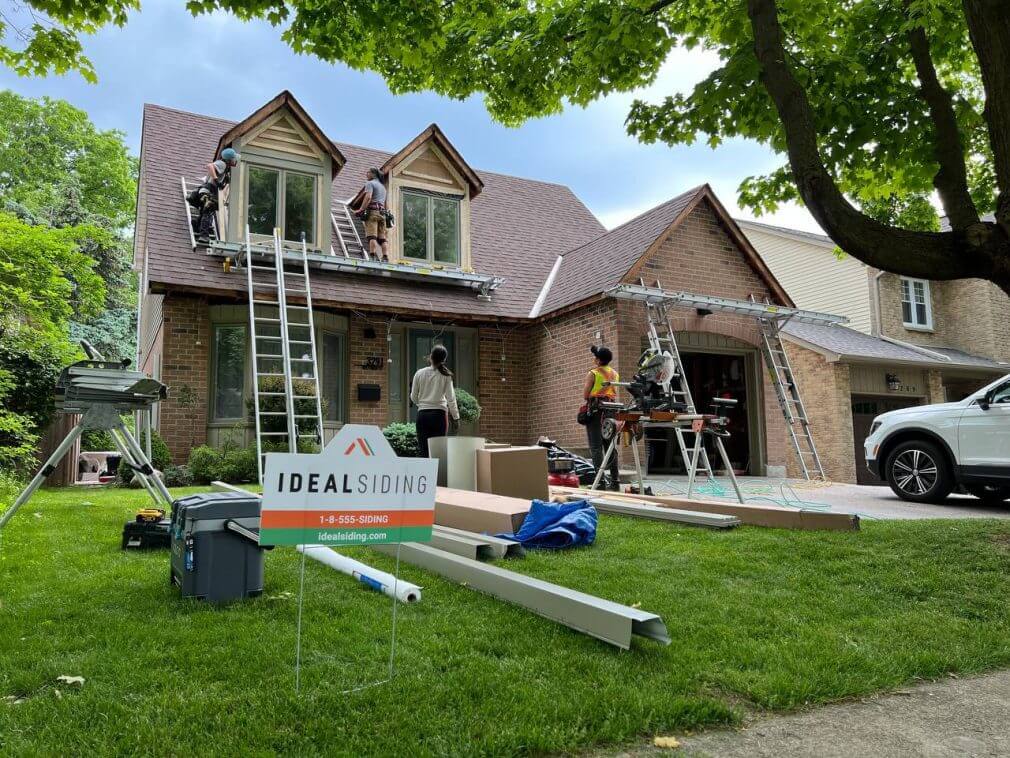 At Ideal Siding Columbus, we understand the importance of finding the perfect siding solution tailored to your style and the unique characteristics of Columbus, Ohio. With a climate that experiences four distinct seasons, your home requires siding to endure every weather condition, from humid summers to cold winters. Our experts consider this important factor when they recommend siding materials that offer resilience and charm.
Whether you're undertaking a small renovation or completely revamping your house, our seasoned team is here to guide you through the entire process. We help you choose siding that complements your home's style and remain your trusted partner throughout installation, including final touches and clean-up. With years of experience and partnerships with local suppliers, we're equipped to provide you with the finest materials and unrivaled expertise in home siding.
Siding Materials and Styles
To ensure you find the type of siding that's right for you, our selection includes every possible siding option.
Vinyl siding. It's a cost-effective, low-maintenance choice that withstands the sun's rays without fading. We use only modern vinyl materials which are different from the ones you've seen 20-30 years ago.
Cedar siding. Durable and moisture-resistant, cedar siding is the go-to choice for timeless charm and a classic look. Available with a transparent stain and in a wide range of colors, cedar is easy to customize, replace, and repair.
Aluminum siding. This type of siding is resilient and lightweight. Popular among the owners of contemporary homes, it is often chosen for its ability to mimic the look of natural wood while enhancing insulation.
James Hardie siding. This type of siding is a material made from cement combined with other durable ingredients. James Hardie is super resistant to fire, moisture, and harsh weather, it offers a polished appearance and versatility. Fiber cement boards can be pre-painted at the factory or primed for painting after installation.
Engineered wood siding. A blend of beauty and durability, engineered wood siding is made from recycled wood fibers. Easy to customize, it can be pre-stained to any color, and is easy to install, maintain, and repair.
We will help you find the perfect siding for your home – durable, beautiful, and cost-effective. Let's navigate the style options together!
Lap Siding
Also known as lap or clapboard siding, siding planks are the most widely recognized style of siding. They are used primarily as horizontal siding in which the planks overlap one another. However, you can embrace creativity by installing it vertically as well.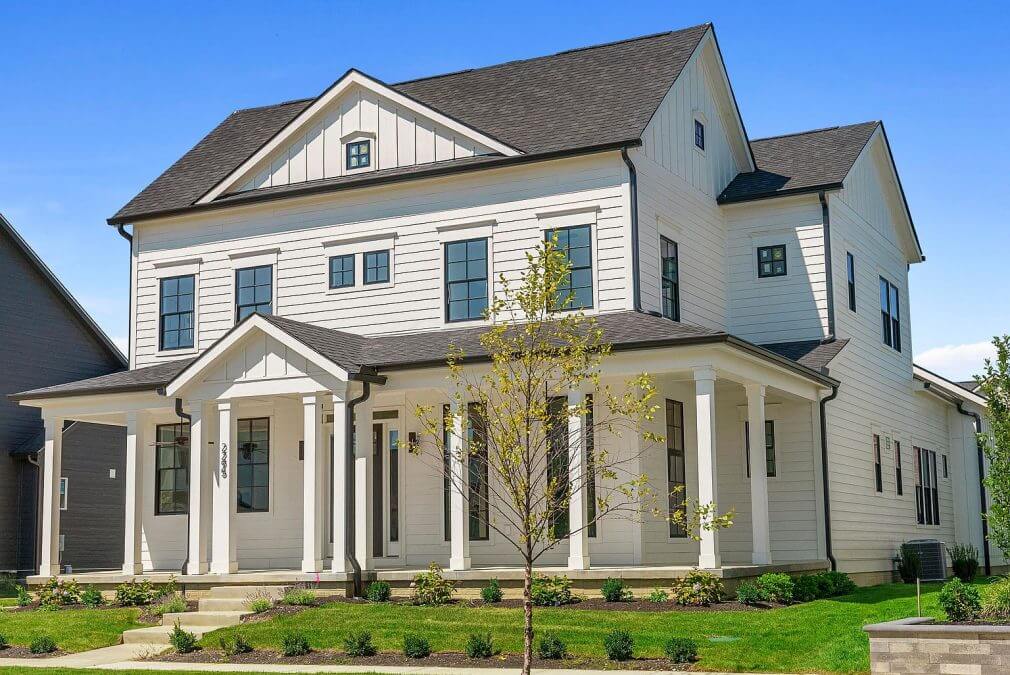 Typically seen on traditional homes, it can be made to look more contemporary by eliminating trim from the design. It's available in a thrilling array of colors and finishes.
Shingles and Shakes
Add warmth and contrast with shingle siding or shake siding. You'll recognize them on Victorian-style homes or charming New England Cape Cods. It can be used to create decorative accents or as the main feature of your house when combined with other siding materials.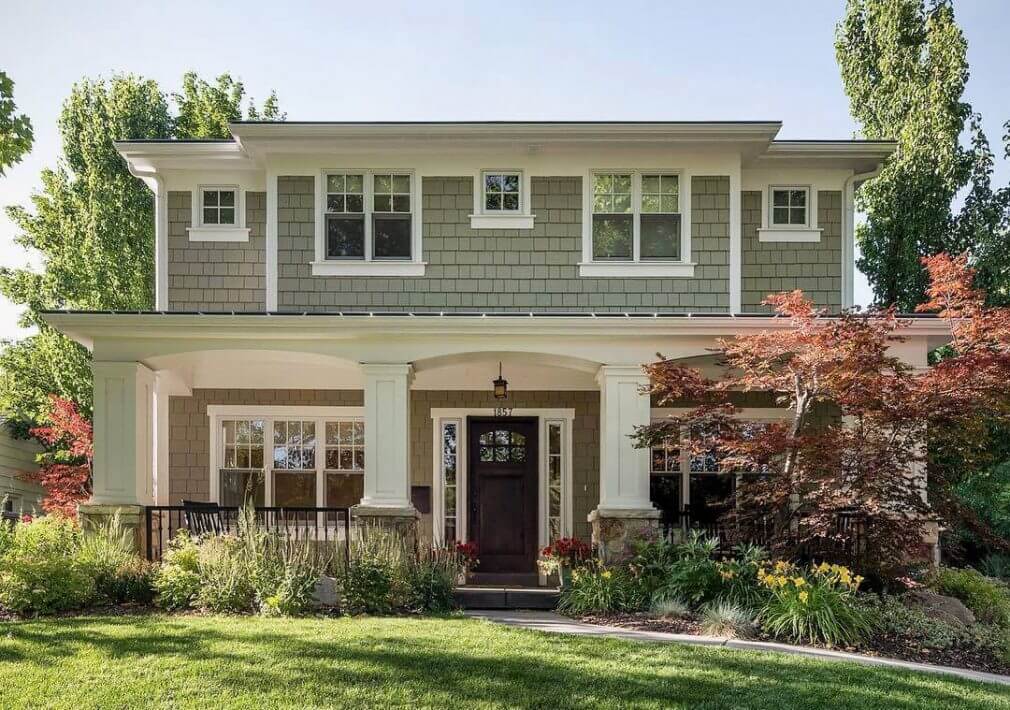 While wood is the traditional material for shingle siding, it's also available in modern materials such as fiber cement or vinyl, delivering a natural and cozy aesthetic. While siding shingles have a smooth finish and edge, shake siding is more rugged, with a raw, uneven edge and varying texture on their surface.
Board and Batten Siding
Siding panels can be an excellent choice for exterior design. With custom-cut panels, you can achieve a minimalist look and choose between horizontal and vertical options. They come in an impressive range of colors and textures, including a smooth or wood grain finish.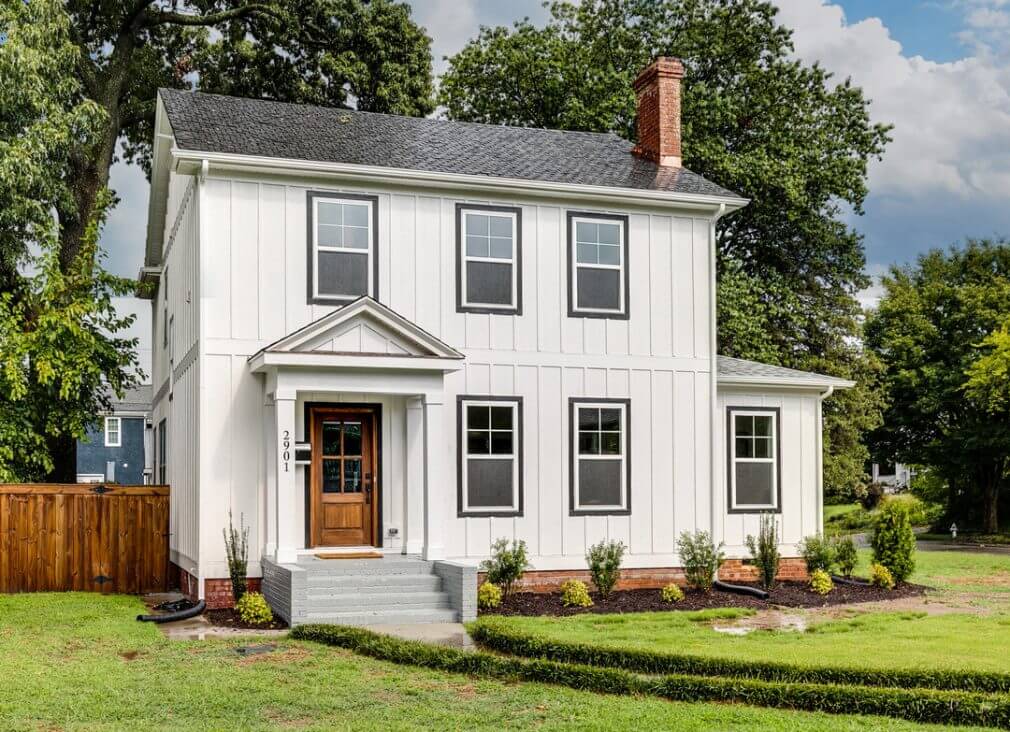 Board and batten styling for panels is another option that can help you achieve a decorative modern farmhouse look. It features thin vertical strips that cover the seams, creating an attractive and unique aesthetic.
Siding Cost in Columbus, OH
Our policy of complete transparency makes your home siding project easier because our quotes include both materials and labor. There are no hidden costs and, therefore, no surprises. However, keep in mind that costs can vary based on the material you choose, the design of your home, and additional elements such as trim and soffits.
We did our homework and determined that in 2023, the median home size in Columbus, OH, measured 1930 sq. ft. Yours might be larger or smaller, but as a reference point, here's a glimpse of the price range for various siding types. Vinyl siding is almost always the least expensive type of siding, and cedar siding is the most expensive.
Vinyl Siding: Approximately $6 – $8 per square foot, making a 2000 sq. ft. house range from $12,000 to $16,000. For premium vinyl siding, add approximately $2 per sq. ft.
James Hardie (Fiber Cement) Siding: A higher-end option at around $9 – $10 per sq. ft., totaling $18,000 – $20,000 for a 2000 sq. ft. house.
Engineered Wood Siding: Slightly more expensive than fiber cement siding, engineered wood siding will run you approximately $20,000 to $22,000 for the same size house.
Cedar Siding: A premium choice at $12 – $13 per sq. ft., reaching $24,000 – $26,000 for the average-sized house in Columbus.
To guide you through other materials used in your siding renovation, have a look at the table illustrated below:
| | |
| --- | --- |
| Material | Price per sq ft* |
| James Hardie® (Fiber Cement) | Starts at $9.25 |
| LP® Smartside® (Engineered Wood) | Starts at $10.00 |
| Vinyl Siding | Starts at $6.00 |
| Premium Vinyl Siding | Starts at $6.50 |
| Cedar Siding | Starts at $12.00 |
| Stucco | Starts at $11.00 |
| Longboard® Aluminum Cladding | Starts at $45.75 |
| AL-13® Aluminum Cladding | Starts at $42.00 |
| LUX Steel Cladding | Starts at $30.00 |
| Cultured Stone | Starts at $38.50 |
* Prices are guidelines only and can change based on the seasonality, availability of materials and complexity of your project.
Remember, these are estimates only, because the current condition of your house has an impact on the final cost. Your siding project may require additional work if the underlying structure is rotten or damaged. Because our company conducts a thorough inspection of your house before work begins, we give you a final price beforehand to help you make an informed choice.
Installation Process & What to Expect
You're in good hands with our team of experienced siding contractors. You can relax as they handle the entire project from start to finish.
Their work begins as soon as all the materials arrive on site. After that, here's what you can expect:
Old Siding Removal
The first step is removing any existing siding on your home. This will provide you with the long-lasting protection you deserve. Depending on the scale of the project, the removal of existing siding generally takes 2 to 7 days. This step is skipped if there is no old siding to be removed.
Sheathing Inspection and Repair
After the old siding is removed, we inspect sheathing for any rotten parts or damage. If needed, repairs may incur an additional cost, though most homes do not require them.
Preparation of the Wall for Siding
The next step in the siding installation process involves adding a rainscreen. This involves the use of building paper, flashings, and strapping/mesh. While optional, a rainscreen can greatly extend the lifespan of the siding by allowing airflow in the walls. Siding with a protective rainscreen can last up to 10 years longer compared to siding without one.
Siding Installation and Touch-up
Once all the prep work is completed, your new siding and trim are set in place. If the siding has not yet been colored, this is the time for painting and taking care of other work such as reinstalling shutters. Installation takes 7 to 10 days on average, with meticulous attention to detail. Trim boards, insect screens, and touch-up paint are applied for a flawless finish.
Clean-up and Waste Removal
After the work has been completed, we will do a final cleanup, leaving you with a spotless yard. We remove all remaining old materials from the last day's work and conduct a final inspection, clearing away any nails, dust, and debris from all your outdoor spaces. Rest assured, we adhere to the highest industry standards, ensuring a tidy property and proper recycling of construction debris.
Once the siding installation and clean-up process is complete, one of our Project Managers will guide the you through siding maintenance and provide details of warranties for both materials and contractor workmanship.
Why Work With Ideal Siding?
If you are looking for a reliable and trustworthy siding installation service for your home in Columbus, Ideal Siding is the perfect choice. Considering us as your siding contractor has three compelling reasons:
Price match policy. We match any competitor's quote, and our comprehensive quotes include everything from materials and installation to removal of existing siding and thorough site clean-up. With us, unexpected costs are a thing of the past, letting you confidently budget for your siding project.
25-year workmanship warranty. Each member of our expert crew brings a minimum of 7 years of siding experience, backed by meticulous oversight from our home team. We exclusively utilize premium materials from renowned brands, and our confidence in our workmanship is reflected in our 25-year warranty. This means you can enjoy your new siding worry-free, knowing that we've got you covered for a quarter of a century.
Complimentary design mock-up. We understand that visualizing the end result can be challenging. To put your mind at ease, Ideal Siding Columbus offers a complimentary design mock-up. This allows you to see exactly how your home will look post-installation, and we're more than happy to refine the design until you're 100% satisfied.
Our track record of delivering exceptional results speaks for itself, and we ensure that your siding will perfectly match your preferences, budget, and home's architecture. But don't have to take our word for it – read the testimonials of our satisfied homeowners!
Contact Us Today
For inquiries, estimates, or expert guidance, reach out to our specialists today. Let's embark on a journey together to transform your Columbus home with exceptional siding solutions.
We are serving the following municipalities at the moment:
Columbus, ​Mt. Sterling, St. Louisville, Marne, Hebron, Brownsville, Sunbury, Hanover, and Circleville.