Ideal Solutions Tailored To Your Home
Your home is one of the most important places in your life. It's where your family will grow, where you'll form memories and the shelter that gets you through hard times. At Ideal Siding, we know how important it is to take care of your home and to preserve your unique style and personality in your new siding.
Hundreds of homeowners trust us with their siding improvements every year, and every one of those customers gets our customized care and installation. Whether you're looking to replace your whole home's siding, are installing new one, or just need some repairs, we've got you covered.

We will guide you through every step of the process so you always know what to expect. We have a wide selection of siding materials and styles so that you can match your personality while protecting your home.
Reasons to Work With Us
Every home is as unique as the people that live there. That means that we don't ever use the same approach twice because we know that you need custom solutions.
Here is what we offer you.
Price Matching Guarantee. Choosing the right contractor shouldn't be difficult, but we know there are many options for you to choose between. As long as your quote is for the same kind of job and quality of materials, we'll match our competitors' price. More importantly, you can trust that we are familiar with your local building codes and that your siding will always be up to requirements.
Complimentary Design Visuals. At Ideal Siding, we know that a huge selection isn't always a good thing, and it can be hard to choose between different colours and styles of siding. We can help you find the best option for you, with your taste in mind. Our in-house design team uses photos of your home, along with the materials and colours you've chosen, to develop custom designs specific to your home.
25-Year Warranty on Workmanship. Getting your siding replaced is a big step. Like any home renovation, siding replacement can be a significant investment. We also know how important it is to trust your siding to protect your home from the weather, so we offer a leading warranty in our industry. That way, you know you'll get a good value on your investment. Our warranty extends to all the work we do, from routine repairs to total replacements.
Our job isn't just to install the siding. Our job is to help you create the home of your dreams.
Siding Options We Offer
If you're looking for good siding options for your home, it's important to know what your options are. Here are some of the most common and durable types so you can make an informed decision for your home.
Cedar Siding
Cedar is a classic siding option that's stood the test of time as a durable and effective building material for your home. It's also a beautiful option that's incredibly popular throughout North America and Europe, which means it can be a good investment in the value of your home.
Besides its aesthetic appeal, cedar siding is also remarkably durable when installed and cared for properly. It is available in a wide range of colours and finishes, including a sealed clear coat stain that maintains its natural beauty. This option is also one of the most environmentally friendly ones that you can choose.
Cedar shingles can also be used as a siding alternative and can be a great complement to the other design features of your home. However, cedar siding and shingles are highly flammable and can be more vulnerable to certain kinds of damage. It's also typically more expensive than other options.
Fiber Cement Siding
Fiber cement is a composite material that's highly fire, moisture, and weather-resistant. It's one of the most protective options for your home and the right choice for areas with lots of precipitation.
The exact content of fiber cement varies depending on its weather rating and which climate zone it's designed for. That means you can get siding for almost any climate.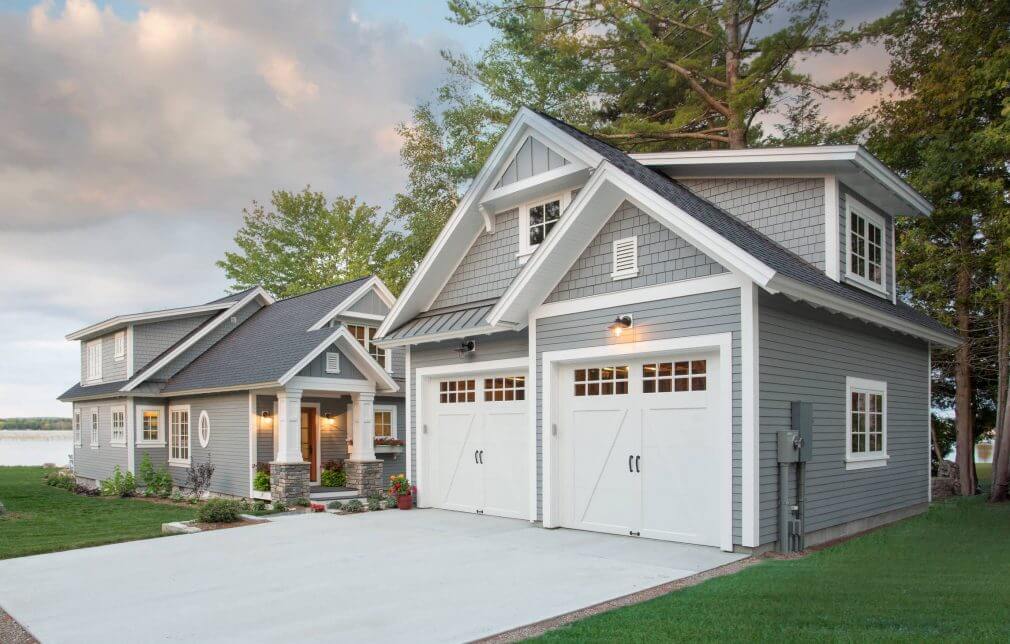 Fiber cement siding is also resistant to common environmental sources of damage, like insects and woodpeckers. It's low maintenance and looks like a fresh installation for years.
This type of siding usually comes pre-painted. However, it's safe and effective to paint over it after installation, which means there is a wide range of colours available.
Vinyl Siding
Vinyl is entirely synthetic and is made from a blend of plastics designed to give it durability, colorfastness, and other important characteristics. It's lightweight but very durable. Vinyl siding also comes in a wide range of different colours, which has made it one of the most popular options for years.
The synthetic material is also incredibly low maintenance, which means you won't need much upkeep to keep it looking like new. Innovations in vinyl siding have improved colorfastness, which means your siding will look vibrant for years to come.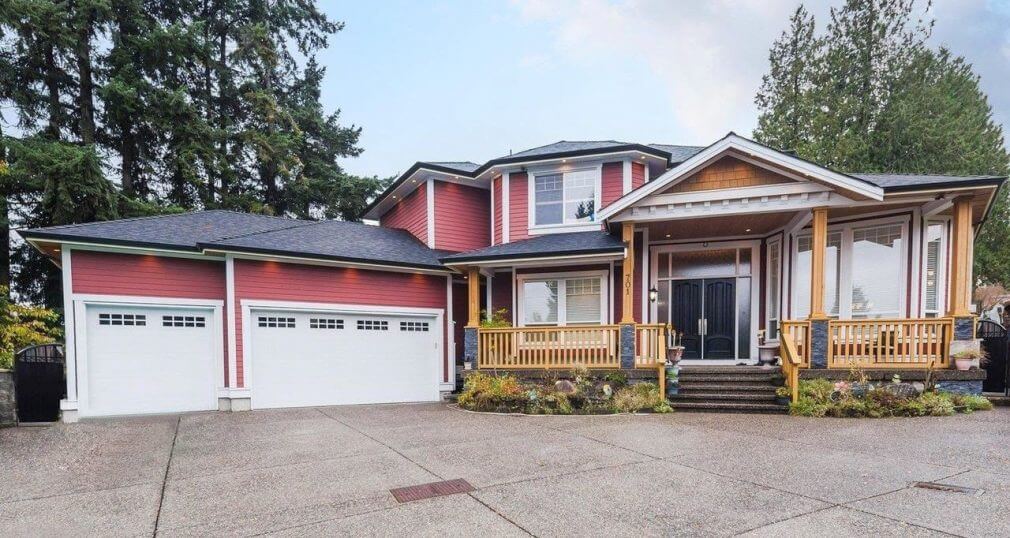 However, vinyl isn't a perfect option and isn't the right kind for everyone. Vinyl siding has a low melting point and can deform in intense sunlight. Cracking and other damage are also possible if you grill or BBQ too close to your siding. Extreme cold can be equally problematic.
Damaged vinyl siding can be difficult to repair because of its overlapping design, which may force a total replacement sooner.
Aluminum Siding
Aluminum siding is a premium option and is some of the most durable siding available. Aluminum is available in beautiful designs and in different profiles to fit any style of home. It's available in both vertical and horizontal versions.
Aluminum siding usually mimics the look of natural wood but is more moisture, fungus, and insect resistant than cedar. This option also offers fantastic insulation for your home, which can reduce your utility costs.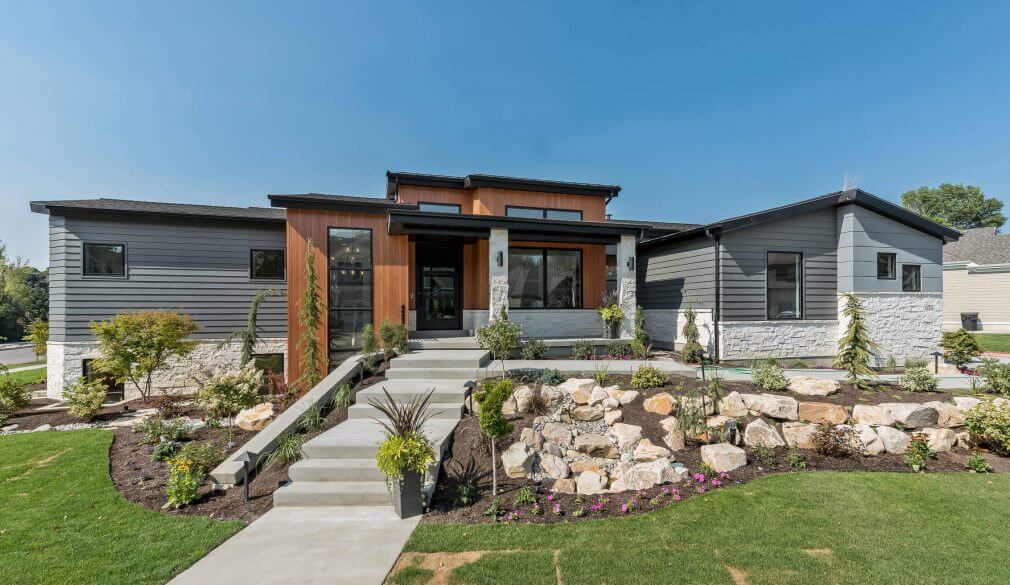 However, for all the advantages that aluminum siding offers, it also comes with a higher cost. That's the main reason homeowners choose alternatives to aluminum siding. Aluminum siding is also vulnerable to scratching and other kinds of damage that can be difficult to repair. It's also louder during high winds and weather.
Engineered Wood
Engineered wood is a composite of wood fibers, resin, and wax that is more durable and weather-resistant than regular wood. It's usually made from recycled materials and leftover lumber, which makes it a relatively eco-friendly choice.
It's aesthetically similar to cedar but entirely free of knots and can be stained in any colour available in the manufacturing facility. Installation on this type of siding is relatively easy, and it doesn't need much ongoing maintenance.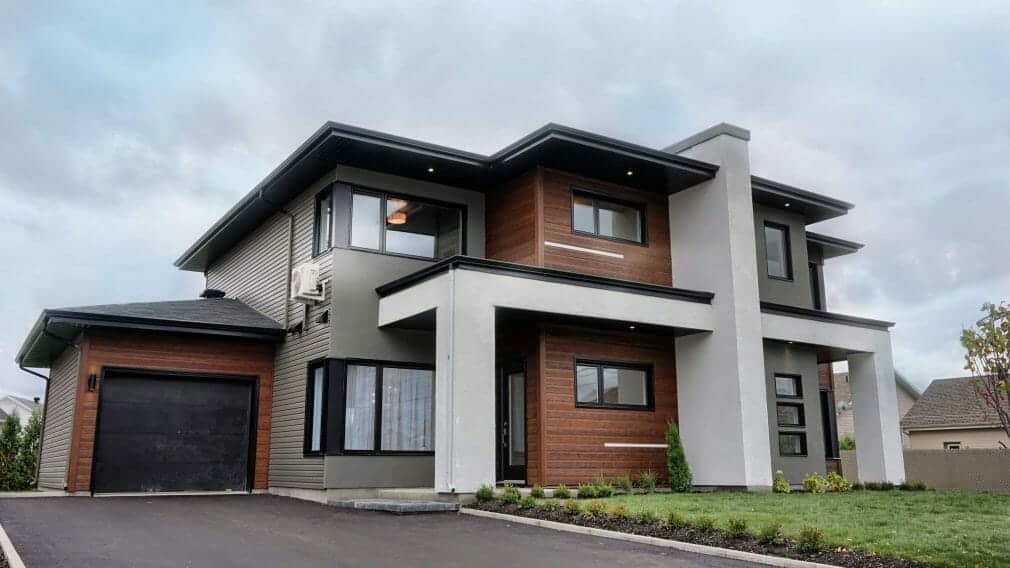 However, engineered wood comes in a range of quality and can deteriorate quickly if it's not properly installed. It's important to choose a contractor you trust if you want to work with engineered wood. We'll be able to ensure both the quality of the materials and the quality of the installation.
It's important to note that engineered wood siding is a relatively new material, so every installation is slightly different based on the manufacturer's recommendations. While this is considered an eco-friendly option, it's not entirely clear what effects the resins and added components will have on the environment over time.
How Much Does the Siding Cost?
Siding installation costs vary depending on the kind of materials you're working with, the size of your home, and whether there is any additional repair work necessary for the installation.
Vinyl siding, for instance, averaged between $7-9 per sq ft for installation. For a 2,500 sq ft home, that means vinyl siding would cost between $17,500 – $22,500. Other options, like cedar siding, James Hardie siding, and aluminum siding, are more costly, usually $25,000 or more, with average costs between $12-20 per sq ft. However, the additional durability of these varieties of siding makes them similarly cost-effective. In some cases, a more expensive option may be a better investment depending on your home.
This table covers the costs of different varieties of siding in the Kelowna area.
| | |
| --- | --- |
| Material | Price per sq ft* |
| James Hardie (Fiber Cement) | Starts at $10.75 |
| Vinyl Siding | Starts at $7.50 |
| Premium Vinyl Siding | Starts at $8.75 |
| Cedar Siding | Starts at $13.00 |
| Stucco | Starts at $12.50 |
| Longboard | Starts at $46.75 |
| AL-13 | Starts at $44.50 |
| Cultured Stone | Starts at $44.00 |
* Prices are guidelines only and can change based on the seasonality, availability of materials and complexity of your project.
Of course, that doesn't tell you the exact cost of your project. If you're looking at getting your siding replaced soon, contact us for an accurate estimate taking the details of your home and preferred siding into account.
What To Expect During Siding Installation
Our team will start with a project manager going over all the steps of your project and your unique installation details. This is an opportunity to ask any questions you might have and get an idea of the schedule.
We keep track of every detail for you and will be happy to answer any questions you might have during the installation. Here's a summary of what our step-by-step process looks like so you know what you can expect, no matter what kind of siding material you choose.
Removing Your Old Siding
If you have existing siding, the first step of your installation is removing the old siding without causing any damage to the underlying structure of your home. We don't recommend installing siding over old siding since the material, and labour warranties often don't cover that kind of installation. There are a few exceptions, so let us know if you want to explore this kind of installation as an option. If your home does not have any pre-existing siding, we may be able to move immediately to the next step in the process.
Inspecting for Sheathing Damage
The quality of the sheathing under your siding not only impacts the success of your siding installation but can also affect how effective your insulation is, and in severe cases, may leave your home more vulnerable to other forms of damage. Our team will inspect your sheathing while removing the existing siding, which is needed to protect your home from trapped moisture. If your sheathing does need a repair, we can complete that repair ourselves. Usually, only a small percentage of homes need this service, and it's relatively affordable.
Getting Ready to Install New Siding
After your old siding has been removed and we've inspected the sheathing, some prep work needs to be done before your siding can be installed. First, we will need to install building paper to help protect your walls from moisture and other common damage sources. After the building paper, we'll install strapping. Strapping for your siding is recommended, but it isn't mandatory for some siding types. We think it's an important addition because it helps create airflow between the siding and your walls, increasing your siding's functional life by an average of 5-10 years.
Siding Installation and Touch-up Work
It takes an average of 7-10 days to install new siding properly, but the exact timeline varies depending on your chosen siding materials and style, as well as the size of your home. This step also includes installing flashings, dryer vents, and any light fixture boxes or bug screens. Depending on your installation type and material, we may also use specially selected nails to match your siding colour. Coloured caulk sealant may also be used to seal any open areas between different boards. Decorative items, like soffits, trim boards around windows and doors, and other additions will also be installed or reinstalled at this time.
Final Clean Up and Inspection
While we're installing your siding, our experienced teams will also keep the mess to a minimum by cleaning up regularly as we work. However, we will also complete a final cleanup where all construction waste will be contained and removed at this end-stage. Recyclables may be placed in the recycling bin. After the project is finished, the project manager will complete a siding inspection to look for any defects with the material or installation.
In addition to completing our own inspection, we also provide a final installation appointment to go over project details, the terms of all warranties on the work and materials, and go over care instructions for your new siding. This appointment is also a great time to ask any additional questions you might have about the installation, your siding, and anything else.
We know how important it is to get your installation done as quickly as possible, which is why we will start preparing for your project as soon you sign your quote. We check with our suppliers to make sure siding materials are in stock so we can get started without delays.
Contact Us Today
As one of Canada's fastest-growing siding companies, we are committed to providing speed along with excellent service and a high-quality, durable installation. Let's get started today!
We are serving the following municipalities at the moment:
Kelowna, Peachland, Greata, Summerland, Penticton, Lake Country, Vernon and Armstrong.