We Find an Ideal Solution for You
Your home's siding is its public face. The siding determines your house's curb appeal: how it looks to you every time you pull into the driveway, and to everyone who visits or passes by. That's why choosing the right siding for your house is nearly as important as your decision to purchase a home.
Here in Dallas, we have a subtropical climate, with lots of humidity and a wide range of temperature and rainfall, sometimes as must as 50" annually.  That's why you want to make sure you buy the right siding for your environment, one that will protect your home for years to come.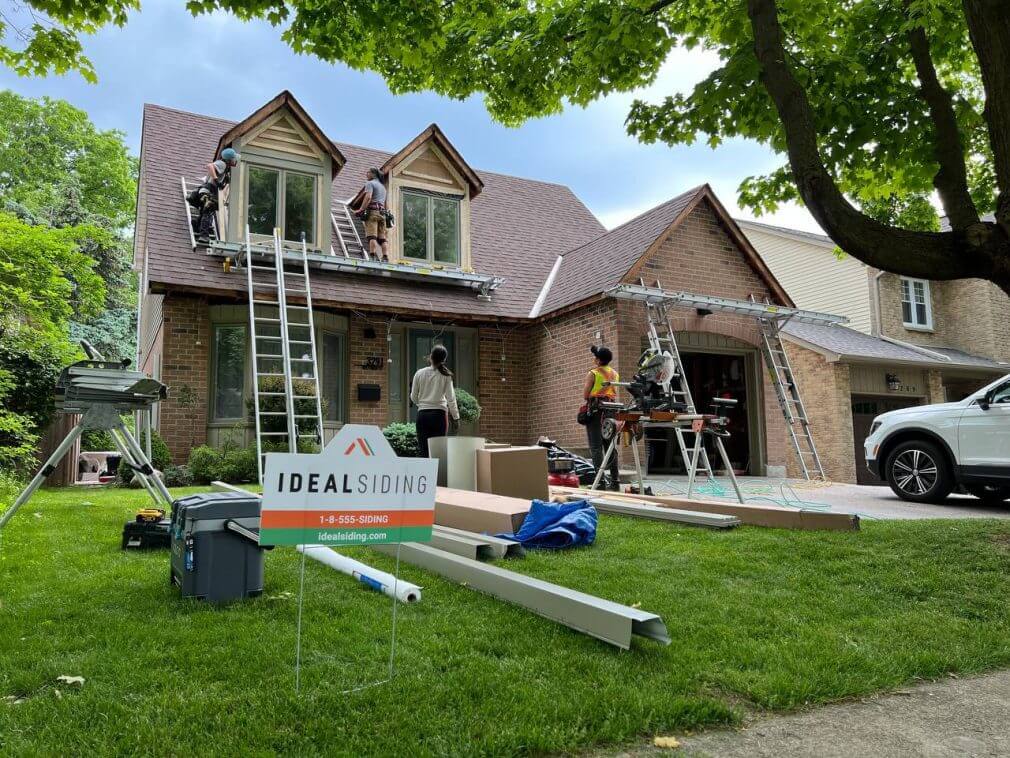 We are proud of our professional crews and our relationships with local suppliers who provide the highest quality materials with the widest array of options. Take advantage of our years of experience and expertise in home siding to help you create the home of your dreams.
Are you thinking of replacing or repairing your siding or are you in the process of building a new home or addition? Ideal Siding Dallas understands the role siding plays in your daily life, as well as in protecting your house from the elements. Whether your job is a small project or you're redoing your entire structure, our team of experts is standing by to help you through the entire process. We work with you to you choose the right siding from the start, and stay by your side until the final clean-up and inspection.
Variety of Siding Materials and Styles
Ideal Siding offers a huge range of siding styles, design and material options, and color choices. We will come up with the siding that meets your taste, budget and help you make the right decision about which products are best for Dallas's hot, humid weather and range of temperatures.
These are the different types of siding material we offer:
James Hardie (Fiber Cement). This type of siding is material made from cement combined with other ingredients.  Resistant to fire, moisture and harsh weather, it has a polished look and comes in a variety of textures to mimic natural wood. Fiber cement boards can be pre-painted at the factory or primed for painting after installation.
Cedar siding. While cedar siding is both durable and moisture-resistant, its popularity is due to its high-end look and warm charm. While more expensive than vinyl or cement fiber siding, it is a true classic. Available both with a clear stain for a natural look and in a wide range of colors, it is easy to customize, replace and repair.
Engineered wood siding. This type of siding is made from the fibers of recycled wood or leftover lumber materials, and bound with resin and wax. It is more durable than natural wood, but equally as beautiful. It can be pre-stained to any color, and is easy to install and maintain. And it doesn't have any knots.
Vinyl siding. Vinyl siding, which is a blend of plastics, is low cost and easy to maintain. It is durable yet lightweight, and the brilliant colors in which it is available do not fade in direct sunlight.
Aluminum and steel siding. One of the advantages of modern metal siding is that it can be made to look almost exactly like natural wood. Available in large, flat panels and vertical or horizontal planks, it is both durable and attractive. A great choice for contemporary homes, it is lightweight, and moisture and mold resistant.  It also has insulating properties, which will help bring down your energy bills.
Siding is also available in a variety of siding styles. The following is a brief description of the most popular.
Board and Batten
Board and batten siding is an excellent option for homeowners who want to add a touch of personal style to their homes. One of the great things about board and batten siding is that it can be used to create both modern and traditional looks. The clean and multi-dimensional effect it creates is perfect for achieving a modern farmhouse style. Additionally, it is often used on higher or gable walls, which can add drama and dimension to your home's exterior.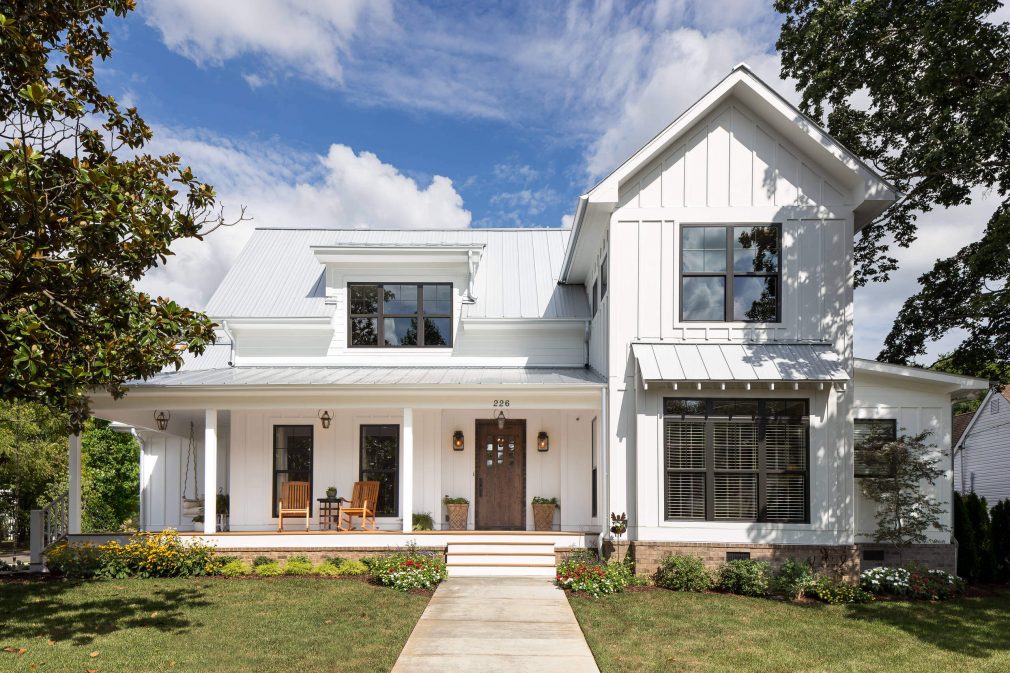 Lap Siding
Lap siding is a perennial favorite among homeowners nationwide. Because siding planks are available in a large range of colors and finishes, and because they can be installed vertically as well as horizontally, they allow you to go all out with your creativity.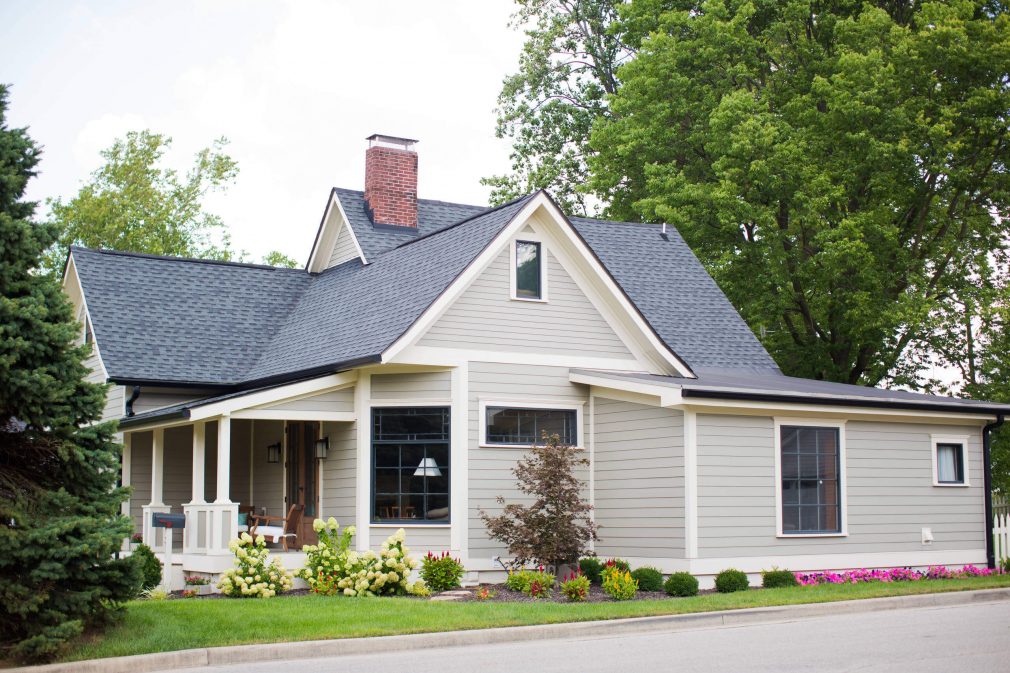 Siding Panels
If you are looking for a minimalist modern look, siding panels are an excellent option due to their sleek design. The panels are cut on-site to ensure they match the design of your home. The installation can be done horizontally or vertically based on your design plan. Like our other siding materials, they are available in an impressive range of colors and textures, and can be made to look like wood.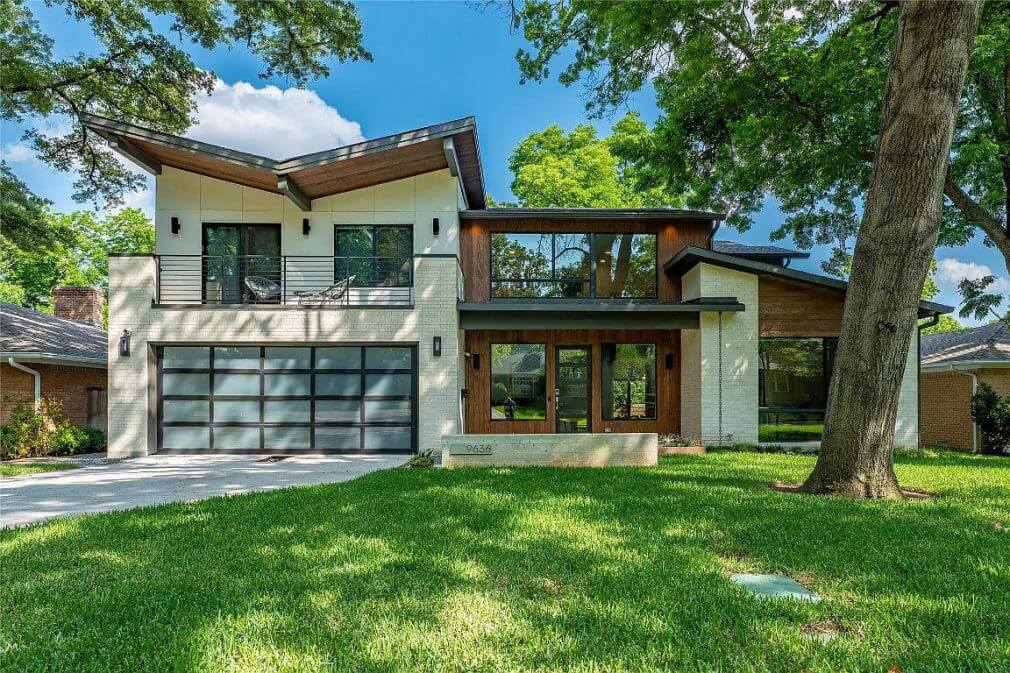 Shingles and Shakes
Siding shingles create a natural, rustic look. They also add contrast and depth to your home's walls and gables, creating a sense of coziness and warmth. The most common materials for siding shingles are cedar, fiber cement and vinyl. Using shingles and shakes is a great technique for highlighting a specific part of your house.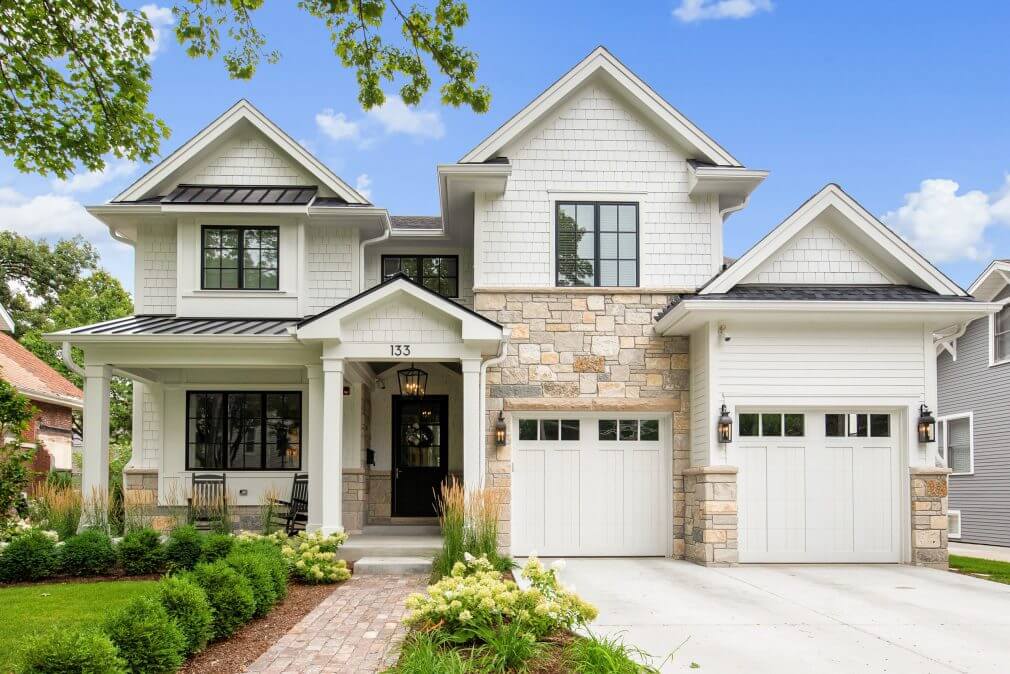 How Much Does Siding in Dallas Cost?
First, it's important to keep in mind that the square foot price also includes the cost of installation. That amount depends on the siding's materials, design, and other elements such as trim boards, soffits, and fascia boards.
We've listed the approximate cost of the most popular types of siding in Dallas to give you an idea of the price range and how they are priced compared to one another:
Vinyl siding is your least expensive option. Easy to install, it costs approximately $9 – 12 per sq.ft. Installation of vinyl siding on a 2000 sq.ft. house, which is just around the average home size in Dallas, will cost you between $18,000 and $24,000.
James Hardie siding is a bit more expensive, approximately  $14 – $16 per sq.ft. You would pay around $28,000 – $32,000 for the same house.
Cedar siding is the most expensive, with a price tag of $18 – $20 per s.f., bringing the cost of using it on a 2000 sq.ft. house to between $36,000 and $40,000. Painting and staining costs are additional. While this is the most costly option, don't forget it will add to your home's curb appeal and undoubtedly increase its value.
These are estimates only because the current condition of your house has an impact on the final cost. Your siding project may require additional work or repair if the underlying structure is rotten or damaged. Because we conduct a thorough inspection of your house before work begins, we give you a final price beforehand to help you make an informed choice.
To guide you through other materials used in your siding renovation have a look at the table illustrated below:
| | |
| --- | --- |
| Material | Price per sq ft* |
| James Hardie (Fiber Cement) | Starts at $14.25 |
| LP® Smartside® (Engineered Wood) | Starts at $16.00 |
| Vinyl Siding | Starts at $9.75 |
| Premium Vinyl Siding | Starts at $11.50 |
| Cedar Siding | Starts at $18.50 |
| Stucco | Starts at $18.00 |
| Longboard (Premium Aluminum) | Starts at $54.40 |
| Cultured Stone | Starts at $42.50 |
* Prices are guidelines only and can change based on the seasonality, availability of materials and complexity of your project.
Our Work Process
As soon as you have completed your choice of material, style, design and color, and approve the design mock-up, our contractors begin working on your siding project. The exact start date depends on the availability of the materials, but once all the materials arrive on-site, we start the process of prepping your house for the installation.
Here's what you can expect:
Old Siding Removal
After ordering all the materials, we begin the removal of the old siding. Depending on the size of the project and the type of existing siding, this process typically takes between 2 and 7 days. If there is no old siding to be removed, this step is skipped.
Sheathing Damage Inspection
Next, we inspect the existing sheathing underneath the old siding to detect rot, mold or other damage. If repairs are needed, which fortunately doesn't happen often from our experience, you could be looking at an additional cost for repairs.
Preparation of the Wall for Siding
After your home's sheathing has been inspected and any necessary repairs have been made, we begin the installation of the building paper, flashings and strapping/mesh. This layer gives additional protection from the water damage, which is especially important given Dallas' reputation for long rainy periods.
Siding Installation and Touch-ups
Installing your new siding typically takes between 7 and 10 days, depending on the type of siding you have chosen and the size of your home. Within this timeframe, we put in a trim board around windows, doors, soffits, overcap corners and fascia boards. We also install insect screens, flashings, dryer vents and light fixture boxes, and apply touch-up paint to the nails.
Waste Removal and Clean Up
The final step after the touch-up is tidying up your property, and removing and recycling all construction debris in accordance with the best practices in the siding industry. Here, at Ideal Siding, we always make sure that we complete every project with excellence and according to the best practices in the siding industry.
At the completion of your project, our Project Manager will inspect the work and then set up an appointment to review the project, explain the details of the warranties of materials and workmanship, and provide maintenance instructions.
Why Hire Us as Your Siding Experts
At the risk of tooting our own horn, we believe there are many good reasons to choose Ideal Siding Company for your home siding project. If you don't believe us, just take a look at the testimonials from many of our satisfied homeowners!
We are committed to working with you to ensure you are getting the siding that's best for you, tailored to your exact needs. We take into consideration your style, needs and desires, and budget.
Here are some other great reasons to choose Ideal Siding Dallas:
25-year Workmanship Warranty. Each and every crew member has a minimum of 7 years of siding experience, and our home team audits every single job. We use only the most durable and high-quality materials. We are so confident in the quality of our work that we warranty it for 25 years –that's a quarter of a century! When you hire Ideal Siding Dallas, you can sleep at night knowing that we have your back if your siding needs repairs or replacement due to unsatisfactory workmanship.
Price Match Guarantee. Before you sign with other companies, all you have to do is consult with us to get a quote. Just bring samples of what you've selected along with your design. We guarantee we can match the price for the same scope of work. We also provide you with an all-inclusive price, from initial design to final clean-up. Our scope of work includes the removal and proper disposal of existing siding, delivery of all materials, inspection for rotting parts, and site clean-up, in addition to materials and installation. You don't need to worry about hidden fees or unexpected costs.
Complimentary Design Mock-Up. We understand that sometimes it's difficult to imagine what the result of your siding project will look like when all the work is done. What if it's not what you envisioned? If you work with other siding companies, you might end up making a very costly mistake. That's why Ideal Siding Dallas offers a complimentary design mock-up, so you can see exactly what the end result will be. We can make adjustments in materials, colors and design until you are 100% satisfied with the siding you are buying.
No hassle, no disappointment, no regrets!
Contact Us
Have questions? Need an estimate? Call us today to speak with a specialist or get a free quote on the siding that works best for you.
We are serving the following municipalities at the moment:
Collin, Dallas, Denton, Ellis, Hood, Hunt, Johnson, Kaufman, Parker, Rockwall, Somervell, Tarrant and Wise.