We Find an Ideal Solution for You
When it comes to choosing the best solution to your siding needs, Ideal Siding can ensure that homeowners in Houston have all of the knowledge and the expertise to make informed and educated decisions. We understand that choosing practical and pleasing siding is important to you!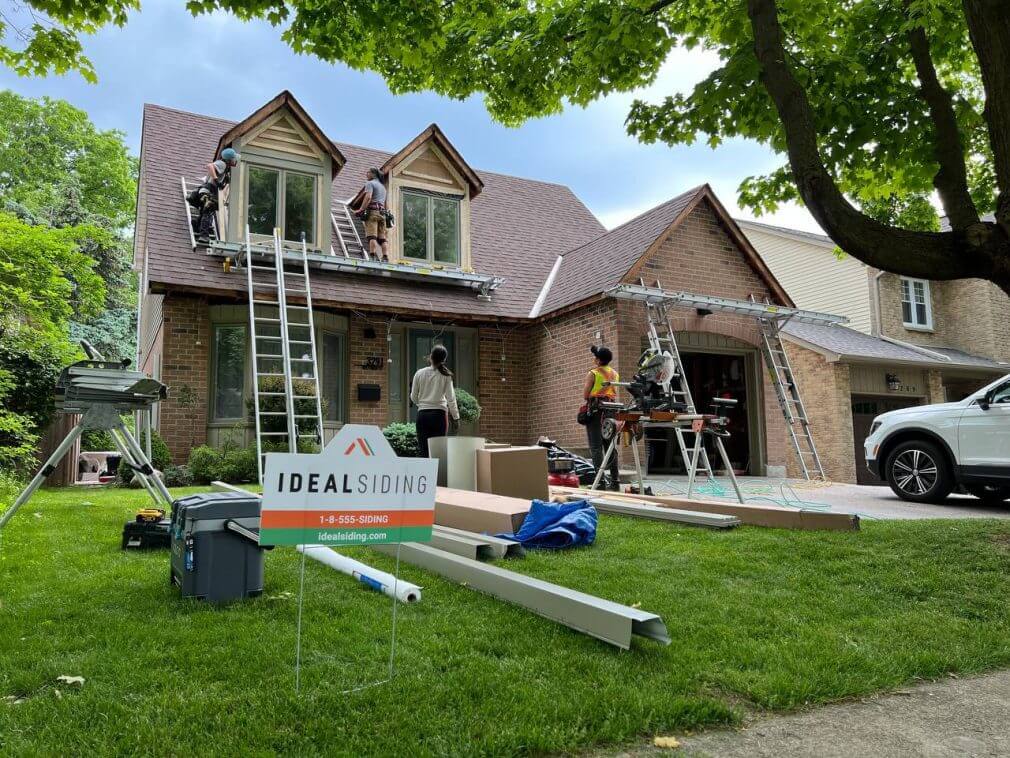 With the climate in Houston being hot and humid in the summertime, mainly dry and cool in the winter, and prone to hurricanes, your siding needs to be able to withstand everything nature can throw at it from the weather to the insects and birds that like to make themselves at home.
Every home is as unique as the people who live in it, and no two renovation projects are the same. At Ideal Siding Houston, we provide customized, ideal solutions for your needs, whatever you decide on, we've got your back! We've taken a great deal of time to ensure that we, as a siding contractor, provide the best quality materials and workmanship available. We have the top crews in the industry and we work with the most reputable suppliers.
Siding Options We Offer
Here are some of the most common types of siding material so you can start thinking about what material is right for your home.
James Hardie Siding
Fiber cement siding (otherwise known as James Hardie) has grown considerably in popularity and is installed on millions of homes. It's a modern composite material created with fibers from wood, cement, and other ingredients unique to the manufacturer.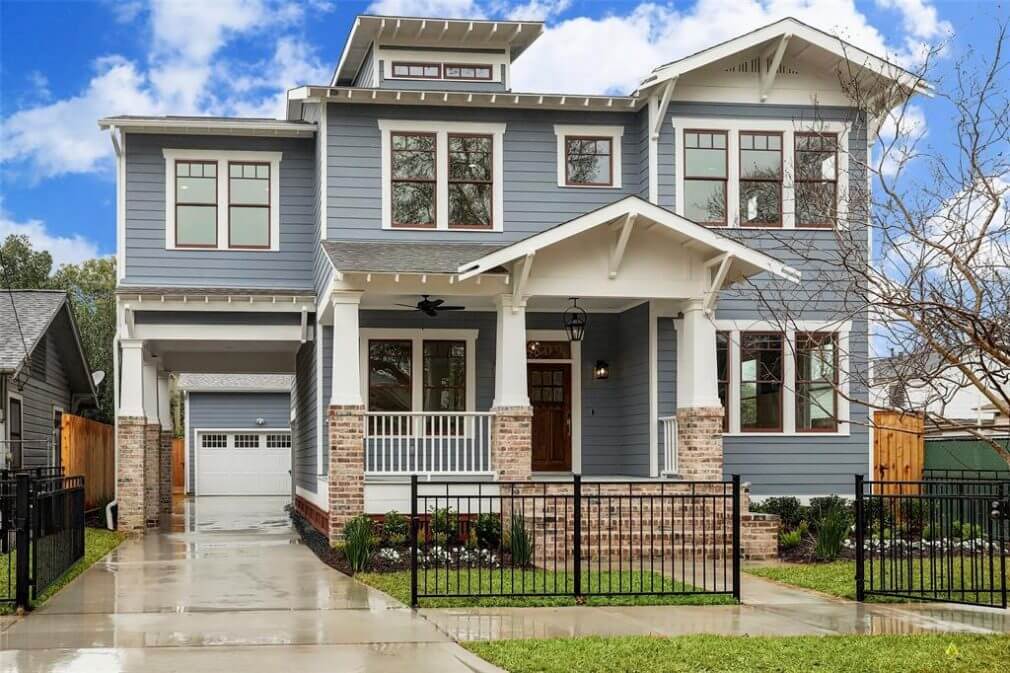 It is very durable and resistant to rot, termites, and fire, and customized to the climate zone, making it an excellent option for Houston's extreme weather conditions. It can be challenging to install, so finding a professional installer is critical.
We can order this product pre-painted or primed for paint and textured, and there is a wide range of options for you to choose from and can be made to look like cedar shingles, board and batten, panels, or horizontal lap siding.
Vinyl Siding
Vinyl siding is one of the most popular, versatile and low-maintenance options. The low cost of materials and new technologies have made it even more durable and appealing. It is suitable for most weather conditions, but it can warp in intense sunlight or high heat.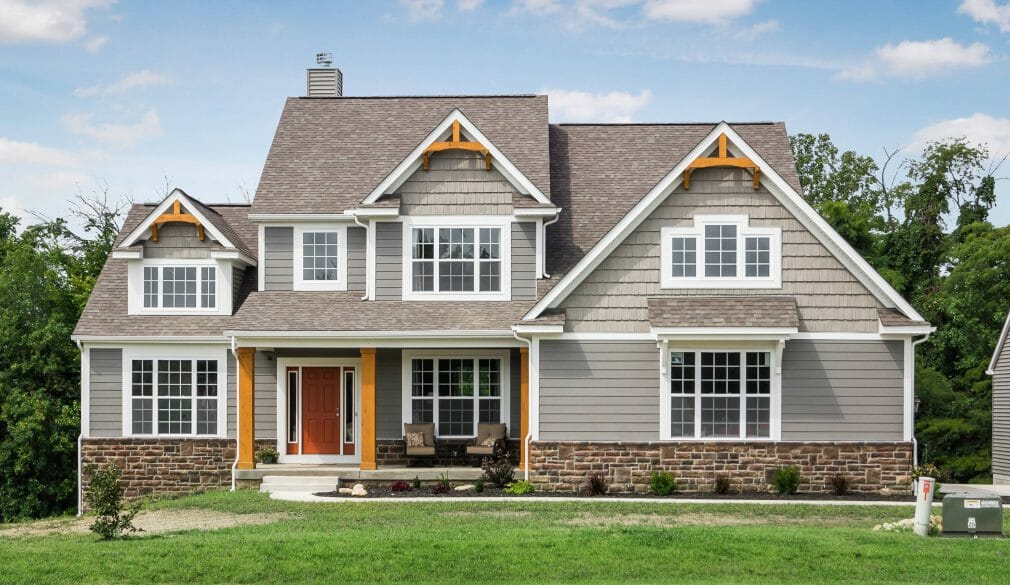 Vinyl siding can be used to create the texture and look of a wide variety of other siding materials. It can mimic shingles, natural stone, and even brick. Horizontal lap siding, vertical board and batten siding, and shingles are some of the most popular styles of vinyl siding.
Cedar Siding
Cedar is a popular siding choice and has stood the test of time. Cedar siding can last for over 50 years and maintain a beautiful, quality appearance when taken good care of. You can opt for natural cedar that emphasizes its beauty with the knots and grain intact with a clear or tinted stain, or you can have it primed ready to paint with any color of exterior siding paint.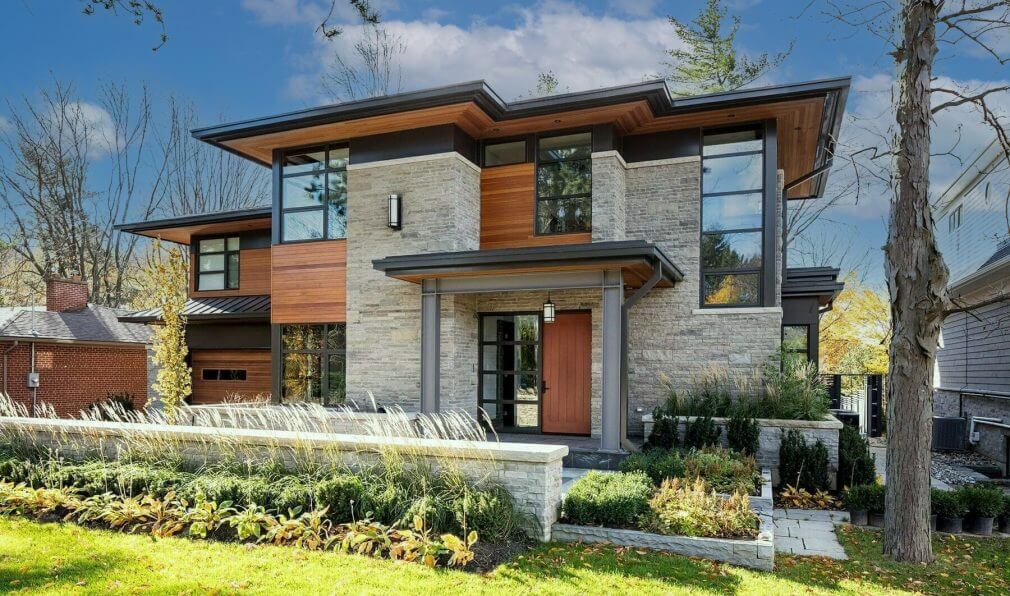 Although cedar is a more expensive, higher maintenance option, it's also more environmentally friendly than most other siding materials. You will need to get it stained or painted every few years to keep it in good condition.
Aluminum Siding
Aluminum siding is a durable and effective siding material that can last for over 30 years. It is a premium material with the advantages of being lightweight, resistant to the weather, insects and Woodpeckers, and easy to work with, making it highly customizable.
The disadvantages are that it scratches easily, leading to costly repairs since aluminum repairs are rarely simple or small. And it can be quite loud in high wind conditions.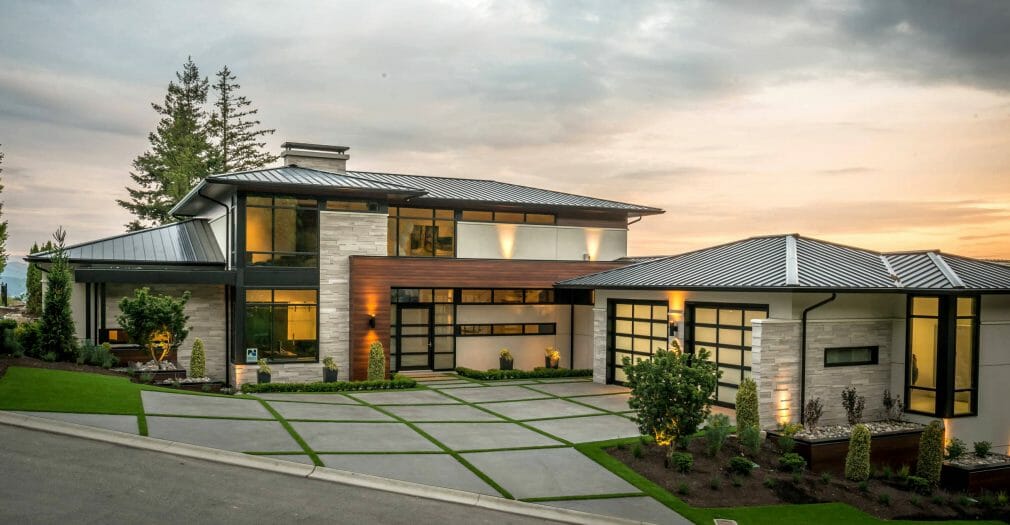 Aluminum siding is available in a wide range of colors and various styles, such as panels, horizontal lap siding, and vertical or horizontal planks. It can be painted a solid color, or it can be made to mimic the appearance of other kinds of siding, such as natural wood.
Engineered Wood
Engineered wood is a complex material that has many benefits, stronger than natural wood but with a similar appearance. It's easy to maintain and install and can be tinted or painted to almost any color or appearance. Made of composite wood fibers, resins, and wax, it is more durable and weather-resistant than natural wood and doesn't need much ongoing maintenance.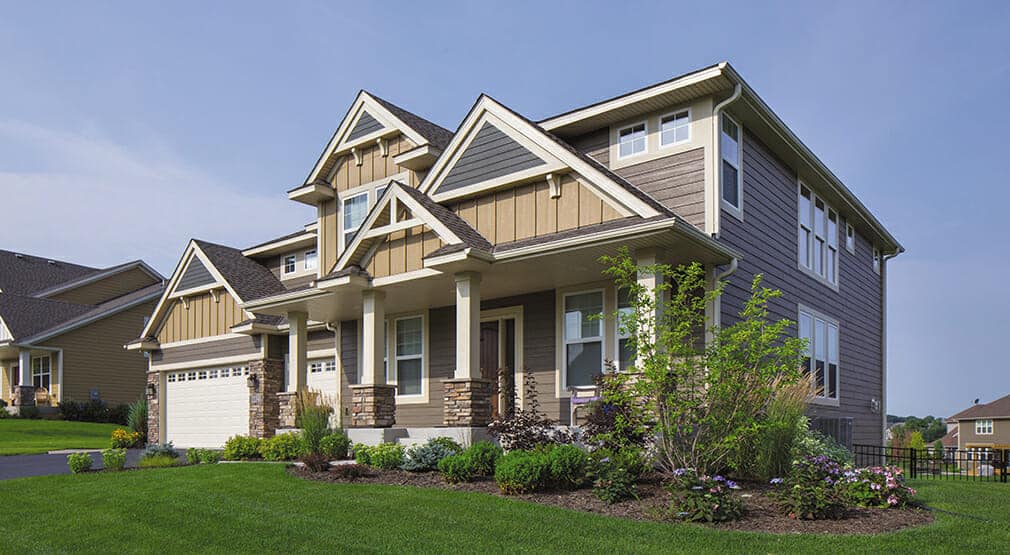 Engineered wood is usually made from recycled materials and leftover lumber, which makes it a relatively eco-friendly choice. It varies in quality and can deteriorate quickly if it's not installed correctly, so it's essential to choose a contractor you can trust to work with it. We'll be able to ensure both the quality of the materials and the quality of the installation.
How Much Does the Siding in Houston Cost?
We make sure that we give you everything you need to make an informed decision when it comes to your siding, but no matter what, you can be confident that you are getting the best price and workmanship available on the market for the scope of work that will be done.
The most commonly used siding materials by companies are vinyl, James Hardie, and cedar. Here is the price range for each:
Vinyl siding is one of the most affordable options due to its low material cost and easy installation. It is durable and requires little to no maintenance. It is usually between $9 – $10 per sq. ft. For an average home, you'll need about 2,500 sq. ft. of siding material, which brings the total to approximately $22,500 – $25,000.
James Hardie is very durable and resistant to rot, termites, and fire. It can be challenging in terms of installation, so finding a professional installer is key. The price is between $12 – $13 per sq. ft., bringing the total amount for the same house to around $30,000 – $32,500.
Cedar siding really stands out in terms of look and curb appeal. It is pretty easy to work with but requires more maintenance than the other options. This is more of a premium option starting at $16 per sq. ft. That brings the total for the same house to $40,000+ without additional costs for painting or other decorative elements.
Here's a quick table of some siding materials and their cost per sq. ft.
| | |
| --- | --- |
| Material | Price per sq ft* |
| James Hardie (Fiber Cement) | Starts at $12.25 |
| LP® Smartside® (Engineered Wood) | Starts at $13.75 |
| Vinyl Siding | Starts at $9.75 |
| Premium Vinyl Siding | Starts at $11.50 |
| Cedar Siding | Starts at $16.75 |
| Stucco | Starts at $15.00 |
| Longboard (Premium Aluminum) | Starts at $48.40 |
| Cultured Stone | Starts at $52.50 |
* Prices are guidelines only and can change based on the seasonality and availability of materials.
The cost of siding renovation depends on a few things, such as the size and accessibility of your home, the material and profile you choose from, even the lifespan of the current siding.
If your siding is old and left untended, it can cause damage to the materials underneath and, in some cases, the integrity of the house. In these cases, the cost of the siding project will be higher to account for repairs needed to be done.
Our Work Process
You've chosen your siding materials and colors, defined your style, and you are excited to see your house become transformed – what's next? Here's a quick summary of what installation looks like at Ideal Siding and how long each phase should take:
Old Siding Removal
First of all, we carefully remove the old siding in order not to damage the sheathing underneath. Removing the old siding is necessary in 90% of all cases because leaving it on could compromise your new siding, leading to less durability and a rough appearance. This could take anywhere from 2 to 7 days, depending on the type of siding that needs to be removed and the size of your home.
Sheathing Damage Inspection
When the old siding is removed, we inspect the sheathing for any rotten or moldy areas or any other damage. From our experience, most homes do not require repairs since siding does an excellent job of protecting the sheathing underneath. Sheathing replacement doesn't add much time to the total installation.
Preparation of the Wall for Siding
The next step is to prepare your home for its new siding. This includes installing building paper and flashings to help protect the walls from any excess moisture and installing strapping (optional) to help improve airflow and ensure your siding lasts a little longer.
Siding Installation and Touch-ups
After all the prep is completed, we'll start installing your siding. This process takes between 7-10 days on average, depending on the materials, your design, and the size of your home. We also install flashings, dryer vents, light fixture boxes, and bug screens at this stage. If necessary, we can do touch-up paint and apply caulking to seal any openings. This is also when we install soffits, trim boards, overlap corners, and other decorative elements to your siding.
Cleaning Up and Final Walk
When the installation is complete, we take a lot of pride in making sure your home and yard are completely clean. We remove all construction waste and recycle what we can. After cleanup, the Project Manager will inspect your siding and ensure that everything is up to high standards, and they will go over everything that has been done with you. They will give you tips on caring for your new siding and the details of any warranties on the completed work and materials.
Your Project Manager will guide you through the whole process. They will communicate clearly with you and gladly answer any questions that you might have. When you decide to work with us, we want to make sure you're confident in your decision every step of the way.
Why Work With Us
Your home is your pride and joy and the benefits we provide will transform your experience when updating your siding.
Here's why you can confidently choose us:
Price Match Guarantee. With Ideal Siding, you don't have to worry about making any compromises, we offer high-quality service and a price match guarantee on all projects for the exact scope of work. Just bring in itemized competing quotes from other companies, and we'll match it.
25-Year Workmanship Warranty. Siding your house in Houston can be a big renovation project. We understand that you are putting a significant investment of your time and money into your home when you decide to replace or repair your siding. You deserve the best crews in the industry and we work with the most reputable suppliers. We protect your investment with a lengthy 25-year workmanship warranty.
Complimentary Design Mockup. You've seen the pictures of houses that you really like, but with all the different materials and colors to choose from, you're not sure what will suit your home or your tastes. We can help to take the guesswork out of it for you! Ideal Siding offers a complimentary mockup of your home and selected siding. You'll know exactly how your home will look and can make adjustments as needed.
Our Project Managers will meet with you to go over the details of your project so you can be 100% confident that you're getting the siding makeover that you will truly love, and you will know what to expect every step of the way.
Contact Information
We are happy to answer any questions you have, whether you're looking for information about repairs or replacing your existing siding on your house in Houston. Contact us to get a complimentary estimate today – it's literally on the house!