We Find an Ideal Solution for You
When it comes to choosing the best solution for your siding needs, Ideal Siding can ensure that homeowners in Houston have all of the knowledge and expertise to make informed and educated decisions. We understand that choosing practical and pleasing siding is important to you.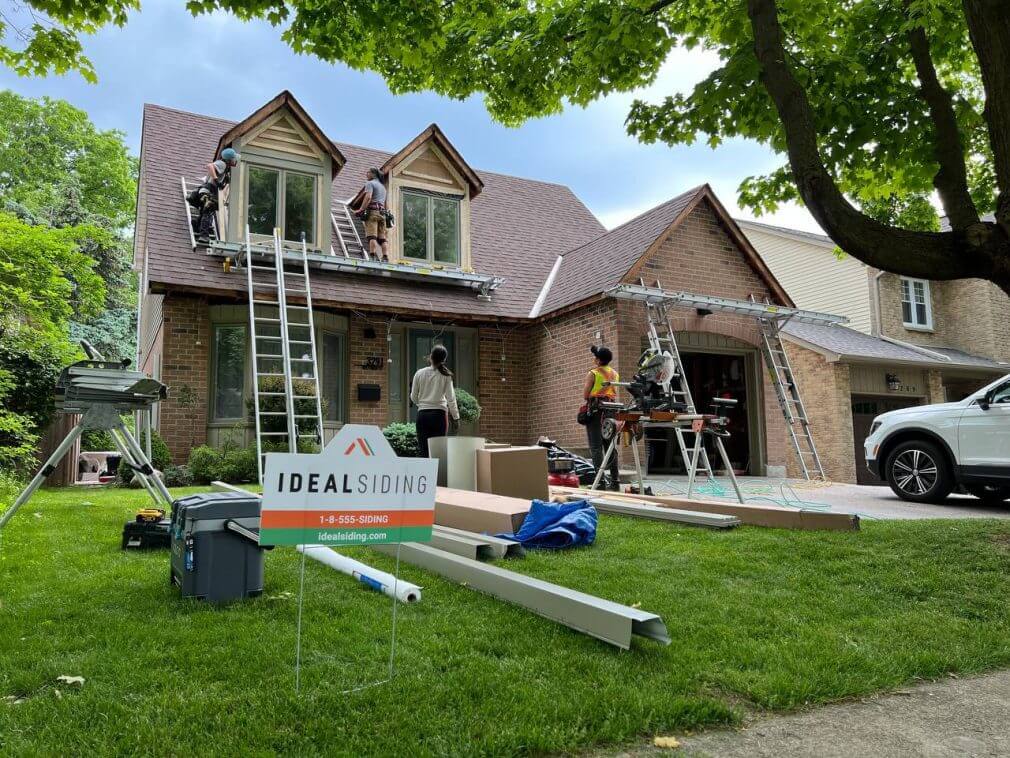 Every home is as unique as the people who live in it, and no two renovation projects are the same. As contractors, at Ideal Siding Houston, we provide customized, ideal solutions for your needs.
Whatever you decide on, we've got your back! We've taken a great deal of time to ensure that we, as a siding contractor or companies,  provide the best quality materials and workmanship available. We have the top crews in the industry, and we work with the most reputable suppliers. Our high standards and commitment to best practices will ensure that, whatever your style choice, your home will be comfortable, dry, and protected, so you can focus on designing a space that looks and feels like the beautiful home of your dreams.
Find the Siding That's Right for You
When it comes to siding, there are so many choices of design, style, material, and color that can be it can be overwhelming. We're here to show you all the possibilities for your siding installation and help you choose the right one.
There are 6 most popular siding options in Houston, TX today (click on the picture to learn more):
There are many other styles and types of siding and exterior materials we can offer you, please call us for any specific requests.
Siding Styles and Profiles
In addition to choosing what kind of material you want for your siding, you also have to consider which siding profile is right for your home in Houston: planks, panels, board & batten, or shingles. Each one is available anywhere from one to all five materials described above. Which one you choose depends on the style of your home, your personal preference, and your budget.
Here is what you need to know about each one.
Lap Siding
Lap siding is one of the most popular options – we renovated, on average, 80% of houses last year with lap siding. There are several different types of lap siding, including cottage or Dutch lap and nickel gap, more commonly known as ship lap. Sometimes traditional lap siding is referred to as clapboard siding, but there is a slight distinction in that clapboard siding tends to use smaller boards. It is excellent for creating a classic, cozy, inviting look.
Shingles and Shakes
Shingle siding is a classic option, adding warmth to your home's overall design. They look quaint, refined and will make your home look outstanding. Shingles and shakes are available in several shapes and sizes. However, some options require hand-cutting and can be cost-prohibitive. If you're interested in the look of shingle/shake siding but are up against budget concerns, you could use the technique for an accent or design element in a smaller square footage area.
Board & Batten Siding
The style provides the versatility to create an ultra-personalized aesthetic. Homeowners can play with the batten spacing, and incorporate other materials or siding profiles, to create both modern and more traditional looks. Stylistically, board and batten siding creates a clean and multi-dimensional effect that is popular in older Midwestern-style architecture as well as the current farmhouse style. It is often used on higher walls or gable walls because of its elongating effect.
Siding Panels
Panels offer an alternative contemporary look for more modern, sleek-looking homes. Panels can be smooth, or they can mimic the look and texture of natural wood. With a minimal effect, they can help to capture the clean lines of your house.
How Much Does the Siding Cost?
We make sure that we give you everything you need to make an informed decision when it comes to your siding, but no matter what, you can be confident that you are getting the best price and workmanship available on the market for the scope of work that will be done.
The most commonly used siding materials by companies are vinyl, James Hardie, and cedar. Here is the price range for each of these materials in Houston:
Vinyl siding is one of the most affordable options due to its low material cost and easy installation. It is durable and requires little to no maintenance. It is usually between $9 – $10 per sq. ft. For an average home, you'll need about 2,500 sq. ft. of siding material, which brings the total to approximately $22,500 – $25,000.
James Hardie is very durable and resistant to rot, termites, and fire. It can be challenging in terms of installation, so finding a professional installer is key. The price is between $12 – $13 per sq. ft., bringing the total amount for the same house to around $30,000 – $32,500.
Cedar siding really stands out in terms of look and curb appeal. It is pretty easy to work with but requires more maintenance than the other options. This is more of a premium option starting at $16 per sq. ft. That brings the total for the same house to $40,000+ without additional costs for painting or other decorative elements.
Here's a quick table of some siding materials and their cost per sq. ft.
| | |
| --- | --- |
| Material | Price per sq ft* |
| James Hardie (Fiber Cement) | Starts at $12.25 |
| LP® Smartside® (Engineered Wood) | Starts at $13.75 |
| Vinyl Siding | Starts at $9.75 |
| Premium Vinyl Siding | Starts at $11.50 |
| Cedar Siding | Starts at $16.75 |
| Stucco | Starts at $15.00 |
| Longboard (Premium Aluminum) | Starts at $48.40 |
| Cultured Stone | Starts at $52.50 |
* Prices are guidelines only and can change based on the seasonality, availability of materials and complexity of your project.
The cost of siding renovation depends on a few things, such as the size and accessibility of your home, the material and profile you choose from, and even the lifespan of the current siding.
If your siding is old and left untended, it can cause damage to the materials underneath and, in some cases, the integrity of the house. In these cases, the cost of the siding project will be higher to account for repairs needed to be done.
Our Work Process
You've chosen your siding materials and colors, define your style, and you are excited to see your house become transformed – what's next? Here's a quick summary of what installation looks like at Ideal Siding and how long each phase should take:
Old Siding Removal
First of all, we carefully remove the old siding in order not to damage the sheathing underneath. Removing the old siding is necessary in 90% of all cases because leaving it on could compromise your new siding, leading to less durability and a rough appearance. This could take anywhere from 2 to 7 days, depending on the type of siding that needs to be removed and the size of your home.
Sheathing Damage Inspection
When the old siding is removed, we inspect the sheathing for any rotten or moldy areas or any other damage. From our experience, most homes do not require repairs since siding does an excellent job of protecting the sheathing underneath. Sheathing replacement doesn't add much time to the total installation.
Preparation of the Wall for Siding
The next step is to prepare your home for its new siding. This includes installing building paper and flashings to help protect the walls from any excess moisture and installing strapping (optional) to help improve airflow and ensure your siding lasts a little longer.
Siding Installation and Touch-ups
After all the prep is completed, we'll start installing your siding. This process takes between 7-10 days on average, depending on the materials, your design, and the size of your home. We also install flashings, dryer vents, light fixture boxes, and bug screens at this stage. If necessary, we can do touch-up paint and apply caulking to seal any openings. This is also when we install soffits, trim boards, overlap corners, and other decorative elements to your siding.
Cleaning Up and Final Walk
When the installation is complete, we take a lot of pride in making sure your home and yard are completely clean. We remove all construction waste and recycle what we can. After cleanup, the Project Manager will inspect your siding and ensure that everything is up to high standards, and they will go over everything that has been done with you. They will give you tips on caring for your new siding and the details of any warranties on the completed work and materials.
Your Project Manager will guide you through the whole process. They will communicate clearly with you and gladly answer any questions that you might have. When you decide to work with us, we want to make sure you're confident in your decision every step of the way.
Why Work With Us
Your home is your pride and joy and the benefits we provide will transform your experience when updating your siding.
Here's why you can confidently choose us:
Price Match Guarantee. With Ideal Siding, you don't have to worry about making any compromises, we offer high-quality service and a price match guarantee on all projects for the exact scope of work. Just bring in itemized competing quotes from other companies, and we'll match it.
25-Year Workmanship Warranty. Siding your house in Houston can be a big renovation project. We understand that you are putting a significant investment of your time and money into your home when you decide to replace or repair your siding. You deserve the best crews in the industry and we work with the most reputable suppliers. We protect your investment with a lengthy 25-year workmanship warranty.
Complimentary Design Mockup. You've seen the pictures of houses that you really like, but with all the different materials and colors to choose from, you're not sure what will suit your home or your tastes. We can help to take the guesswork out of it for you! Ideal Siding offers a complimentary mockup of your home and selected siding. You'll know exactly how your home will look and can make adjustments as needed.
Our Project Managers will meet with you to go over the details of your project so you can be 100% confident that you're getting the siding makeover that you will truly love, and you will know what to expect every step of the way.
Contact Information
As siding contractors, we are happy to answer any questions you have, whether you're looking for information about repairs or replacing the existing siding on your house in Houston, TX. Contact us to get a complimentary estimate today – it's literally on the house!