We Find an Ideal Solution for You
Ideal Siding can help you choose the right siding for your home. Choosing the right siding in Boulder is extremely important. Your house needs to be able to hold up to extreme high and low temperatures. It should handle thunderstorms and humidity as well as it handles snow piling up against the walls, freezing temperatures, and intense hail storms. Not to mention, you need an exterior that looks good on your home and is appropriate to your neighborhood.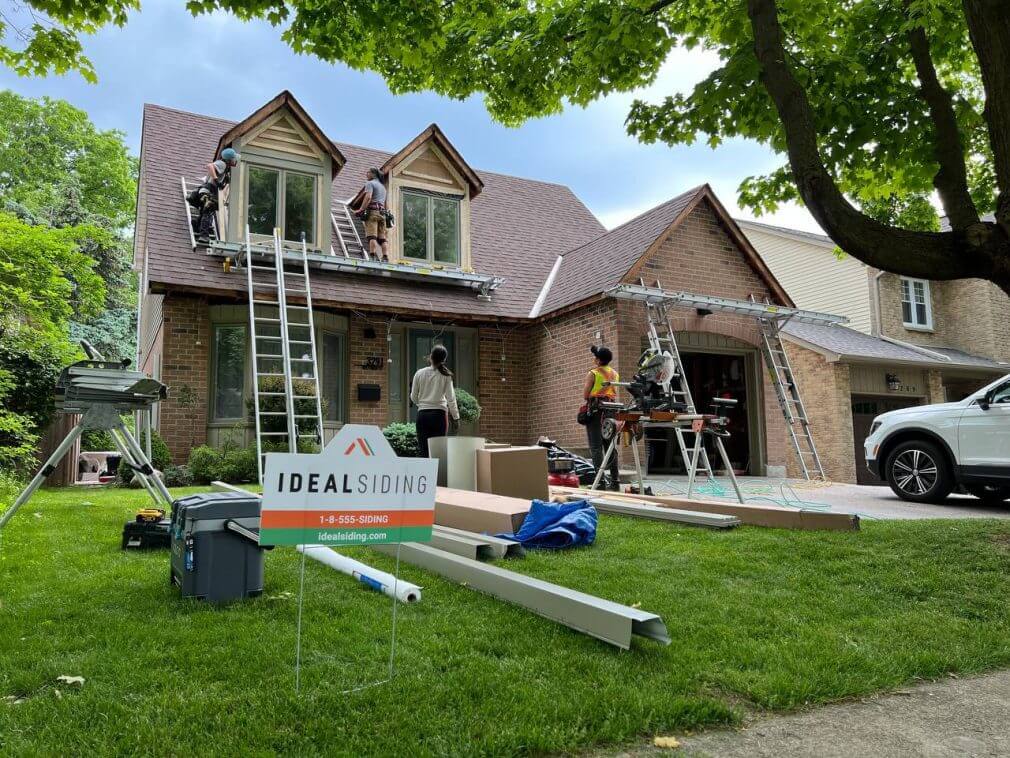 Our company will guide you throughout the entire process and will answer any questions, relying on our vast experience in the industry and over 500 meetings held with clients each year.
You deserve only the best quality of materials and workmanship, that's why we have the best crews in the industry and work with the most reputable suppliers. We understand the needs of local homeowners and are familiar with the trends in each neighborhood.
Siding Styles That We Offer
We offer lots of different kinds of siding, but experience has taught us that some options are better for Boulder than others. Here are some of the best siding styles for this area that can hold up to the harsh climate and look appropriate in the wide variety of neighborhoods in this area.
Lap Siding
Plank is among the most versatile of all possible options. It can look completely different in different styles and applications. In fact, the chances are good that you will find this siding type everywhere, regardless of whether you live in a modern metropolitan neighborhood, a classic neighborhood with homes from the late 19th century, or a comfortable suburban home.
Plank comes in a number of different materials, with fiber cement and metal being some of the most durable options to hold up to the intense weather of Boulder. However, if you happen to live in one of the milder microclimates in this city, cedar planks can look beautiful, and vinyl can work very well too. Choose from a horizontal installation for a more classic look or a vertical one if you want something more contemporary.
Siding Panels
Siding panels are a superb option for Boulder's more modern, urban parts. They offer a sophisticated look and clean lines. Panels are cut on-site and provide a customized fit that is both good-looking and very resilient to the weather.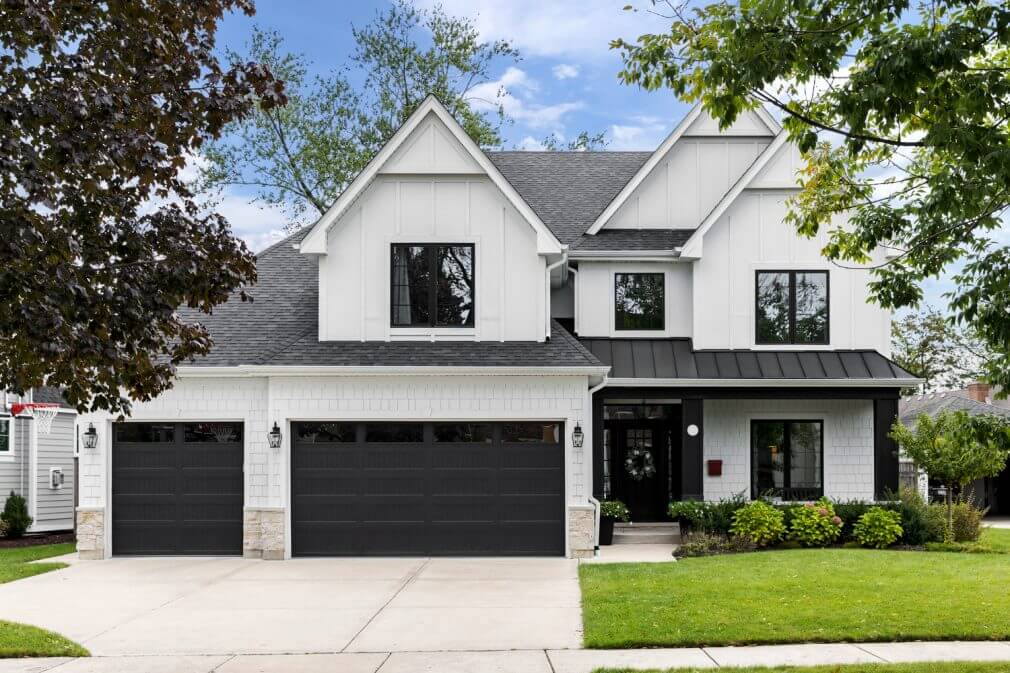 Choose a natural wood effect if you want to blend in more with the mountains or smooth panels for a more trendy look. If you've been hit by serious weather in the past and don't want to take any chances with rain or hail, this option is great. Panels are a tough, heavy-duty option that looks great as well.
Shingles and Shakes
If you live in one of Boulder's beautiful, historic homes, shakes or shingles might be your right siding choice. Many of these homes are brick. The brick can begin to deteriorate over time and needs to be protected with siding.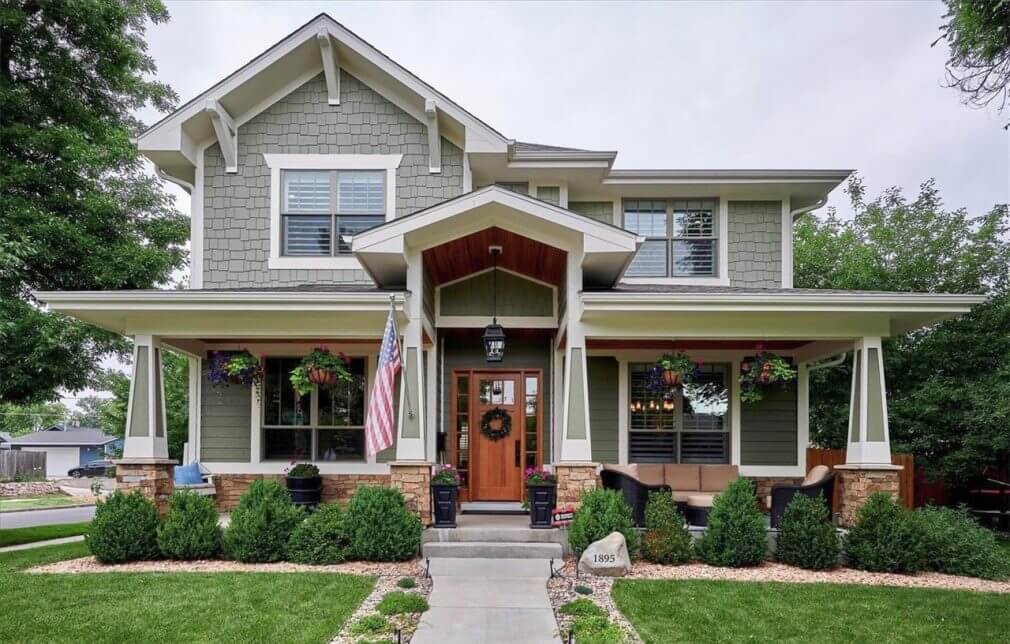 Perhaps you live in a more modern home in these neighborhoods, but you want to blend in with the historic homes. Shingles and shakes look classic, but they can be made of heavy-duty materials like fiber cement and vinyl that can hold up to even the worst thunderstorms. If you want a historically appropriate choice, cedar might be right for your home.
How Much Does Siding Cost?
There is as much variety in the cost as in the choices you have in siding. The material and type of siding you choose will greatly impact the price. Of course, the size of your home also impacts the cost of the siding. Whether it is straightforward in structure or has lots of angles and peeks, the construction of your home will also affect the price.
Here are some more siding options for you to choose from and their costs per sq.ft:
| | |
| --- | --- |
| Material | Price per sq ft* |
| James Hardie® (Fiber Cement) | Starts at $12.00 |
| LP® Smartside® (Engineered Wood) | Starts at $14.00 |
| Vinyl Siding | Starts at $8.75 |
| Premium Vinyl Siding | Starts at $9.50 |
| Cedar Siding | Starts at $13.75 |
| Stucco | Starts at $15.00 |
| Longboard® (Premium Aluminum) | Starts at $46.40 |
| Cultured Stone | Starts at $42.50 |
* Prices are guidelines only and can change based on the seasonality, availability of materials and complexity of your project.
A crucial factor affecting cost is the condition of your existing siding. Damaged siding can harm the underlying sheathing, and if it fails to protect your home from the weather, the home's integrity may be compromised. In such cases, repairs are needed before new siding installation.
While we're happy to give you a quote based on what we can see of the condition of your current siding, we won't really know what's going on under the existing siding until we remove it. After years of siding installation, we've gotten very good at determining what conditions are like under your current siding, but there is always the possibility of unpleasant surprises.
Achieve your dream home with financing*

Ideal Siding makes budgeting for exceptional exterior remodeling projects convenient, thanks to our attractive financing options with manageable monthly payments. Embrace top-quality products and craftsmanship with our straightforward financing solutions. Powered by Wells Fargo, our quick, hassle-free applications may help you get the home improvement financing you need. Explore our flexible financing solutions that fit your budget by scheduling a free consultation, or click the link below to apply online. Don't forget to inquire about specific terms with your project manager.
*Subject to credit approval. Ask for details.
Our Work Process
Wondering what it will be like to work with Ideal Siding? We'll get started on the process as soon as you know what you want from your new siding. We know how important it is to have siding installed quickly, especially if the current siding is damaged.
Our project managers will talk you through every step of how siding installation will go at your specific home. However, here's what you need to know about our process in general:
Old Siding Removal
We'll remove the nails holding your old siding in place and then get rid of the siding. We work quickly to get this step done as quickly as we can, but we also must be very careful not to damage the sheathing underneath. Depending on the size of the project and the type of existing siding, this process typically takes between 2 and 7 days. If there is no old siding to be removed, this step is skipped.
Sheathing Damage Inspection
Next, we inspect the existing sheathing for rot, mold, or deteriorated parts. If repairs are needed, we will have to fix that damage before we start on the next step. From our experience, most homes do not require any sheathing repairs.
Preparation of the Wall for Siding
After your home's sheathing has been inspected and any necessary repairs have been made, we begin the preparation of the walls. We install building paper, flashings, and strapping/mesh. This process protects your house from water damage.
Siding Installation and Touch-ups
Installing your new siding typically takes between 7 and 10 days, depending on the type of siding you have chosen and the size of your home. During this process, we put in a trim board around windows, doors, soffits, overcap corners, and fascia boards. We also install insect screens, flashings, dryer vents and light fixture boxes, and apply touch-up paint to the nails.
Waste Removal and Clean Up
The final step is cleaning up your property, and removing and recycling all construction debris in accordance with the best practices in the siding industry. Usually, at the start of every project, we would have a waste recycling bin placed on-site to ensure your yard stays as tidy as possible throughout the whole process.
At the end of the project, you will have an opportunity to ask any questions you may have and be completely confident that the job is done to your satisfaction. The project manager will also talk to you about care for your new siding and discuss the details of the warranty on workmanship and materials.
Why You Should Work With Ideal Siding
Ideal Siding was built around the concept that siding materials were unnecessarily expensive and professional installers were underpaid at the time. To put things back in balance, we built Ideal Siding around the idea that we could work with manufacturers to achieve reduced material prices and use the savings to offer clients a better price while offering high-quality installation.
Here is what we offer you:
Price match guarantee. Boulder is an expensive place to live. You can't afford to skimp on your siding since it is so essential in this climate, but you also can't afford to overpay for your siding when you're already paying so much to live in your home. You can feel confident about getting the best prices as well as the best workmanship and materials thanks to our price match guarantee. We'll match competitors' pricing for the same scope of work. Just provide us with an itemized quote.
Best workmanship warranty in the industry. Are you worried about the quality of the work provided by Ideal Siding? Don't be. We offer a 25-year workmanship warranty that backs our siding even in harsh Boulder conditions. Our warranty guarantees that we'll correct any issues with our siding, whether you need a small patch-up or a complete replacement. We have a long history of installing the highest quality of siding, so you can be confident we'll be around to honor our extensive warranty.
Complementary design mockup. Choices are good, but they can also be overwhelming. We offer a tremendous variety of styles, colors, and materials appropriate to the Boulder climate. We'll help you choose exactly the right combination for your home. We create a complimentary mock-up of your home with the siding options you're considering so you can have complete confidence that you're choosing the right siding.
Ideal Siding is here to help you with an IDEAL solution for your dream house!
Contact Us
We know that choosing new siding for your home is a huge decision, so we're more than happy to talk to you about your goals and help you make a decision that you'll be happy with.
We'll also create a complimentary estimate so you'll know what to expect from your siding repair or replacement. Contact us today, we can't wait to talk to you about your project!
We are serving the following municipalities at the moment:
Boulder, Lafayette, Longmont, Louisville, Erie, Jamestown, Lyons, Nederland, Superior and Town of Ward.