We Find an Ideal Solution for You
Choosing the right siding for your home is a crucial decision. Siding not only protects your house from the elements, but also enhances the comfort of your living space, reduces utility bills, and adds aesthetic appeal. With a wide range of materials available, both natural and man-made, each with its own benefits and considerations, finding the perfect siding can be overwhelming.
At Ideal Siding, we take pride in assisting our clients in discovering the ideal siding solution for their homes, especially in Boston, which has a humid continental climate, characterized by hot summers and cold winters with year-round precipitation.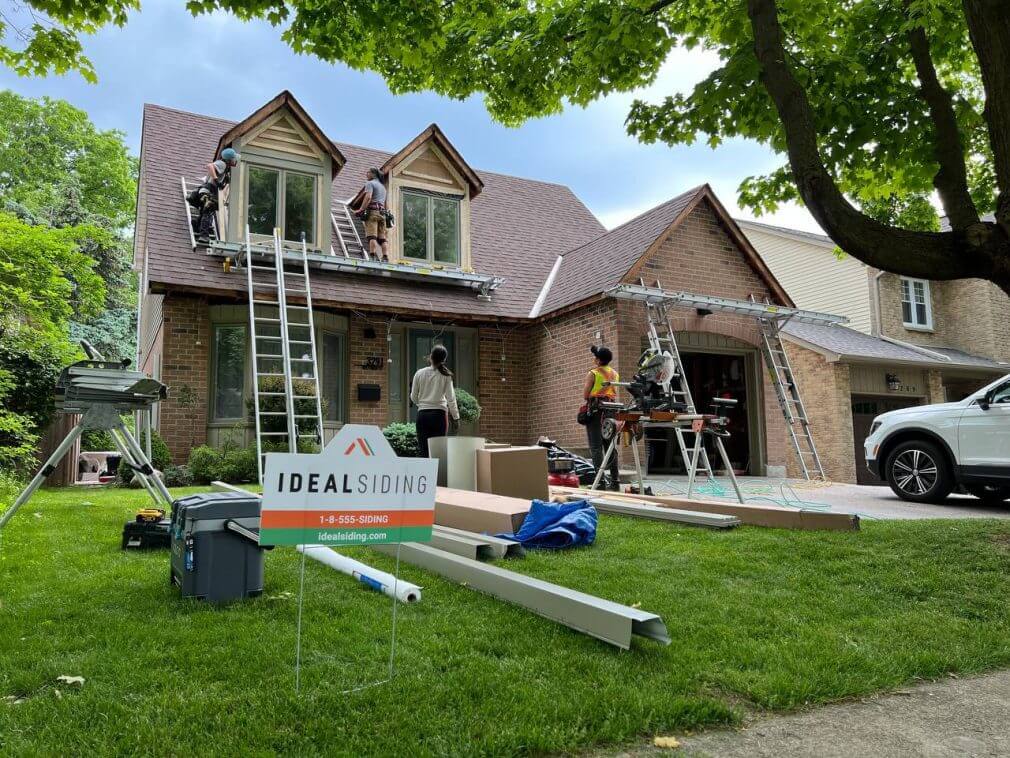 Ideal Siding will handle all your siding needs with professionalism based on years of experience. We're the fastest-growing siding company in North America, known for our high standards and our commitment to our thousands of homeowners just like you.
Our experienced team will help make the job as hassle-free and cost-effective as possible. We invite you to take advantage of our years of experience and expertise in home siding so you can finally have the home of your dreams.
Variety of Siding Materials and Styles
At Ideal Siding Boston, we offer an extensive selection of siding materials and styles to suit your preferences, budget, and architectural design. Here are just some of the options you can choose from:
Vinyl siding: Affordable and low-maintenance vinyl siding is a popular choice for its durability and versatility, especially when you have a limited budget. Its color is resistant to fading when exposed to direct sunlight.
Aluminum siding: Aluminum does a great job of imitating natural wood. Available in large, flat panels and vertical or horizontal planks, it is both durable and attractive. Popular for contemporary homes, it is lightweight, and moisture and mold resistant. It also helps insulate your home, helping to bring down your energy bills.
Fiber cement siding: Made from cement combined with other durable ingredients, fiber cement siding is resistant to fire, moisture, and harsh weather. It provides a polished look and a wide range of textures that mimic natural wood. Fiber cement boards can be pre-painted at the factory or primed for painting after installation.
Cedar siding: Known for its rustic charm and durability, cedar siding adds timeless appeal to any home. Although it can be more expensive than vinyl or cement fiber siding, it's a great choice for a classic look. It's available in various colors and can be customized to suit your vision.
Engineered wood siding: Combining beauty with durability, engineered wood siding is made from recycled wood fibers bound with resin and wax. It's easy to install and maintain, and it can be pre-stained to your desired color.
Transform the look of your home with our versatile siding options. Whether you prefer the classic appeal of siding planks, the minimalist elegance of siding panels, or the natural rusticity of siding shingles and shakes, we have the perfect solution to suit your style and complement your home's architecture.
All of our siding material options are available in at least one style, if not all, of the following styles: 
Lap Siding
Lap siding is long, narrow boards that are installed horizontally, providing a traditional and rustic look while offering protection against the elements. They are a favorite among homeowners in Boston.
Available in a wide range of colors and finishes, they can be installed vertically as well, so you can be as creative as you like.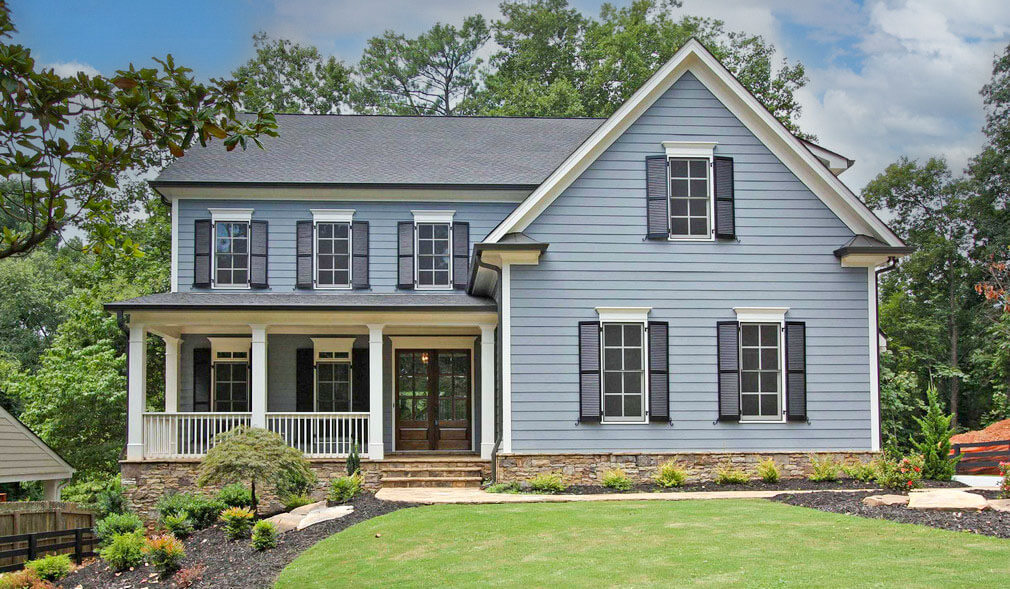 Siding Panels
Panels consist of large, flat sheets made from various materials like aluminum or fiber cement. They are typically installed vertically, offering a modern and streamlined appearance, but can also be installed horizontally. If you're in search of a minimalist design, they offer an excellent choice that has been trending in Boston over the past few years.
The panels are usually cut on-site to ensure they match the design of your home. Like our other siding materials, they are available in an impressive range of colors and textures, including a wood grain finish.
Shingles & Shakes
Commonly made from cedar, fiber cement, or vinyl, shakes and shingles are overlapping pieces that are installed individually, creating a textured and natural aesthetic.
Often used to achieve a classic, cottage-style charm, they create a warm, rustic look while adding contrast and depth to your home's exterior walls and gables.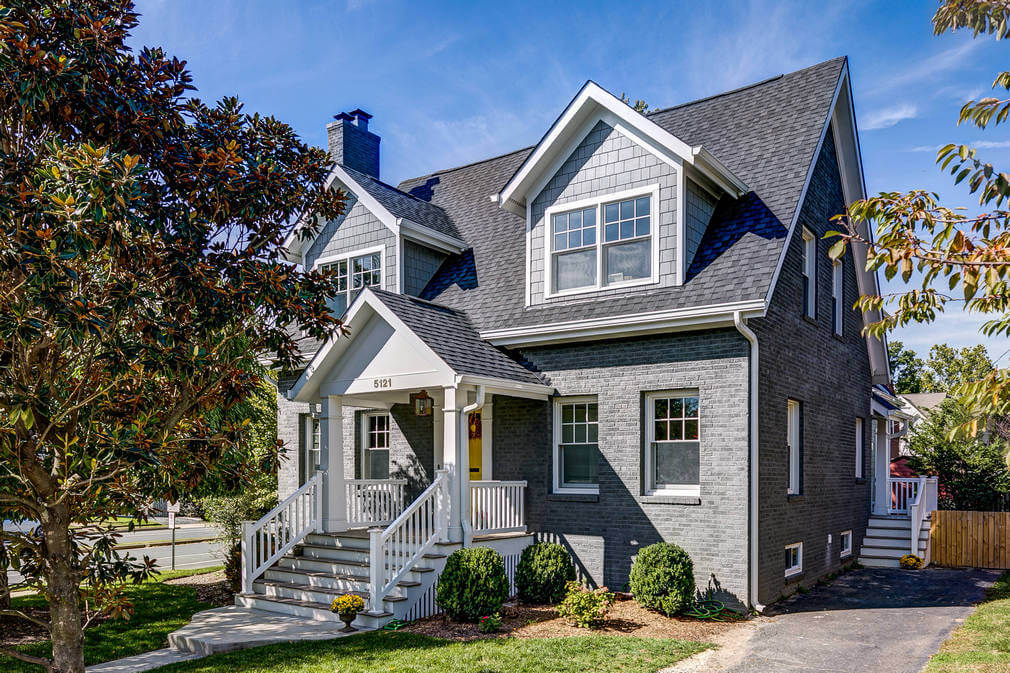 What is the Cost of Siding in Boston?
We believe in transparency, which is why our quotes encompass both materials and labor. The overall cost of your siding project will depend on factors such as material choices, design complexity, and additional elements like trim boards and soffits.
Here's a rough estimate of the price range for our most popular siding options:
Vinyl siding. Starting at approximately $12-13 per sq. ft., vinyl siding is the most cost-effective choice, making it ideal for budget-conscious homeowners. The average size home in Boston is on the small side compared to other cities in the U.S., at 1,750 sq. ft. Siding it in vinyl will run about $22,750.

James Hardie fiber cement siding. With an average price range of $15-16 per sq. ft., fiber cement siding offers exceptional durability and a polished finish. For the same average house, the price tag comes to approximately $28,000.
Cedar siding is the most expensive, with a price tag of $18 – $20 per sq. ft., bringing the cost of using it on a 1750 sq. ft. house to about $35,000. Painting and staining costs are additional. While this is the most costly option, don't forget it will add to your home's curb appeal and undoubtedly increase its value.
These estimates are approximate, and additional factors such as the condition of your house may also impact the final cost. Rest assured, we conduct a thorough inspection before providing a final price, ensuring complete transparency and informed decision-making.
To guide you through other materials used in your siding renovation, have a look at the table illustrated below:
| | |
| --- | --- |
| Material | Price per sq ft* |
| James Hardie (Fiber Cement) | Starts at $15.25 |
| LP® Smartside® (Engineered Wood) | Starts at $16.00 |
| Vinyl Siding | Starts at $12.75 |
| Premium Vinyl Siding | Starts at $13.50 |
| Cedar Siding | Starts at $18.50 |
| Stucco | Starts at $18.00 |
| Longboard (Premium Aluminum) | Starts at $54.40 |
| Cultured Stone | Starts at $42.50 |
* Prices are guidelines only and can change based on the seasonality, availability of materials and complexity of your project.
Our Work Process
After finalizing your selection of material, style, design, and color, and approving the design mock-up, our team can promptly start to work on your siding project. The launch date is subject to the availability of the materials, but as soon as all the materials are on-site, we initiate the process of preparing your home for installation.
You can expect a seamless and hassle-free experience during our 5-step process:
Old Siding Removal
Once all the necessary materials are ordered, the removal process of the old siding begins. The duration of this step usually ranges from 2 to 7 days, depending on the project size and the type of existing siding. If you have a new built or just need a small siding repair, this step is skipped.
Sheathing Damage Inspection
During this step, we'll inspect the underlying sheathing for any signs of rot, mold, or damage. If repairs are needed, which fortunately doesn't happen often from our experience, you could be looking at a small additional cost.
Preparation of the Wall for Siding
Prior to installation, we'll protect your home by installing a rainscreen system consisting of building paper, flashings, and strapping/mesh. This crucial step safeguards your property against potential water damage.
Siding Installation and Touch-ups
Our experienced team will install your chosen siding, paying meticulous attention to detail. From trim boards and soffits to insect screens and flashings, we'll ensure a comprehensive and professional finish. Any necessary touch-up painting will be conducted to guarantee a polished appearance. This step usually takes between 7 and 10 days.
Waste Removal and Clean Up
We take pride in leaving your property clean and pristine. Our team will handle the clean-up and proper disposal of all construction debris, adhering to the highest standards of the siding industry.
Upon completion of your project, our dedicated Project Manager will conduct a final inspection to ensure your satisfaction. We'll review the project details, explain material and workmanship warranties, and provide you with valuable maintenance instructions to preserve the longevity and beauty of your new siding.
And you're done! You are now the proud owner of the highest quality siding installed by the most experienced professionals in the industry, with the least amount of hassle and the best price around!
Why Hire Us as Your Siding Experts
When it comes to selecting a company for your home siding project, Ideal Siding stands out for many compelling reasons. Our superior quality materials, highly skilled installation professionals, and unparalleled level of customer service provide us with a clear edge over other competitor contractors. Choose Ideal Siding for a home renovation experience that is second to none.
Here are three more great reasons to choose Ideal Siding for your home in Beantown:
25-year Workmanship Warranty. When it comes to siding installation, experience matters. At Ideal Siding Boston, our crew members boast a minimum of seven years of experience, ensuring that your project is in capable hands. We take pride in our meticulous attention to detail and the use of only the highest-quality materials from reputable brands. In fact, we're so confident in the quality of our work that we back it with a 25-year workmanship warranty. With us, you can enjoy peace of mind, knowing that your siding is built to last.
Price Match Guarantee. We understand that your budget is an important consideration. That's why we offer a price match guarantee and all-inclusive quotes. If you receive lower quotes from other siding companies, simply show it to us along with your selected samples, and we'll match the price. Our all-inclusive pricing covers everything from materials and installation to the removal and proper disposal of existing siding, ensuring there are no hidden charges or surprises along the way.
Complimentary Design Mock-Up. Envisioning the final result can be challenging. That's why we offer a complimentary design mock-up service, allowing you to see how your chosen siding will transform your home. We'll work closely with you, making adjustments to materials, colors, and design until you're 100% satisfied. With Ideal Siding Boston, there's no room for costly mistakes – just a seamless siding transformation that exceeds your expectations.
No hassle, no disappointment, no regrets!
Contact Us
Call us today for a personalized siding consultation. If you have any questions or would like to request a free estimate, our specialists are ready to assist you. Don't hesitate to reach out to us today! At Ideal Siding Boston, we're dedicated to making your renovation dreams a reality.
We are serving the following municipalities at the moment:
Boston, Brookline, Newton, Waltham, Cambridge, Somerville, Lexington, Woburn, Malden, Revere, Saugus, Lynn, Dedham, Wellesley, and Quincy.