We Find an Ideal Solution for You
Picking the right siding for your house is very important. Not only does siding safeguard your house from the elements, but it also enhances your living comfort, decreases utility bills, and elevates aesthetic appeal. There are many siding types available, and each option has its own pros and cons, so choosing the best one can be quite a challenge.
At Ideal Siding, we love helping people find the best outside cover for their houses. This is especially true in Atlanta, where the weather is hot and humid in the summer, and mild with rain throughout the year. You need siding that can hold up to a lot of moisture and air pollution and protect your home on the hottest and coldest days. Needless to say, the siding that you choose ought to be stylish and fashionable to fit in with this beautiful city.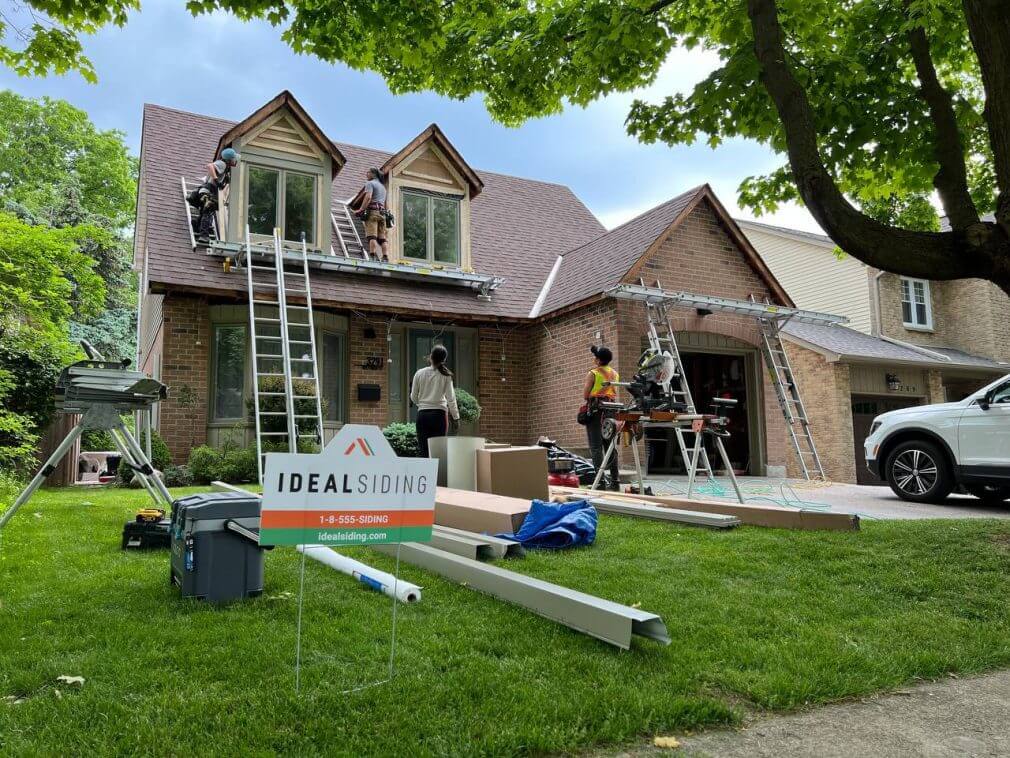 Ideal Siding can take care of all your siding needs. We're the fastest-growing company in North America, and we're known for our high-quality work and for really caring about homeowners just like you.
Our team has a lot of experience, and we'll do our best to make this job as easy and budget-friendly as possible. So why not use our experience and knowledge about house siding to help you finally get the house you've always dreamed of?
Variety of Siding Materials and Styles
We offer hundreds of different siding types, materials, and colors, but some work better in Atlanta than others. Here are some of the options we recommend for this unique city.
Lap Siding
Plank is a popular and versatile option that works well on a wide range of different home styles. It holds up well, can look quite modern or very classic depending on how it is styled and what material it's made of, and offers a wide variety of options.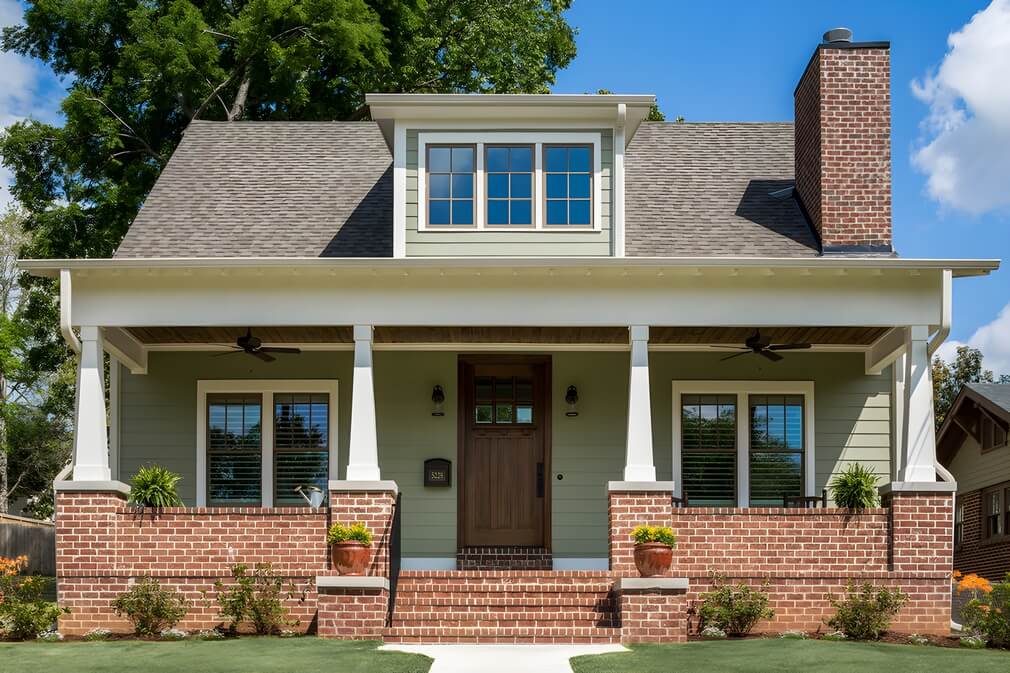 While you could choose traditional cedar planks, you're likely to find that fiber cement or PVC are better options for your Atlanta home, since these materials hold up very well even to a lot of humidity.
Shingles and Shakes
Siding shingles may be the perfect solution if you have a historic home or a recently-built home that looks historic, but you don't want to ruin the look with siding that appears too modern.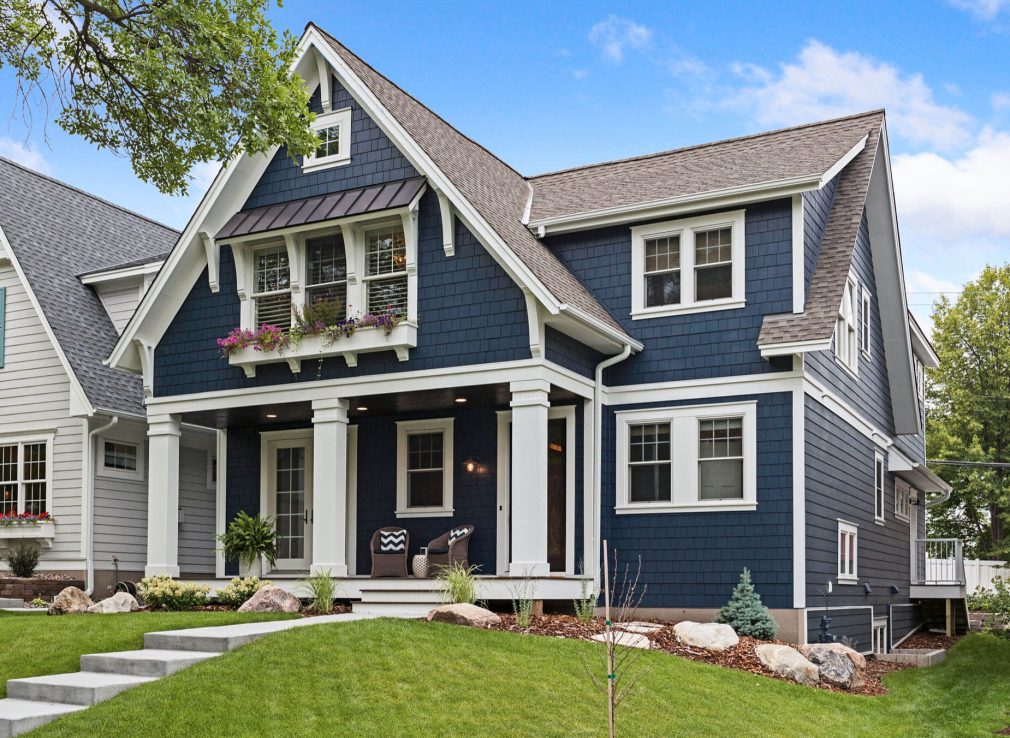 While cedar shingles are traditional and still a great option, shingles made of vinyl or fiber cement are probably the best choice for your home. These kinds of shingles look like natural wood, but they're tough enough to handle this wet, warm climate. You can choose from a number of charming looks, including scalloped and staggered, both of which look amazing on historic homes.
Board and Batten
With its versatility, board and batten siding offers homeowners the opportunity to create a personalized aesthetic. By adjusting batten spacing and incorporating different materials or siding profiles, it is possible to achieve both modern and traditional looks.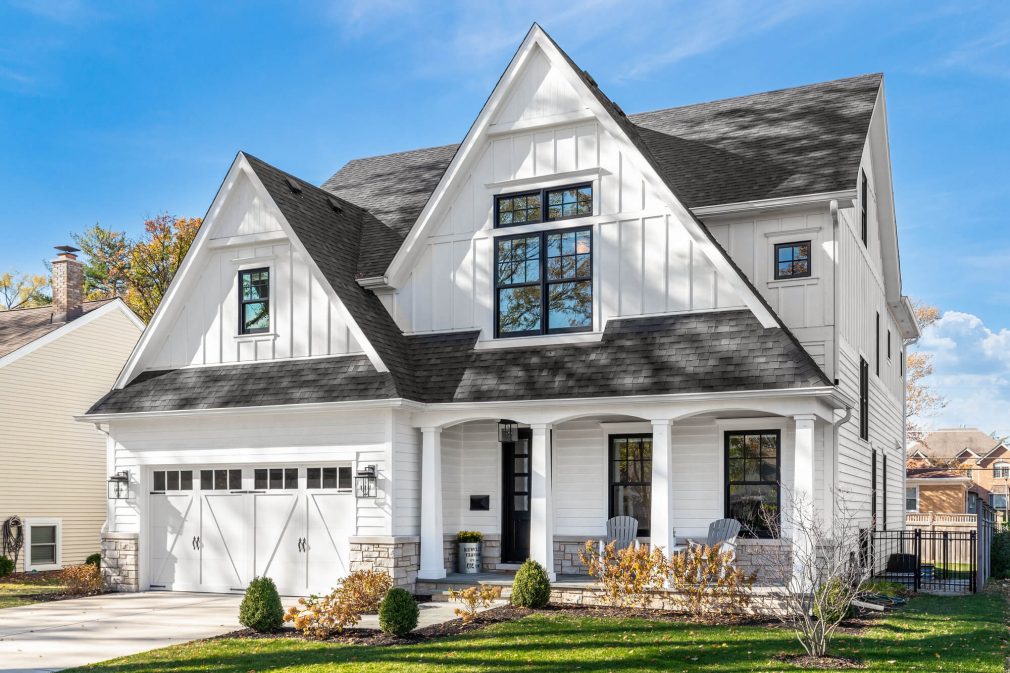 This siding style creates a clean and multi-dimensional effect that is commonly used for a modern farmhouse style. It is often used on higher walls or gable walls.
Siding Panels
Atlanta is a cosmopolitan city and a hub of culture in the south. While it has its roots in history, present-day Atlanta is often modern and forward-thinking.
If you have a contemporary home, panels may be the perfect option for you. Panels can be cut to any size and arranged in whichever orientation works well for your house.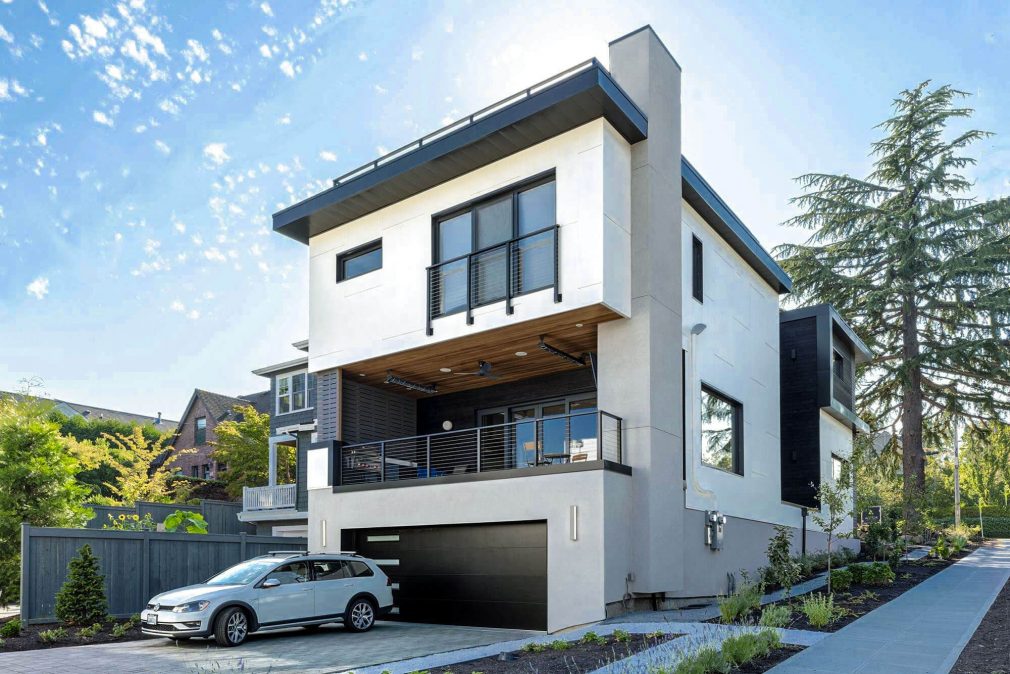 Smooth panels are an excellent choice as they prevent the accumulation of dirt and grime caused by smog and humidity. However, if you desire more options for the surface material, the cedarmill texture is also a fantastic option.
How Much Does the Siding Cost in Atlanta?
We know that one significant factor that plays in when choosing a siding is the total cost. How much new siding for your house will cost depends on a number of factors, including but not limited to:
Size of your home
Style of siding you choose
Material that the siding is made of
Condition of your current exterior
It may come as a surprise to some, but the state of your current siding plays an important role in determining the cost of new siding. If your existing siding has deteriorated and caused damage to the underlying sheathing, repairs will be necessary before installing new siding, which will raise the cost.
In cases where the siding has significantly deteriorated, the walls beneath the sheathing may also be damaged, resulting in the need for extensive structural repairs before new siding can be installed. It is important to note that damage is not always evident until the current one is removed.
Here's a quick table of some siding materials and their cost per sq. ft.
| | |
| --- | --- |
| Material | Price per sq ft* |
| James Hardie (Fiber Cement) | Starts at $14.50 |
| LP® Smartside® (Engineered Wood) | Starts at $15.50 |
| Vinyl Siding | Starts at $12.25 |
| Premium Vinyl Siding | Starts at $13.50 |
| Cedar Siding | Starts at $18.00 |
| Stucco | Starts at $19.00 |
| Longboard® Aluminum Siding | Starts at $52.50 |
| AL-13® Aluminum Cladding | Starts at $58.50 |
| LUX Steel Cladding | Starts at $60.00 |
| Cultured Stone | Starts at $43.50 |
* Prices are guidelines only and can change based on the seasonality, availability of materials, and complexity of your project
There are many other styles and types of siding and exterior materials we can offer you, please call us for any specific requests.

Our Work Process
We pride ourselves on offering a wide range of different siding styles, materials, and colors, but we also know how to rule out options that won't be a good fit for you so that you can choose from a reasonable range of possibilities. We'll suggest which siding options are likely the best fit for you, and then we'll design a customized mock-up of your home with the siding you're thinking about so that you can decide whether it meets your expectations.
Once you're satisfied with the anticipated finished look, our project managers will talk with you about every aspect of siding installation so you'll know what to expect, how long it will take, and how much it is likely to cost.
We understand the urgency of installing siding, especially if your current one is deteriorating. Therefore, we will commence the installation process promptly and work with efficiency to complete it in a timely manner. We work with all major siding material suppliers so you won't have to worry about delays when beginning your project.
Here are the steps we'll follow as we replace your siding.
Old Siding Removal
After finalizing the scope of work, we start the demolition step and prepare for the installation of the new siding. Our team begins by taking off the old siding, which usually takes several days to a week, depending on the type and size of your house. It may take longer for stucco and stone. However, if you're installing siding on a new wall or house, this step is not necessary.
Sheathing Damage Inspection
After getting rid of the old siding, we'll examine every inch of the sheathing to make sure that it isn't damaged or rotten. If we find any sheathing that needs to be repaired or replaced, we'll take care of it before we begin the next step. This step may take hours or several days, depending on how much damage there is to the current sheathing.
Preparation of the Wall for Siding
Once we're confident that the sheathing is in excellent shape, we'll get the wall ready for siding installation. A house wrap and flashing are installed during this step to protect the walls from the intense humidity and significant rainfall. Optionally we offer the installation of the rainscreen, which allows for airflow between the sheathing and siding to keep the walls safe from the humidity outside. This step is well worth it, as it can add from five years to a decade to the life of your siding.
Siding Installation and Touch-ups
Finally, it's time to install the siding. Depending on what kind of siding we're installing and how much needs to be installed, it may take around a week or two to finish this step. If you choose decorations like trim boards around doors and windows, separating boards, fascia boards, etc., this step can take a bit longer. At this stage, we seal up all siding elements with caulking and touch-up paint on nail heads so the finished look is perfectly seamless.
Waste Removal and Clean Up
Once the installation is complete, we ensure that all excess materials are disposed of and recycling bins are removed. Our team takes great pride in being respectful and organized, ensuring that your yard is free of debris and that the final product is polished and tidy.
After completion of the work, your project manager will thoroughly inspect the project with you and address any questions you may have. You can be assured of the quality of work done.
In addition, the project manager will provide you with guidance on how to maintain your new siding and will explain our 25-year warranty in detail.
Why Work With Ideal Siding?
Here are three more great reasons to choose Ideal Siding for your home in Atlanta:
Price match guarantee. Why settle for inferior workmanship to get a good deal when you could work with Ideal Siding for the same price as the lowest bid you can find? Bring in an itemized quote, and we'll match it.
25-year workmanship warranty. You want to know that the siding you choose will last through the years. Our work comes with a 25-year warranty to give you peace of mind. If any issues arise, we will handle them for you.
Complimentary design mock-up. Visualizing how a particular type of siding will look on your home can be difficult. That's why we provide a design mockup that allows you to see the style, material, and color you are considering, making it easier for you to make a decision.
Whether your home is modern and sophisticated, cozy and sweet, or historic (as many Atlanta homes are), we'll install siding that looks amazing and holds up extremely well to the unique conditions in this area.
Contact Us
Siding installation is our passion. We're excited to talk with you about your project and answer any questions that you may have. We'll make up a complimentary written estimate for you and take into consideration any quotes you currently have so we can match them.
We can't wait to get started on your project – contact us today!
We are serving the following municipalities at the moment:
​Acworth​, Alpharetta​, Atlanta​, Buford​, Canton​, Carrollton​, Cartersville​, College Park​, Conyers​, Covington​, Cumming​, Dallas, Decatur​, Douglasville​, Duluth​, Fayetteville​, Gainesville​, Griffin​, Jonesboro​, Kennesaw​, Lawrenceville​, Lilburn​, Lithonia​, Loganville​, Marietta​, McDonough​, Monroe​, Newnan​, Norcross​, Peachtree City​, Powder Springs​, Riverdale​, Rome​, Roswell, Smyrna​, Snellville​, Stockbridge​, Stone Mountain​, Suwanee​ and ​Woodstock.