We Find an Ideal Solution for You
Congratulations – you're one step away from getting started on the siding of your dreams! Ideal Siding is your trusted partner in siding, specializing in all types, from vinyl to cement, and practically everything in between. You can choose from many different styles including planks, panels, shakes and shingles in different widths, textures, and colours to increase the appeal, value, and protection of your home.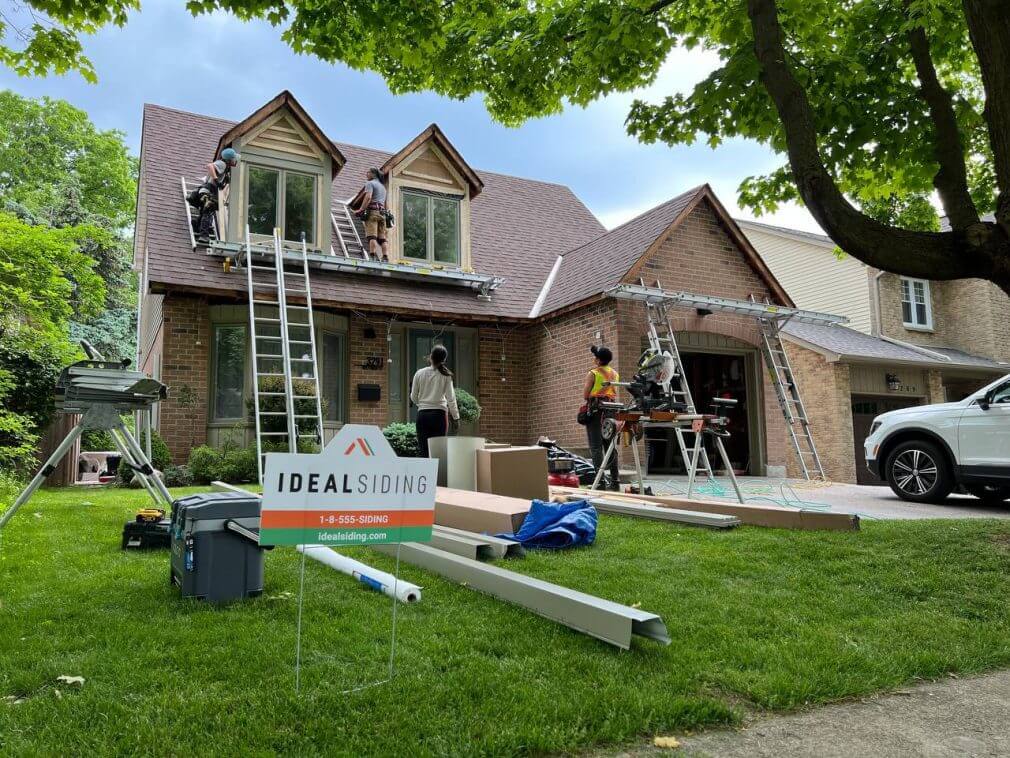 Our company will guide you throughout the entire process and will answer any questions, relying on our vast experience in the industry and over 500 meetings held with clients each year.
You deserve only the best quality of materials and workmanship, that's why we have the best crews in the industry and work with the most reputable suppliers. We understand the needs of local homeowners and are familiar with the trends in each neighbourhood.
Siding Types And Styles We Offer
Our siding is available in a vast array of materials, colours and styles. The choice of materials includes vinyl, cedar, aluminum, fiber cement and engineered wood. Each type of style – planks, panels, and shingles – is available in at least one, if not all, of the materials. And each type has its pros and cons.
So how do you navigate all the options? It's easy when you work with a professional:
Vinyl siding is by far the most popular option, particularly because it is the least expensive, as well as durable, attractive and easy to maintain. It's a great choice for protecting your home, and the investment you made in it. It offers the beauty of wood siding, without the possibility of fading, peeling or rotting.
Cedar siding sets the standard for luxury, beauty and warmth, and is eco-friendly, but requires more maintenance than its man-made counterparts.
Aluminum siding is lightweight, durable and attractive. It is a great choice for contemporary homes. Available in a solid finish or made to resemble natural wood, it is resistant to moisture, mould and pests.
James Hardie siding is a fiber cement siding made from cement, sand, cellulose fibers, and water. Both durable and attractive, it is supplied in long, horizontal strips, just like wood lap siding. It can be made to mimic virtually any siding material, such as wood lap boards, stucco panels and wood shakes.
Engineered wood siding is made from recycled wood content or leftover lumber materials, so it is considered eco-friendly. Consisting of wood fibers bound with resin and wax, it is stronger than natural wood, while equally as beautiful. It can be pre-stained to any colour, and is durable and easy to install and maintain.
Here are some of the most common style options so you can start thinking about what design is right for your home.
Lap Siding
The most popular in Canada is plank siding due to its low cost and ease of maintenance. It can be installed horizontally or vertically depending on your design plan. This option puts a frame around the outside of your house, defining the edges and lines and making your house pop.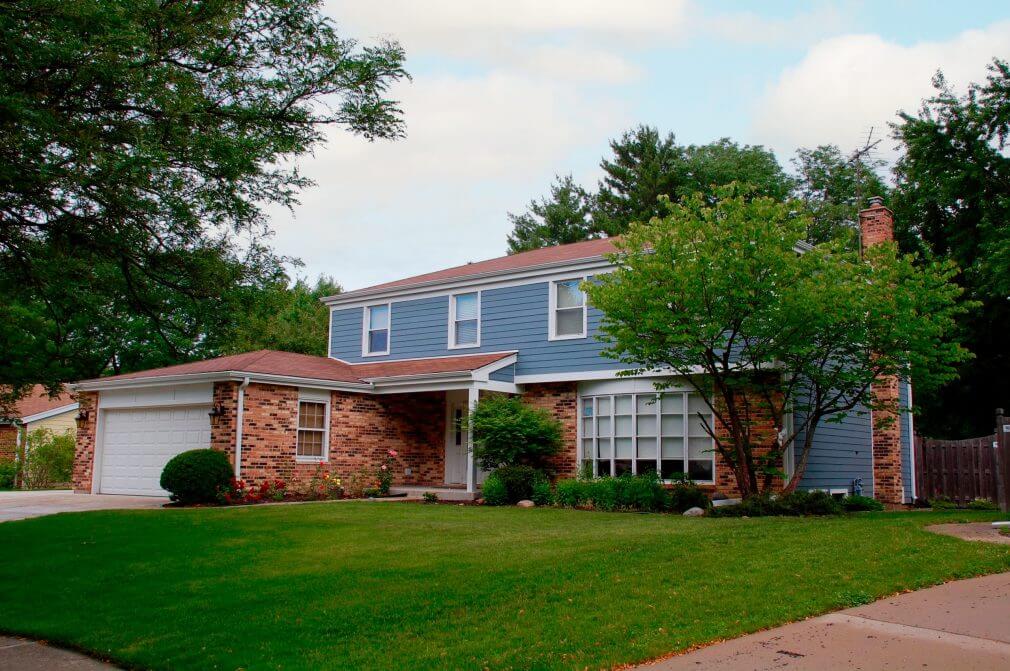 Siding Panels
Siding panels can be installed horizontally or vertically based on your design plan. They are typically found in homes with a contemporary, minimalist look. Available in a smooth or cedar mill texture, the panels are cut on-site to ensure they match the design of your home.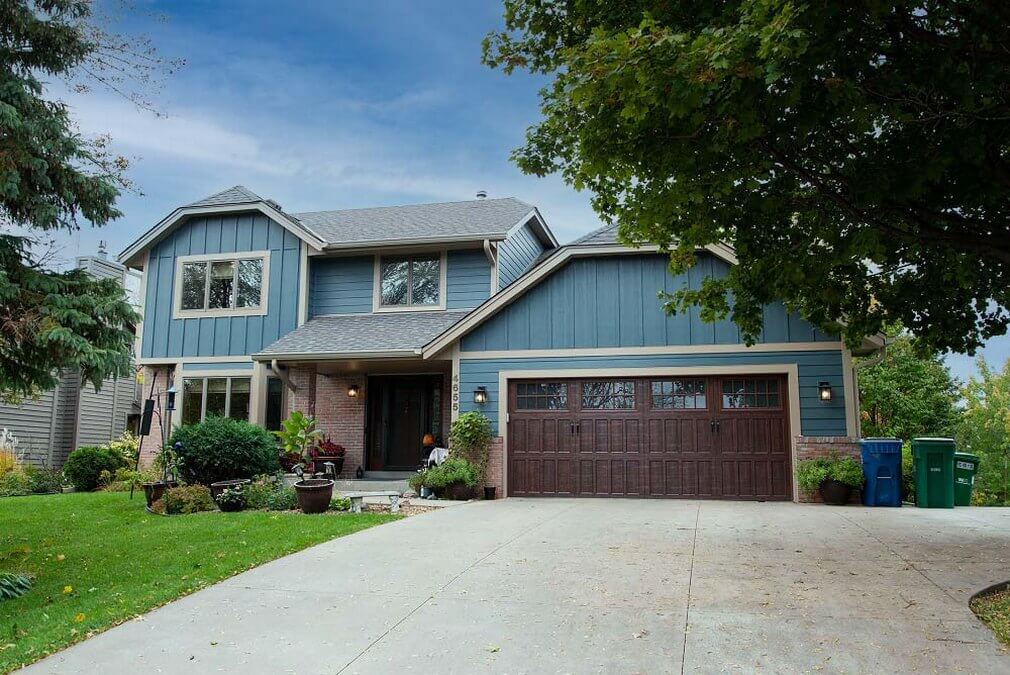 Shingles and Shakes
Shingles are the ideal choice if you are looking for a natural, rustic look. Their distinctive shadow lines add contrast and depth to a home's exterior, creating a sense of coziness and warmth.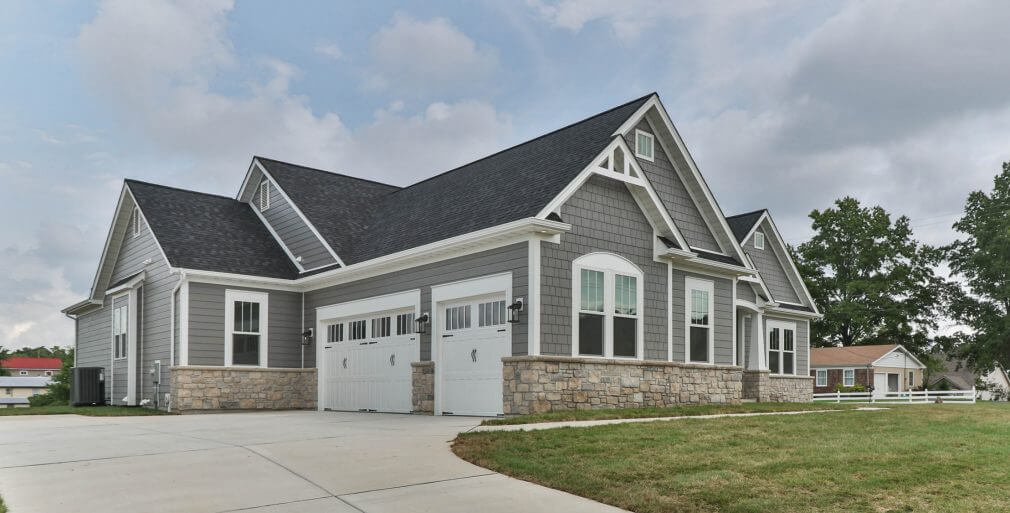 While siding shingles were traditionally made from cedar, they are now available in a wider choice of materials. Advances in technology have resulted in fiber cement shingles that mimic wood, but are less expensive and require less maintenance.
How Much Does the Siding Cost?
The cost of your siding project depends on several factors, including the cost of the material you choose, as well as the current condition of your house. We may have to demolish old material and remove construction waste removal and install trim boards, soffits, and fascia boards.
Most homeowners choose James Hardie, because, in addition to being durable and easy to maintain, it is the most cost-effective option. Cedar siding is invariably the most expensive, and vinyl is the cheapest. Regardless of which you choose, we give you a final price before the job begins to help you make an informed choice:
Vinyl siding. Easy to install, vinyl siding costs approximately $10 – 12 per sq. ft. Installing vinyl siding on a 1500 sq. ft. house, which is the average home size in Ontario, will cost between $15,000 and $18,000.
James Hardie. Fiber-cement siding is more expensive, at approximately $14 – $15 per sq.ft., resulting in a cost of $21,000-22,500 for a 1500 sq. ft. house.
Cedar siding. This is the most expensive, with a price tag of $20 per sq. ft., bringing the cost of using it on a 1500 sq. ft. house to approximately $30,000. Painting and staining costs are additional – an estimate will be provided.
Here is the table of the materials and their cost that we offer to our clients in Hamilton:
| | |
| --- | --- |
| Material | Price per sq ft* |
| Vinyl Siding | Starts at $10.75 |
| James Hardie (Fiber Cement) | Starts at $14.00 |
| Maibec | Starts at $18.00 |
| Fraser | Starts at $18.00 |
| Cedar Siding | Starts at $19.50 |
| Cape Cod (Finished Wood) | Starts at $21.50 |
| Stucco | Starts at $22.75 |
| Longboard | Starts at $53.00 |
| AL-13 | Starts at $50.00 |
| Cultured Stone | Starts at $48.25 |
* Prices are guidelines only and can change based on the seasonality, availability of materials and complexity of your project.
Since our team of experts first inspects your entire house before doing any work, we help you understand the condition of your architecture and give you a quote so you can make an informed decision. This way, there will be no surprises during the project, and you don't need to pay any hidden charges.
How We Work
When you choose Ideal Siding, you will be working with a team of experienced and talented professionals with a minimum of 7 years of experience in the industry. Our first job is to walk you through our work process so you know exactly what to expect and can prepare for your siding project.
After you have reviewed and approved our complimentary design mock-up showing you what your home will look like after the job is complete, we order the materials and have them delivered to your home. Additional time might be required for the custom orders or if any of the materials are out of stock.
Then the work begins!
Old Siding Removal
Our team begins by removing your home's existing siding, a process which takes on average between 2 and 7 days, depending on the size of the project and the type of your siding. Some types of older siding such as vinyl or cedar can be removed quickly, while stucco and stone can take longer.
Sheathing Inspection and Repair
Next, your existing sheathing is inspected for rot, mould or other damage. You'll be happy to know that most homes do not require sheathing repair. However, if repairs are needed, there might be a small additional cost associated with the repairs. Of course, before we proceed, we will provide an estimate once the scope of the work is determined.
Preparing Walls for the New Siding
After your home's sheathing has been inspected and any necessary repairs have been made, we start preparing walls for new siding. At this step we install building paper, flashings and strapping (optionally). This process is designed to protect your house from water damage, which is especially important in Hamilton's rainy climate.
Siding Installation and Touch-up Work
The next step is installing a siding itself, as well as trim boards around windows, doors, soffits, overcap corners and fascia boards. We also put in insect screens, flashings, dryer vents and light fixture boxes, and apply touch-up paint to the nails, matching the colour of the siding to create a seamless, professional look.
Cleaning Up and Waste Removal
The final step is cleaning up your property, and removing and recycling all construction debris in accordance with the best practices in the siding industry. All construction waste will be removed and placed in the recycling bin.
When the project is completed, your Project Manager will inspect the work, and then meet with you to explain the details of the materials and workmanship warranties and provide you with the maintenance instructions. Our team is always prompt, efficient and attentive to the details, ensuring that you will be satisfied with the end result.
Reasons to Work With Us
With lots of siding companies to work with in Ontario, why choose Ideal Siding? Because we're the largest and fastest-growing siding company in Canada, with a reputation for quality, reliability and affordability. Our siding products are manufactured by top American companies and we work only with the most reliable suppliers.
There are more great reasons to work with us:
Price Match Guarantee. Ideal Siding works with you to find the best material to meet your budget. Regardless of what type of vinyl siding you choose, you will find our prices affordable, competitive and transparent. If you already have a quote from another siding company, just show us their written estimate and tell us about your project. We will match other siding companies' quotes for the same scope of work and materials.
Leading Workmanship Warranty. Your home's siding must perform a variety of functions. In addition to making your home more beautiful, it also has to stand up to all types of weather conditions. You know how variable the climate in Hamilton can be. That is why we offer the best workmanship in the industry so you don't have to worry. When you work with Ideal Siding, you get the benefit of our unique 25-year workmanship warranty.
Complimentary Design Mockup. Your siding is as unique as your home itself. At Ideal Siding, we understand that everyone has different needs and personal tastes. That's why we offer a complimentary siding design mockup as one of the first steps in working together. Our specialists will show you the colour combinations and designs that are best for you, then turn it into a mockup which shows you what the end result will look like. If you don't like what you see, we can make adjustments until you are 100% satisfied.
With us, you can be sure that your project will be completed following the industry's best practices, manufacturer's recommendations and the city's building codes in mind.
Contact Information
Have questions? Need an estimate? Call us today to speak with a specialist or get a free quote on the siding that works best for you. We look forward to transforming your house into the home of your dreams!
We are serving the following municipalities at the moment:
Hamilton, Flamborough, Ancaster, Stoney Creek, Dundas and Glanbrook areas.