We Find an Ideal Solution for You
Choosing the right siding for your home in Denver is no easy task. Siding is your first line of defence against the elements. It is also an opportunity to reduce your utility bills, as well as make an aesthetic statement.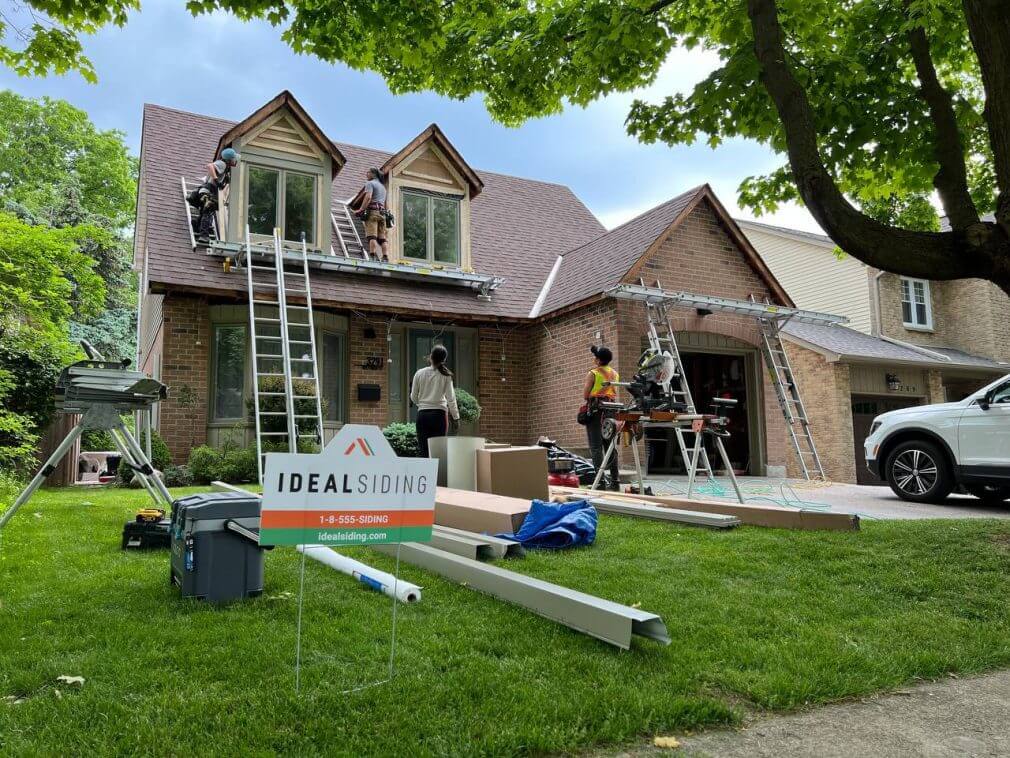 There is a wide variety of materials to choose from (fiber-cement, wood, vinyl etc) each with its own benefits and drawbacks. At Ideal Siding as contractors, we love nothing more than helping our clients find the perfect siding for their houses. We are proud of our professional crews and our relationships with local supplier companies who provide the highest quality materials with the widest array of options.
Whether your job is a small project, medium repair or you're redoing your entire home, our team of experts is ready to help you through the entire process. We work with you to choose the right siding from the start, and remain your trusted contractor right through to the final clean-up.

Take advantage of our years of expertise in siding reno so you can create the home of your dreams!
Siding Options That We Offer
Ideal Siding offers a wide range of siding styles, designs, colors, and material options. We help you choose a siding that meets your taste, budget, and home's design style, not to mention one that will stand up to Denver's unpredictable weather conditions.
We offer many different types of siding materials:
James Hardie siding is made from cement combined with other ingredients. Resistant to fire, moisture, and harsh weather, it has a polished look and comes in a variety of textures to mimic natural wood. James Hardie boards can be pre-painted at the factory or primed for painting after installation.
Vinyl siding is the most popular because it is low-cost, easy to maintain, and available in a wide variety of colors.
Cedar siding is both durable and moisture-resistant while exuding rustic charm. Although it can be more expensive than vinyl or fiber-cement fiber siding, it's a great choice for a classic look. Available both with a clear stain and in a wide range of colors, it is easy to customize, replace and repair.
Aluminum siding can be made to look like natural wood. Available in large, flat panels and vertical or horizontal planks, it is both durable and attractive. Popular for contemporary homes, it is lightweight, and moisture and mold resistant. It also helps insulate your home, which will help bring down your energy bills.
Engineered wood siding is made from the fibers of recycled wood that are bound with resin and wax. It is more durable than natural wood but equally as beautiful. It can be pre-stained to any color and is easy to install for contractors and maintain for homeowners.
Below you will find the description for some of the most popular styles amongst homeowners in Denver over the past few decades.
Lap Siding
Lap siding is a favorite among homeowners in Denver. Available in a wide range of colors and finishes, the installation can be done vertically as well as horizontally, so you can be as creative as you like. Choose from a horizontal installation for a more classic look or a vertical one if you want something more contemporary.
Planks come in a number of different materials, with fiber cement, and metal being some of the most durable options to hold up to the intense weather of Denver. However, if you happen to live in one of the milder microclimates in this city, cedar planks can look beautiful, and vinyl can work very well too.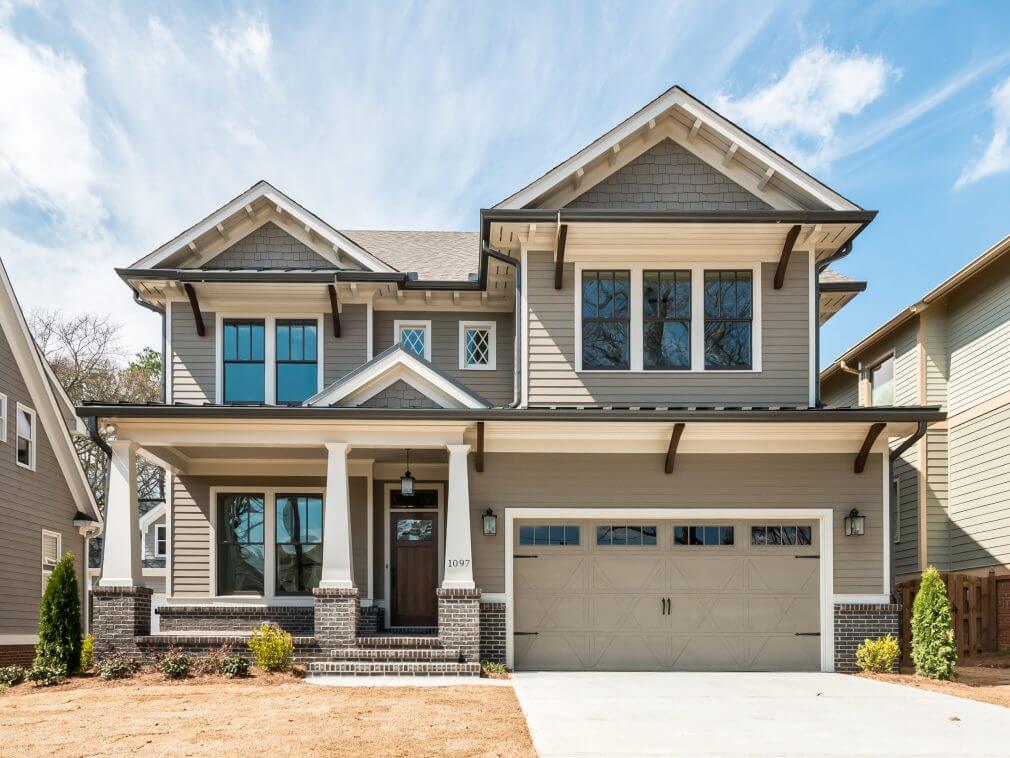 Siding Panels
Panels are an excellent option for anyone looking for a minimalist design for their house in Denver. The panels are cut on-site to ensure they match the design of your house, and installation can be done horizontally or vertically. Like our other siding styles, they are available in an impressive range of colors and textures, including a wood grain finish, such materials, as vinyl, cedar and James Hardie.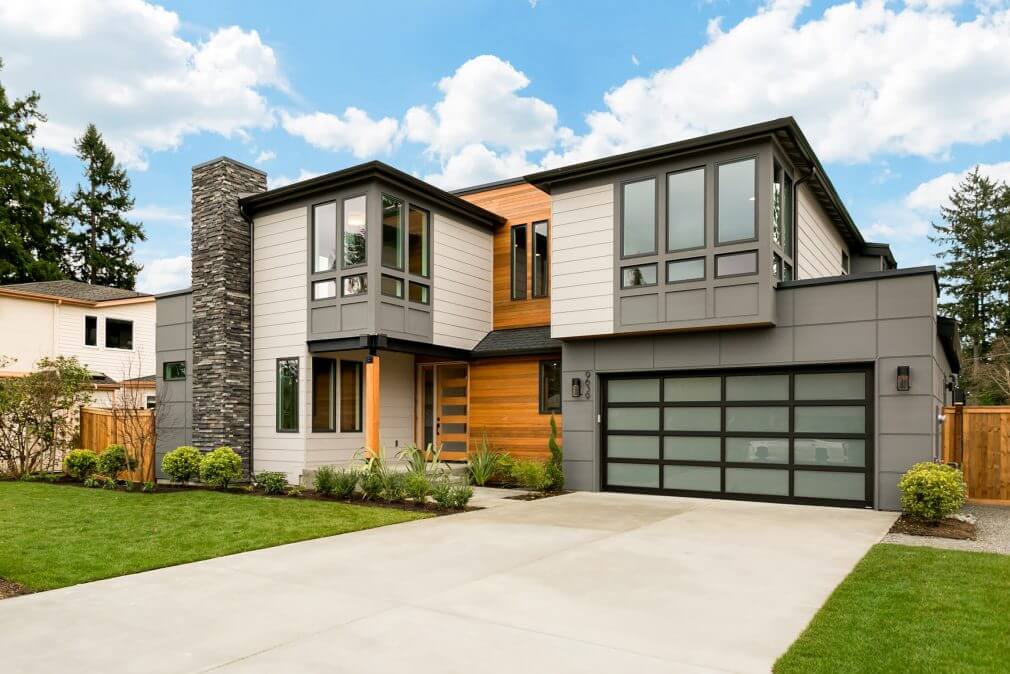 Shingles and Shakes
Shingles create a natural, rustic look. They also add contrast and depth to your home's walls and gables, creating a sense of coziness and warmth. The most common materials for siding shingles are cedar, fiber cement (James Hardie), and vinyl.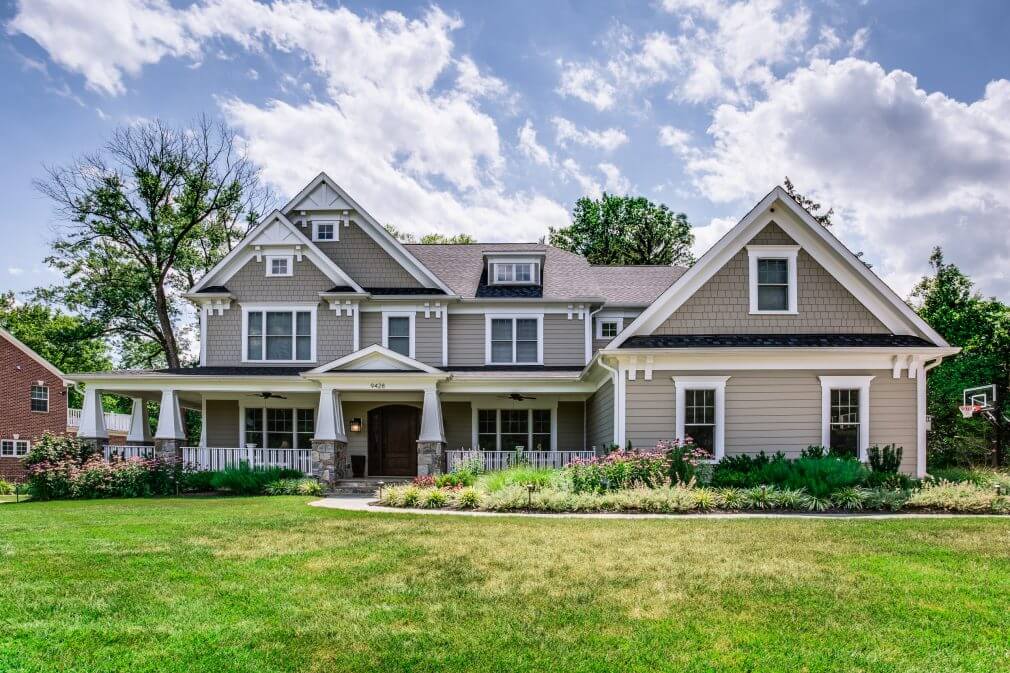 How Much Does Siding in Denver Cost?
You'll be happy to know that our quote includes materials and labor. How much you pay depends on the siding's materials, design, and other elements such as trim boards, soffits, and fascia boards. We've listed the approximate cost of our different types of siding to give you an idea of the price range and how they are priced compared to one another:
| | |
| --- | --- |
| Material | Price per sq ft* |
| James Hardie (Fiber Cement) | Starts at $15.00 |
| LP® Smartside® (Engineered Wood) | Starts at $16.00 |
| Vinyl Siding | Starts at $9.75 |
| Premium Vinyl Siding | Starts at $12.50 |
| Cedar Siding | Starts at $18.75 |
| Stucco | Starts at $18.00 |
| Longboard (Premium Aluminum) | Starts at $56.40 |
| Cultured Stone | Starts at $42.50 |
* Prices are guidelines only and can change based on the seasonality, availability of materials and complexity of your project.
There are many other styles and types of siding and exterior materials we can offer you, please call us for any specific requests.
In addition to materials and installation, our prices include the removal and proper disposal of existing siding, delivery, inspection for rotting parts, repair, and site clean-up. You don't need to worry about unexpected costs.
Our Work Process
Our experienced team will start work as soon as all the materials arrive on site. Here's what you can expect:
Old Siding Removal
We'll remove the nails holding your old siding in place and then get rid of the siding. We work quickly to get this step done as quickly as we can, but we also must be very careful not to damage the sheathing underneath. Depending on the size of the project and the type of existing siding, this process typically takes between 2 and 7 days. If there is no old siding to be removed, this step is skipped.
Sheathing Damage Inspection
Next, we inspect the existing sheathing for rot, mold, or deteriorated parts. If repairs are needed, we will have to fix that damage before we start on the next step. From our experience, most homes do not require any sheathing repairs.
Preparation of the Wall for Siding
After your home's sheathing has been inspected and any necessary repairs have been made, we begin the preparation of the walls. We install building paper, flashings, and strapping/mesh. This process protects your house from water damage.
Siding Installation and Touch-ups
Installing your new siding typically takes between 7 and 10 days, depending on the type of siding you have chosen and the size of your home. During this process, we put in a trim board around windows, doors, soffits, overcap corners, and fascia boards. We also install insect screens, flashings, dryer vents and light fixture boxes, and apply touch-up paint to the nails.
Waste Removal and Clean Up
The final step is cleaning up your property, and removing and recycling all construction debris in accordance with the best practices in the siding industry. Usually, at the start of every project, we would have a waste recycling bin placed on-site to ensure your yard stays as tidy as possible throughout the whole process.
At the completion of your project, our Project Manager will inspect the work and then set up an appointment to review the project, explain the details of the warranties of materials and workmanship, and provide maintenance instructions.
Why You Should Work With Ideal Siding
There are many good reasons to trust Ideal Siding company for your home siding project. If you don't believe us, just take a look at the testimonials from many satisfied homeowners in the Mile-High City.
We guarantee that you will end up with the siding that's best for you, based on your tastes and budget, as well as the architectural style of your home. Here are some other great reasons to consider:
Price Match Guarantee. Denver is an expensive place to live. You can't afford to skimp on your siding since it is so essential in this climate, but you also can't afford to overpay for your siding when you're already paying so much to live in your home. You can feel confident about getting the best prices as well as the best workmanship and materials thanks to our price match guarantee. Before you sign with other companies, all you have to do is show us your quote and bring samples of your selections. We guarantee we can match the price.
25-year Workmanship Warranty. For starters, every one of our crew members has a minimum of 7 years of siding experience, our home team supervises and audits every job, and we use only the most durable and high-quality materials from the best brands available. We are so confident in the quality of our work that we warranty it for 25 years. That means that you don't have to think about repairs, maintenance, stripping, or painting for a quarter of a century! When you hire Ideal Siding Denver, you can rest assured that we are there for you if your siding needs repairs or replacement due to unsatisfactory workmanship.
Complimentary Design Mockup. We know it may be difficult to imagine what your home will look like when all the work is done. What if it's not what you wanted? If you work with other siding companies, you might end up making a very costly mistake. That's why Ideal Siding Denver offers a complimentary design mock-up, so you can see what the end result will be. If necessary, we can make adjustments in materials, colors, and design until you are 100% satisfied with the siding you are investing in.
You won't find contractors with this offer. Ideal Siding is here to help you with an IDEAL solution for your dream house!
Contact Us
We know that choosing new siding for your home is a huge decision, so we're more than happy to talk to you about your goals and help you make a decision that you'll be happy with.
We'll also create a complimentary estimate so you'll know what to expect from your siding repair or replacement. Contact us today, we can't wait to talk to you about your project!
We are serving the following municipalities at the moment:
Denver, Arapahoe, Douglas, Elbert, Jefferson, Boulder, Broomfield, Weld, Adams, Park, Clear Creek, and Gilpin.