We Find an Ideal Solution for You
When you need help with siding, look no further! Ideal Siding is here to help you with any siding project you might have, whether it's a small repair job or replacing siding on your entire house.
With more than 500+ estimates and 100+ projects completed each year, we've seen it all when it comes to siding. Our team is here to suggest a solution for any budget, help you to choose the design, and provide an expert opinion on local trends and Building Code requirements.
Here, at Ideal Siding, we understand that there's no place like home, and that's where your heart is. That's why we have the most professional and experienced crews in the industry and work with suppliers who provide the highest quality materials with a wide array of options to make your dream house a reality.
Reasons to Work With Us
When it comes to siding projects, there are many factors to consider while choosing the right contractor. You will enjoy the look of your home for the many years to come without any worries about maintenance, and we will make sure that you're getting only the highest quality workmanship and materials.
With all of those things in mind, we offer the following perks of working with us.
Upfront Price and No Hidden Fees. By working with us, you don't ever have to worry about overpaying for the siding project, no matter how big or small it is. When you receive the quotes from different siding companies, it is imperative to clarify what is included in the scope of work so that you can compare apples to apples. A couple of items to check for: if the demolition of the old siding, delivery of materials, inspection for rotten or decaying parts, materials and installation, waste removal, and site clean-up are all included in the scope of work quoted.
25 Years Workmanship Warranty, so you don't have to worry about repairs, maintenance, or painting in the upcoming years. We work according to the best recommendations from manufacturers and high-quality materials. Whether you're replacing a small part of your siding or on the entire house, you want to make sure the quality of workmanship is of the highest standards.
Complimentary Siding Design Mockup. Design mockup will help you with deciding on siding options and colour combinations. There are many options for designs, colours and materials to choose from, and sometimes it's difficult to imagine how exactly it is going to look like on your home.
We are here to help you make an informed decision, as we understand that replacing siding is a significant investment in your house. Ideal Siding is here to help you with an IDEAL solution for your dream house!
Siding Styles We Offer
There are plenty of siding types and materials on the market for residential homes. Below we will highlight a few of the most popular options amongst homeowners in the Nanaimo area.
Lap Siding
Siding plank has been the preferred option for about 87% of homeowners on Vancouver Island. Siding strips can be installed both vertically and horizontally, depending on the look you are trying to achieve and the neighbourhood influence. Siding plank is manufactured from cedar, vinyl, fiber cement, or aluminum.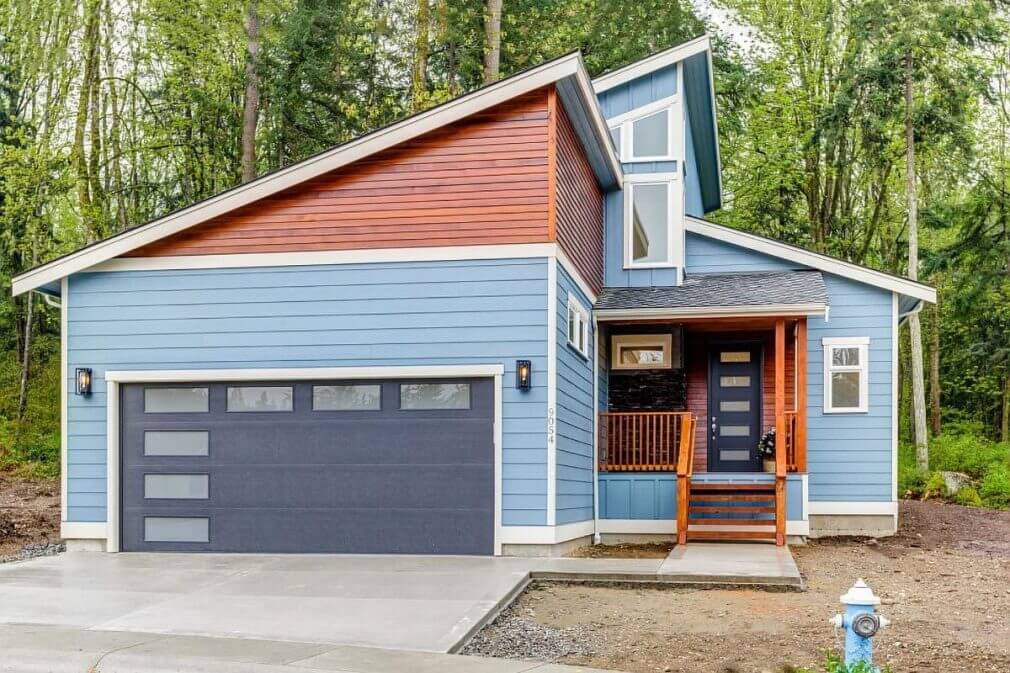 Siding Panels
Siding Panels offer contemporary design and minimalistic style combining the most advanced innovations in the siding industry. Panels usually have either smooth or cedarmill texture, with the latter one resembling the look of natural wood.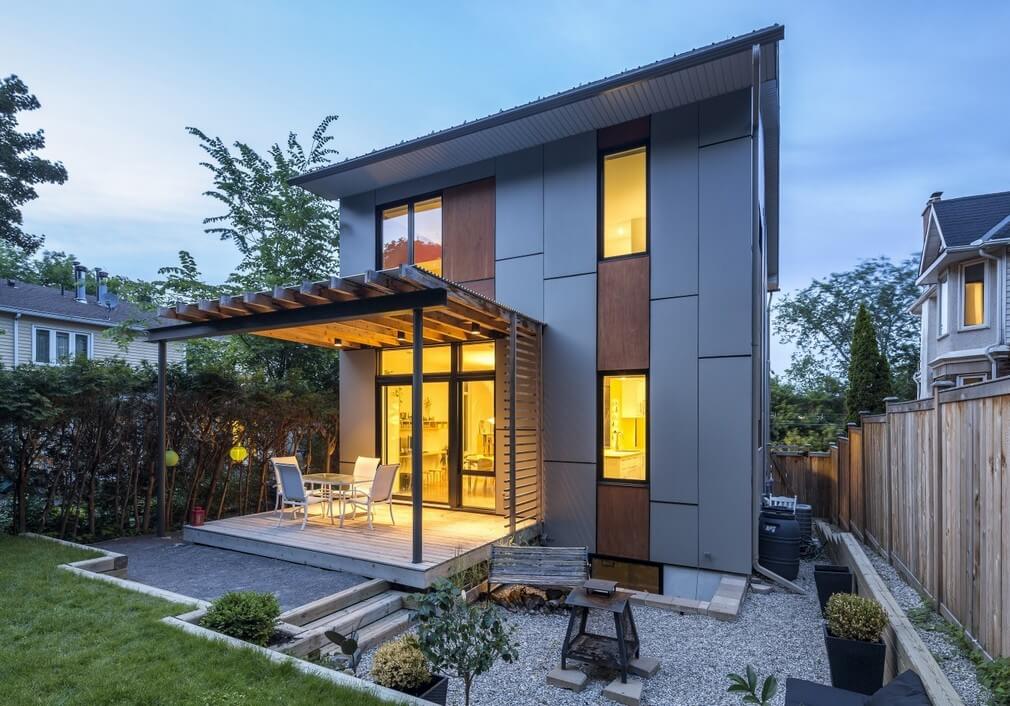 Panels can be installed either vertically or horizontally and cut on the site according to the chosen design. Over the past few years, the most widely used panel profiles are Board and Batten, Easy Trim Reveal Panels, and Open Joint Cladding.
Siding Shingles
Siding Shingles is a quite popular option on the West Coast where an abundance of Cedar and Hemlock trees influences cozy and warm design features. Shingles add contrast to the feature walls, gables, or warm up the design of the entire house. The most common materials for siding shingles are cedar, fiber cement or vinyl.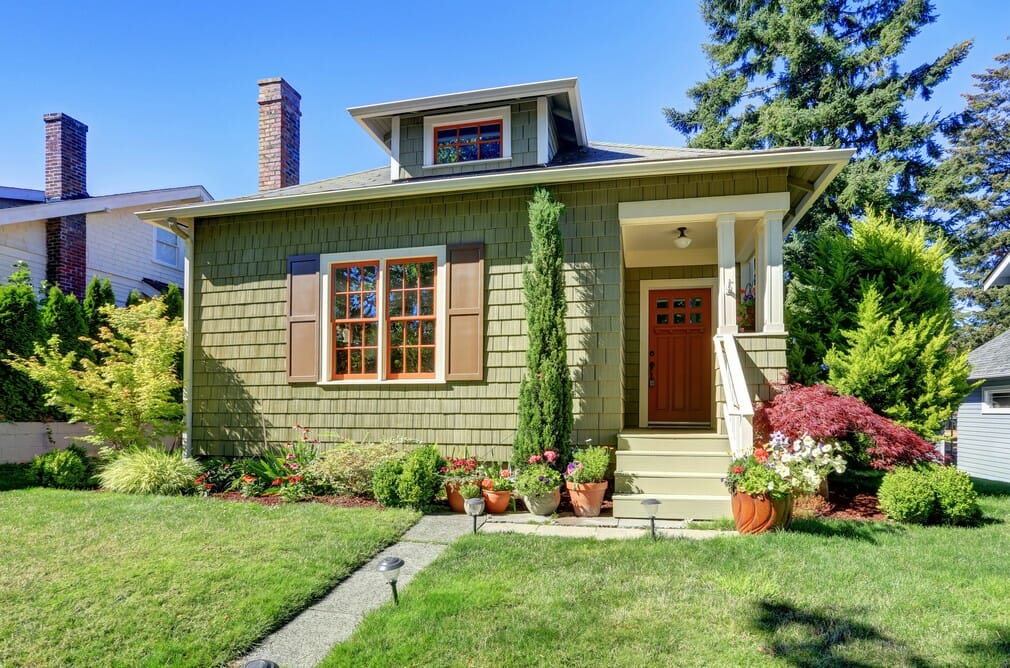 How Much Does the Siding Cost?
The cost of siding installation on your home will depend on the materials, design, and other exterior elements like trim boards, soffits, and fascia boards. Below you can see a ballpark estimate of siding installation for different materials.
Vinyl siding is one of the most affordable options on the market due to the lower cost of materials and a relatively straightforward process of installation. If you choose to install vinyl siding on your house, it will cost around $8.00 – 8.50 per sq ft. The average size of a single-family home in BC is 2,500 sq ft, so the cost for this project will be approximately $20,000 – $21,250.
Installing James Hardie siding on the same house will cost around $10.75 – $11.25 per sq ft, which means you will pay approximately $26,875 – $28,125.
Cedar siding is the priciest option among the three mentioned above. It costs $13.75 – $14.00 per sq ft resulting in the final price of $34,375 – $35,000. This price doesn't include the additional expense of painting or staining.
To help you compare the costs of different options, we created the table below to highlight some of the most widely used siding materials:
| | |
| --- | --- |
| Material | Price per sq ft* |
| James Hardie (Fiber Cement) | Starts at $10.75 |
| Vinyl Siding | Starts at $8.00 |
| Premium Vinyl Siding | Starts at $9.25 |
| Cedar Siding | Starts at $13.75 |
| Stucco | Starts at $13.50 |
| Longboard | Starts at $42.75 |
| AL-13 | Starts at $41.50 |
| Cultured Stone | Starts at $48.00 |
* Prices are guidelines only and can change based on the seasonality, availability of materials and complexity of your project.
How We Work & What to Expect
We start working on your siding project right after you decide on design, materials, colour and accent details. Please keep in mind, that there can be a wait for the materials, especially if they're a custom order. Once the siding arrives on site, we start preparing your house for the installation process. As one of the largest siding companies in Canada, we continuously work on multiple projects at the same time.
Our Project Managers will guide you through each step of the siding project on your house and will gladly answer any questions you might have. Once you chose to work with us, you can rest assured every detail will be taken care of from the beginning till the completion. Here is the step-by-step process.
Old Siding Removal
Once you decide on the siding you want to install on your home, we start your project. After ordering all the materials, we begin the removal of the old siding. In the process of demolition, it's crucial to remove the nails carefully, so the sheathing underneath does not sustain any damage. Depending on the type of siding that needs to be removed, this process might take between 2 to 7 days.
Sheathing Inspection and Repair
The next step would include a thorough inspection of the sheathing underneath the old siding to detect any potential rot or deteriorated parts. From our experience, most of the homes do not require any sheathing repairs. If the sheathing repair is recommended, you could be looking at an additional cost.
Preparation of the Wall for Siding
After the sheathing has been inspected and necessary repairs have taken place, we start the installation of the rainscreen. Installing the rainscreen system prolongs the lifespan of your new siding by more than 5-10 years by allowing the air to move freely between the walls and the siding. Its primary purpose is to protect the house from any water damage over the years, especially with the amount of rain we get here on the West Coast.
Siding Installation and Touch-up Work
The siding installation process takes up about 7 to 10 days, depending on the type of siding you've chosen. Some of the designs are more time-consuming and require more detailing. There is also the additional time needed to install a trim board around windows and doors, soffits, overcap corners, and fascia boards. Besides siding, we install bug screens to protect the house from insects, flashings, dryer vents, caulking and touch-up paint for the nails.
Cleaning Up and Waste Removal
Once we finish the installation of siding on your house, we make sure that your yard is left tidy and no mess left behind. We do a thorough inspection of deficiencies, clean up and dispose of any material waste. Here, at Ideal Siding, we always make sure that we complete every project with excellence and according to the best practices in the siding industry.
After all the clean-up is completed and you are happy with the results, the Project Manager will advise you on how to take care of your new exterior. We will provide you with all the details on workmanship and material warranties you might need in the future.
Contact Us Today
We will gladly answer any questions you might have about siding! Please contact us for a complimentary estimate on your house or about any other inquiries you might have.
We are serving the following municipalities at the moment:
Nanaimo, Lantzville, Nanoose Bay, Parksville, Qualicum Beach, Coombs, Qualicum Bay, Port Alberni, Bowser, Union Bay, Buckley Bay, Fanny Bay, Royston, Courtenay, Comox, Campbell River, Gabriola, Cassidy, Ladysmith, Chemainus and Crofton.