We Find an Ideal Solution for You
Are you building a new house or planning a siding repair or replacement for your existing home in Halifax, NS? Whatever your siding needs, Ideal Siding® is here to help. We understand how important choosing siding is to homeowners like you, especially when you want to be assured that it is the most practical, cost-effective, and high-quality siding on the market today.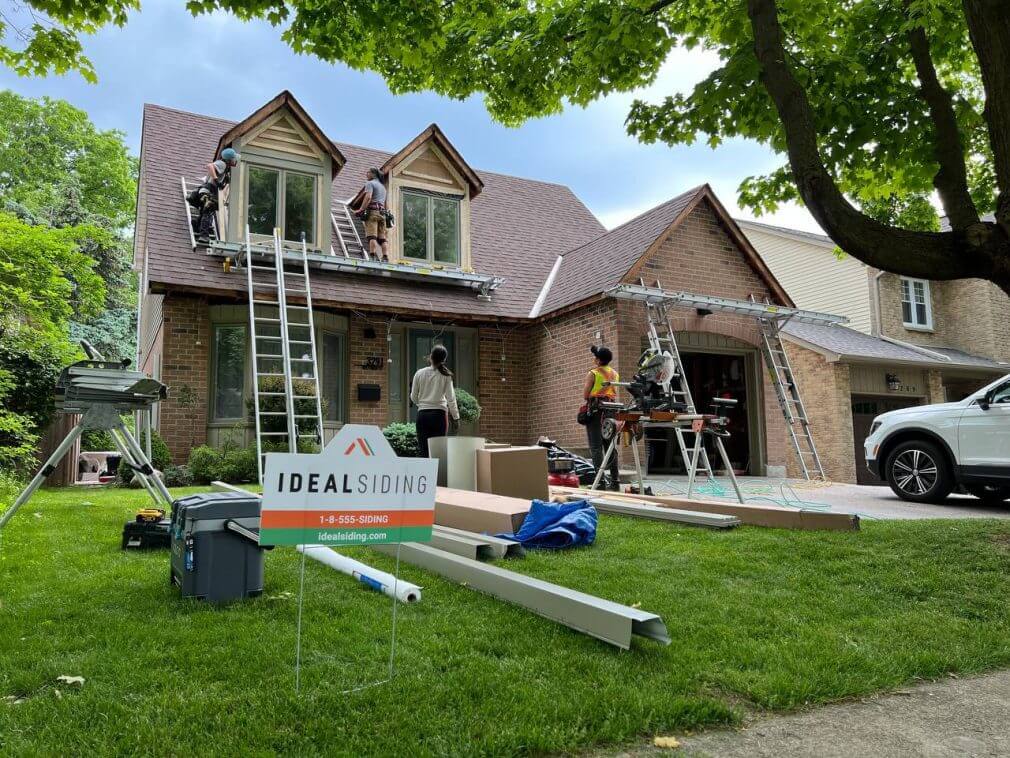 Not only is Ideal Siding® the largest siding company in Canada, but it also has a reputation for quality, reliability, and affordability. We work with the leading siding manufacturers and partner with the most professional and experienced crews in the country. With winters that are freezing, windy, and snowy, Halifax's climate demands a siding company that will give your home the utmost protection at the best price.
Installing quality siding is always a great investment. It will not only protect your home but also increase its value by boosting curb appeal. At Ideal Siding Halifax, we tailor your project specifically to you and your home, providing customized, ideal solutions for your siding needs.
Siding Styles We Offer
There are practical as many kinds of siding as there are types of homes – you'll be surprised by the wide choice of materials, styles, and colours. Ideal Siding Halifax will work with you to make the selections that match your tastes, your home's style, and your budget while holding up to Halifax's eastern maritime climate.
Here is a brief description of the material you can choose for your home:
Vinyl siding. Composed PVC, a very durable polymer of plastic, it is low-cost, easy to maintain, and lightweight. It is available in a wide variety of non-fading colours.
Cedar siding. Known for its durability as well as its resistance to moisture, cedar siding has a rich, luxurious look. You can choose between a natural look with a clear-coat stain or a wide range of colours. One of the most eco-friendly siding materials, it is easy to customize, replace or repair.
Aluminum siding. Aluminum looks great and is extremely durable. It comes in a solid texture or one that mimics natural wood. Often seen on contemporary homes, it is lightweight and resistant to moisture, mould, and pests. It's available in large, flat panels and vertical or horizontal planks.
James Hardie® fiber cement siding. James Hardie® siding is a composite material made with cellulose fibers and cement. It's remarkably resistant to fire, moisture, and harsh weather. It has a polished look and is available in a variety of textures that mimic natural wood.
Engineered wood siding. Engineered wood is an eco-friendly option because it is made from recycled wood content or leftover lumber materials. Composed of wood fibers bound with resin and wax, it is stronger than natural wood but equally as beautiful. It can be pre-stained to any colour and is easy to install and maintain.
In addition to various materials, we also supply siding in a number of different profiles.
Lap Siding
Siding plank is the most popular type of siding in Canada due to its low cost, ease of maintenance and availability in a large selection of colours. Based on the look you want to achieve, you can choose either horizontal or vertical strips. It is available in different materials, including vinyl, cedar, aluminum, fiber cement and engineered wood.
There are several different types of lap siding, including cottage or Dutch lap and nickel gap, more commonly known as shiplap. It's popular for its classic, cozy, inviting look.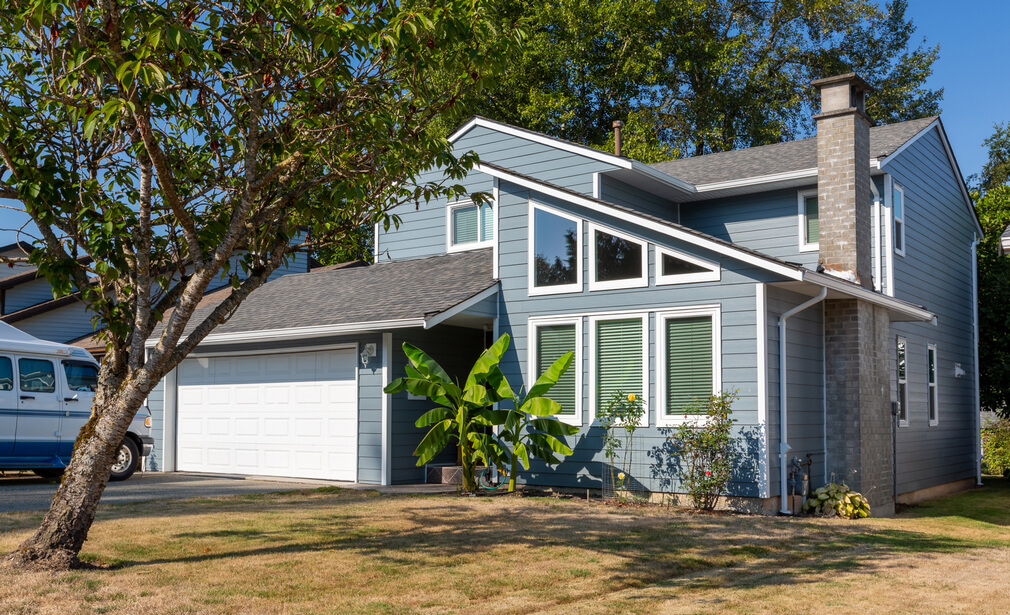 Shakes and Shingles
Homeowners wanting a rustic look often choose shingles. Because they create distinctive shadow lines, they add contrast and depth to a home's exterior, creating a sense of coziness and warmth. Shakes and shingles were traditionally made from cedar, but there are other choices as well, including fiber cement, vinyl and aluminum shingles, each of which creates its own unique look.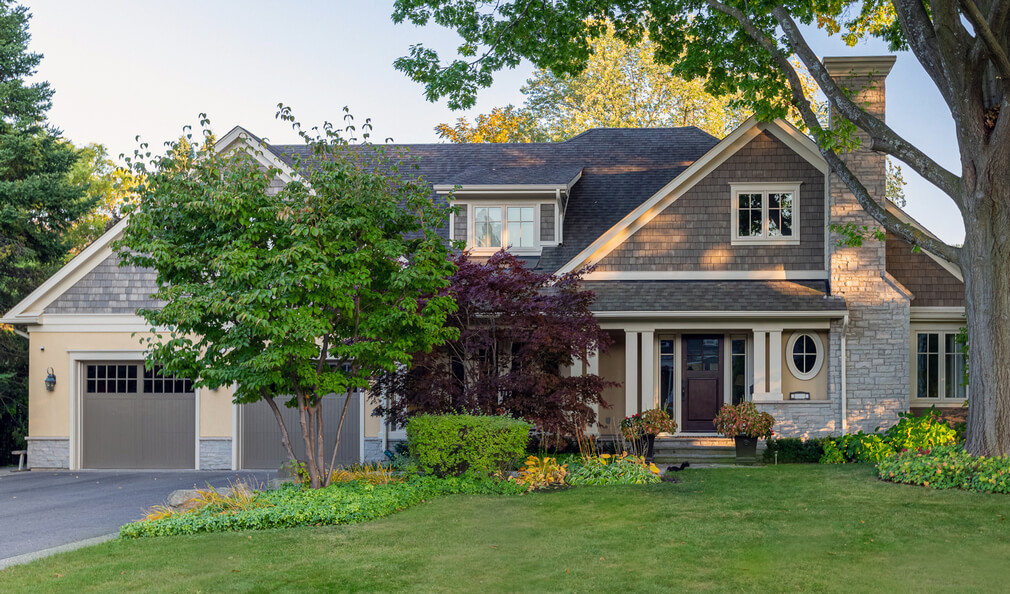 Siding Panels
Siding panels, like planks, can be installed horizontally or vertically depending on your home's design. You often see them on homes that have a contemporary, minimalist look. Available in a smooth or cedar mill texture, the panels are cut on-site to ensure a perfect fit and match.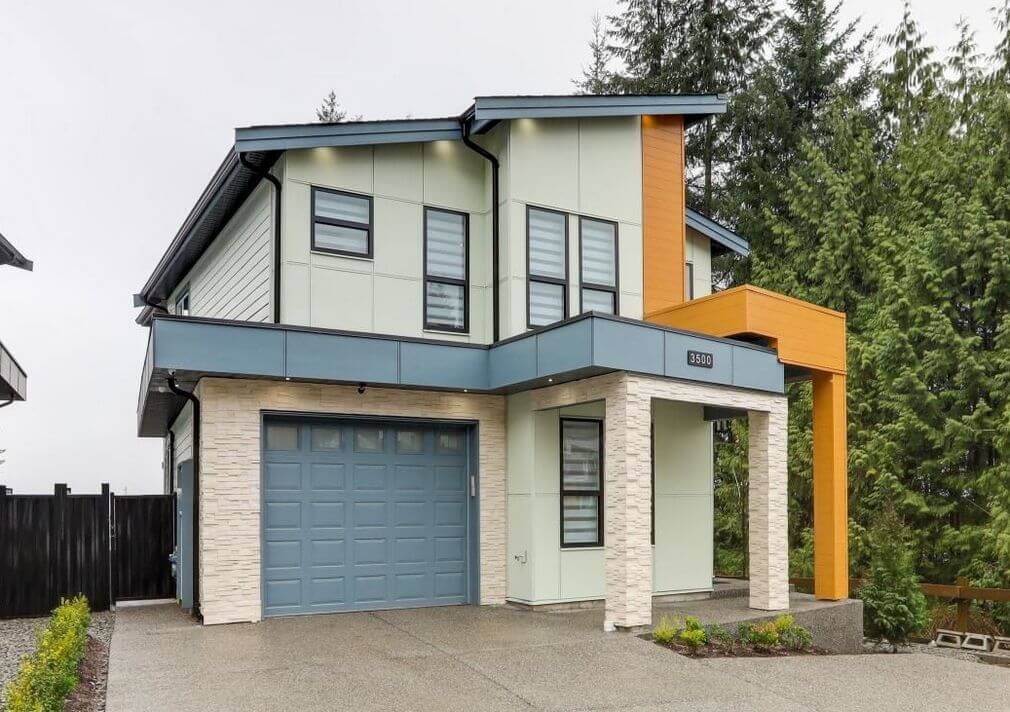 Board & Batten
Board and batten siding creates a clean and multi-dimensional effect that is popular in older Midwestern-style architecture. It can be used with other styles to create the desired look, whether modern or traditional. It is often used on high walls or gable walls because of its elongating effect. This is a perfect option for a farmhouse exterior style.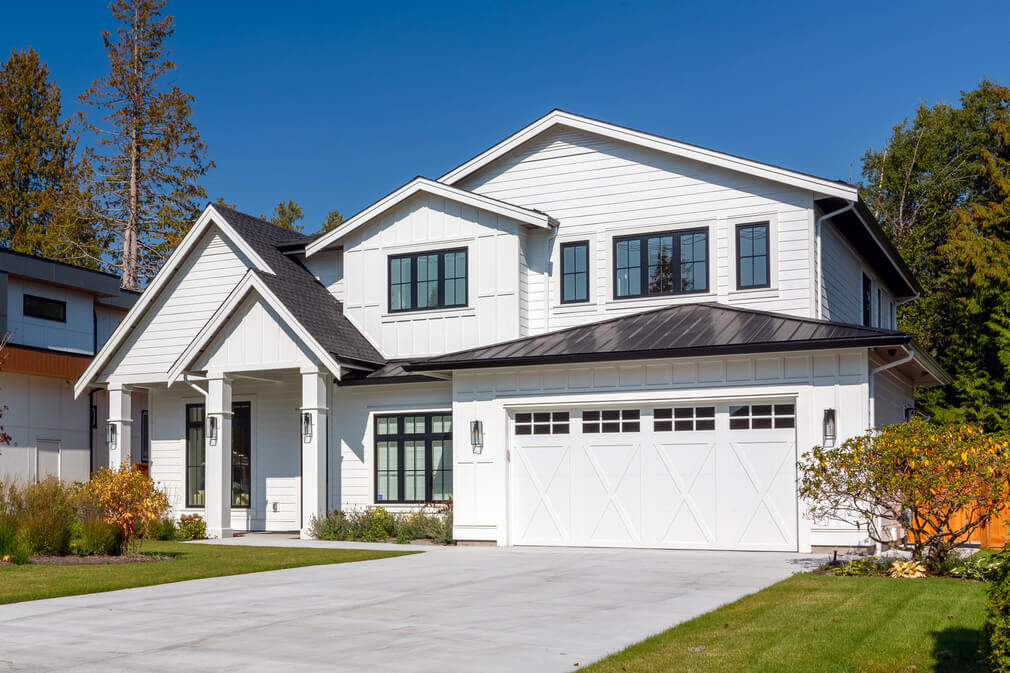 How Much Does the Siding Cost?
The cost of new siding on your home is based on several factors, such as your home's current condition, whether the job involves demolishing old material and construction waste removal, and whether you install additional items such as trim boards, soffits, and fascia boards. The material you choose also plays a role in your project's final cost.
No matter what, Ideal Siding® provides everything you need to make an informed decision. Because we conduct a thorough inspection of your house before we begin, we are able to give you a final price beforehand to help you make an informed choice. You can be confident that you are getting the best price and workmanship available on the market for the scope of work that will be done.
Below you will see the approximate cost per square foot for a few most commonly used types of siding, so you can have an idea of how much your renovation project might cost based on the materials used:
| | |
| --- | --- |
| Material | Price per sq ft* |
| James Hardie® (Fiber Cement) | Starts at $11.25 |
| Vinyl Siding | Starts at $7.50 |
| Premium Vinyl Siding | Starts at $9.50 |
| Cedar Siding | Starts at $15.00 |
| Stucco | Starts at $13.00 |
| Longboard® | Starts at $45.75 |
| AL-13® | Starts at $42.00 |
| Cultured Stone | Starts at $38.50 |
* Prices are guidelines only and can change based on the seasonality, availability of materials and complexity of your project.
Here's a rough picture of what costs to expect for a siding project on an average-sized 1,200 sq. ft. home in Halifax:
Vinyl siding. Easy to install, vinyl siding costs approximately $7 – $9 per sq. ft. Installing vinyl siding on a 1200 sq. ft. house, which is the average home size in Halifax, will cost around $10,000.
James Hardie® siding. Hardie® board, a durable fiber cement siding made from cement, sand, cellulose fibers, and water, is more expensive, costing approximately $11 – $12 per sq. ft. You will pay approximately $15,000 to side the same house.
Cedar siding. This is the most expensive, with a price tag of approximately $15 per sq. ft., bringing the cost of using it on a 1500 sq. ft. house to around $18,000-23,000. Painting and staining costs are additional. Although cedar siding requires regular maintenance, it will add to your home's curb appeal and therefore increase its value.
At Ideal Siding®, we ensure that materials are priced fairly. And additional costs (if any) are openly discussed and revealed to customers before the project begins.
Our Work Process
When you choose Ideal Siding®, you receive all the benefits of working with a team of experienced and talented professionals. Once you've chosen your siding materials and style and approved the design visuals, all the materials are ordered and delivered to your address. The project usually begins a few days after the contract has been signed, although there might be additional time required for the custom orders and out-of-stock materials.
Our experienced contractors begin working on your siding project by prepping your house, followed by siding installation and touch-ups. Here's what to expect during your siding project:
How We Work
Old Siding Removal
The first thing we do is remove the old siding carefully in order not to damage the underlying sheathing. This step is almost always necessary because of the risks of installing new siding over old siding, which could result in diminished durability and a rough appearance. This process takes 2 to 7 days, depending on the type of siding that needs to be removed and the size of your home. Some types of old siding, such as vinyl or cedar, can be removed quickly, while stucco and stone take longer.
Sheathing Damage Inspection
At this step, we inspect the existing sheathing for rot, mould or other damage. Fortunately, in our experience, most homes do not require repairs since siding does an excellent job of protecting the sheathing underneath. However, if repairs are needed, you could be looking at a small additional cost.
Preparation of the Wall for Siding
After your home's sheathing has been inspected and any necessary repairs have been made, we begin the installation of building paper to protect walls from moisture. If you choose to install a rainscreen, it will prolong the lifespan of the building structure and your new siding for up to 5-10 years. The rainscreen system allows airflow between the house's walls and siding, allowing any moisture trapped to evaporate quickly.
Siding Installation and Touch-up Work
Over the next 7 to 10 days, depending on the materials used, the design, and the size of your home, we install a trim board around windows, doors, soffits, overlap corners and fascia boards. We also put in bug screens, flashings, dryer vents and light fixture boxes. Finally, we apply touch-up paint to the nails, matching the colour of the siding to create a seamless, professional look and caulking to seal any openings.
Cleaning Up and Waste Removal
After the siding installation is complete, the final step is cleaning up the construction site. We remove and recycle all construction debris in accordance with the best practices in the siding industry, leaving your property looking as if no work had been done.
In the end, your Project Manager will inspect your siding to make sure that everything complies with our high standards and meets with you to review the project. You will receive maintenance instructions for your new exterior and the details of the warranties on the completed work and materials. Our team is always prompt, efficient and attentive to the details, ensuring that you are getting the best customer service in Halifax!
Reasons to Work With Us
Everything about Ideal Siding® puts us at an advantage over competitors, including the best materials, the most experienced installers and the highest level of service.
Here are three main reasons to work with us:
Price Match Guarantee. We are so confident of our ability to offer the best quality siding, unparalleled workmanship and competitive pricing that we offer our customers a price match guarantee. Just tell us about your project and show us the samples you've selected. We will match the price that any other siding company has offered you. There are no gimmicks or hidden charges. This is our price-match policy.
25-Year Workmanship Warranty. We protect your investment with a unique 25-year workmanship warranty in addition to the materials warranty provided by the siding manufacturer. With Halifax's harsh winters, you want a siding company that stands behind its product and services. Imagine not having to think about repairs, maintenance, stripping or painting for the next quarter of a century!
Complimentary Design. We help take the guesswork out of choosing the right siding for your home by offering a complimentary visual rendering of your home with the siding material, style and colour you've selected. You'll know exactly how the end result will look and can make adjustments as needed. If you don't like what you see, we can make adjustments in materials, colours and design until you are 100% satisfied with the siding package you are buying.
Our team can handle any project, no matter how difficult it can be. As one of the biggest siding companies in Canada, we manage multiple projects daily and always bring a personal touch to every single one of them.
Contact Us Today
We are happy to answer any questions you have, whether you're looking for information about repairs or replacing the existing siding on your house. Call us today to speak with a specialist or get a free quote on the siding that works best for you – it's literally on the house!
We are serving the following municipalities at the moment:
Halifax, Dartmouth, Chester, Lunenburg, Hantsport, Wolfville, Bridgewater, Truro, Kentville, Berwick, Parrsboro, Liverpool, Greenwood.