We Find an Ideal Solution for You
Your home is probably the most expensive investment you will ever make in your life. It is a place where you create the most precious memories with your family, a place that shelters you from the troubles of this world. It's where you find the most comfort. Ideal Siding® Barrie understands how important your home is to you. We are here to help you to keep your house in top-notch condition. Whether you need help with a small repair project, replace your entire home's siding, or choose the best siding for your home, we are here to assist you.
Our team of experts has skills and years of experience to help you improve your home's look. When you hire us, we will guide you throughout the process. We keep you updated on each step and answer any questions you have in a timely manner. Our company has helped hundreds of clients until now. Each year, we lead more than 500 meetings with clients to help them find suitable solutions.
Every homeowner deserves to get the best quality of workmanship and materials. That's why our team puts in maximum effort, uses premium quality siding, and only works with reputable suppliers. We understand the requirements and needs of homeowners in Barrie. We use the experience of countless previous projects as guidance to offer you the best solutions to your problems.
Siding Styles We Offer
Siding can boost your home's curb appeal. Not to mention, it also increases the value of your property. But for that, it's significantly important that you choose the perfect siding for your house. It should be durable enough to tolerate the climate of your location. It also should be something that can create a classy and high-end appearance in your house. And most importantly, it needs to offer a longer lifespan.
Wondering what the best options for Barrie's houses are? Here are some premium quality and beautiful designs and constructed sliding that work exceptionally well in Ontario's climate.
Lap Siding
Siding planks are still a trendy siding option for homeowners these days. Surprisingly, we have installed planks in almost 80% of all the homes we renovated last year. Plank siding allows you to get creative with the design, as you can install them both vertically and horizontally.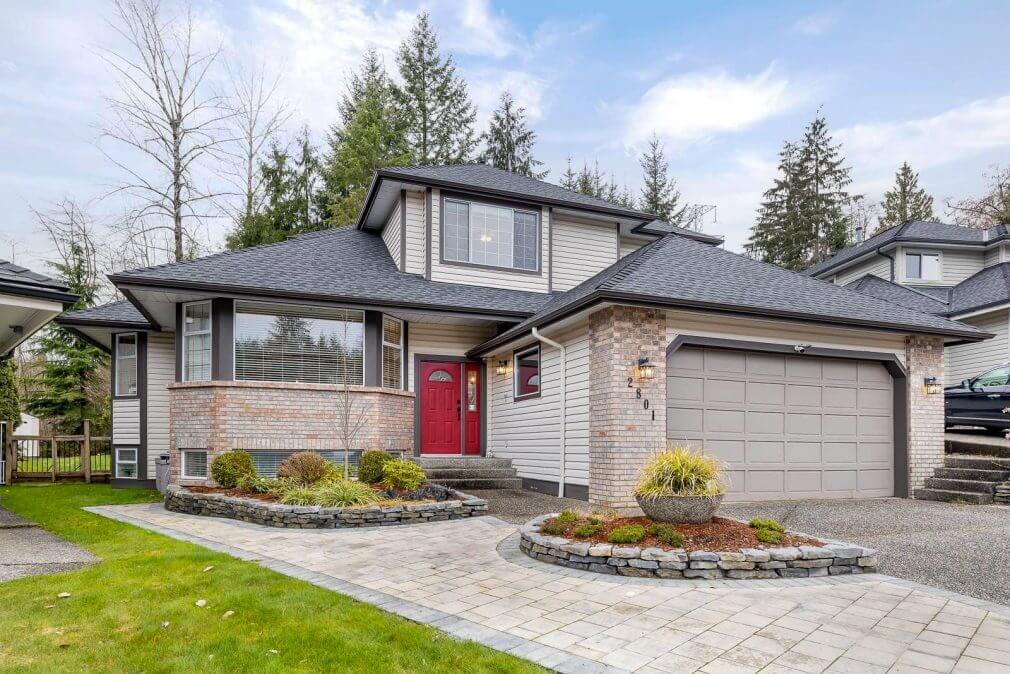 This siding type is available in a large number of colours and finishes. So, don't worry if you want any unique tones for your house. It is also ideal for creating a cozy, classy, and inviting look.
Furthermore, you also have the option to choose between different materials such as vinyl, cedar, metal, and fiber cement. There is no limitation when it comes to siding planks, as you can get them installed on every type of house.
Siding Panels
Siding panels are appropriate options if you want to create a luxury yet minimalist look. This type of siding can make any house look modern and extraordinary, boosting the value of the property. The best part is that they are available in an impressive range of colours and textures. There are also options that mimic the texture and look of natural wood, giving your home a natural and cozy feel.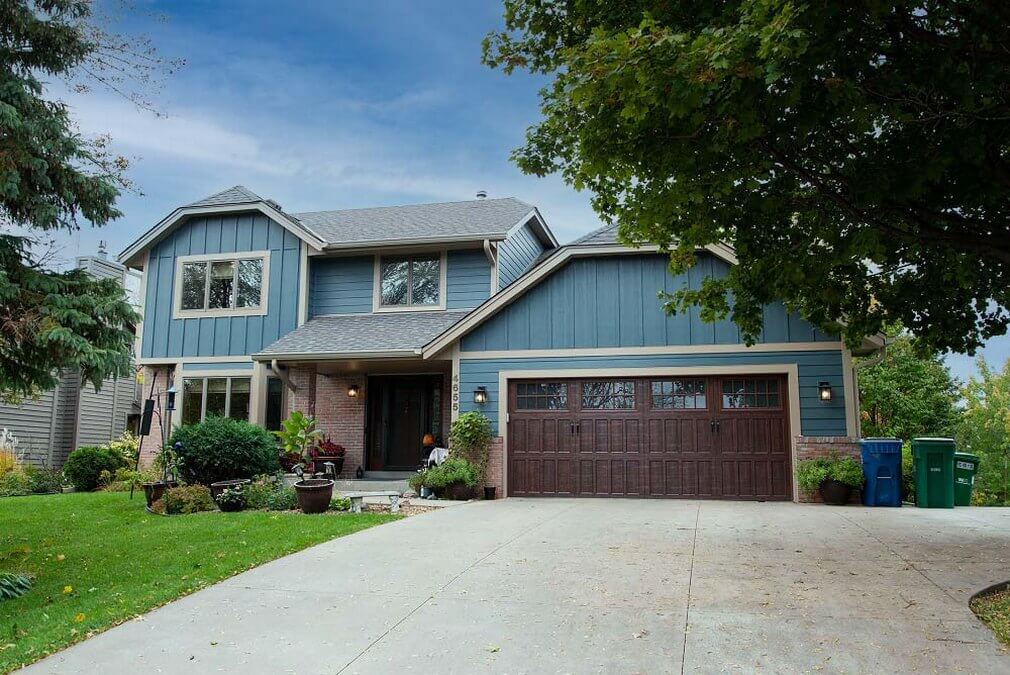 Panels are also available in different shapes that allow you to create personalized designs for your house. You can opt for square-cut or rectangular cut panels of any size. Just like plank siding, you can install panels in any orientation.
Usually, we cut them on-site to create customized designs and profiles. This way, there's no risk of getting your chosen design wrong. Some of the popular types of panels are Open Join Cladding, Easy Trim Reveal, and Board and Batten. They not only look classy but also have a longer lifespan.
Shingles and Shakes
Shingles and shakes are not only popular for roofs but highly recommended to install along the walls of your home sweet home. They are used to create your traditional and rustic look. If you are planning to invest in shakes or shingle roofs, you can complement your roof with charismatic and classy sliding.
Shingles and shakes are the best way to highlight a specific part of your house, providing contrast and quality. They add unique warmth to your house and look refined as well.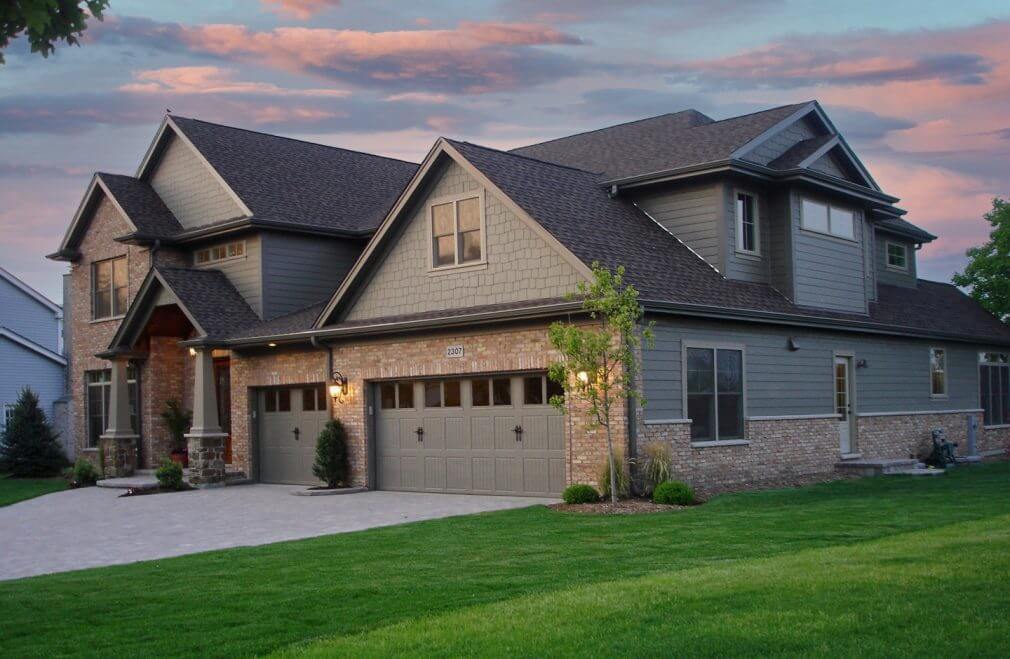 Similar to the shingle and shake roofs, sliding is also available in an excellent range of colours and sizes. We advise you to opt for the materials like James Hardie® (fiber-cement), vinyl, and cedar for your house due to their promising quality and durability. If you choose cedar shingles, keep in mind that you can stain or paint them – whatever looks best with your home.
How Much Does the Siding Cost?
The cost of siding depends on several factors. This includes the type you have chosen, colours, material, and size. Of course, the area that you need to cover is an important deciding factor. Other things that can impact the price of your siding include the quality of the material.
To help you calculate a rough estimate, we have mentioned some types of siding with their cost:
Vinyl siding. If you are looking for the most affordable option, vinyl siding is the best option for you. The installation is relatively, and the material cost is low, making it the perfect option for homeowners on a budget. The best part is that vinyl siding is extremely durable and doesn't require great maintenance. In general, it costs between $10 and $12 per square foot. An average-sized property will need around 2,000 sq. ft. of material, which will cost you around $20,000 to $24,000.
James Hardie®. Fiber cement is getting more popular among homeowners in Barrie. The primary reason for its popularity is that it can withstand things like fire, termites, and rot. Since it can resist challenging weather conditions and other problems, it's quite durable. However, it is more challenging to install and requires more time. Due to their long list of benefits and difficult installation process, they will cost you $14 to $16 per sq. ft. This way, you can expect a total cost of around $28,000 and $32,000 for your 2,000 sq. ft. house.
Cedar siding. Of all the materials, cedar is pretty hard to match due to its unique look. But the benefit of opting for this material is that you can easily work with it. It takes less time to install, helping you complete the project in a few days. The price of the cedar starts from $19.50 and depends on its grade. So, if you are not planning to paint them and want to enjoy their natural feel and appeal, then it will cost you around $40,000.
Here is the table of the materials and the cost that we offer to our clients and suit the atmosphere and neighbourhoods of Barrie.
| | |
| --- | --- |
| Material | Price per sq ft* |
| Vinyl Siding | Starts at $10.75 |
| James Hardie® (Fiber Cement) | Starts at $14.00 |
| Maibec | Starts at $18.00 |
| Fraser | Starts at $18.00 |
| Cedar Siding | Starts at $19.50 |
| Cape Cod (Finished Wood) | Starts at $21.50 |
| Stucco | Starts at $22.75 |
| Longboard | Starts at $53.00 |
| AL-13 | Starts at $50.00 |
| Cultured Stone | Starts at $48.25 |
* Prices are guidelines only and can change based on the seasonality, availability of materials and complexity of your project.
Since our team of experts first inspects your entire house before doing any work, we help you understand the condition of your architecture and give you a quote so you can make an informed decision. This way, there will be no surprises during the project, and you don't need to pay any hidden charges. It will not be wrong to say that you will get a lower cost compared to the quality of work you will get.
How We Work
Once you're satisfied with the mockup and finally choose everything, our contractor will begin the project. Our team will guide you throughout the process and welcome any ideas you have. Here are some steps that our team follows. But of course, we make changes in the plan based on your house.
Old Siding Removal
Most siding projects start with the removal of old siding. Our experts carefully do it to avoid damaging sheathing underneath the siding. Note that the removal of the old siding is vital 90% of the time, sometimes we can install siding on top of your old siding. If you are confused or want to ask any questions, you can consult the project manager.
Sheathing Inspection and Repair
Once we remove the old siding, we will look for mould and rotten areas on your sheathing. In case your house needs any repair, you'll have to pay an additional cost. But from our experience, properties don't require expensive repairs in most cases.
Preparing Walls for the New Siding
During this step, our siding crew will install building paper on top of the sheathing, flashings around openings, and other elements required by the Ontario building code. Optionally we can install a rainscreen that prolongs the life of your siding for 5-10 years and protects your home from any rain damage allowing the airflow.
Siding Installation and Touch-up Work
Once your house structure is ready, we start installing sliding. This process can take 7 to 14 days based on your chosen materials and house's size. During this stage, we also install things like light fixtures, dryer vents, flashings, bug screens, trim boards, fascia, corners and soffits. If you want, we can also do a paint job.
Cleaning Up and Waste Removal
From the very start till the end of the siding project, we keep your yard and surrounding areas neat and clean of any construction debris. Once the installation is completed, we clean your entire area and make the required touch-ups. The project manager will conduct a thorough inspection to ensure that the work meets our highest standards.
When the project is completed, the project manager will inspect it for any deficiencies and will meet with the homeowner to provide guidance on how to take care of their new siding. During that meeting, the homeowner will also be provided with the details of the warranties on both materials and workmanship.
As one of the largest siding companies in Canada, we can start your project as soon as you decide on the siding you would like to have installed on your house. It can be as early as a couple of days after signing the contract, given the availability of the chosen siding materials.
Our professional team of siding specialists usually has multiple projects on the go and will gladly accommodate any siding project you might have.
Reasons to Work With Us
Every house has its own needs and requirements. As we have successfully completed hundreds of projects in the past years, we understand that no two houses are the same. Therefore, we strategically plan a renovation project that can cater to your needs and works best for your house.
Ideal Siding® is a great option to make any house look like a high-end and beautiful property. We work with reputable partners and suppliers in Ontario that help us give you the best services. We also tailor our services based on your house's size, makeup, and location. After conducting a thorough inspection of your house, we begin the renovation and ensure a seamless process.
Here are more reasons to work with us:
Price Match Guarantee. Worrying about the cost of your desired renovation design? We can help you achieve your desired renovation project without making any compromises. The best part is that you will get the exact quality and material you wish for. We offer you a price match guarantee on all projects. So whatever project you want to execute, consult with us to get a quote. Our experts help you match the items and present you with the desired design at the same price.
Leading Workmanship Warranty. When it comes to a renovation project, quality workmanship is everything. It's pivotal that you hire the right contractor to improve your home's condition. After all, your money will become worthless if you don't get impressive and eye-catching results. To help our clients understand our devotion to helping them, we offer a 25-year workmanship warranty. This means you can call us within 25 years of us completing the project. Wondering how we manage to give you this warranty? Well, we use durable and quality materials that give us confidence. This way, you can enjoy a peaceful and worry-free life, as you will know that we will have your back if your house needs replacements and repairing.
Complimentary Design Mockup. Whether you want something that can complement your home's colour scheme or are looking for something unique, Ideal Siding can turn your vision into reality. We help you choose from a wide variety of materials, colours, and styles that can complement your pretty house. Still a bit skeptical? Well, don't worry – we got you covered. We offer a complimentary mockup of your house with your desired sliding. This way, you will get an idea of how your house will look in the end. If you have more ideas, we can always make adjustments for you.
We organize for you to meet with our project managers. They will go over project details with you and show you the mockup so you can know what your house would look like at the end of the project.
Our team will also help you understand each material we will use and what steps we will take. We will not begin the process until you're 100% sure about the plan. Even after you start the work, we discuss each step with you so that you stay satisfied throughout the process.
Contact Information
If you are looking for more information or want to discuss a project with us, feel free to call us at any time or leave an online request. We are more than happy to help you and give you an ideal solution for your property.
We are serving the following municipalities at the moment:
Barrie, Orilla, Bradford West Gwillimbury, Collingwood, Innisfil, Midland, New Tecumseth, Penetanguishene, Wasaga Beach, Adjala–Tosorontio, Clearview, Essa, Oro-Medonte, Ramara, Severn, Springwater, Tay, and Tiny.