We Find an Ideal Solution for You
Siding is invaluable in protecting against the damage North Carolina's sweltering, humid summers can cause. It protects the structure, improves your home's aesthetic, and impacts your energy bills.
Whether you choose to repair your current siding or opt for a completely new installation, you'll safeguard your home and boost its value by increasing curb appeal. At Ideal Siding, we're here to help you discover the perfect solution for your Charlotte home.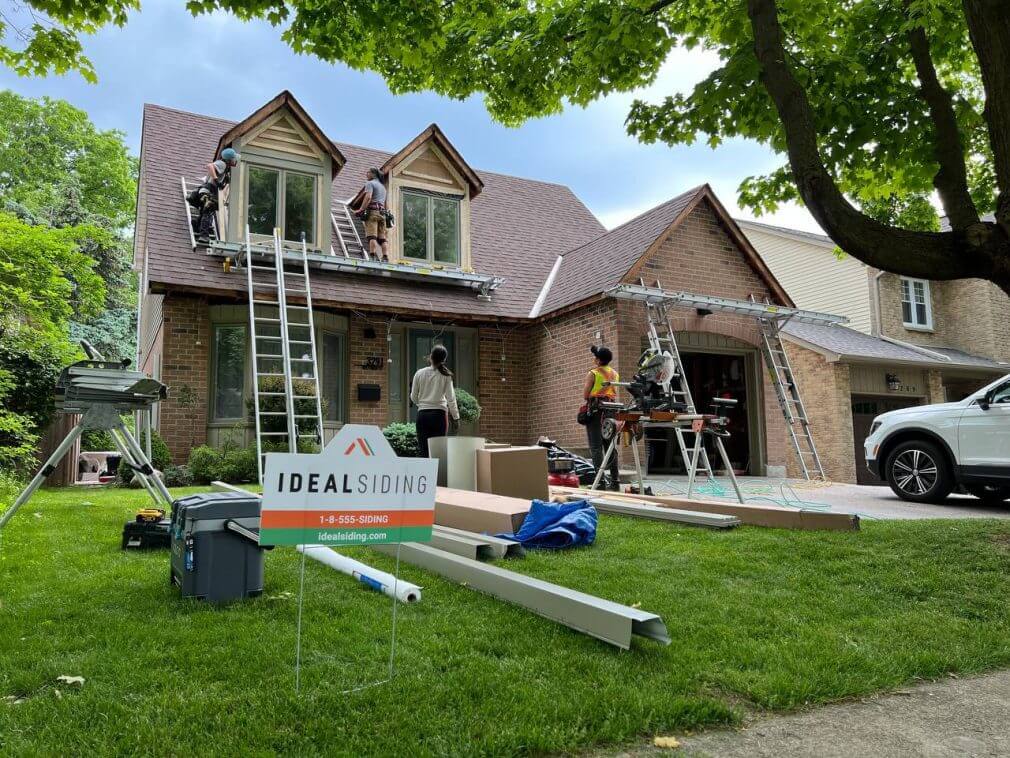 You'll find a wide array of siding materials to choose from, including fiber-cement, wood, and vinyl, each with its own pros and cons. As your siding contractors, we're committed to helping you find the right fit for you.
We're proud of our skilled teams and local suppliers who offer premium materials and extensive options. Whether it's a minor repair, partial replacement, or a complete home redo, our experts will be by your side. From start to finish, count on us! Using our in-depth knowledge of siding installation and your vision for the upgrade, let's work together to make your dream home a reality!
Variety of Siding Materials and Styles
There's no need to feel overwhelmed by the choices on offer. We help you select from an extensive range of siding styles, designs, colors, and materials. So you'll be sure to find the siding that suits your preferences, budget, and home's aesthetic, all while protecting your home and family against Charlotte's steamy summer temperatures.
Your siding material options include:
James Hardie siding. Crafted from cement and other components, James Hardie is a fire and weather-resistant choice that offers a refined appearance with various wood-like textures. Opt for pre-painted boards or primed versions for post-installation painting.
Vinyl siding. A popular choice because it's very affordable, durable, and virtually maintenance-free. Vinyl comes in diverse color options.
Cedar siding. Balances durability and moisture resistance with a natural rustic charm. Cedar siding achieves a timeless look, with options for clear stain or various colors. It's also naturally repellent to insects.
Aluminum siding. Resembling natural wood, available in flat panels or vertical/horizontal planks. Durable, appealing, and great for modern homes. It's lightweight, resistant to moisture and mold, and aids in home insulation.
Engineered wood siding. Crafted from recycled wood fibers with resin and wax for enhanced durability. It's as beautiful as natural wood, easily customizable with pre-staining, and simple to install and maintain.
We aim to help you find the perfect siding match for your home, ensuring durability, aesthetics, and cost-effectiveness. Let's navigate the options together!
Lap Siding
Lap siding stands as the most popular choice among Charlotte homeowners. With a wide range of colors and finishes, you can install it vertically or horizontally, according to your preference and the look you're going for. Opt for a classic style with horizontal placement, or go contemporary with a vertical installation.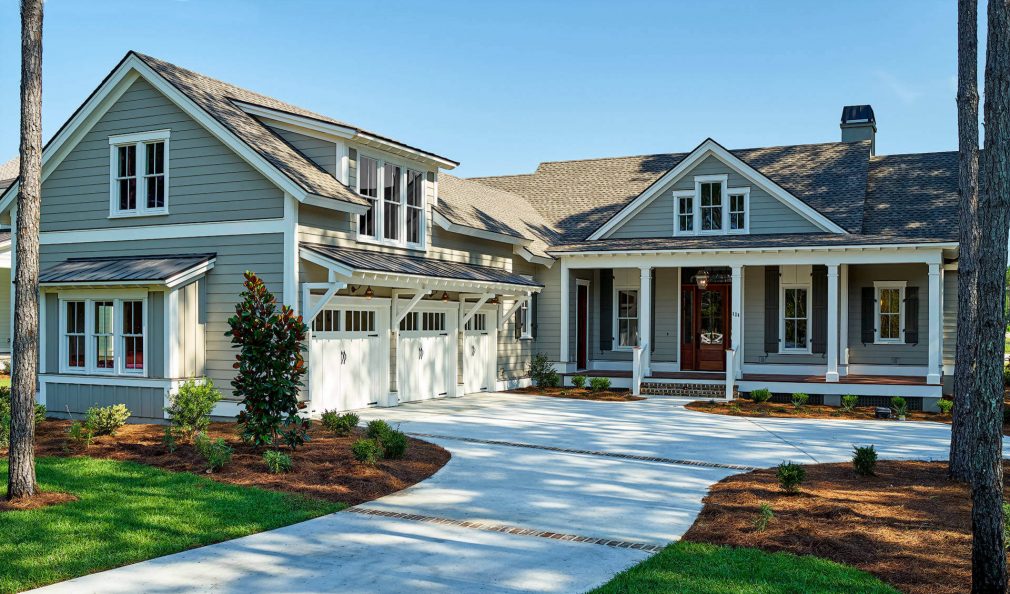 Planks in various materials, including fiber cement and metal, protect against Charlotte's high summer humidity. Moisture-resistant and insect-repellent cedar planks exude timeless natural beauty, while vinyl remains an economical and long-lasting option.
Shingles and Shakes
Shingles can give your walls and gables an authentic, rustic look that adds depth and contrast. This design element can create a sense of warmth and coziness in your house.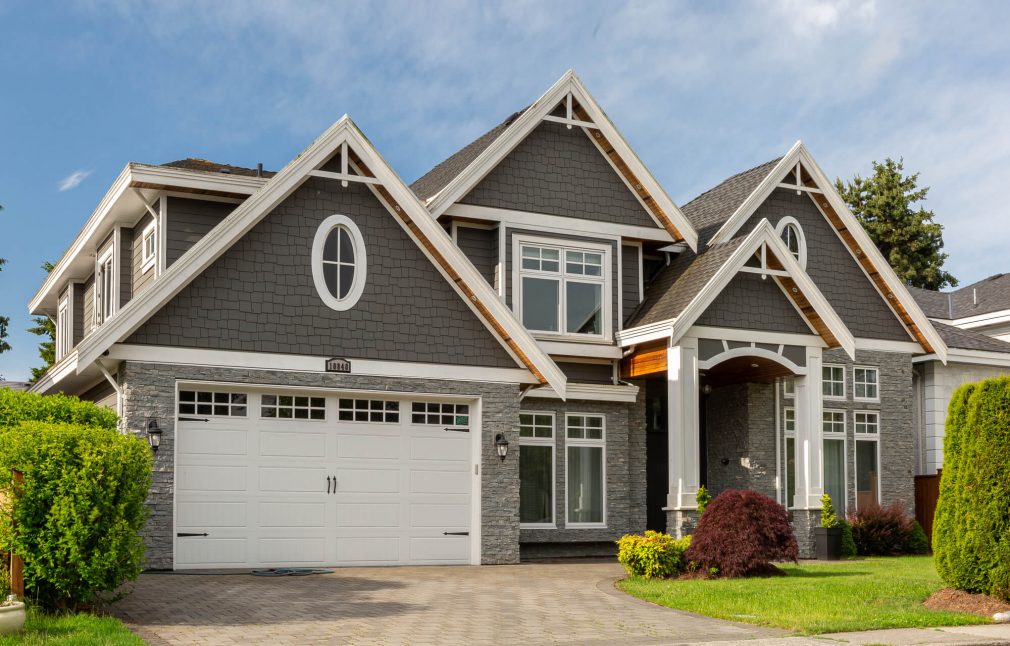 Cedar, fiber cement, and vinyl are the go-to materials for siding installation, allowing you to select the option that resonates with your individual style.
Board & Batten
Board and batten siding is a popular choice among Charlotte homeowners because of its flexibility in design. By simply shifting the battens around or choosing different materials, you can go for either a fresh, modern style or a classic, old-school vibe.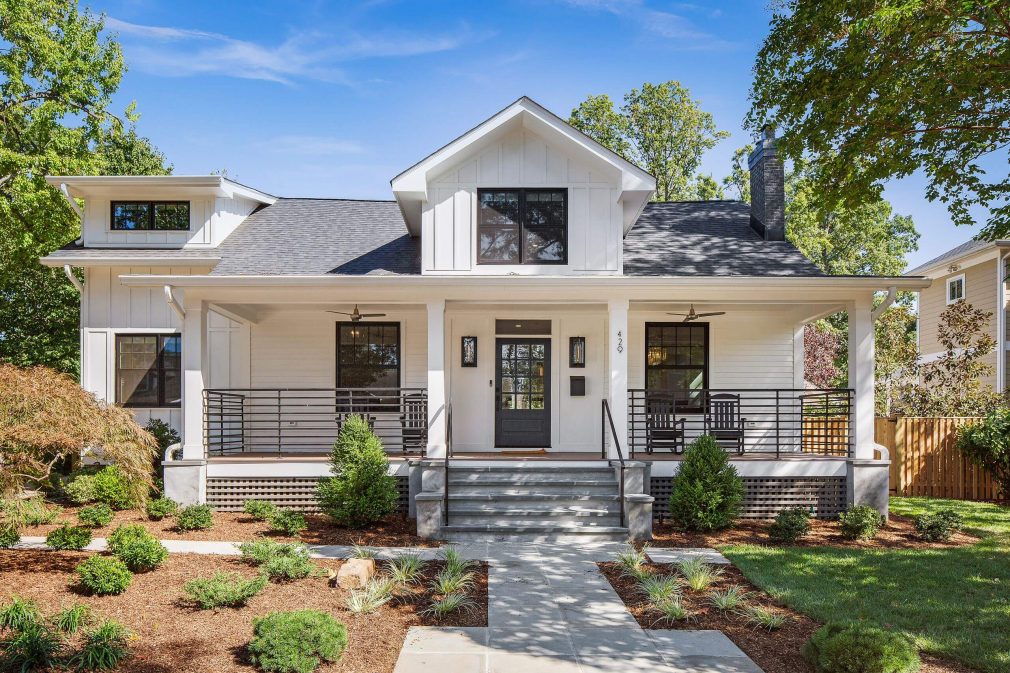 This type of siding adds an attractive, layered look that's especially popular in designs like the modern farmhouse. Not only does it enhance the appearance of a house, but it's especially striking on taller walls or those triangle-shaped sections at the top of houses, known as gables. It's a great way to make a home stand out and reflect personal style.
Siding Panels
Should you be in the market for cutting-edge, one-of-a-kind exterior solutions, then wall cladding panels could be your ideal choice. With their modern aesthetic, unique design elements, and crisp geometric lines, wall cladding panels are an excellent fit for homes with a contemporary architectural style.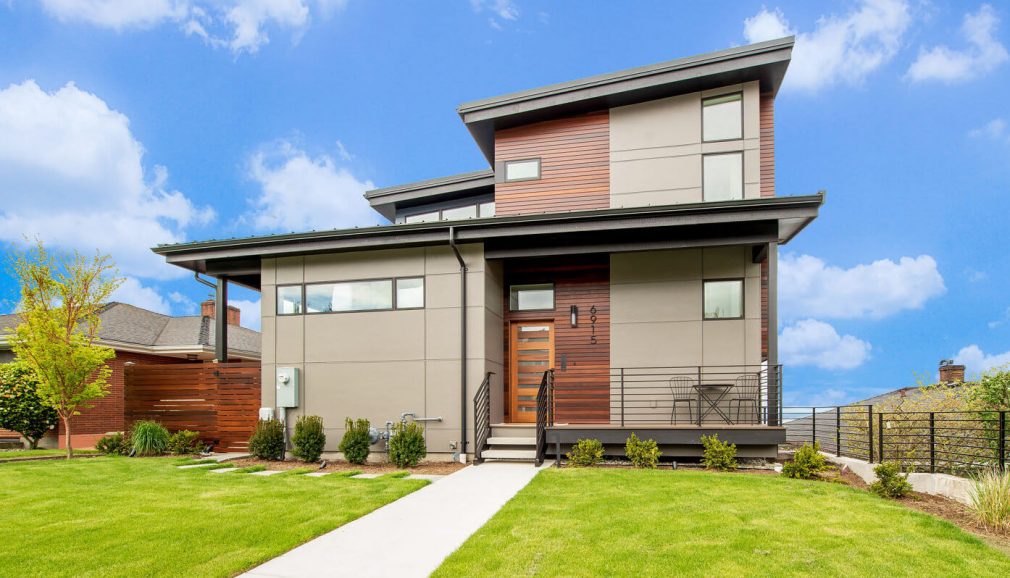 Customization of panels is simple and precise, with vertical or horizontal installation. Panels are cut on location to ensure your house design concept is faithfully followed.
How Much Does the Siding Cost in Charlotte?
At Ideal Siding, we make it easy to budget for your siding. Your quote will include materials, design, all labor costs, installation, and any additional features like trim board.
Compare the approximate costs of our siding types in the table below:
| | |
| --- | --- |
| Material | Price per sq ft* |
| James Hardie (Fiber Cement) | Starts at $14.50 |
| LP® Smartside® (Engineered Wood) | Starts at $15.50 |
| Vinyl Siding | Starts at $12.25 |
| Premium Vinyl Siding | Starts at $13.50 |
| Cedar Siding | Starts at $18.00 |
| Stucco | Starts at $19.00 |
| Longboard® Aluminum Siding | Starts at $52.50 |
| AL-13® Aluminum Cladding | Starts at $58.50 |
| LUX Steel Cladding | Starts at $60.00 |
| Cultured Stone | Starts at $43.50 |
* Prices are guidelines only and can change based on the seasonality, availability of materials, and complexity of your project
In addition to materials and installation, our estimates cover everything from removal of existing siding, proper disposal, delivery, rot inspection, repairs, and a thorough site clean-up on completion. No surprises with Ideal Siding company, just a transparent process that helps you budget!
Our Work Process
Replacing or repairing your siding with us is as easy as 1-2-3. Our experienced team will start work as soon as all the materials arrive on site. Here's how we ensure the project is hassle-free -allowing you to sit back and enjoy your sweet tea while we take care of everything!
Here are the steps we'll follow as we replace your siding.
Old Siding Removal
Our team removes the old siding by taking out old nails while ensuring your home's sheathing remains intact. Depending on your project's size and existing siding, this step takes 2 to 7 days. If there's no old siding, we skip this part.
Sheathing Damage Inspection
We check your sheathing for any damage like rot or mold that may only be visible once the old siding is removed. No repairs are needed in most cases, but if they are, we'll explain why and explore the options with you.
Preparation of the Wall for Siding
After inspecting and repairing sheathing (if needed), we prep your walls with building paper, flashings, and strapping. These steps safeguard your home from issues with water humidity.
Siding Installation and Touch-ups
Installing new siding typically takes 7 to 10 days, depending on your chosen siding type and home size. We install trim boards, insect screens, flashings, and more to perfect the look. Our touch-up paint ensures an impeccably polished finish.
Waste Removal and Clean Up
We're all about leaving your property in better condition than we found it. At the project's start, we place a recycling bin on-site to keep things tidy while we work. And before leaving, we clean up every bit of construction debris and recycle it responsibly.
When your project is complete, our Project Manager will inspect the work, arrange a meeting to discuss warranties, and provide maintenance tips. It's that simple.
Why Work With Ideal Siding?
Choosing to work with Ideal Siding on your home renovation project makes good sense. Don't take our word for it – see what delighted homeowners in the Queen City have to say in their testimonials!
You'll see that we don't just promise; we deliver. And we guarantee your siding will perfectly align with your taste, budget, and home's architecture.
Here are three more great reasons to choose Ideal Siding for your home in Charlotte:
Price Match Guarantee. We understand that life in Charlotte can be expensive. While it's a false economy to cut corners on siding, you shouldn't overpay either. Our price-match guarantee ensures you'll get the best prices of replacement or repair, workmanship, and materials. And if you prefer to explore all your options before choosing your contractor, show us your quote and selections, and we'll match the price.
25-Year Workmanship Warranty. Our seasoned crew, each with at least seven years of experience, work under vigilant home team supervision using quality tools and premium materials. The bottom line – we're so confident that we back all our work with a cast-iron 25-year workmanship warranty. So you'll have no worries about expensive unplanned repairs, maintenance, or even repainting for a quarter-century.
Complimentary Design Mock-Up. Replacing the siding on your home will transform its look. Perhaps you'd be worried about the final result – what if it looks nothing like you'd imagined? Well, there's no need to be concerned. With our complimentary design mock-up, you can see how your choices will look in real life. Compare options, adjust materials, select colors, and refine your design until you're thrilled with your investment. Feel free to ask if you need any assistance or guidance with revisions!
No other contractors offer this level of commitment. At Ideal Siding, we're your partner in finding the ideal solution for your home, reflecting your tastes and budget, and helping turn your dream house into reality.
Contact Us
We know that installing new siding on your home is a significant decision, so if you'd like to talk over your goals and options, we're happy to help. And because you're considering a major investment in your home, you'll need to plan your budget.
We'll happily create a no-obligation estimate so you'll know how exactly much your siding repair or replacement will cost.
So why wait? Contact us today and take the first step to transforming the beauty and value of your home!
We are serving the following municipalities at the moment:
Albemarle, Belmont, Charlotte, Concord, Cornelius, Gastonia, Huntersville, Indian Trail, Kannapolis, Kings Mountain, Lancaster, Lincolnton, Matthews, Mint Hill, Monroe, Mooresville, Mount Holly, Pineville, Rock Hill, Salisbury, Waxhaw.