We Find an Ideal Solution for You
Your home is where the most precious memories are kept and so many beautiful moments are created. Here, at Ideal Siding® in Vancouver, we understand the importance of that and make it our mission to help you create the home of your dreams. Whether it is helping you with a minor repair task, replacing siding on the entire house or assisting you with choosing the right siding option for your new home.
As contractors, our company will guide you throughout the entire process and will answer any questions, relying on our vast experience in the industry and over 500 meetings held with clients each year.

You deserve only the best quality of materials and workmanship, that's why we have the best crews in the industry and work with the most reputable suppliers. We understand the needs of local homeowners and familiar with the trends in each Vancouver neighbourhood.
Find the Siding That's Right for You
There are lots of siding options these days to help you create the perfect facade and you want to choose carefully. While aesthetics are always important, you also want to consider the material's durability, ability to resist water, ease of installation, and versatility.
There are 9 most popular siding options in Vancouver today (click on the picture to learn more):
There are many other styles and types of siding and exterior materials we can offer you, please call us for any specific requests.
Popular Siding Styles
These days there are a lot of siding companies, types and materials to choose from. When it comes to design here are some of the most popular options on the market in Vancouver.
Shakes and Shingles
Siding Shingles add distinction to the walls creating that cozy look that reflects the surrounding nature. This is a particularly popular option on West Coast being surrounded by Hemlock and Cedar trees. Shingles can be made out of fiber cement, vinyl or cedar.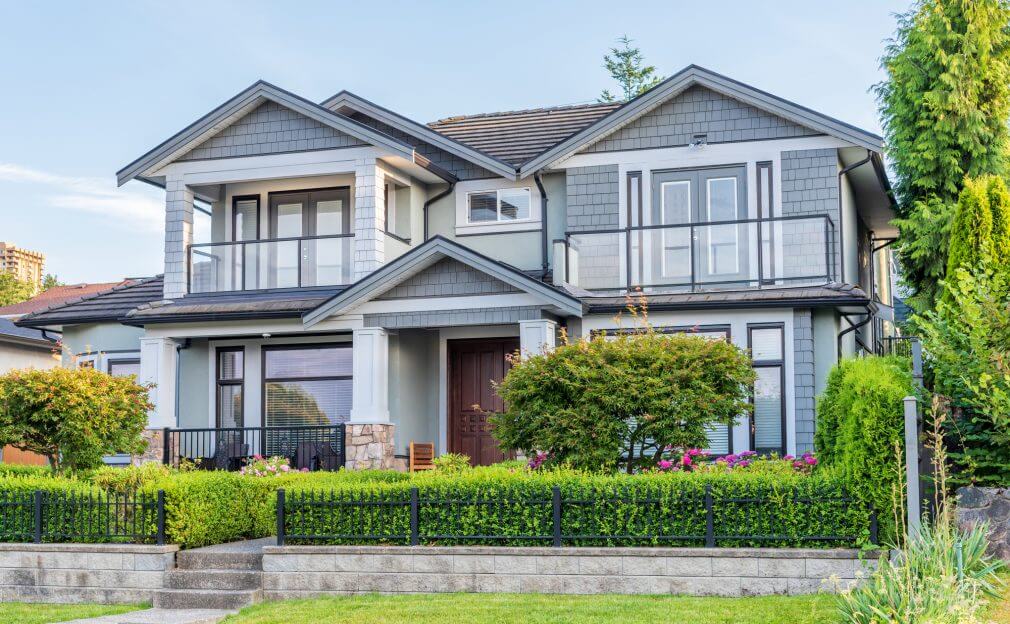 Siding Panels
Siding Panels are an excellent installation option for a modern look and offer a sleek design featuring some of the most innovative siding techniques in the industry.
They can be either smooth or with cedar mill texture and usually are cut on-site to match the design you've chosen for your home. The most common profiles in Vancouver are Board and Batten, Easy Trim Reveal Panels, and Open Joint Cladding.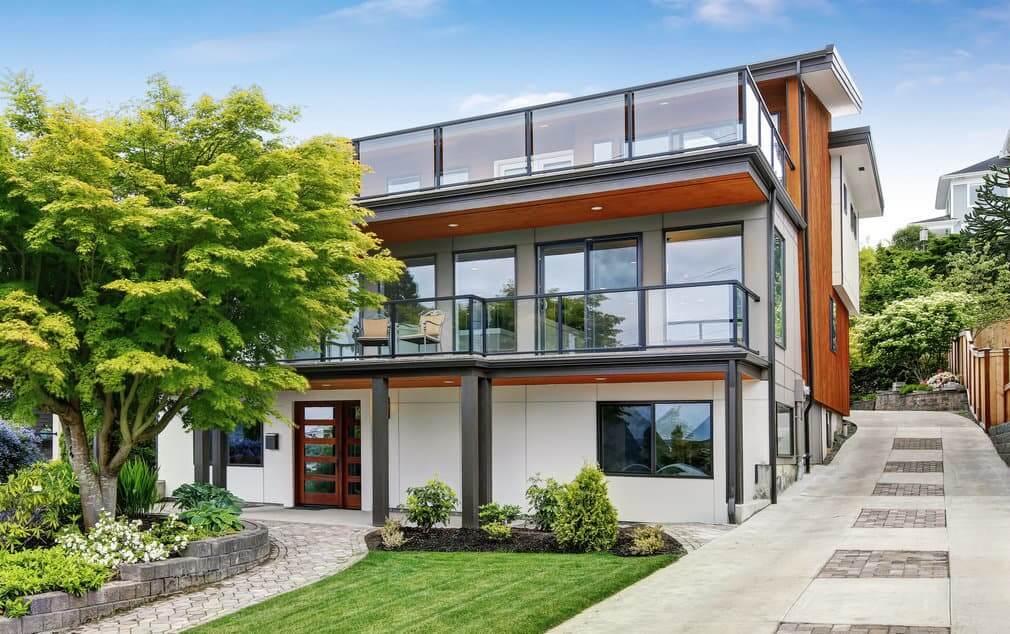 Lap Siding
This is the most popular choice amongst homeowners in Vancouver and was installed on over 80% of the houses last year. The strips can be horizontal or vertical and the most common materials are vinyl, fiber cement, cedar, or aluminum.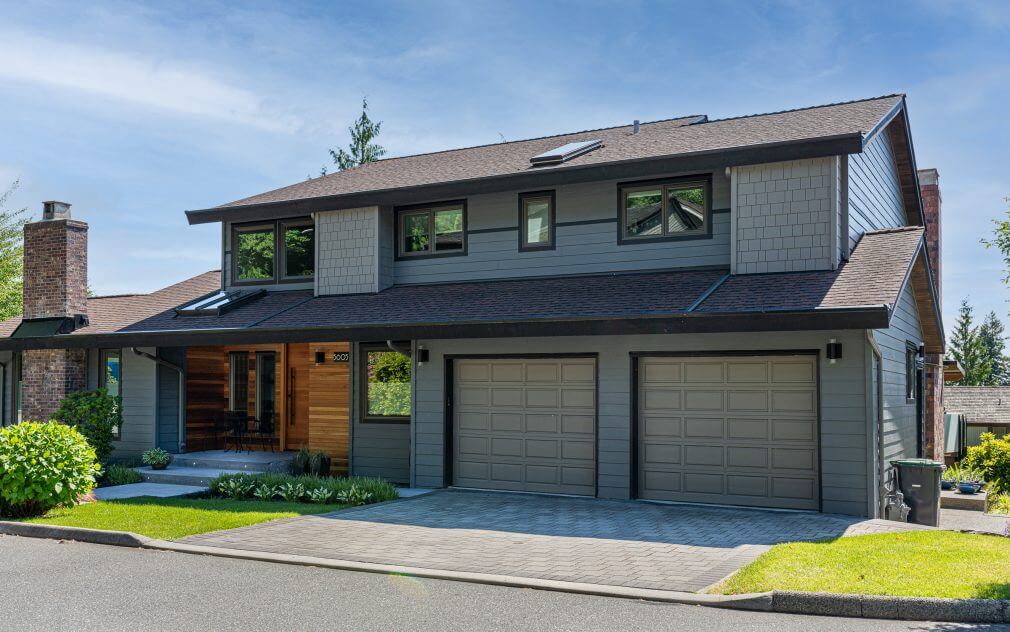 How Much Does the Siding Cost?
Here we show you the approximate house siding price calculation:
If you choose vinyl siding that costs around $7-9 per sq ft, for the whole house which is 2000 sq ft, you might end up paying $14,000 – $18,000. Vinyl siding is the easiest product to work with, which significantly lowers its installation costs.
James Hardie® siding will cost around $10 – $11 per sq ft, so for the same house, you will pay approximately $20,000 – $22,000.
Cedar will be the most expensive option among the 3 mentioned above. Its price is $13 – $14 per sq ft, so the final price will be around $26,000 – $28,000 including the additional cost of painting.
To guide you through other materials used in your siding renovation have a look at the table illustrated below:
| | |
| --- | --- |
| Material | Price per sq ft* |
| James Hardie® (Fiber Cement) | Starts at $10.50 |
| Vinyl Siding | Starts at $7.75 |
| Premium Vinyl Siding | Starts at $9.00 |
| Cedar Siding | Starts at $13.50 |
| Stucco | Starts at $12.50 |
| Longboard | Starts at $45.50 |
| AL-13 | Starts at $42.50 |
| Cultured Stone | Starts at $42.75 |
* Prices are guidelines only and can change based on the seasonality, availability of materials and complexity of your project.
If affording a project all at once is a strain, a payment plan can be the perfect way to spread it over time. Financing is available for almost any type of home improvement project, big or small.
We maintain long-standing relationships with our financing partners, who can secure an affordable financing payment plan which is tailored to your needs. We won't push you into something or make the process complicated or confusing. We're here to make sure you get the best plan available.

Installation Process & What to Expect
Right after you decide on the colour and design of your siding, we can start working on your project. Sometimes, within a few days after we sign a contract. We are one of the largest siding contractors in Vancouver (and all of Canada) and can handle multiple projects at the same time.
In certain situations, the availability of the chosen siding with suppliers might postpone the start date of the siding project, but we always work on finding the best solutions for you and expediting the process as fast as possible. We work with the major suppliers of siding materials on the market, so there is usually no significant wait if chosen from their most popular options.
Once you choose to work with us, you can rest assured every detail of your siding project will be taken care of from the beginning till completion. Our Project Managers will guide you through each step of the siding project on your house and will gladly answer any questions you might have. Here is the step-by-step process.
Old Siding Removal
As soon as you decide on the colour and design of your siding, we start the work on your project. The first step would be to remove the old siding, carefully removing all the nails in order not to damage the sheathing underneath. This will take anywhere from 2 to 7 days depending on the type of siding that needs to be removed.
Sheathing Inspection and Repair
After the old siding is removed, we inspect sheathing for any rotten parts or damage. In case the repairs are needed, you could be looking at a small additional cost. From our experience, most homes do not require repairs.
Preparation of the Wall for Siding
The next step would be to install the rain screen, as per BC Building Code, which consists of a few elements: building paper, flashings and strapping/mesh. Installing rainscreen helps to prolong the lifespan of your siding by at least 5-10 years and to protect your home from any rain damage allowing the airflow.
Siding Installation and Touch-up Work
It takes around 7 to 10 days to install siding on your home, depending on the materials and design. Additionally, a couple of days needed for all the detailing like corners and trims around windows and doors. During this step, we install bug screens, flashings around openings, dryer vents and caulking between siding elements, and do touch up paint on nail heads.
Cleaning Up and Waste Removal
After the siding and detailing elements are installed, we check for deficiencies to make sure the walls look seamless. After we ensure the quality of installation is up to our highest standards, we begin the clean-up, remove leftovers of the materials and place all the waste in the recycling bin.
After the process of siding installation and clean-up is completed, one of our Project Managers will guide the homeowner through the process of siding maintenance and provide all the details of warranties, both of the materials and workmanship.
Reasons to Work With Us
After completing over 500 siding projects between all of our divisions, we've seen it all when it comes to siding. For us as specialists, it is very clear that every project is unique, and we are striving to find the best solution for your needs and make the process as seamless as possible.
Here is what we offer you:
Leading Workmanship Warranty. An abundance of rainy days had caused the lifespan of the old siding on the majority of the homes in the Vancouver area to reach its limits. In most cases, the lifespan is 25-35 years if no rainscreen was installed. That's why we offer you 25 years warranty on workmanship and only the best quality materials and practices in the industry, so you don't need to worry about the cost of maintenance and repairs.
Upfront Price and No Hidden Fees. Our experienced Project Estimators can find a solution for your needs and offer the option within your budget to make sure it doesn't cost you "an arm and a leg".
Complimentary Design. We know it is difficult to choose the colour and style of your new home, that is why we offer a complimentary siding design mockup to help you to make an informed decision. We can offer you the newest designs and materials from some of the leading siding manufacturers in the industry.
Replacing the siding on the entire home is a costly project and a big investment in your home, creating more value and enhancing its look.  We can help make your project affordable. Our partners offer flexible home replacement and improvement financing options, that suit your needs, budget and project goals.
There are plans for just about any situation – even if your credit is less than perfect – there is likely a plan for you. We can work on your behalf to secure an affordable payment plan.
Contact Us Today
Do you have any questions? Please feel free to contact our specialist for a free estimate on a service or with any other questions you may have.
We are serving the following municipalities at the moment:
Vancouver, North Vancouver, West Vancouver, Squamish, Burnaby, New Westminster, Richmond,
Port Moody, Coquitlam, Port Coquitlam
, Surrey,
Langley
, Delta, Maple Ridge, and
Abbotsford
.