Cedar Siding in Vancouver
Do not know which panels to choose for decorating the facade of the house? Is natural stone and brick too expensive? When choosing siding's finishing materials, it is necessary to read many different factors, such as external beauty, durability, practicality, and cost of panels for arranging the facade.
In this regard, many of our clients prefer natural materials. If we talk about presentability, then cedar siding is considered the best option for you!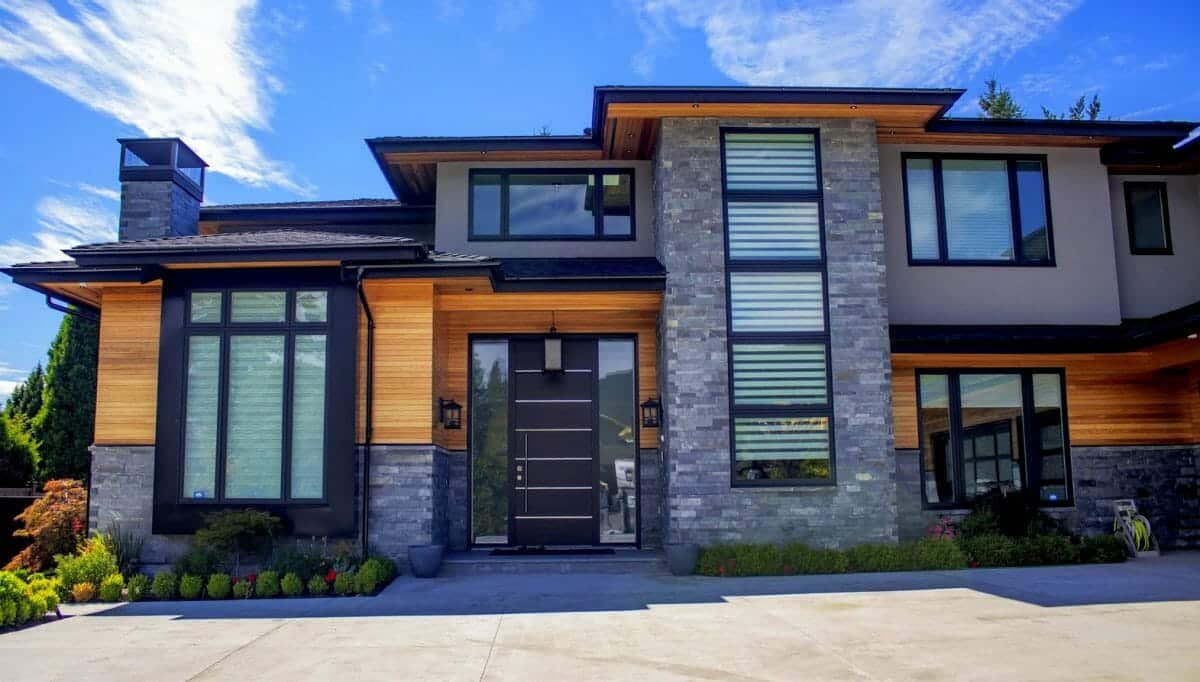 Main Advantages of Cedar Siding
It is made from small pieces of cedar, which are mounted on the outer panel of the siding. Cedar siding will provide the house with a beautiful appearance, but at the same time, cedar is notable for its reasonable cost ($10 – $20 per ft²) and unpretentiousness in care. Besides:
It differs in 

esthetic

 appeal and a pleasant aroma;
Installing cedar siding provides a high level of insulation, helps to maintain climate control inside the building;
Cedar siding absorbs sound and reliably protects the house from external and extraneous noise;
It shows the ability to withstand temperatures up to -50 degrees while maintaining an integrated structure;
Cedar is a completely environmentally friendly material.
Provided that the siding panels are timely treated with sealant (once every two years), they exhibit excellent resistance to all types of insects and rotting processes;

Cedarwood

 does not crack. It releases beneficial volatility and is useful for people with pulmonary problems;
Thanks to the variety of structures and warm shades (red oak or white oak), it looks spectacular.
This type of wood siding can regulate the level of humidity – this is a fabulous advantage for arranging not only the external facade of the building but also allows you to finish the walls indoors.
There is no need to use any material for waterproofing. So, cedar siding is a great option to warm and decorate any house not only in Vancouver but throughout Canada, protecting it from various atmospheric influences and temperature extremes.
Types and Colour Varieties
Those who prefer cedar siding have an immense selection. They can choose painted or unpainted panels. We can offer you many styles of cedar siding, unlike other companies, namely:
Bevel;
Log;
Board & Batten;
Clapboard;

Shiplap

;
Wavy bevel;
Tongue & Groove;
Pattern shingles;
Round edge shingle;
Shakes;
Staggered shingle;
Straight edge shingles.
We offer panels with a thickness of 1 inch, while the width of cedar siding can be: 6 in, 8 in, 10 in, or 12 inches. The presence or absence of spots and knots in the field of wood grain allows us to classify cedar siding as follows: class A, class AB, class B, class C, STK.
Our company can offer its customers vertical or horizontal siding in Vancouver. From mechanical indicators, both types have equivalent qualities, since a change in the direction of installation of the panels does not change the size of the entire project.
The owners of the houses are also pleased with the fact that cedar siding has many different shades that allow you to design buildings in different styles. The most attractive is the Canadian cedar, which is also known as red. In reality, it is golden honey. But this shade also looks very good.
Cedar Siding Installation
If you think about installing siding yourself, please remember that it will require a thorough study of the installation instructions (possibly with the search and subsequent viewing of several instructional videos), a lot of time, a set of particular tools, and patience.
Besides, you need to know the features of the decoration of a particular type of cedar siding. Even one small error during installation can cost you not only a brilliant result but also invested money.
Turning to our company, you can save time and money! Before carrying out wall cladding, specialists can independently evaluate the initial parameters of the building and choose the most suitable products. Our pricing for cedar siding starts from $11.00 per sq. ft.
What are the other benefits of installing cedar siding by professionals?
Quality Assurance. The experience of the team allows taking into account all the details of the wood siding cladding process to achieve the task. The signing of the contract for installation works gives a couple of years of warranty on their results;
Saving your time. Well-coordinated work and the skill of the professionals honed over the years will provide effectiveness. It's better not to experiment with your housing and entrust installation or repair works to knowledgeable people;
Great specialization. Construction professionals will not only quickly and efficiently install the siding. They will also help you to choose the finishing material, taking into account all your wishes, allocated budget, and structural features.
Feel free to order this service from a professional installation team of our company. Our cedar siding contractors have licenses for the production of this type of building material. Our experts will do the job quickly and efficiently!
Call us to request a FREE estimation:
+1-604-239-2898
+1-8-555-SIDING

Or send an e-mail: info@idealsiding.com