The Ideal Home Siding Solution
Whether your home's siding needs a minor repair or requires full replacement, whether you know exactly what you are looking for or need expert advice, we can help you with your home siding project.
After all, your home is your haven and is where your most precious memories are made. You want to be comfortable and you want your home to look its best, particularly in Langley's oceanic climate zone, one of the wettest in all of Canada.
Our expert customer service team will guide you through every step of the process, answering questions and helping with every aspect of your home siding project, from choosing the right siding for your home, to final installation and final walk-through. Based on our hundreds of satisfied clients throughout British Columbia, you can be assured you are working with the most experienced and knowledgeable experts in the siding industry, and getting the best quality of materials and workmanship.
With over 100 projects completed each year, we understand the needs of local homeowners and are familiar with the current trends in each neighbourhood in the greater Vancouver area.
Why Should You Choose Ideal Siding?
Here are just a few of the reasons for choosing us as your contractor:
Price Match Guarantee. We can match any competitor's price for the same scope of work. Our experienced project estimators will help you find the siding that will meet your project's needs and budget, whether it's a simple repair or replacing the siding on your entire home. We understand the importance of your investment and guarantee your final bill will be the same as your initial quote, so there are no surprises.
25-Year Workmanship Warranty: We proudly offer a 25-year warranty on materials and workmanship. Siding replacement for your home can be a costly project, but it is also a great long-term investment in your home and your comfort. Our siding will protect your house from harsh weather and save you the expense of endless repairs. When you hire Ideal Siding, you can rest assured that we work with Canada's most reputable manufacturers, using only the highest-quality materials.
Complimentary Design Mock-up: We offer the latest designs and most state-of-the-art materials from leading siding manufacturers in the industry. But because it is hard to visualize the end result when you are choosing the style and colours of your new siding, we offer a unique service as well: a complimentary mock-up so you can make informed decisions about siding options and colour combinations.
We will help make your home siding project come to life. Through our trusted partners, we can assist with flexible home improvement financing options that meet your needs and budget.
Every project is executed following the industry's best practices, manufacturers' recommendations, and with BC building codes in mind.
Popular Siding Styles
With so many siding types, materials and colours to chose from, it can be challenging to make the right decisions. We will help you choose exactly what you need for your style and budget from among the most popular options on the market in Langley.
Lap Siding
Siding plank is so popular, it was installed on more than 80% of the houses in Langley last year. It is supplied as either horizontal or vertical strips, based on the look you want to achieve.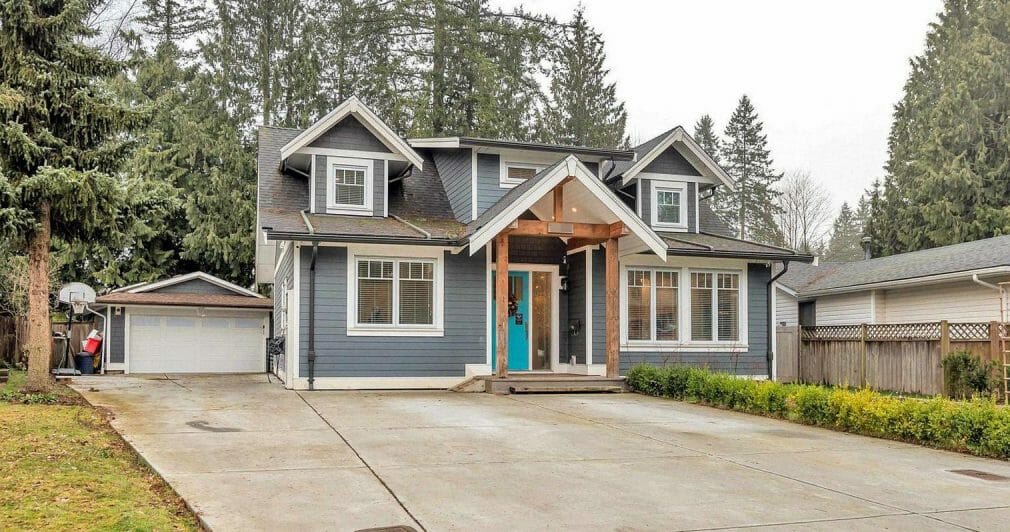 Siding Panels
If you are looking for a minimalist modern look, siding panels are an excellent option due to their sleek design. You can choose between a smooth or cedar mill texture, which mimics natural wood. The panels are cut on-site to ensure they match the design of your home. They can be installed horizontally or vertically based on your design plan.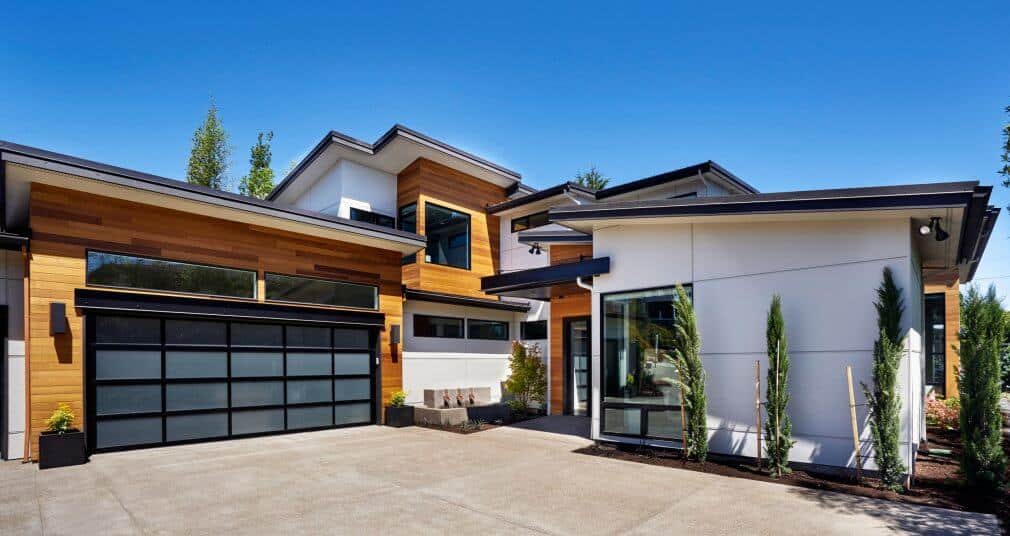 Shakes and Shingles
Shingles create a natural, rustic look, one that is particularly popular on Canada's West Coast with its abundance of hemlock and cedar trees. They add contrast and depth to your home's feature walls and gables, creating a sense of coziness and warmth. The most common materials for siding shingles are cedar, fiber cement and vinyl.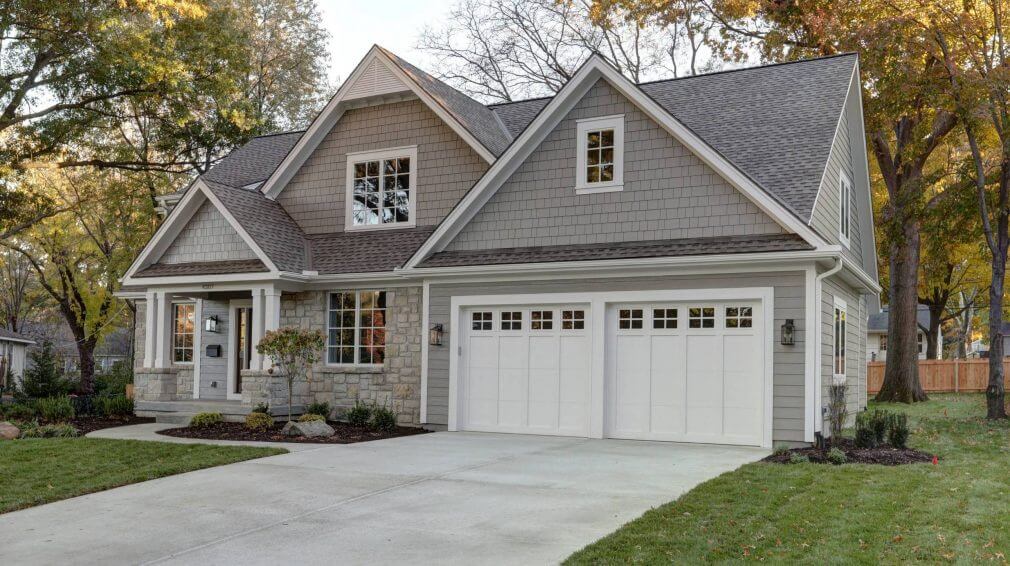 Siding Materials We Offer
There are so many kinds of materials and siding styles to choose from. Selecting the right siding affects its performance in different climates and the appearance, character, and value of your home.
There are 9 most popular siding options in Langley today (click on the picture to learn more):
There are many other options we can offer you, please call us for any specific requests.
Cost of Siding Renovation
The cost of siding and its installation depends on its materials, design, and other elements such as trim boards, soffits, and fascia boards.
Below is a guideline offering its approximate cost based on the material it is made from:
Vinyl siding. Vinyl siding is easy to install and therefore the least expensive option, costing approximately $7.5 – 8.5 per sq. ft. The cost of using it on a 2000 sq. ft. house, the average home size in Vancouver, would be between $15,000 and $17,000.
James Hardie siding.  Hardie board costs around $10 – $12 per sq. ft., so you would pay approximately $20,000 – $24,000 for a 2000 sq. ft. house.
Cedar siding. This is the most expensive, with a price of $12.5 – $14 per sq. ft. The cost of using it on a 2000 sq. ft. house would be between $25,000 and $28,000. Painting and staining costs are additional.
Here's a quick price comparison for siding costs in Langley and nearby areas:
| | |
| --- | --- |
| Material | Price per sq ft* |
| James Hardie (Fiber Cement) | Starts at $10.00 |
| Vinyl Siding | Starts at $7.50 |
| Premium Vinyl Siding | Starts at $8.50 |
| Cedar Siding | Starts at $12.50 |
| Stucco | Starts at $12.00 |
| Longboard | Starts at $45.50 |
| AL-13 | Starts at $42.50 |
| Cultured Stone | Starts at $44.00 |
* Prices are guidelines only and can change based on the seasonality, availability of materials and complexity of your project.
How We Work
We begin working on your project once you choose the design, colour, and accent details, sign our contract, and put down your deposit. Demolition of the old siding, delivery of materials, inspection for rot and decay, materials and installation, waste removal and site clean-up may be part of your contract.
The start date will depend on the availability of the materials, but with our ability to work on multiple projects of the same size due to our size, we make every effort to expedite your project. Once the siding arrives on site, we start preparing your house for the installation process.
Our Project Managers will guide you through each step of your siding project, and answer any questions you might have. You can rest assured that every detail will be taken care of, from the beginning to the completion of your project.
Remove Your Old Siding
Depending on the size of the project, the type of siding, and the number of nails that must be carefully removed, this step takes between 2 and 7 days. If there is no old siding to be removed, this step is not necessary. Our Project Managers can consult with you if you have any questions about this process or want to leave your old siding intact.
Sheathing Inspection and Repair
Next, we inspect the existing sheathing for rot or other damage. If repairs are needed, which is rare, you could be looking at an additional cost. From our experience, most homes do not require repairs.
Preparing Walls for Siding
After your home's sheathing has been inspected and any necessary repairs have been made, we begin the installation of the rainscreen, which consists of building paper, flashings and strapping/mesh. This process protects your house from water damage, a necessary procedure due to the rainy climate on Canada's West Coast, prolonging the lifespan of your new siding by 5 to 10 years.
Siding Installation and Touch-up Work
Siding installation typically requires 7 to 10 days, depending on the type of siding you have chosen. Additional time is required to install a trim board around windows, doors, soffits, overcap corners and fascia boards. At this time, we also install insect screens, flashings, dryer vents and light fixture boxes, and apply touch-up paint to the nails.
Clean-up and Final Inspection
The final step is tidying up your yard, and removing and recycling all construction waste in accordance with the best practices in the siding industry. Our crews are always clean, respectful, and we make sure your yard is completely clean of debris when we finish the project.
At the completion of your project, our Project Manager will inspect the work and then set up an appointment to review the project, explain the details of the warranties of materials and workmanship, and provide maintenance instructions.
Contact Us Today
We are happy to answer any questions you have, whether you're looking for more information about repairs or replacing your existing siding. Contact us to get a complimentary estimate today – it's literally "on the house"!
We are serving the following municipalities at the moment:
Langley, Surrey, White Rock and Maple Ridge.