Aluminum Siding in Vancouver
When admiring some classy buildings in Vancouver, you will never guess that a large portion of them are enveloped in aluminum siding. Over the last years, aluminum cladding products have undergone significant transformations, and now, they are available in an array of shapes and styles to create beautiful and unique designs with a modern touch.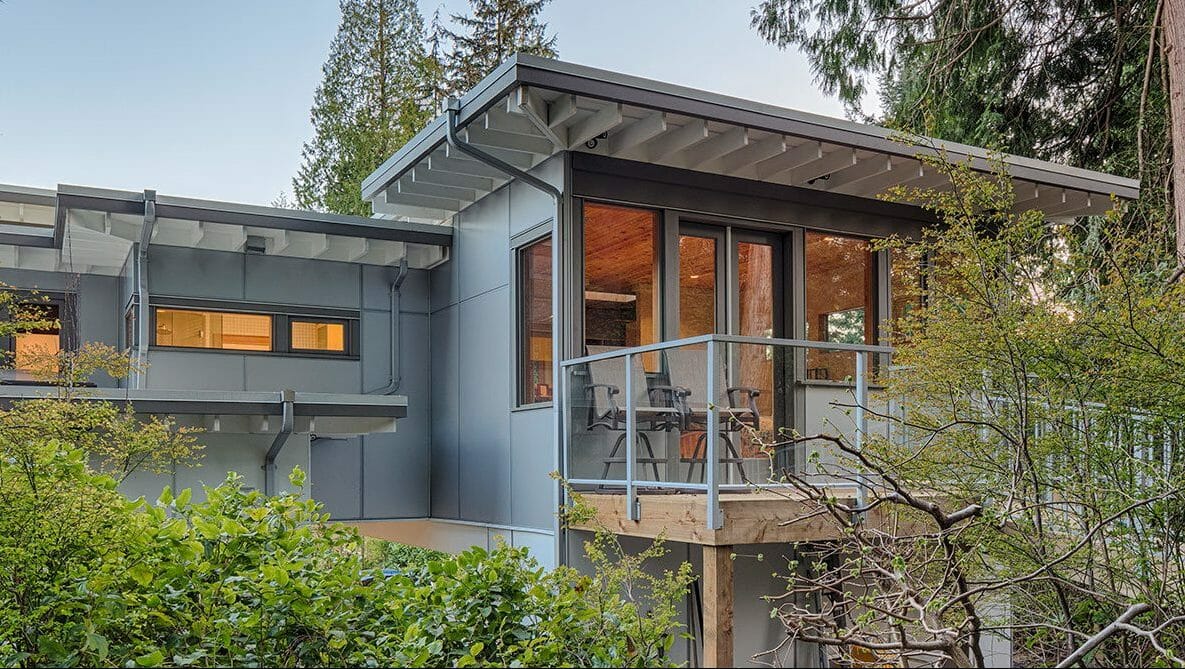 Aluminum siding features metal profiles of various dimensions often covered with a protective coating that also serves for decorative purposes. They usually come with accessories of matching finishes to deliver a finished look while securing the cladding.
The panels are fastened to facades with the help of posts and trims, creating a kind of a shield over an existing surface and hiding all of its flaws. Aluminum siding installation is often facilitated thanks to interlocking joints, making it unnecessary to fasten the panels to each other with nails.
Aluminum siding companies offer quite a choice of options varying in:
Thickness – thicker material stands for longer life expectancy;
Orientation – both vertical and horizontal panels are available on the market;
Coating – vinyl or plastic-coated siding is less prone to fading, denting, and corroding;
Lap profiles – deeper overlap ensures better weather resistance;
Textures – while some panels are just whole-coloured, others mimic natural textures for enhanced aesthetics.
Aluminum Siding Advantages
Depending on the location of the home, as well as other factors, aluminum can be an excellent siding choice.  Let us now examine some of the primary aluminum siding pros:
Aluminum is praised for its lightweight, durability, incombustibility, and recyclability. All these benefits are inherited by aluminum siding.
Easily washable with any domestic detergent, it is a low-maintenance material that requires no additional processing against rust, insects, or mould. You can also repair or replace damaged pieces though you might need professional help with this.
You can find multiple styles of aluminum siding in Vancouver, including an abundance of colours and textures (with some of them perfectly imitating timber and natural stone). This choice allows for various applications, from house renovations to industrial building projects.
Some aluminum siding brands offer low-cost products that are more affordable when compared to wood or even cement fiber siding. Architectural grade siding comes with a hefty price tag but ensures cost-efficiency in the long run.
The material is great for retrofit projects since it safely hides initial cladding while requiring little preparation and allowing fast installation.
Obviously, each homeowner must do his or her own due diligence when it comes to siding a home, but for many, the clear choice remains aluminum.
Professional Aluminum Siding Installation
Whichever brand you choose, do it yourself or go with the contractors, you want the siding to be installed properly. Moreover, the manufacturers want it to be mounted in full compliance with their requirements for your warranty to be valid. And though aluminum siding is also attractive due to the possibility of DIY installation, it's better to refrain from experimenting unless you are a real pro.
Our team of professionals is skilled in installing various brands of aluminum siding in Vancouver. We are sure to save you much time and effort, not to mention the money you can loose on damaging the material because of amateur handling. We offer aluminum siding installation, repair or partial replacement.
Our services cover everything from counselling and planning to provide a 25-year workmanship warranty. Call us to have a free estimation and get your project completed nice and clean.
Call us to request a free estimation:
+1-604-239-2898
+1-8-555-SIDING

Or send an e-mail: info@idealsiding.com