We Find an Ideal Solution for You
Ideal Siding Victoria fully services Victoria and surrounding areas to ensure homeowners can choose siding depending on their style preferences and budget. Many older homes in Victoria can benefit significantly from having their siding replaced or repaired to ensure their home is protected from all the elements.
Victoria residents get to enjoy moderate coastal weather compared to other areas of Canada with more extreme weather conditions. There is little snowfall, but rain in the winter and the summers with low humidity and ocean breezes keep it from becoming too hot. Our company installs materials manufactured specifically for this climate zone (like James Hardie HZ5).
Because Victoria has quite significant contrasts between the wet and dry climate in the winter and summer, the siding of the house must withstand these changes. We offer a variety of options, including the low-maintenance ones and with high protection from colour fading.
Here, at Ideal Siding, we understand the importance of that and make it our mission to help you create the home of your dreams. Whether it is helping you with a minor repair task, replacing siding on the entire house or assisting you with choosing the right siding option.

Siding is considered to have one of the best returns on investment when compared to other renovation projects. New exterior with low-maintenance options, combined with a 25-year warranty, improves the value of your home substantially.
At Ideal Siding, we pride ourselves on how knowledgeable and experienced we are in the siding industry. We were one of the first companies in Canada to become an Elite Preferred James Hardie contractor, which means we helped more homeowners than any other company.
Reasons to Work With Us
We will help you to find a customized solution for your house, just like we've helped over 100 homeowners this past year between our divisions. We know every home is unique and strive to find the best solution for each customer.
Here is what we offer you.
25-Year Workmanship Warranty. Our crews are some of the most experienced in the industry, with extensive knowledge of best siding practices in renovations and new constructions. A comprehensive warranty on workmanship means you don't have to worry about any possible repairs in the upcoming years, and we are always just one phone call away if you have questions about your new siding.
Upfront Pricing and No Hidden Fees. We worked for many years to make our system of operations as efficient as possible as we know how costly house renovation projects can be. Being one of the largest siding companies in BC, we are built on the economy of scale, where we can pass savings and discounts we have received to our clients.
Complimentary Design Mockup. We are here to help you with the house of your dreams! To make that decision more comfortable, we have our in-house design studio and offer complimentary visuals for the clients that choose to work with us. It will give you a better idea of what the new siding will look on your house and ensure that every step of the decision-making is much easier.
Many new siding brands are gaining more and more popularity with edge-cutting technologies and modern design options these days. There are also many styles to choose from: rustic-looking shingles, versatile planks, cottage-style board and batten siding to sleek panels. Every homeowner would be able to find the option that fits their needs and preferences.
Popular Siding Styles
We can install any type and shape of siding. Just pick the design and colour you want, and we will provide you with different material options and pricing. At Ideal Siding, we know how challenging it is to choose the new siding for your house, so we decided to list a few of the most popular style options below.
Lap Siding
Siding plank is probably the most versatile option for exterior cladding over the past few decades. This style of siding can be found on more than 80% of homes on the West Coast. Mostly produced from cedar, vinyl, fiber cement or aluminum, and installed both horizontally and vertically.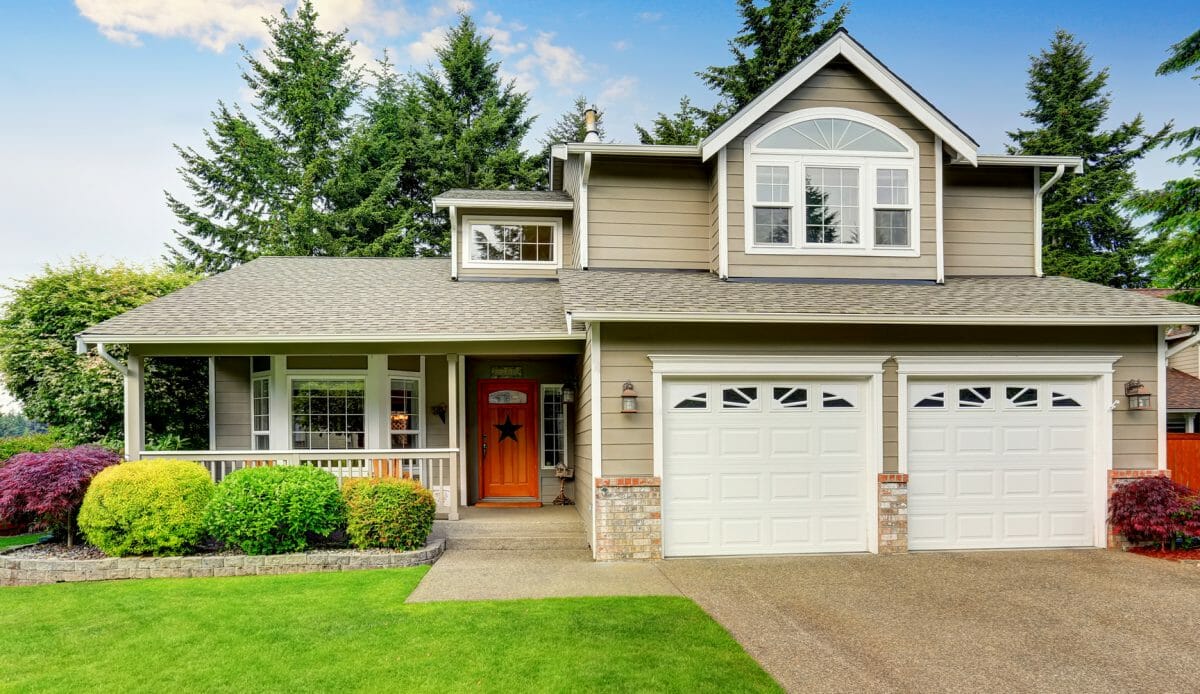 Shakes and Shingles
Shingles (also called shake siding) are preferred by homeowners who wish to give their home a rustic look with coastal warmth. For many years the most popular material used for shingles manufacturing was cedar.
With the rise of modern technology, vinyl and fiber cement became widely used in production, often mimicking natural wood's texture, but with significant cost savings. Shingles come in many different profiles like straight edge, staggered edge and scalloped, to name a few.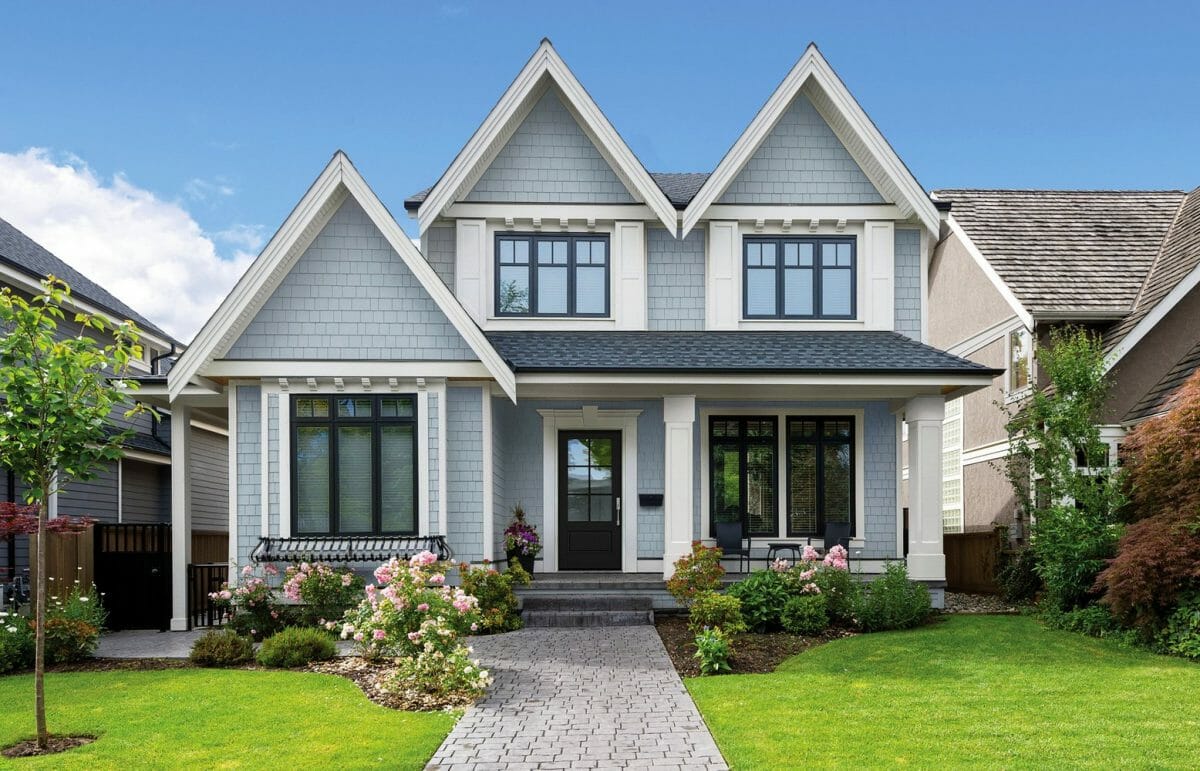 Siding Panels
Siding panels offer homeowners modern solutions with significant design flexibility. With clean lines, distinctive shading and a sleek polished look, siding panels are the choice for contemporary design options.
Either in cedarmill texture to resemble natural wood or smooth, panels are cut on-site to match the preferred style. The most popular and well-known profiles are Board and Batten, Easy Trim Reveal Panels and Open Joint Cladding.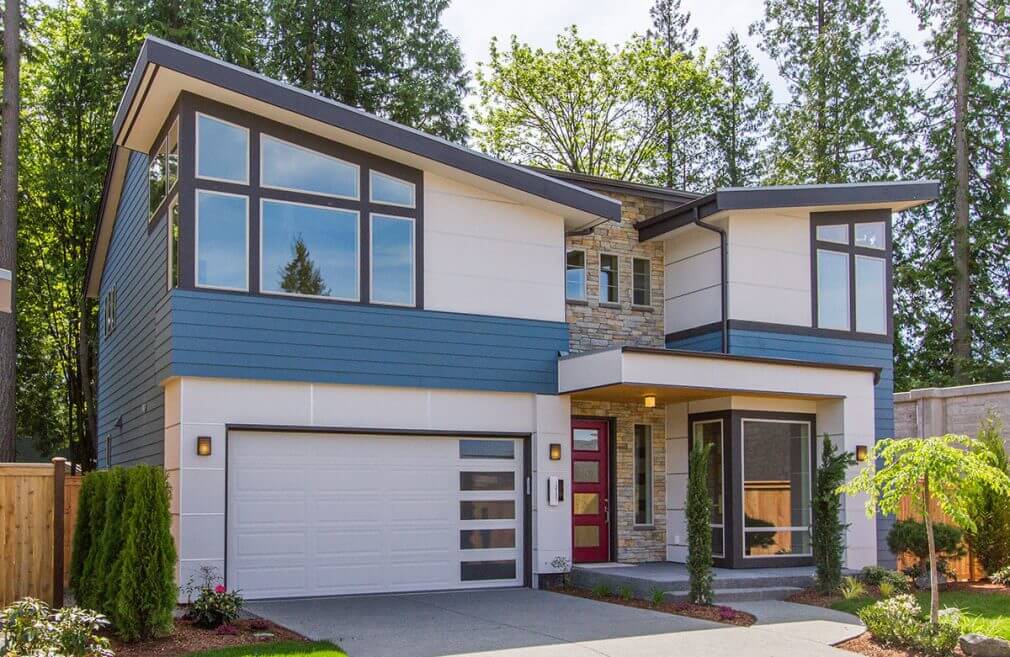 Siding Materials We Offer
We work with Longboard, AL13, Alucobond, James Hardie, Allura, Kaycan, LP, Mitten, Woodtone, Gentek and other manufacturers and distributors to offer you as many options as possible. Over the past few decades, local homeowners favourited cedar, vinyl and James Hardie siding the most:
Cedar siding is praised for its natural rustic look blending perfectly with the West Coast landscape.

You can opt for natural cedar that emphasizes its beauty with the knots and grain intact with a clear or tinted stain, or you can have it primed and ready to paint with any colour of exterior siding paint.

James Hardie fibre cement siding has gained significant popularity amongst homeowners in recent years due to its resemblance to natural cedar without all the maintenance required. High fire resistance ratings, insect- and mould resistance properties were also some of the convincing factors in favour of fibre cement siding.
Vinyl siding is one of the most popular, versatile, low-maintenance options. The low cost of materials and new technologies have made it even more durable and appealing. It is suitable for most weather conditions.
There are many other styles and types of siding and exterior materials we can offer you, please call us for any specific requests.
How Much Does It Cost?
The renovation project consists of multiple parts like demolition, walls preparation, rainscreen, trim work, and siding installation. The cost of a siding project would depend on many factors like time of the year, availability of materials, labour costs, location of your project, accessibility of the walls, etc.
To give you an example of the price for an average 2,250 sqft home in Victoria:
The cost to install new vinyl siding would be $17,000 plus the cost of optional details like fascia boards and trims.
The cost to install new fiber cement siding would be $23,500 plus the cost of optional details like fascia boards and trims.
The cost to install new cedar siding would be $28,000 plus the cost of optional details like fascia boards and trims.
The table below illustrates prices for some of the most common types of siding used in home renovations:
| | |
| --- | --- |
| Material | Price per sq ft* |
| James Hardie (Fiber Cement) | Starts at $10.50 |
| Vinyl Siding | Starts at $7.50 |
| Premium Vinyl Siding | Starts at $8.25 |
| Cedar Siding | Starts at $12.50 |
| Stucco | Starts at $12.50 |
| Longboard | Starts at $45.75 |
| AL-13 | Starts at $45.00 |
| Cultured Stone | Starts at $43.25 |
* Prices are guidelines only and can change based on the seasonality, availability of materials and complexity of your project.
What to Expect When Working With Us?
For many of our customers, the project's start date is one of the main concerns, especially for time-sensitive projects like repairing leaking old siding or installing the siding on newly built homes where there is a strict schedule coordinated with other trades. As the biggest siding company in Canada specializing in single-family home renovations, we always have multiple projects on the go and can easily accommodate your siding project.
Many years of experience in siding and highly efficient project management procedures allow us to start working on your project as soon as you decide on the siding you want to be installed on your house.
Once you choose to work with us, you can rest assured every detail of your siding project will be taken care of from the beginning till completion. Our Project Managers will guide you through each step of the siding project on your house and will gladly answer any questions. Here is the step-by-step process.
Old Siding Removal
We start your siding project by carefully removing old siding and nails from the walls of your house in order not to damage sheathing underneath. Some types of siding like stucco or stone take longer to remove, which means this process can take anywhere between 2 to 7 days. In the case of newly built houses or walls, we skip right to Step 3.
Sheathing Inspection and Repair
Once the walls are cleared of the old siding, we proceed to inspect the sheathing structure to check for any possible damages or rotten parts. In most cases, it is difficult to check whether there will be moisture damage to the sheathing before removing the siding. In the rare case that rotten parts or damage are detected, we proceed with the repairs.
Preparation of the Wall for Siding
After we ensure the sheathing is in excellent condition, we continue with the preparation of the walls by installing the rainscreen, which consists of building paper, flashings, and strapping/mesh. The rainscreen protects walls from moisture damage from the rain and creates the airflow between the sheathing and the siding, thus prolonging the lifespan of your new siding by 5-10 years. Flashings installed around windows and doors stop rainwater from leaking inside. During this step, we also install bug screens to protect walls from insects. The BC Building Code recommends the installation of the rainscreen.
Siding Installation and Touch-up Work
Siding installation usually is finished in 7 to 10 days. The length of this step will depend on the style and the type of materials chosen. Also, how much detailing is required and how many decorative parts are being used. Account for an additional time to install soffits, facia boards, trim boards around windows and doors, corner trims, separating boards and other detailing aspects. Once we install the siding, we use caulking to seal siding elements and touch up paint on nail heads to match the siding colour for that seamless look.
Cleaning Up and Waste Removal
After we ensure all the details are taken care of, and your new siding looks seamless, we proceed with the cleanup to remove any remaining siding materials and waste recycling bin from your property. Our crews are always clean, respectful, and we make sure your yard is completely clean of debris when we finish the project.
Once your new siding has been installed, one of our Project Managers will meet up with you to inspect the job quality. They will advise you on how to take care of your new siding and details of the warranties on both materials and workmanship.
Contact Information
Do you have any questions? Please feel free to contact us for a free estimate on a service or with any other questions you may have.
We are serving the following municipalities at the moment:
Victoria, Sooke, Langford, Saanich, Highlands, Sidney, View Royal, Oak Bay, Esquimalt, Colwood, Metchosin, Duncan, Shirley, Mill Bay, Cobble Hill, Cowichan Bay and Port Renfrew.