We Find an Ideal Solution for You
Choosing the right siding for your house is a significant decision. Not only does siding protect your home, family, and possessions from the elements, but it also enhances your living comfort, helps to reduce utility bills, and elevates aesthetic appeal.
At Ideal Siding® Raleigh, we understand the importance of making the right choice for your property. That is why, to ensure your satisfaction, we are dedicated to delivering the highest quality siding materials, expert craftsmanship, and industry-leading service.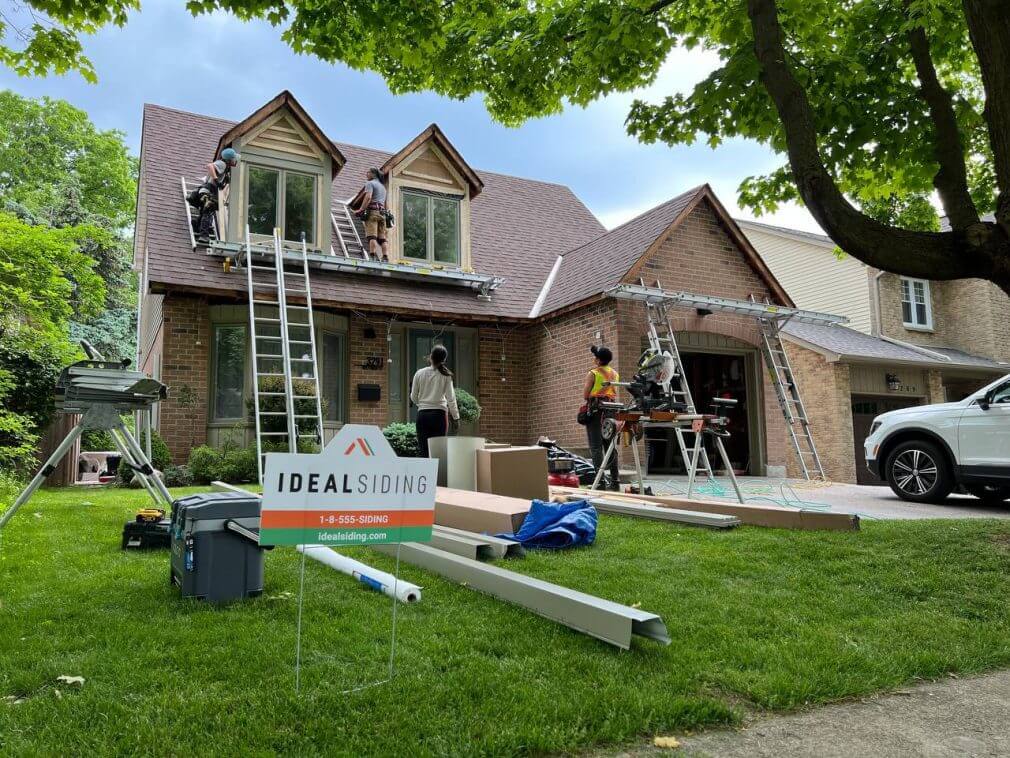 At Ideal Siding® Raleigh, you'll discover an extensive range of siding options to transform your home's exterior. Whether you favor the classic charm of lap siding, the sleek modern look of panels, or the timeless style of shakes and shingles, we've got the ideal solution for you. Our collaborations with top-notch manufacturers guarantee you get only the finest quality.
You can rely on us for a premium installation because we have the experience and expertise you expect. Our experts are ready to guide you through installing new siding for your home – from the moment you walk through our doors to your final seal of approval on completion of your project.
Siding Materials and Styles
Starting your home siding project can seem overwhelming due to the numerous choices in style and material. Raleigh's diverse architectural styles require various siding options, and luckily, we've got them all! Each material is available in a wide selection of colors, textures, and patterns to suit your preferences.
Here are some of the most popular among Raleigh's homeowners:
Vinyl siding is the go-to for new home builds or renovations. Vinyl provides the cozy look of wood without the hassle of expensive and time-consuming upkeep. Manufactured from polyvinyl chloride (PVC) resin blended with components for color, flexibility, and durability, vinyl siding eliminates the need for scraping, staining, or painting—making it a low-maintenance choice that will perform for decades.
Cedar siding 

stands out for its robustness, moisture resistance, and appealing aesthetics. Crafted from red or white cedar native to North America, cedar comes in various colors or with a transparent stain. It offers easy customization, replacement, and repair options. Wood siding can last for decades, provided it's appropriately maintained, which means refinishing every five years.

Aluminum siding, 

constructed from aluminum coil stock, undergoes a chemical coating for initial metal protection and is then painted for an added layer of defense. Its exceptional resistance to rust and corrosion ensures enduring safeguarding and a modern, sleek appearance for various home styles. In terms of maintenance, aluminum siding will probably need repainting every 15 years.

James Hardie® siding,

also known as fiber cement, is composed of cement, sand, and cellulose fibers, delivering remarkable durability and timeless charm. We offer James Hardie® siding, a top-notch brand in fiber cement siding known for its quality.

Engineered wood siding,

using wood strand technology, provides superior protection against weather conditions, decay, and insect infestation. It guarantees long-lasting performance with durability, versatility, and enduring visual appeal.
At Ideal Siding® Raleigh, we offer a variety of siding styles, including lap, panels, board and batten, and shingles. Each style can be made from one or a mix of the materials mentioned earlier. Our team is here to help you choose the right fit for your home, considering your preferences and budget to enhance curb appeal and value.
Lap Siding
Lap siding is a versatile option for various architectural styles, providing a modern or classic look depending on the material and styling. While traditional vinyl and cedar planks are popular, consider fiber-cement as a cost-effective alternative for your Raleigh home.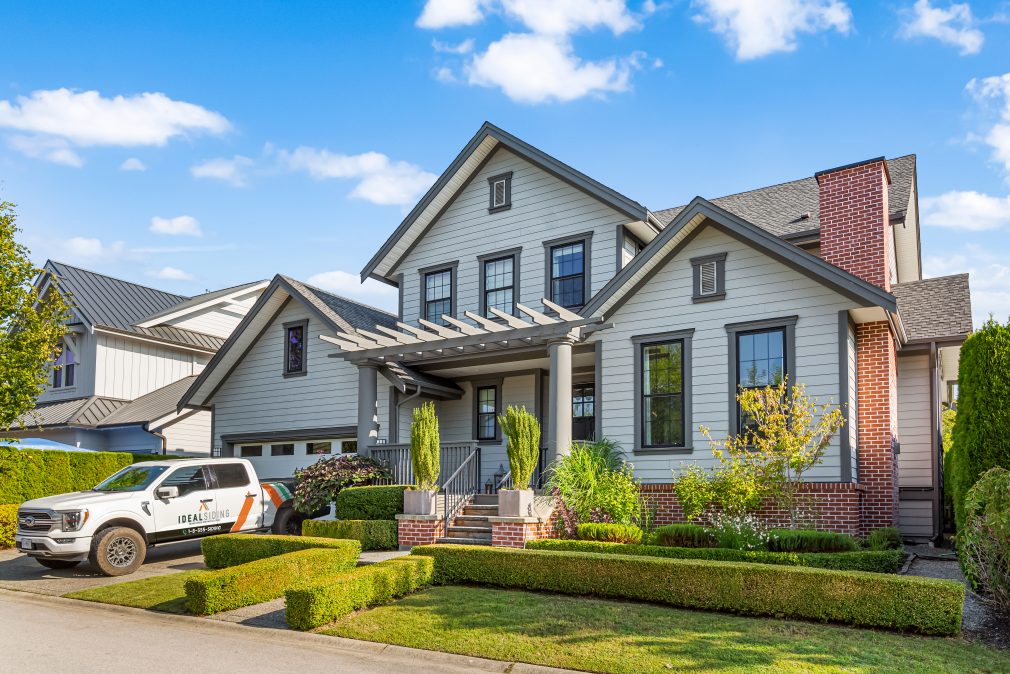 Shingles and Shakes
Consider shingles to add contrast and depth to your home's exterior for a rustic and cozy appearance. Popular materials include cedar, fiber cement, and vinyl, available in profiles such as staggered edge, straight edge, and scalloped.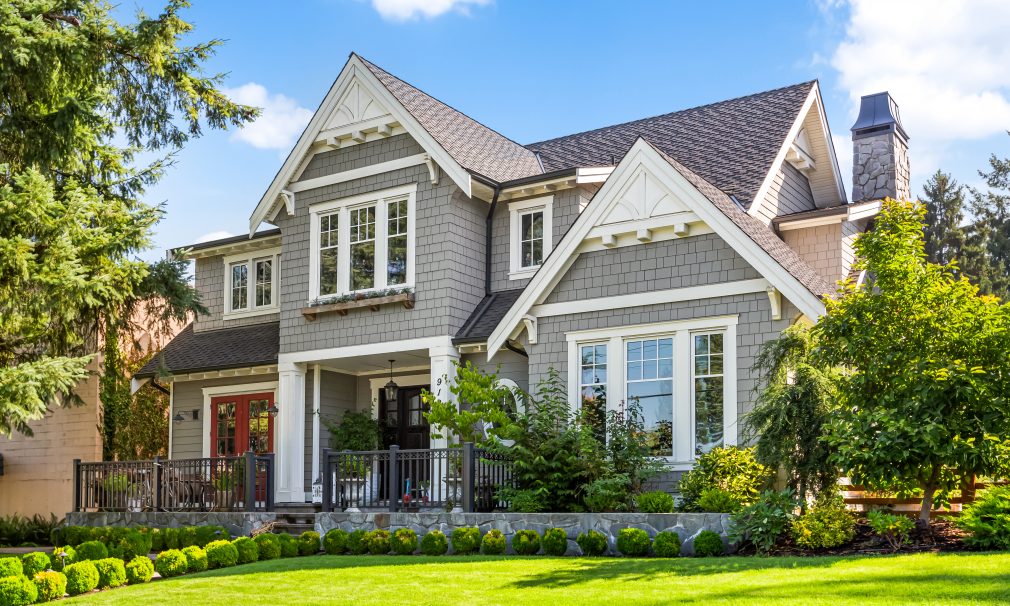 Board and Batten Siding
Board and batten siding allows you to personalize your home's aesthetic, fitting in seamlessly with modern or traditional vibes. This siding style delivers a clean and multi-dimensional look. It is popular in contemporary farmhouse styles and often used on high or gable walls for its elongating effect.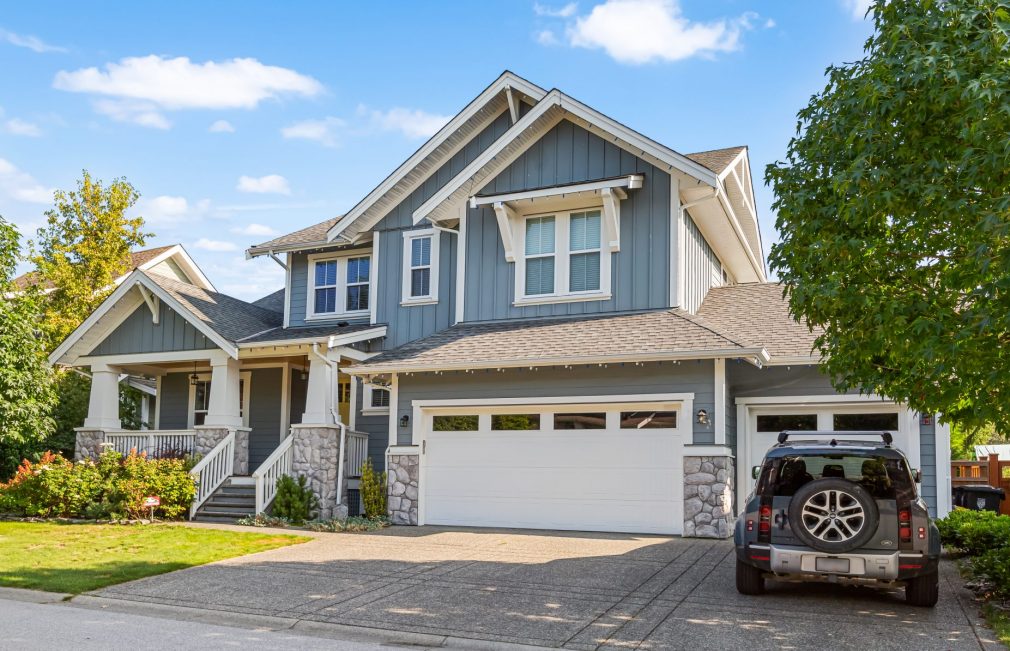 How Much Does the Siding Cost in Raleigh, NC?
Cost is critical in any decision to install new siding, and accurate information is essential. As a first step, our experts will assess your home to provide an accurate quote, ensuring no hidden charges. The cost will vary based on factors such as the material you choose and any repairs that need to be made to the existing structure. The cost of labor is always included in our quote.
Siding is sold by square foot, so the final cost of your project will depend on the size of your house and any other factors, which we will itemize in our quote, regardless of the type of siding you choose.
To give you a general idea of how the different square-foot prices compare:
Vinyl Siding. Expect to pay in the range of $6 – $7 per square foot, making a 2000 sq. ft. house range from $12,000 to $14,000. For premium vinyl siding, add approximately $2 per sq. ft.
James Hardie® (Fiber Cement) Siding. This is a cost-effective option priced around $9 – $10 per sq. ft., so a 2000 sq. ft. home would cost around $18,000 – $20,000 for a full siding replacement.
Engineered Wood Siding. This one is slightly more expensive than fiber cement siding, expect to pay $22,000 to $24,000 for the same size house in the region.
Cedar Siding. A premium natural choice at $16 – $18 per sq. ft., costs would reach $32,000 – $36,000 for an average-sized house in Raleigh (2000 sq.ft.).
To guide you through the costs of some other materials used in siding renovation, have a look at the table below:
| | |
| --- | --- |
| Material | Price per sq ft* |
| James Hardie® (Fiber Cement) | Starts at $8.25 |
| LP® Smartside® (Engineered Wood) | Starts at $9.50 |
| Vinyl Siding | Starts at $6.50 |
| Premium Vinyl Siding | Starts at $8.25 |
| Cedar Siding | Starts at $16.00 |
| Stucco | Starts at $14.50 |
| Longboard® Aluminum Cladding | Starts at $53.50 |
| AL-13® Aluminum Cladding | Starts at $55.00 |
| LUX Steel Cladding | Starts at $42.00 |
| Cultured Stone | Starts at $43.50 |
* Prices are guidelines only and can change based on the seasonality, availability of materials and complexity of your project.
We can offer many other styles and types of siding and exterior materials; please let us know if you have any specific requests, and we'll be happy to help.
And remember, these are estimates only: the architecture and current condition of your house will also impact the final cost. For example, your siding replacement may require additional work if the underlying structure is damaged or rotting. If your siding is old and has not been correctly maintained, it may have caused damage to the materials underneath and even, in extreme cases, to the structural integrity of the house. In these cases, you should expect the cost of the siding project to increase due to the repairs, which are likely to involve additional labor and materials.
Do you want to know the exact cost of your siding installation and repair project? Request an expert inspection and no-obligation quote now!
At Ideal Siding® Raleigh, we conduct a thorough inspection of your home and provide a final price beforehand to help you make an informed choice. Once we get the go-ahead, our team of home renovation experts will work tirelessly to make your vision a reality.
We also offer affordable financing payment plans to help you create the home of your dreams without breaking the bank.
Our Work Process
When you choose Ideal Siding® Raleigh company, you'll work with a team of experienced and talented professionals, each with at least seven years of experience in the siding industry. They'll go through the project details with you – so you'll know exactly what to expect and experience minimal disruption to your family's routine during the installation.
Once you have reviewed and approved your complimentary design mockup which shows how your home will look upon completion, the materials will be ordered and delivered to your home. Do keep in mind that custom orders may take a bit longer to arrive.
In short, our installation contractors approach every home renovation project with a fresh perspective and meticulous planning. Here are the steps you can expect as we replace your siding.
Old Siding Removal
First, we remove your home's existing siding. This can take anywhere between two and seven days, depending on the size of the project and the type of siding. Some types, such as vinyl or cedar, can be removed quickly, while stucco and stone may take longer.
Sheathing Damage Inspection
Next, the existing sheathing is inspected for rot, mold, or other damage. Fortunately, most homes in Raleigh do not need sheathing repair. However, if required, this could result in a small additional cost. Of course, once the scope of any additional work is determined, we will provide an estimate before proceeding.
Preparation of the Wall for Siding
To protect the walls from intense humidity and significant rainfall, the next step is to do a house wrap. Building paper, flashings, and strapping/mesh are used for this purpose. Optionally, we can install a rain screen, which optimizes airflow in the walls and significantly extends the siding's lifespan. This is especially important in Raleigh's humid summers. Siding with a protective rain screen can last 5-10 years longer than siding without one.
Siding Installation and Touch-ups
Moving on, we install your new siding, including trim boards around windows, doors, soffits, overcap corners, and fascia boards. We also attach insect screens, flashings, dryer vents, and light fixture boxes and apply touch-up paint to the nails, ensuring they match the color of the siding exactly to create a seamless, professional finish.
Waste Removal and Clean Up
Our final step is cleaning up your property to leave it looking immaculate. We remove and recycle all construction debris, adhering to all best practices in today's siding industry.
Having completed the installation and clean-up, your dedicated project manager will inspect the work and ensure you're happy with the result. They will explain the details of the materials and workmanship warranties and provide you with maintenance instructions for your new siding.
Why Work With Ideal Siding®?
With so many siding companies in Raleigh, why should you choose Ideal Siding®? We've built our reputation across North America on our unwavering commitment to quality, reliability, and affordability. In addition, our long-standing relationships with premium manufacturers guarantee the finest materials and outstanding standards of workmanship for your home.
Beyond that, we also offer a range of unmatched, industry-leading benefits:
Price match policy. Budget matters to our clients – so we are never beaten on price. Suppose you've obtained a lower quote from another siding company. In that case, we'll match it for the exact scope of work and materials. Please check our price-match policy to learn how it works.
25-year workmanship warranty. Each of our expert crew brings at least seven years of siding experience, backed by meticulous quality assurance from our home team. When you choose Ideal Siding® Raleigh, your project will be completed according to the industry's best practices, manufacturer recommendations, and local building codes. Our in-house protocols are flawlessly executed so that we're the first company customers think of when they need our services again.
Materials that stand the test of time. We only work with premium materials from renowned brands, and our confidence in our workmanship is reflected in our 25-year workmanship warranty. This means you can enjoy your new siding worry-free, knowing that we've not cut any corners on quality and we've got you covered for a quarter of a century for installation defects.
Complimentary design mock-up. Before proceeding, you can visualize your home's transformation with our complimentary digital siding design mockup. Our experts will guide you through the designs and color combinations until we find your perfect solution.
Whether your home is modern or traditional, we will help you choose the siding that elevates your property's curb appeal and withstands the unique conditions in Raleigh, NC.
Contact Us Today
Are you considering new siding for your home? Contact us today for an expert assessment and obligation-free estimate! We're ready to help you transform your home's exterior and elevate its value and curb appeal.
We are serving the following municipalities at the moment:
Raleigh, Apex, Cary, Clayton, Fuquay-Varina, Garner, Holly Springs, Knightdale, Morrisville, Rolesville, Wake Forest, Wendell, and Zebulon.