We Find an Ideal Solution for You
Whether it's a small repair job or a significant house re-siding project, we are here to help you to find an IDEAL solution for your house! With over 100 projects completed and 500 meetings held with homeowners between all of our divisions over the past year, we will be able to answer any questions you might have and provide experienced assistance with your siding project in Calgary.
We understand that your home is where your heart is and where you create the most beautiful memories. That's why we work only with the most reputable suppliers in the industry and have highly experienced crews to be able to provide you with excellent results.

As one of the leading siding companies in Canada, we have a vast experience in all types of projects from repair to new construction and can help you when other contractors refuse to deal with your house.
Reasons to Hire Us for Your Next Project
Here at Ideal Siding, we understand that every house is unique and requires a customized approach, and at the same time, we want to make sure you're getting only the best quality for your money's worth. Here is what we offer you as a contractor.
25-Year Workmanship Warranty. We all know how harsh Calgary weather can get and how damaging it can be for your old house siding. The average lifespan of siding is usually 20-30 years and even less if previous siding contractors' installation had no rainscreen. With the vast knowledge of the siding industry and experienced crews, we can provide you with a leading warranty on workmanship. This will ensure you don't have to worry about painting or repairs in the upcoming years, and you can rest assured that your siding will look pristine.
Price Match Guarantee. When it's time to replace or repair old siding of your house, it can add up to a costly project and a significant investment in your house. That is why we offer the best price match to make sure you don't ever overpay for your siding project to another contractor, all while getting the highest quality of workmanship and high-quality materials.
Complimentary Design Mockup.  You will be able to see what your house can look like with new siding even before we start the project at no cost. With so many siding options on the market in Calgary, we know how hard it is to decide on what siding will look best on your home. Whether you're looking to upgrade the curb appeal or curious about modern designs and contemporary looks, we are glad to help you to make an informed decision.
Your house is where you create the most valuable memories throughout the lifetime, and we understand how important it is for you to enjoy the look and functionality of it every day.
Siding Types We Offer
There are many options these days to help you create the perfect facade, and you want to choose carefully. While aesthetics are always important, you also want to consider the material's durability, ability to resist water to avoid the need for early repair, ease of installation, and versatility.
There are 6 most popular siding options in Calgary today (click on the picture to learn more about each):
There are very many other styles and types of siding and exterior materials we can offer you. Please call us for any specific requests.
Most Popular Siding Styles
We know there are many options to choose from when it comes to siding, and we are here in Calgary to help you with those decisions. Listed below, you will see a few of the most popular and widely used design options for residential homes.
Lap Siding
One of the most widely used choices for single-family home renovations, offering a traditional and timeless look. Siding plank can be found on more than 80% of the homes with the siding installed over the past couple of decades.
Needless to say, it is still a very much popular option until this day. Planks are usually produced from wood (either cedar or hemlock), fiber cement, vinyl or aluminum. Siding planks can be installed horizontally or vertically or in a combination of both.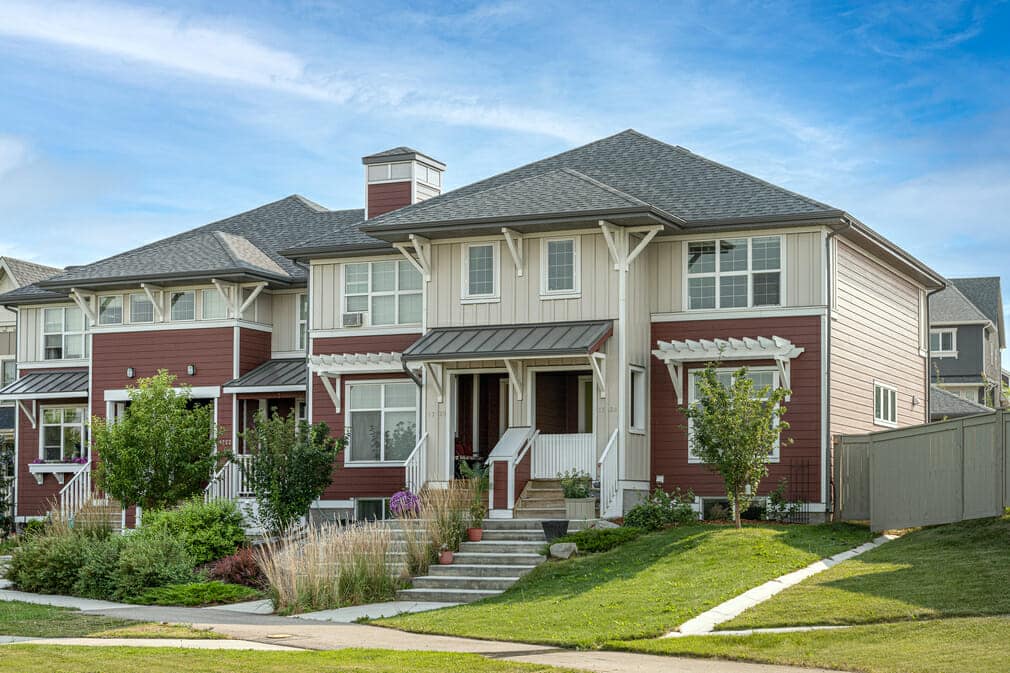 Shingles and Shakes
Siding Shingles (also referred to as shake siding) are another popular option, usually either in combination with the siding planks or on their own. Mostly used on feature walls and gables, this siding design adds character and warmth to the entire house.
Installing shingles on the whole house will add refinement to a rustic style of cottage or ranch home. Siding shingles are manufactured from fiber cement, cedar, or vinyl.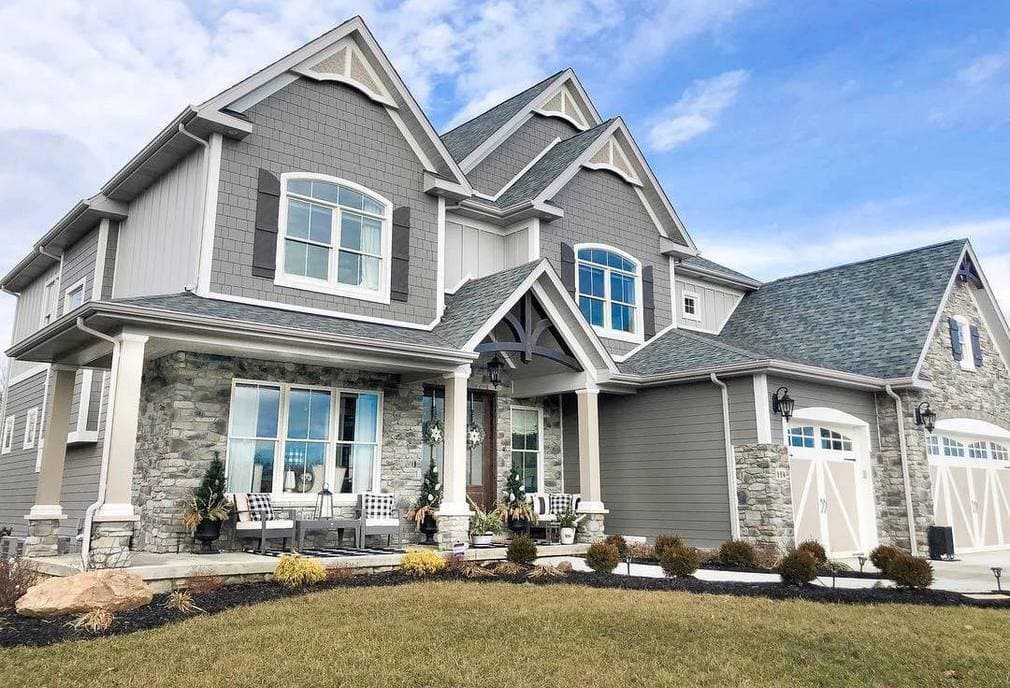 Siding Panels
If you are looking for a contemporary look with minimalistic features, this siding style is for you. Siding Panels have gotten more recognition over the past few years as innovative technologies have taken the siding industry by the storm.
Siding panels have either a smooth texture offering a sleek finish or a cedarmill texture that mimics the look of natural cedar. Panels are usually sized and cut on-site to ensure the perfect fit and can be installed either horizontally or vertically. Some of the most common profiles are Board and Batten, Easy Trim Reveal, and Open Joint Cladding.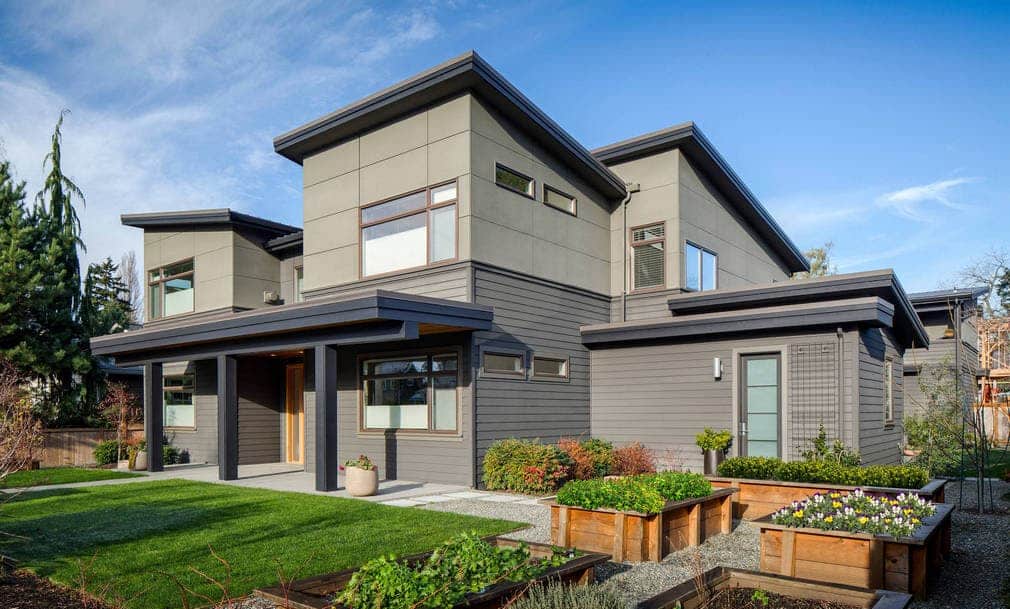 Average Cost of Siding Renovation
Every house has unique characteristics and designs, which will determine the final price for your siding project. Illustrated below are some of the approximate calculations based on the average single-family house in Calgary:
Replacing your old siding with vinyl will cost you from $8.50 to $9.50 per sq ft. Considering the square footage of the house is 1,800 sq ft, you might be paying around $15,300 – 17,100. Vinyl siding is the most budget-friendly option due to the lower installation costs and inexpensive material.
One of the most popular siding materials as of recently, the James Hardie board, will cost from $11.50 to $12.75 per sq ft. For the same size house, the price of the re-siding project will come up to approximately $20,700 – $22,950 for the entire house.
Cedar siding has been widely used in exterior siding for many years, and it is still one of the favourites amongst homeowners in Calgary. Due to the manufacturing costs and availability, cedar siding comes with a steeper price tag. It costs around $13.00 – $15.00, not including staining or painting costs. The cost of replacing old siding with cedar would come up to $23,400 – $27,000 for a 1,800 sq ft house.
Below you will see the approximate cost per square foot for a few most commonly used types of siding, so you can have an idea of how much your renovation project might cost based on the materials used:
| | |
| --- | --- |
| Material | Price per sq ft* |
| James Hardie (Fiber Cement) | Starts at $11.50 |
| Vinyl Siding | Starts at $8.50 |
| Premium Vinyl Siding | Starts at $9.00 |
| Cedar Siding | Starts at $13.00 |
| Stucco | Starts at $13.75 |
| Longboard | Starts at $45.00 |
| AL-13 | Starts at $44.00 |
| Cultured Stone | Starts at $48.50 |
* Prices are guidelines only and can change based on the seasonality, availability of materials and complexity of your project.
Our Work Process
As soon as you decide on your new siding design and colour, we begin the work on your new project. Important to note that the delivery time of materials will depend on the availability of local suppliers, and custom orders will take longer to arrive.
Pulling Off Old Siding
Depending on the type of old siding being removed, this step might take anywhere between 2 to 7 days. During the removal process, it is imperative to do a thorough job to not damage sheathing underneath while removing nails. In some cases, new siding can be installed on top of the old one, although it is not recommended.
Sheathing Inspection
Careful sheathing inspection is an important step to indicate any areas in need of repair. You do not want to install new siding, that will last you over 30 years, on the damaged sheathing. In most cases, the sheathing is in good condition, and no repairs are required. If the rot has been detected, you could be looking at an additional cost for repairs.
Preparation of the Wall for New Siding
Once the sheathing inspection is finished, we would start to install building paper to protect walls from moisture. During this step, we also install flashings and bug screens to repel water from openings and protect walls from insects crawling in. It is optional to install rainscreen on the houses in Calgary, according to Alberta Building Code. In case you choose to install a rainscreen, it will prolong the lifespan of the building structure and your new siding for up to 5-10 years. The rainscreen system allows airflow between walls of the house and siding, allowing any moisture trapped to evaporate quickly.
Installation of the Siding and Touch-ups
After all the preparation work for the walls has been done, we start the siding installation. Depending on the materials and design chosen, this step might take anywhere between 7 to 10 days. Additional time is required for the installation of trim boards around the windows and doors, fascias, overcap corners, dryer vents and other detailing elements. During this step, we apply touch-up paint to the nail heads and caulking in between the boards to create that perfect seamless finish.
Waste Removal and Cleaning Up
The final stage of the siding installation project would be the clean-up and siding inspection with the homeowner. Once the crew finished the installation and the waste has been removed, the Project Manager will meet up with the homeowner to go over the details of the completed work. He will be informed about the details of both warranties, on materials and on workmanship. Also, on how to take care of your new siding to maintain that sparkling new look.
We always ensure the project is executed by following the best industry practices and the high standards by which our company operates.
As professional siding contractors, our team can handle any project, no matter how difficult it can be. As one of the biggest siding contractors in Calgary, we manage multiple projects daily and always bring a personal touch to every single one of them. We can't wait to help you with making your dream house a reality! Contact us today to find an IDEAL solution for your home!
Contact Us Today
If you have any questions or suggestions, don't hesitate to get in touch with us today. We would love to hear from you! Our siding contractors team is here to answer any question you might have about siding or provide you with a cost-free estimate for your house.
We are serving the following municipalities at the moment:
Calgary, Airdrie, Chestermere, Balzac, Okotoks, Cochrane, Bragg Creek, Black Diamond, Langdon, Heritage Points, High River, Turner Valley, Redwood Meadows, Elbow Valley, Crossfield and Millarville.