Engineered Wood Siding in Calgary
When it comes to siding, you have a lot of different options to choose from. Engineered wood siding is one of many. Many people look to this option because they like the look of wood, and it happens to be an eco-friendly solution as opposed to some of the other options out there.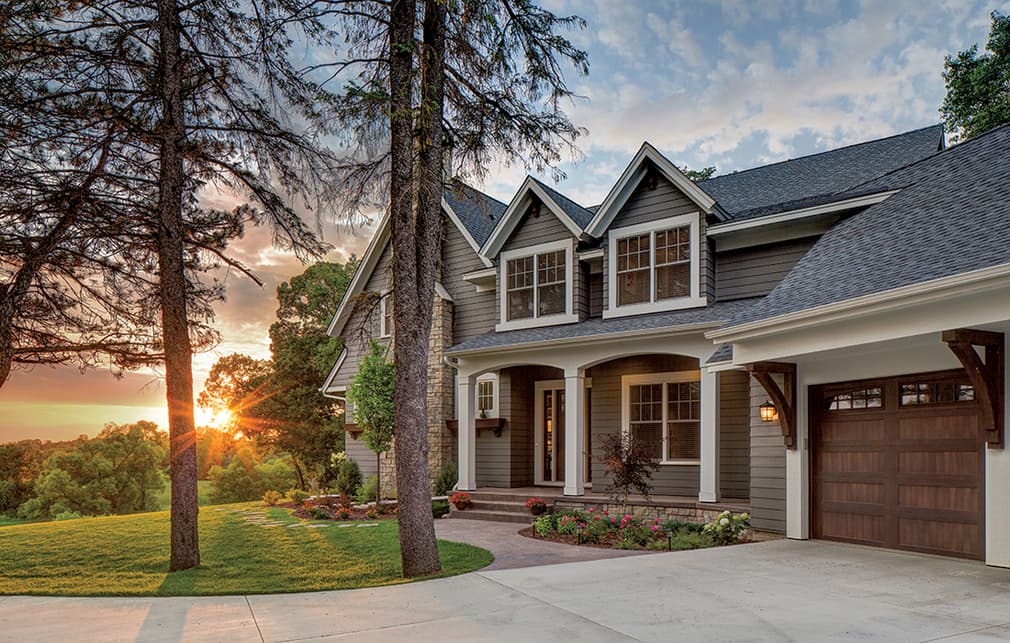 There are quite a few things to know about engineered wood siding in Calgary, so we're here to break it down for you and take a comprehensive look at every little detail you should know.
Engineered wood siding is made with wood chips for the most part. While it's not just your standard piece of long wood, it is still made with wood. Manufacturers use wood chips and engineer them into siding pieces using resin to hold them together.
The wood chips could be any number of things, from strips to chips to scraps. The key is they are bound and held together into a plank form with resin. The result is a masterpiece that was engineered to look like a wooden plank, hence the name.
Once the boards are created, they are coated with water-resistant coatings of some sort. They have to be prepped to withstand the elements and protect the exterior of your home.
That wood grain look you see on the siding is not natural. Even though they used real wood for the process, you get the cedar or wood grain pattern through a treating and embossing process completed at the very end of the manufacturing process.
Pros and Cons of Engineered Wood Siding
One of the best things to do when comparing different siding options is to take a look at the pros and cons of each one. Much like any other building material, there are pros and cons to installing engineered wood on your home.
Pros:
Considered an eco-friendly siding solution
Engineered wood siding is more affordable than solid wood siding
Treated to protect against moisture
Treatments and coatings protect against termites and pests
Installation and repair are relatively easy
Versatility for customization
Very durable and less likely to split, crack, or warp
Cons:
Engineered wood siding doesn't look quite as natural as real wood
While engineered wood siding shows noticeable improvements from older versions, it's still fairly new to understand its durability specifics.
It is also worth mentioning that engineered wood siding has been subject to class-action lawsuits in the past because of moisture issues. Many improvements have been made, but the full impact is still not fully understood.
Brands We Work With
At Ideal Siding, we work with three different suppliers of engineered wood siding. Here is a quick overview of each of those for you to consider.
LP SmartSide
LP SmartSide is all about creating tough siding that will last. On their website, you can even watch a video where they put the siding to the test with things like hockey pucks and baseballs. It's pretty outstanding.
They offer various styles and colours. All of their siding lines are ready for any weather. They use quality materials that are designed for durability. LP SmartSide's engineered wood is just LP SmartSide Trim and Siding.
When you compare it to other materials like composite, fiber cement, or even traditional wood, you get a product that makes up for the downsides of these different materials. While it isn't perfect, it is superior to other things for many reasons, and this brand excels in the area.
Maibec Resistech
Maibec Resistech is another brand for engineered wood siding. They have new and innovative pieces that ultimately provide a flawless finish. It's also fast and easy to install as a whole. Their mouldings and joints usually come in matching colours to the siding, so you can always have a perfect look.
This engineered wood siding doesn't warp, and it can hold up well against mother nature. You can use their tool to visualize different styles and colours on your home, and they recently added six new colours to choose from.
Maibec Resistech siding has been recognized by the North American Benchmark for its integrated siding systems.
KWP NatureTech and KWP Eco-Side
KWP has two options that we utilize. NatureTech is an engineered wood siding that is all about caring for nature. It's made with 100% recycled wood, and yet it is still durable and reliable and looks great.
KWP Eco-Side engineered wood siding uses 100% recycled content but may have additions besides wood as part of the formula. This line is strong, rigid, and durable while still being eco-friendly.
Both lines have great options and colour choices so that you can choose a design or style that works for what you want or need.
Choosing the Right Contractor
Engineered wood siding does typically costs more than traditional vinyl siding or fiber cement. At the same time, it is significantly less to install engineered wood siding than it is to use real wood. Ultimately, the cost for this option is about $15 per square foot.
Here is a quick calculation of that cost for a 2,000 square foot home:
2,000 sq. ft. x $15 = $30,000
The total cost will vary depending on the number of square feet involved, but you can figure your square feet based on the cost estimate of approximately $15 per square foot, and you will be able to get pretty close with the numbers that way.
When it comes to installing any siding, the installation is only as good as the company you hire. Always be sure to find a reputable contractor to help you get your needs taken care of. With engineered wood siding, you want to be sure you use a contractor with experience with this particular product.
At Ideal Siding, we pride ourselves on our attention to detail. We have expertise with various siding types, and we continuously work to bring our customers the best service. When you work with us, you get experienced specialists in the field. We certify our workmanship with a 25-year warranty, and we offer price matches with absolutely no hidden fees.
If you're still on the fence, give us a call and start with a free estimate, no strings attached.
Call us to request a free estimation:
+1-587-333-3223
+1-8-555-SIDING

Or send an e-mail: info@idealsiding.com
FAQs
Does engineered wood siding have to be painted?
When you purchase engineered wood siding, you can often buy it painted in a colour of your choice. There are usually multiple colours to choose from for any brand you might use. You should note that you might need to paint the siding over time for general maintenance and upkeep.
Does engineered wood siding rot?
Engineered wood siding can be susceptible to moisture. In years past, there were several class-action lawsuits because of this issue. However, there have been improvements in the field as well. Modern engineered wood siding is treated and coated to protect it as much as possible. Rot is far less likely to happen than with traditional wood.
Is fiber cement siding better than engineered wood?
Engineered wood siding and fiber cement siding are very similar overall. While engineered wood is made with wood particles, fiber cement siding is made with sand, wood fiber, and cement. It then has to be cured and formed to create siding panels.
Installation is similar between the two, but it takes a bit of extra effort and extra safety precautions when fibre cement is installed. It's harder to cut than engineered wood, and contractors must wear masks and goggles for protection when they are cutting it.
When comparing overall quality, you can expect about the same from both of these options. Fiber cement might be slightly more susceptible to moisture, especially if not installed correctly.