We Find an Ideal Solution for You
Your home says so much about you. Your home protects your family and your treasured possessions. It's where a lifetime of precious memories are created and stored. It's probably the most important financial investment you'll make, so it pays to maintain or upgrade the exterior and keep it looking its best.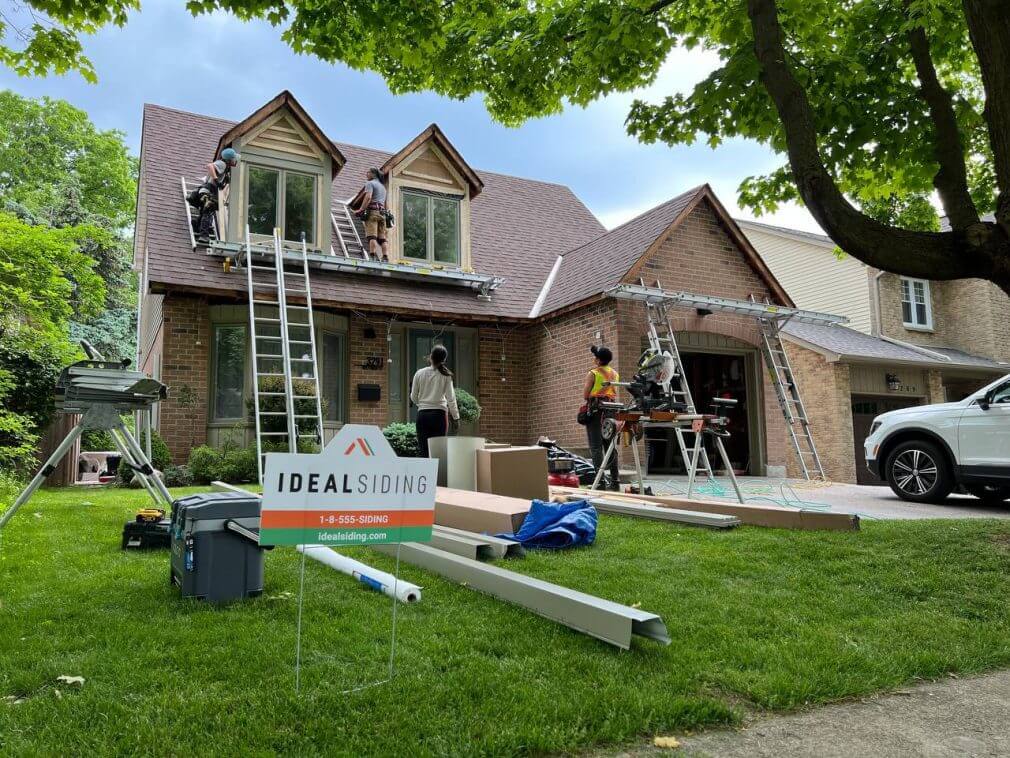 Whatever your budget, we believe you deserve the best quality materials, workmanship, and seamless customer service. That is why our highly-trained crews have years of experience, and we select the most reputable suppliers in the industry. Together they make it easy and hassle-free to install siding that protects your home and transforms its look. In addition, we understand the needs of homeowners in Woodlands, TX, and are familiar with property design trends in each neighborhood.
At Ideal Siding, we refuse to cut corners on the quality of our installations or use inferior products. Instead, we offer the same promise of uncompromising high-quality service on every project, big or small. Our specialists will guide you through your siding project, so the work is completed with minimum disruption to your daily life. Once the installation is finished, our industry-leading products and workmanship warranties give you complete peace of mind.
Siding Options We Offer
At Ideal Siding, we know it can be daunting to transform the look of your home with new siding. It's a big decision, so we make it easy.
Select the design and color you want, and we'll create a mock-up of your home with the new siding. You can try out as many styles and colors as you like until you find the perfect fit. The most popular siding styles are planks, panels, and shingles:
Plank Siding
Here in Texas, for decades, plank siding has proved to be the most popular and versatile option for exterior cladding. Siding planks can be installed vertically or horizontally, based on siding type.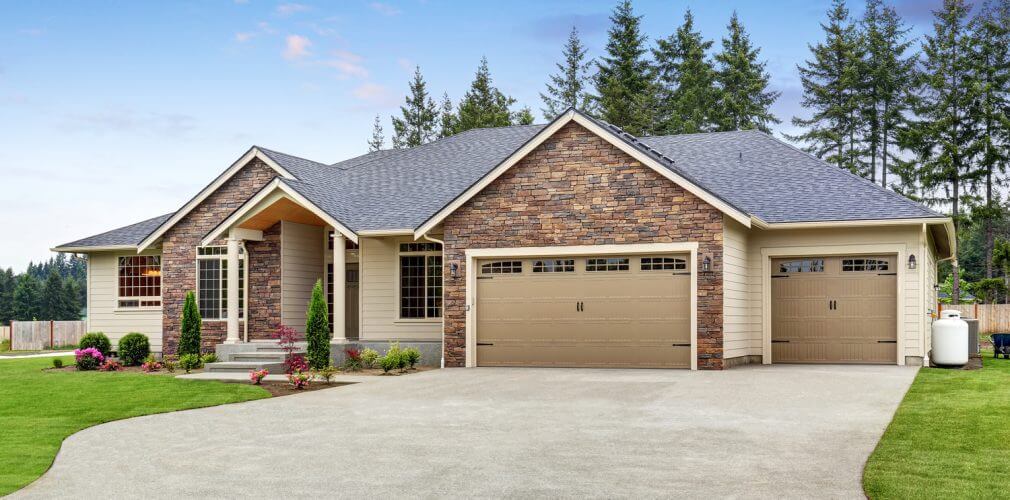 Depending on the look you want to achieve and the style of neighboring properties, it can make your home 'pop' or blend discreetly into its surroundings. Planks can be made from cedar, vinyl, fiber cement, steel, or aluminum.
Panel Siding
Siding panels offer homeowners modern solutions with significant design flexibility. With clean lines, distinctive shading, and a sleek polished look, siding panels are the ideal choice for contemporary homes.
Panels can have either a smooth surface for a minimalist feel or a cedar mill texture resembling the look of natural wood. They can be installed either way – vertically or horizontally.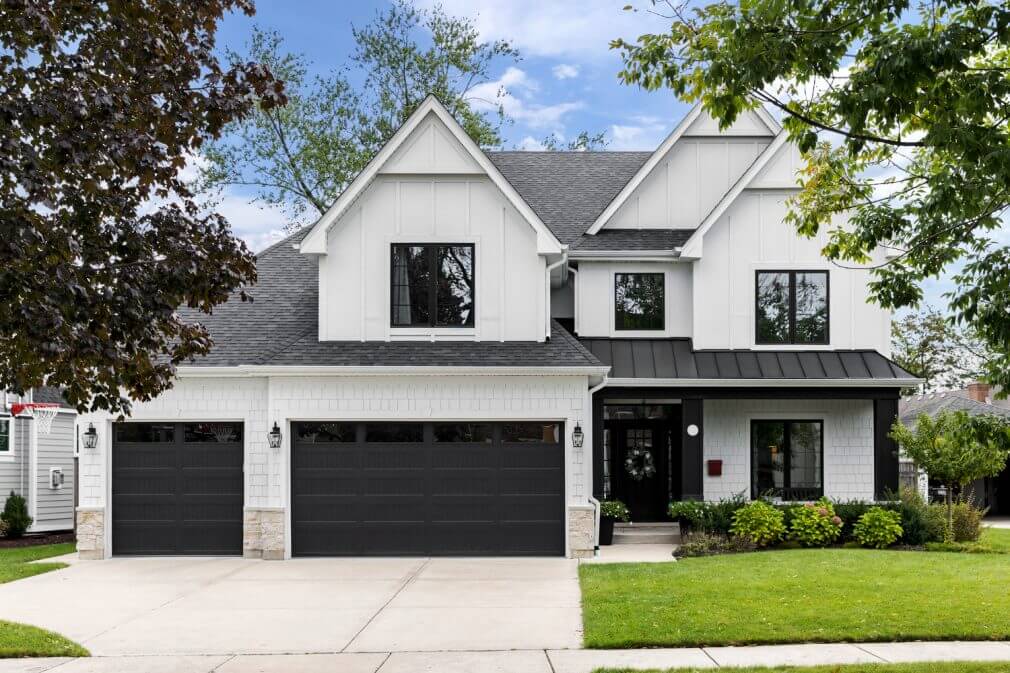 Panels are typically cut on-site. The most popular profiles are board and batten, easy trim reveal panels, and open joint cladding.
Shingles and Shakes
Shingles (also called shake siding) are the natural choice of homeowners who wish to give their homes a rustic look. They come in various shapes, with straight, scalloped, or staggered edges. Each shingle's distinctive shadow adds contrast and depth to a home's exterior, creating a sense of coziness and warmth.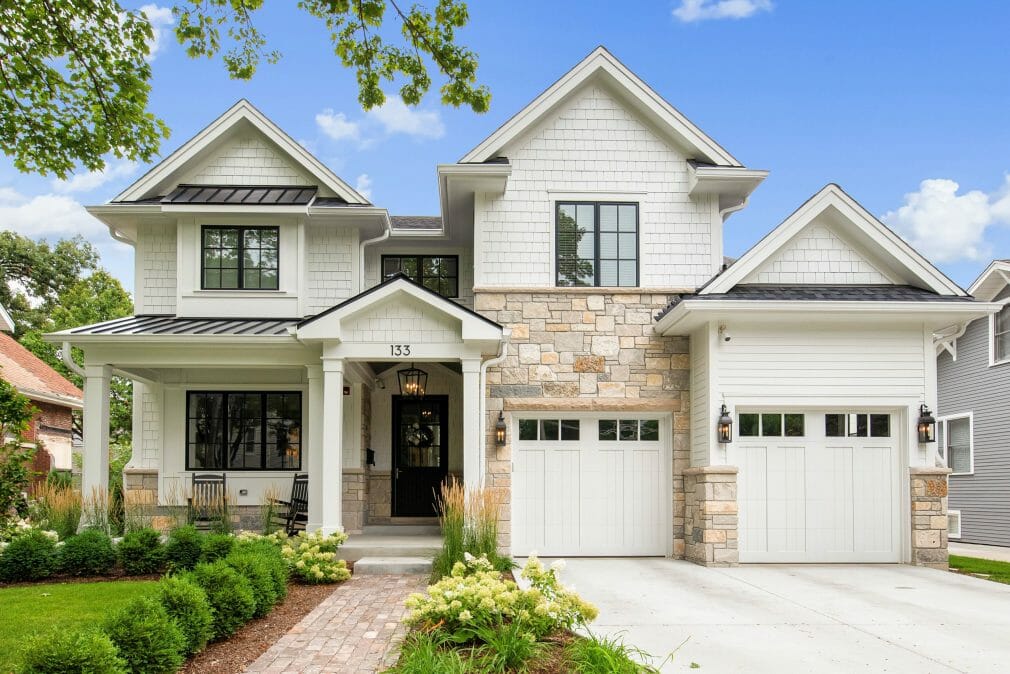 For many years cedar was the most popular material for shingles. However, with the rise of modern technology, vinyl, and fiber cement, often mimicking natural wood's appearance, have become very popular alternatives. These options not only offer significant cost savings; they require less maintenance.
Siding Materials to Choose From
Lap siding, panels, and shingles are available in various materials, so you're sure to find an option with the visual appeal you're looking for that matches your budget.
But how do you navigate all of the options? It's easy when you work with siding specialists:
James Hardie siding has gained significant popularity amongst homeowners in recent years because it resembles natural cedar yet requires little or no maintenance. Made from cement, sand, cellulose fibers, and water, it's rugged and attractive. High fire-resistance ratings and insect- and mold-repelling properties make this a wise choice, especially for rural properties. Supplied in long, horizontal strips, just like wood lap siding, it can mimic virtually any siding material, such as wood lap boards, stucco panels, and wood shakes.
Vinyl siding is by far the most popular choice. It's economical, durable, attractive, and easy to maintain. Vinyl can offer the warm, natural look of wood siding but won't peel or fade. It's a durable, versatile, low-maintenance way to protect your home long-term. Incorrectly installed vinyl siding can leak water and damage the wood sheathing underneath. It is important to ensure you work with a trusted, professional contractor to take care of your vinyl siding installation.
Cedar siding sets luxury, beauty, and warmth standards. It's an eco-friendly, premium product but requires more maintenance than the alternatives. Get natural cedar that emphasizes its beauty with the knots and grain intact with a clear or tinted stain, or have it primed and painted with any shade of exterior siding paint of your choice.
Aluminum siding is lightweight, durable, and attractive. Available in solid finishes or made to resemble natural wood, it's resistant to moisture, mold, and pests. As a result, it's a great, low-maintenance choice for contemporary homes.
Engineered wood siding is made from recycled wood or leftover lumber materials, which is considered highly eco-friendly. Wood fibers are bonded with resin and wax, so it's stronger than natural wood but just as beautiful. It's easy to install and requires little maintenance. It is available in a wide range of colors and textures, so you can select a color and style that perfectly enhances your property.
These are just a few of the siding materials we can install to guarantee an eye-catching and long-lasting exterior for your home. Please call us for any specific requests.
How Much Does the Siding Cost?
Several factors can impact the cost of your siding project. First of all, the cost of materials is important. However, the property's current condition is also significantly important to consider for the overall project. We may need to remove existing siding, dispose of the waste, and possibly install trim boards, soffits, and fascia boards.
Whichever material you select, we'll give you a final price before the job begins.
Vinyl siding. Easy to install and maintain, vinyl siding costs approximately $9-10 per sq. ft. Although older homes in Woodlands tend to be smaller than average, installing vinyl siding on a newish 1500 sq. ft. home will cost between $13,500 and $15,000.
Fiber-cement siding (James Hardie) is more expensive, at approximately $12 – $13 per sq. ft., resulting in a cost of $18,000-20,000 for a 1500 sq. ft. home. In addition, it can be challenging to install, so finding professional siding specialists is critical.
Cedar siding. Hard to beat in terms of aesthetics and curb appeal. It's easy to work with but be prepared for much more maintenance work than the other options. As the premium option, expect a price tag of $16 per sq. ft, bringing the cost of installing cedar siding on a 1500 sq. ft. house to approximately $24,000.
To guide you through other materials, please have a look at the table illustrated below:
| | |
| --- | --- |
| Material | Price per sq ft* |
| James Hardie (Fiber Cement) | Starts at $12.50 |
| LP® Smartside® (Engineered Wood) | Starts at $13.50 |
| Vinyl Siding | Starts at $9.50 |
| Premium Vinyl Siding | Starts at $11.50 |
| Cedar Siding | Starts at $16.00 |
| Stucco | Starts at $15.00 |
| Longboard® (Premium Aluminum) | Starts at $46.50 |
| AL-13® Aluminum Cladding | Starts at $44.50 |
| LUX Steel Cladding | Starts at $30.00 |
| Cultured Stone | Starts at $23.50 |
* Prices are guidelines only and can change based on the seasonality, availability of materials and complexity of your project.
Our knowledge and expertise in the siding industry make us a trustworthy partner for home improvement plans. Call us today to request a quote!
Once we evaluate your property and get the go-ahead, our home renovation experts will work tirelessly to make your vision a reality. We also offer an affordable financing payment plan to help you create the home of your dreams without breaking the bank.
Our Work Process
When you choose Ideal Siding, you'll work with a team of experienced and talented professionals. First, we'll perform an expert appraisal of the condition of your property. This way, we can ensure that your quote details all of the necessary work required so that you can make an informed decision, and there'll be no unpleasant surprises along the way. We're always upfront about costs and won't shock you with hidden charges.
After you review and approve our complimentary design mock-up showing you exactly how your home will look with its new siding, we order the materials for delivery to your home. We'll track progress and keep you updated. Then the work begins!
Old Siding Removal
We start by removing the existing siding. Typically, this takes between two and seven days. Although siding such as vinyl or cedar can be removed quickly, white stucco and stone can take longer.
Sheathing Inspection and Repair
Now we can inspect your existing sheathing for rot, mold, or other damage. You'll be happy to know that most homes don't need any sheathing repair. However, if your sheathing is damaged, there may be a small additional cost for the repairs. So, of course, before proceeding, we'd provide an estimate for the extra work.
Preparing Walls for the New Siding
After the sheathing has been carefully inspected, we proceed with the installation of the building paper, flashings, and strapping (optional). This process is essential to protect your house from water damage, which can be challenging for your home's structure.
Siding Installation and Touch-up Work
Now we're ready to install the new siding, as well as trim boards around windows and doors, soffits, overcap corners, and fascia boards. We'll also put in bug screens, flashings, dryer vents, and caulking between siding elements. We'll apply touch-up paint to the nails, matching the color of the siding to create a seamless, professional look.
Cleaning Up and Waste Removal
Once the work is complete, we'll clean up your property, removing and recycling all construction debris in line with industry best practices. The only evidence we've been working on your home will be its eye-catching new exterior.
When your Project Manager is satisfied with the quality of your installation, he'll go through the details of your materials and workmanship warranties and provide you with the maintenance instructions. 
Our team is always prompt, efficient, and attentive to every detail. We only consider the work complete when you're 100% satisfied with your new siding.
Reasons to Work With Us
We understand that replacing or repairing your siding can involve a significant investment. You'll want to know you're getting a top-quality job at the best price. That's why we work with the most reputable crews in the Woodlands and Houston areas and only use best-in-class materials.
You deserve a seamless, hassle-free experience and a project that's right the first time. That's precisely what you'll get with Ideal Siding. We've built our reputation on quality and earned the trust of hundreds of customers.
Here are three great reasons why you can confidently choose Ideal Siding:
Price Match Guarantee. We've been working for many years to streamline our operations and keep our overheads low. As one of the largest specialist siding companies in the Woodlands area, we also benefit from economies of scale. That's how we can pass savings on to you, delivering great value and outstanding quality. More than that, we guarantee to match the price offered for any project with the same scope of work. Just bring in an itemized competing quote, and we'll match it.
Leading Workmanship Warranty. Choosing the right contractor to care for your home is a big decision. We are so confident in the quality of our workmanship that we offer a cast-iron 25-year warranty on workmanship. You'll have peace of mind knowing that your siding will look great and protect your home for decades. And in the unlikely event that any part of the installation fails, we'll do whatever it takes to make things right.
Complimentary Design Mockup. Choosing from a wide range of siding colors, materials, and styles can be overwhelming – what if it doesn't look right when installed? Not to worry, we offer a complimentary mock-up of your home and selected siding, so you can see exactly how it will look before you decide.
Each project is always completed following the industry's best practices, manufacturer's recommendations, and the city's building codes in mind. Your Project Manager will help you choose the ideal siding for your unique property. As a result, you'll be 100% confident that you're making the right choice, and your new siding will bring you pride and pleasure for years to come.
Contact Us
Is it time to give your home a fresh new look? Call us today to speak with an expert or get a free, no-obligation quote.
We are serving the following municipalities at the moment:
The Woodlands, Spring, Westfield, Tomball, Egypt, Louetta, Cypress, Jersey Village, Montgomery, Magnolia, Conroe, Willis, Porter, Humble, Atascocita, Aldine, Mt Houston, Todd Mission, Plantersville, Waller, Prairie View, Pine Island, Cleveland, Splendora, Grangerland, New Caney, and Porter.