We Find an Ideal Solution for You
Whether you're looking for a siding repair or siding replacement for your home in Edmonton, Ideal Siding Company is the right choice for the job to be done. We are leading siding contractors that bring vast experience in the industry and profound knowledge of the siding trends in the area.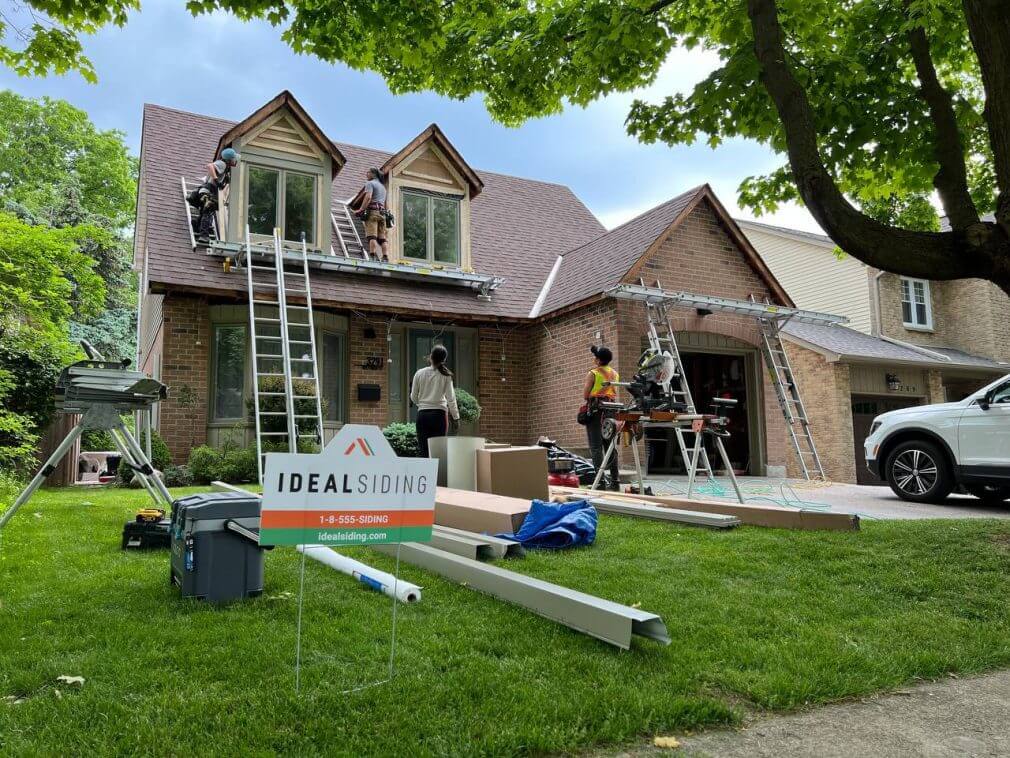 You can choose from numerous siding materials (vinyl, cedar, Hardie, and others) as we work with leading siding manufacturers to bring you high-quality products with extensive warranties.
As contractors, at Ideal Siding, we understand how precious family time is spent at home and want you to enjoy every moment of it – by not having to worry about the frequent maintenance of your new siding or any repairs in the upcoming years. As the largest siding company in Canada, we take every job with the utmost responsibility, whether it is a small repair or replacing siding on the entire house.
Siding Styles We Offer
These days there are a lot of siding types and materials to choose from. Below you will find the description for some of the most popular ones amongst the homeowners in Edmonton over the past few decades.
Lap Siding
Favourited by almost 75% of local homeowners, siding planks are quick and easy to install with numerous profiles to choose from. They can be installed vertically or horizontally, and most commonly are produced from vinyl, fiber cement, cedar, or aluminum.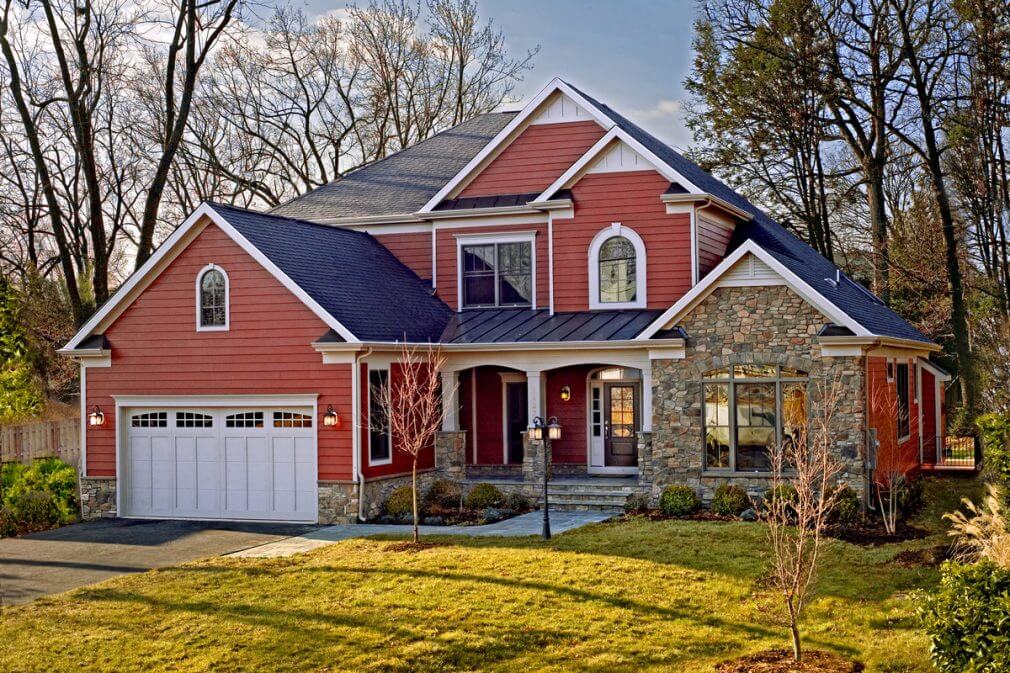 Siding Panels
If you prefer a minimalistic modern look or a rustic barn one, then siding panels would be your best choice. Siding panels mostly have smooth or cedarmill texture and are installed both vertically or horizontally, depending on the preferred look. Popular profiles would be Board and Batten, Easy Trim Reveal Panels, and Open Joint Cladding.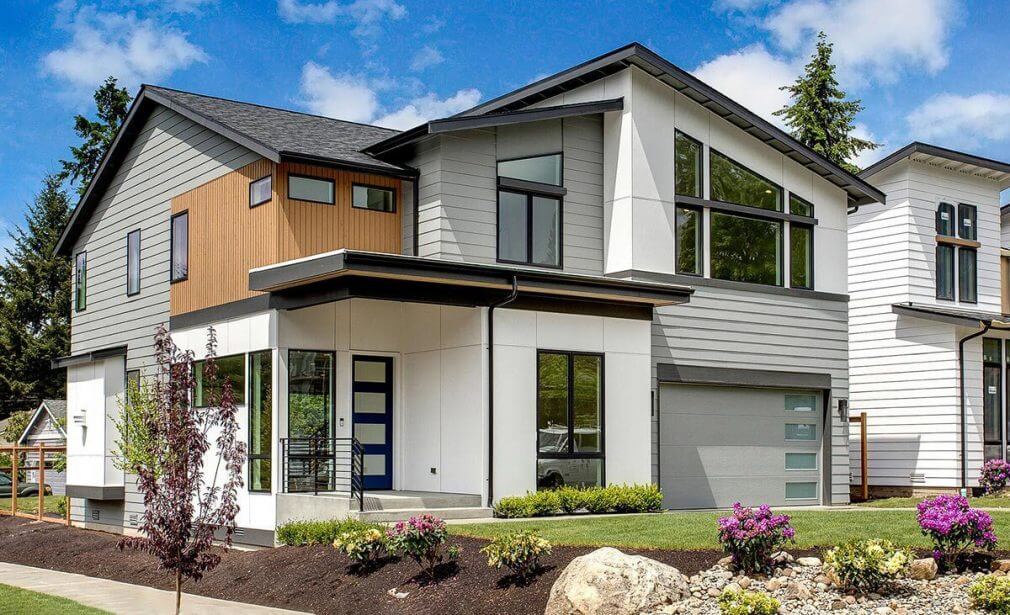 Shakes and Shingles
Siding Shingles create a cozy look with distinctive shadow lines for that chic cottage style. Traditionally made from cedar, but over the past few years, fiber cement shingles are gaining more popularity amongst homeowners in Edmonton.
Vinyl or aluminum shingles are also an option, although not as favourite as the previous two. Siding shakes are quite often used on the area of the gable or to accentuate feature walls in combination with the plank siding.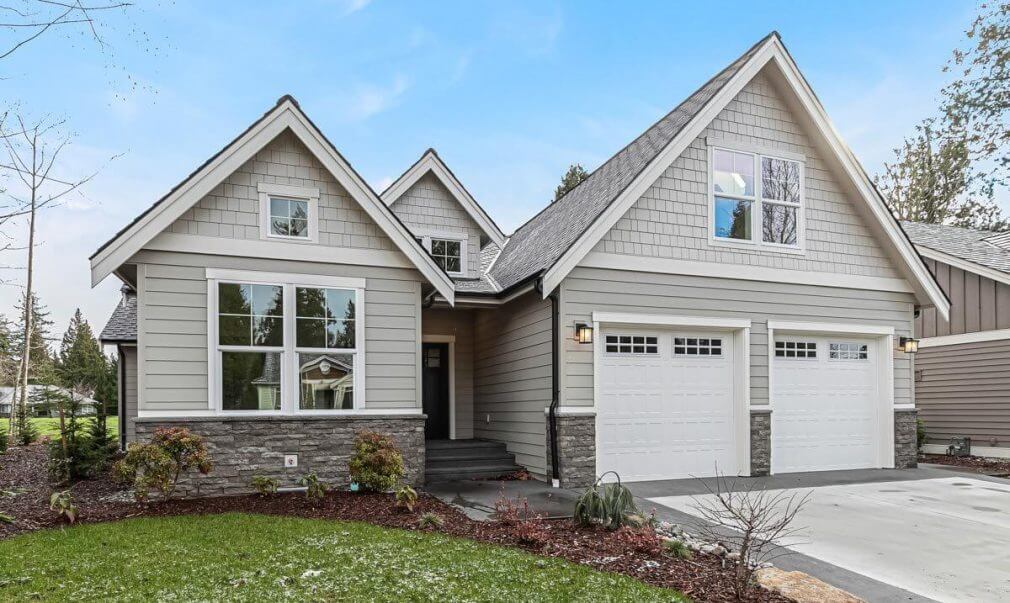 How Much Does the Siding Cost in Edmonton?
The cost of doing a siding installation involves several different elements. Considering the various processes involved is helpful when it comes to an understanding of the cost breakdown. For example, a renovation entails demolishing old material and construction waste removal.
Then we have the inspection of the sheathing (plywood), fixing rotten or decayed parts, and the installation of a rain-screen system. And last but not least, there's the installation of siding and trims, soffits, fascia and other decorative elements where applicable.
Here we show you an approximate price calculation for popular types of siding for Edmonton:
If you choose vinyl siding that costs around $7.5-8.75 per sq ft, for the whole house which is 2000 sq ft, you might end up paying $15,000 – $17,500. Vinyl siding has the lowest material and installation costs compared with other siding types.
James Hardie siding material and installation will cost around $10.5 – $12 per sq ft, so for the same house, you will pay approximately $21,000 – $24,000 for Hardie. Resembling the natural look of cedar without all the maintenance required.
Cedar will be the most expensive popular option among all. Cedar siding price is $12.75 – $13.5 per sq ft so the final price will be around $25,500 – $27,000, not including the cost for painting or staining of the cedar.
To guide you through other materials used in your siding renovation have a look at the table illustrated below:
| | |
| --- | --- |
| Material | Price per sq ft* |
| James Hardie (Fiber Cement) | Starts at $10.50 |
| Vinyl Siding | Starts at $7.50 |
| Premium Vinyl Siding | Starts at $8.75 |
| Cedar Siding | Starts at $12.75 |
| Stucco | Starts at $12.50 |
| Longboard | Starts at $45.50 |
| AL-13 | Starts at $43.50 |
| Cultured Stone | Starts at $42.50 |
* Prices are guidelines only and can change based on the seasonality, availability of materials and complexity of your project.
Remember that the cost of doing a siding installation will depend on the design and other exterior elements such as trims and soffits. When comparing price quotes, be sure to check what is included in it and what material the company will use. It is essential to know the quality of materials other companies are offering.
How We Work
As the largest siding renovation company in Canada, we usually have a few projects on the go and can start your siding project as soon as you are ready. Once the decision about the design and the colour of the new siding has been made, we will proceed with the preparation.
There might be additional time required for the custom orders and out-of-stock materials. In most cases, the project starts a couple of days after the contract has been signed.
Old Siding Removal
In most cases, every siding project starts with the removal of old siding. We carefully proceed with this step to ensure the nails are correctly removed, so the sheathing underneath is not damaged. It takes on average between 2 to 7 days. Some types of old siding like vinyl or cedar can be removed promptly while stucco and stone will take longer to remove.
Sheathing Inspection and Repair
Once we remove all the nails and the old siding, we would inspect the sheathing for any rots or damage. In the many years of siding replacement, we have noticed that not many homes require sheathing repairs. If your house has some damage to the sheathing, we will proceed with the necessary repairs.
Preparation of the Wall for Siding
After we ensure that the sheathing is in excellent condition or the necessary repairs have been done, we will proceed with the rainscreen installation. The rainscreen consists of building paper, flashings and strapping/mesh. For certain types of siding materials, installation of the strapping is not required; however, for some, it is necessary. We usually recommend installing the strapping as it will prolong the lifespan of your new siding by 5-10 years.
Siding Installation and Touch-up Work
Siding installation will depend on the type and design chosen, as some are more labour intense than others. This step can take anywhere between 7 to 10 days. Allow for additional time to finish other decorative elements such as trim boards around windows and doors, corners, soffits and fascia boards. Our team will install bug screens, flashings around all openings, new dryer vents on the walls and will seal all openings in between siding elements with caulking. Touch-up paint will be applied on nail heads, matching the colour of the siding, creating a seamless and clean look.
Cleaning Up and Waste Removal
Once the crew has completed a new siding installation Operations Manager will proceed with a thorough inspection to ensure all details have been taken cared of and deficiencies have been addressed. We will remove all leftover materials and construction debris from your property. Usually, at the start of every project, we would have a waste recycling bin placed on-site to ensure your yard stays as tidy as possible throughout the whole process.
Once the area around the house has been cleaned and all waste disposed of, one of the Project Managers will meet up with the homeowner for the walkthrough inspection. During this meeting, they will discuss the details of the warranties, both on the materials and the workmanship, and answer any questions about the maintenance of the new siding.
Our team is always prompt, efficient and attentive to the details to ensure the homeowners are getting the best value out ­­of working with us. We are thrilled to help you to transform your house into the house of your dreams!
Why Work With Us?
As you know, Edmonton has a humid continental climate, and the city has the coldest winters. We can make it possible to repair your home even under the most hostile winter weather conditions. Our crews are highly experienced in the industry and take pride in the hard work they do on each siding project.
Here is what we offer you.
Complimentary Design Mockup. Sometimes all we need is a little change. Replacing the siding can completely transform the curb appeal of your house and is a good investment, whether you decide to sell the home or to keep it for generations to come. With so many choices on the market for siding materials, it can be difficult to choose the one that will suit the architecture of your house and the surrounding area. We decided to make that decision much easier for you by introducing complimentary design visuals. There are plenty of designs to choose from, and we are here to help you!
Price Match Guarantee. We offer you our services at a fair and affordable price without any hidden charges. You might find other companies providing you with similar services. Still, we can assure you that you will never get disappointed with the quality that we can offer you. We understand how pricey siding projects can get. We want every homeowner in Edmonton to have access to an affordable siding company. That is why we offer a price match, which means we offer to match other companies' quotes for the same scope of work and quality of materials.
25-Year Workmanship Warranty. Harsh winter weather and hot summer days can take a toll on the lifespan of the siding. Whether you need to replace a couple of pieces of melted vinyl siding or warped aluminum that has reached its lifespan, you would want a warranty on the workmanship. With us, you won't have to worry about the repairs in the upcoming years. You will be working with a national company that has locations in multiple provinces in Canada that is just a quick phone call away.
Overall, Ideal Siding should be your first choice if you are looking for a quality, low-maintenance exterior for your house. We install only quality exterior building products from known and reputable manufacturers, and our crews are some of the most experienced in the industry.
Contact Information
Do you have any questions? Please feel free to contact us for a free estimate on a service or with any other questions you may have.
On average, we meet with more than 500 homeowners each year, which means we've seen it all when it comes to siding, so you can rest assured that your siding project will be in good hands. Our team will gladly guide you through each step of the process and will answer any questions you might have along the way.
We are serving the following municipalities at the moment:
Edmonton, St.Albert, Morinville, Gibbons, Fort Saskatchewan, Sherwood Park, Ardossan, Whitecroft, Uncas, Beaumont, Nisku, Leduc, Devon, Acheson, and Spruce Grove.