We Find an Ideal Solution for You
At Ideal Siding, we strive to empower you to choose the perfect siding for your Winnipeg home. With the chilly winters and hot, humid summers, Winnipeg weather can be hard on housing, particularly on the siding. You need siding that can hold up to the sometimes considerable rainfall and the long stretches of drought. You also need siding that won't be bleached or cracked by the intense Winnipeg sun.
Our extensive research process ensures that you get siding that meets your needs, while our dedicated workmanship means that it will be installed perfectly.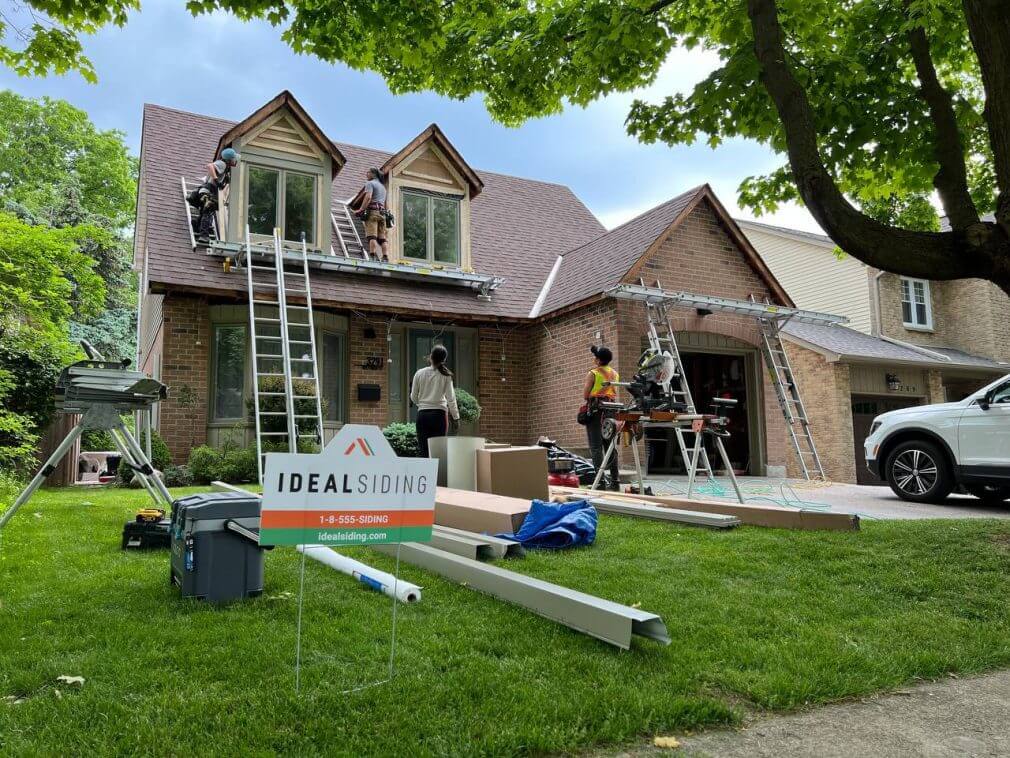 Every homeowner deserves to get the best quality of workmanship and materials. That's why our team puts in maximum effort, uses premium quality siding, and only works with reputable suppliers.
We can help you to have the siding you always wanted. Whether that is helping you with repairs, choosing the best materials for your home, or replacing it on the entire house for your dream makeover. Our company has helped hundreds of clients until now. Each year, we lead more than 500 meetings with clients to help them find suitable solutions.
Why Choose Ideal Siding
You need to have confidence that the company you're choosing knows what they're doing when it comes to your siding.
Here is what we offer:
Price Match Guarantee. Worried about making sure you get the best deal for your new siding? With Ideal Siding, you don't need to have any doubts. Our Price Match Guarantee ensures that you're getting the best quality at the best price. We'll match any competitor pricing for the same scope of work. All you need is an itemized quote and we'll match it.
Leading Workmanship Warranty. A 25-year workmanship warranty can set your mind at rest that the siding we install is built to last. We believe in our quality and we want you to have confidence in us as well. That's why our 25-year warranty ensures that we'll correct any failure, from a little repair to a total replacement. We have years of experience installing siding so you can be confident that we'll be here to honour our warranty.
Complimentary Design Mockup. Your siding should complement the look of your house perfectly. We offer a huge range of materials, colours, and styles, but we don't leave you to figure out what would work well for your home by yourself. Instead, we create a complementary mockup of your home so that you can see precisely how sliding options will look with your home.
We've helped hundreds of homeowners get the perfect siding for their needs, and we can provide ideal siding for you as well.
Siding Styles We Offer
Siding comes in an endless array of materials, styles, and looks. However, not every kind of siding works well with the Manitoba climate or the type of home typically found in Winnipeg. Here are a few siding options that work very well in this area.
Lap Siding
Siding plank is one of the most popular options for good reason. It is extremely versatile and affordable. Choose from a number all materials including aluminum, fiber cement, cedar, and vinyl. Materials like fiber cement and vinyl hold up extremely well to the hot, humid Winnipeg summers.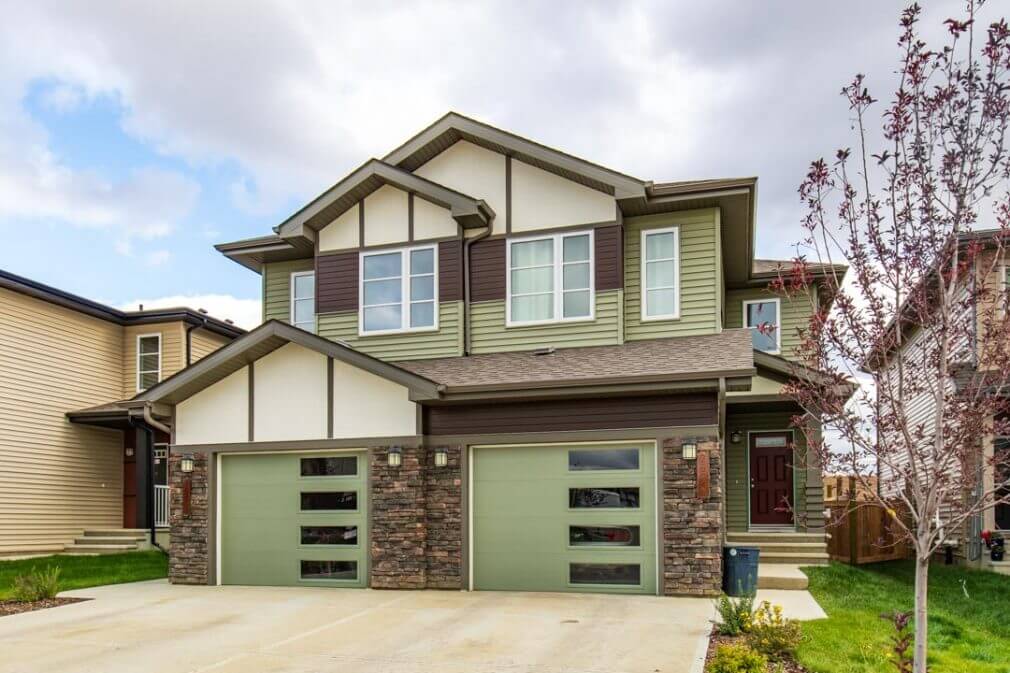 Pick from an endless array of colours and have the siding installed vertically or horizontally depending on the style of your home. Horizontal plank in a colour that blends with the landscape is very popular on the ranch-style homes typical of Winnipeg.
Siding Panels
Have a more modern house? Siding panels may be right for you. They offer a polished look and clean, stylish lines. Winnipeg is a metropolitan hub and many of the homes in this area are architectural masterpieces with an almost futuristic look.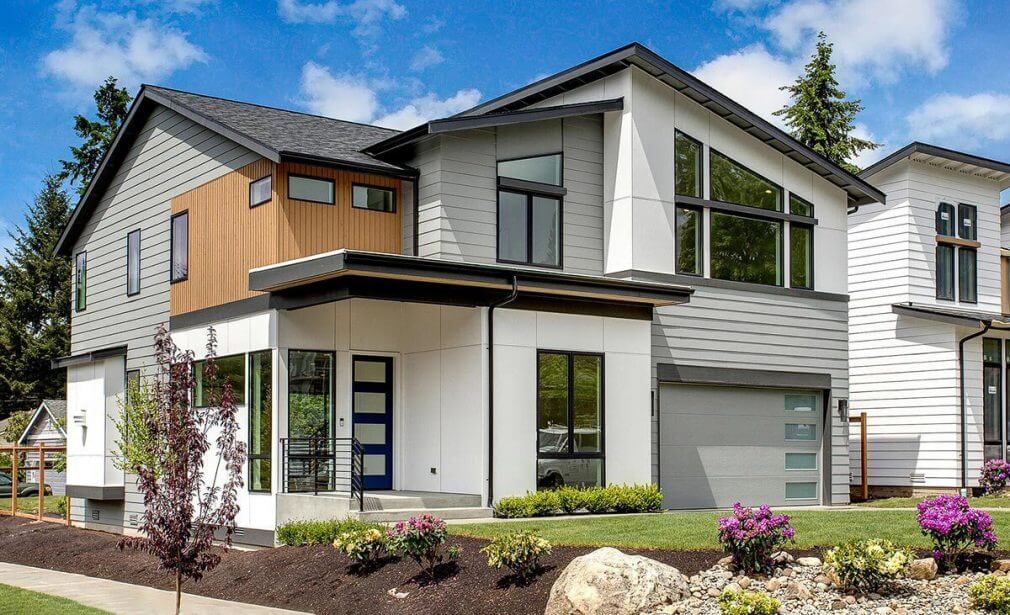 Siding panels are perfect for this kind of home. Panels are cut on-site for a perfectly custom fit that will look amazing on your house. You can choose a natural wood effect or smooth modern panels.
Shingles and Shakes
Shingles and shakes are excellent for classic homes where a refined and charming look is desired. They are perfect for a sweet country cottage or an elegant victorian design.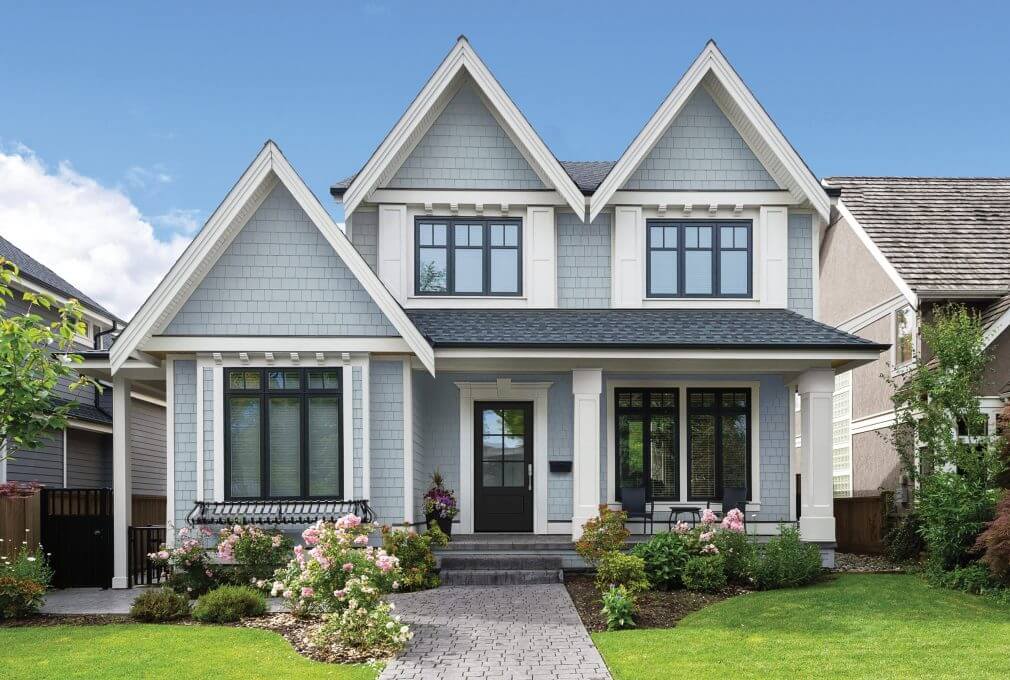 Shingles come in many different materials including vinyl, fiber cement, and cedar. Fiber cement is likely the best option for Winnipeg's climate, but you may be amazed by how much it can look like natural wood.
How Much Does Siding Cost?
How much it will cost to renovate your home with new siding is highly variable depending on a number of features. Not surprisingly, the size of your home and the material that siding is made of have an important effect on the cost.
The price may also vary depending on how old the current siding is and whether it is in disrepair. If the old siding has started to degrade, the materials underneath it may have been damaged. If the siding has degraded significantly, even the structural integrity of the house may have been compromised.
In this case, your cost will include not only the price of new siding but also the cost of repairing the damage that has been done. If you know that your siding is getting older or you can see signs of damage, it is essential that you replace it as soon as possible.
We are happy to assess your current siding and give you a price depending on what siding you want to install, the size of your house, and the current state of your siding. However, the damage is not always apparent until the current siding is removed.
Vinyl siding is one of the most affordable as well as durable options, and a great choice if you're on a budget. It generally costs between $7 and $8 per sq ft. For a typical house, about 2,000 square feet of siding will be required, resulting in a cost of between $14,000 and $16,000.
Fiber cement is another great option because it is so durable and resistant to the challenging Manitoba climate. You need a very high-quality contractor to install this material which can be somewhat difficult to work with. Fiber cement costs a bit more than vinyl at between $11 and $12.5 per sq ft, but it will also last for a very long time. For the same 2,000 square feet of siding, expect to pay between $22,000 and $25,000.
Cedar siding is highly versatile when it comes to profiles, and many custom options are available. The cost to install new cedar siding on 2,000 square feet house would be $26,000 plus the cost of optional details like fascia boards and trims.
Here are some common siding materials as well as their cost per square foot to help you calculate what the cost would be for installing it on your property:
| | |
| --- | --- |
| Material | Price per sq ft* |
| James Hardie (Fiber Cement) | Starts at $11.00 |
| Vinyl Siding | Starts at $7.25 |
| Premium Vinyl Siding | Starts at $8.00 |
| Cedar Siding | Starts at $13.00 |
| Stucco | Starts at $12.50 |
| Longboard | Starts at $45.50 |
| AL-13 | Starts at $44.00 |
| Cultured Stone | Starts at $42.75 |
* Prices are guidelines only and can change based on the seasonality, availability of materials and complexity of your project..
There are many other styles and types of siding and exterior materials we can offer you, please call us for any specific requests.
Our Work Process
The first step of having new siding installed is choosing what you want. Even if you have a general idea of how you want your finished home to look, you may find yourself overwhelmed by the sheer variety of options available. You will need to choose a type of siding, material, texture, and colour. We'll help you make these decisions using our customized mock-up of your home with the siding you are considering.
Next, our project managers will guide you through the process of installing siding every step of the way so that you'll understand exactly what's taking place and have total confidence in the process. We know that time is often of the essence when siding is being installed, especially if you are replacing a damaged or old enough one that the material underneath the siding may be compromised.
Therefore, we'll get started immediately and work as quickly as possible. We work with all major suppliers of siding materials so there won't be any delays in beginning your project. Below is the typical step-by-step process.
Old Siding Removal
The first step is getting rid of the current siding and removing the nails holding it in place. We work quickly but carefully so that the sheathing underneath won't be damaged. This process generally takes from a couple of days to up to a week, depending on what kind of siding you currently have. Stone and stucco siding take longer to remove, on average, than other types of siding.
Sheathing Inspection and Repair
After we've removed all of the old siding, we will inspect the sheathing underneath to ensure that there are no damaged or rotten parts. It is absolutely essential that any rot or damage is addressed before new siding is installed. If we find that there are parts of the sheathing that need to be replaced, we'll do so before starting the next step. The time required for this step will depend entirely on how much damage the sheathing has.
Preparing Walls for the New Siding
During this step, we will get the wall ready to install the siding. Optionally we can install the rainscreen, which creates airflow between sheathing and siding to further protect the walls from humidity. This screen is made up of building paper, flashing, and strapping/mesh. It can add 5-10 years to the life of your new siding by protecting it from rain damage.
Siding Installation and Touch-up Work
It generally takes us 7-10 days to install the siding. This depends on what kind of siding you have chosen, how much material needs to be installed, and the use of decorations. If you have chosen trim boards around windows and doors, separating boards, facia boards, etc, expect this step to take a bit longer. During the installation, we use caulking to seal all of the elements and touch up paint on the nail heads to create a seamless look.
Cleaning Up and Waste Removal
Once your siding is perfectly installed, any remaining siding materials and recycling bins will be removed. We pride ourselves on crews that are respectful and tidy. Your yard will be thoroughly free of debris and your home will look perfectly spotless when the process is completed.
With your siding installed and the work area cleaned up, one of our experienced project managers will meet with you and take the time to inspect the job along with you. At this time, you can ask any questions you may have and ensure that your mind is completely at rest about the job that has been done. The project manager will also advise you about how to take care of your new siding and clarify all of the details of the warranties on the materials and workmanship.
Contact Us Today
We are more than happy to answer any questions about the repair or replacement of your current siding. We'll develop a complimentary estimate for you so you'll know exactly what to expect from your siding repair or replacement. We look forward to hearing from you and getting started on your project.
We are serving the following municipalities at the moment:
Winnipeg, Headingley, Rosser, West St. Paul, East St. Paul, Springfield, Tache, Ritchot, Niverville, Macdonald, Cartier, St. Francois Xavier, Stonewall, Rockwood, St. Andrews, St. Clements, Selkirk.