We Have the Ideal Solution for Your Home
If you're reading this, you're just one step away from getting the siding you've always dreamed about.  Whether you're building a new home or renovating an existing one, Ideal Siding is at your side, making sure you choose the siding that works best for you.
As the authorized dealer of some of the best siding brands in York, we offer a complete range of siding products that fits your needs, taste and budget. You can rest easy knowing that we take care of everything, from the initial concept to the final installation and clean-up.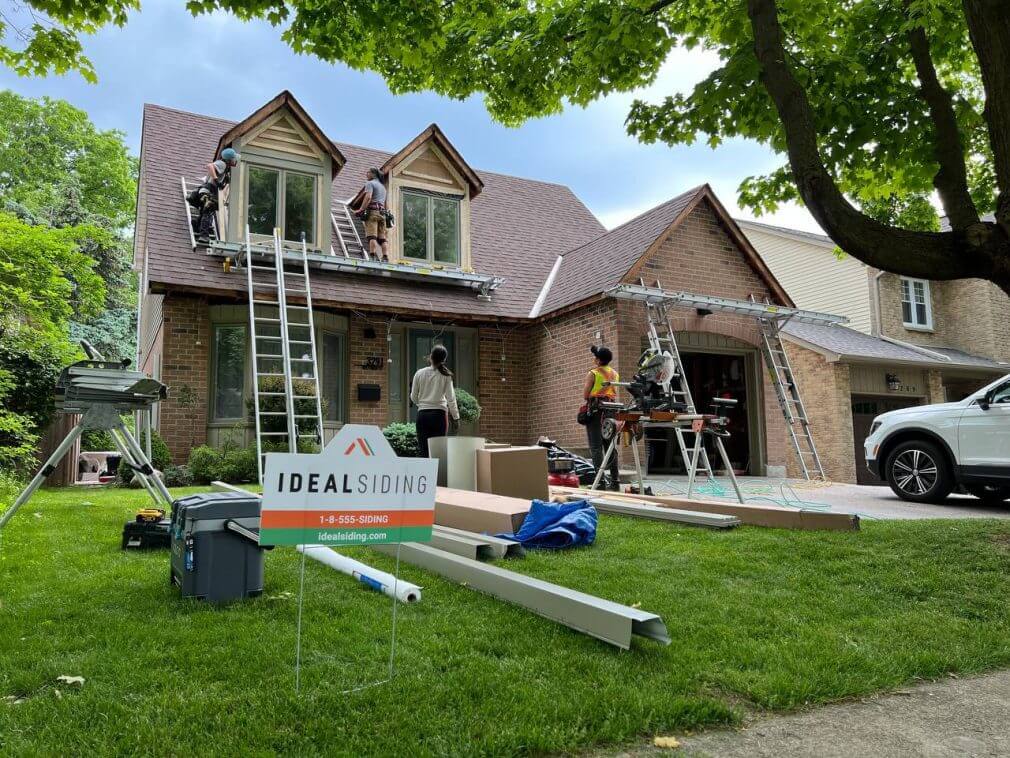 Your choice of siding matters, especially because it is something you will live with for decades to come. We will help you choose siding to match your home's architecture and design, considering the toll that York's climate takes on houses. Because of its proximity to the Great Lakes, your home has to withstand wind, humidity, rain, sleet, snow and temperatures greatly affected by the wind chill factor and the hot sun during the summer months.
With all the siding companies to choose from in Ontario, why pick Ideal Siding? Because of our reputation for quality, reliability and affordability, it's no wonder we're the largest and fastest-growing siding company in Canada. Our siding products are the best money can buy, manufactured by the most sought-after siding companies in North America. We enjoy long-standing relationships with the industry's top crews and work with York's most reputable suppliers and contractors.
Siding Types We Offer
When it comes to siding, there are so many choices of design, style, material and colour that it can be overwhelming. We're here to show you all the possibilities and help you choose the right one.
Here is a brief rundown of the materials you can choose among:
Fiber cement. We carry James Hardie siding, the inventor of the best fiber cement siding in the world, made from cement, sand and cellulose fibers. Stylishly designed and expertly manufactured, James Hardie siding is built to outlast any other type of siding available on the market today.
Vinyl siding. It was introduced in the 1950s as a replacement for aluminum siding, it is an engineered product made from polyvinyl chloride (PVC) resin combined with ingredients used for colour, opacity, gloss, impact resistance, flexibility, and durability.
Cedar siding is made from red or white cedar, a tree native to North America. Cedarwood is best known for its fantastic combination of durability and aesthetic appeal.
Aluminum siding is made from aluminum coil stock chemically coated to protect the metal and then painted for additional protection. It provides a sleek, sophisticated and modern look.
Engineered wood. This is a good alternative to natural wood siding. It's made from thin strips of leftover wood that have been pressed and bonded together with a resin. Engineered wood siding is stronger than natural wood but with a similar appearance.
In addition to choosing what kind of material you want for your siding, you also have to consider which style is right for your home: planks, panels, or shakes and shingles. Each one is available anywhere from one to all five materials described above. Which one you choose depends on the style of your home, your personal preference and your budget.
Here is what you need to know about each one.
Lap Siding
This is the most popular in Canada due to its low cost and ease of maintenance. It can be installed horizontally or vertically, depending on your design plan.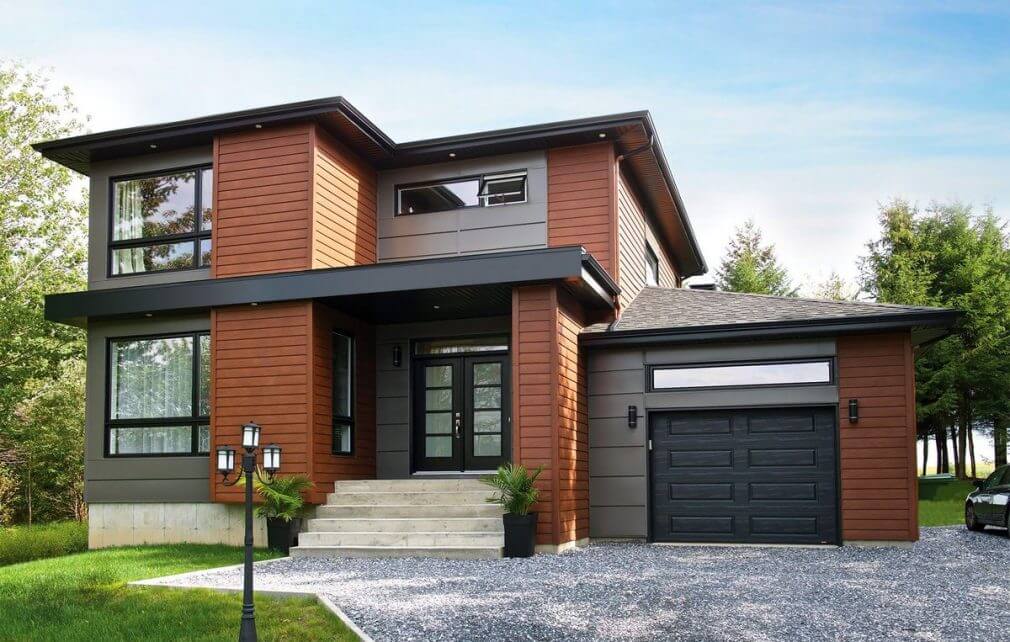 Siding Panels
Siding panels, like planks, can be installed horizontally or vertically based on your design plan. They are typically used for contemporary homes. Available in a smooth or cedar mill texture, the panels are cut on-site to ensure they match the design of your home.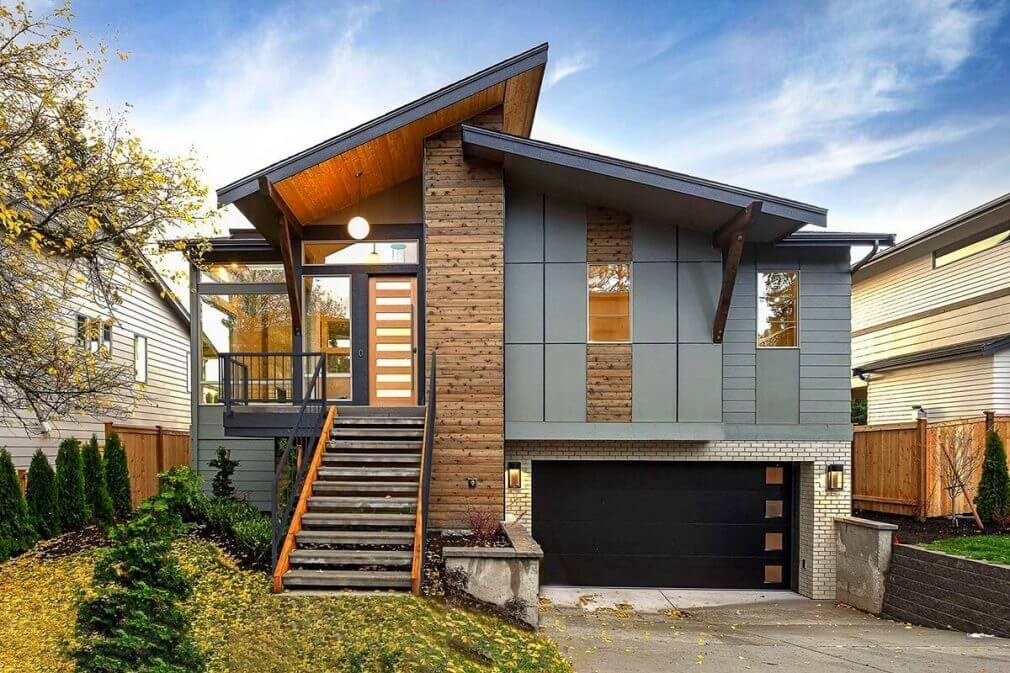 Shingles and Shakes
Shakes and shingles are the ideal choices for a rustic look. Their distinctive shadow lines add contrast and depth to a home's exterior, creating a sense of coziness and warmth.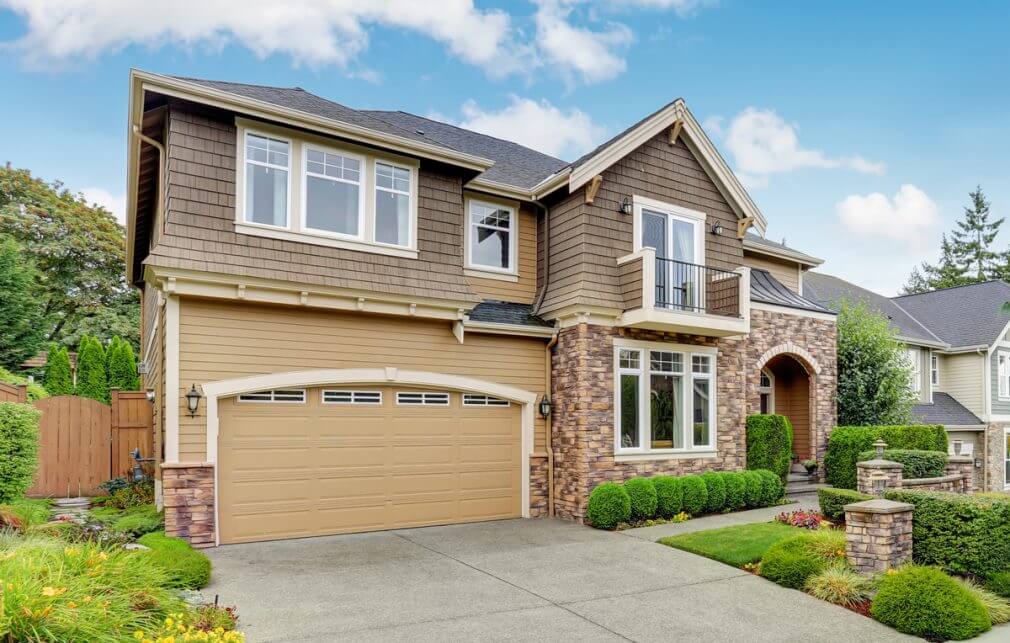 How Much Does the Siding Cost?
The cost of siding depends on the material used, and several other factors, including your home's design, size and number of stories, the cost to remove existing siding, local labour rates and even the terrain your house is built on.
Most homeowners on a budget choose vinyl because it is the least expensive type of siding and is durable and easy to maintain. James Hardie fiber cement is the best option when you look for the best return for your money invested. Wood cedar siding is almost always the most costly option.
Regardless of your choice, we give you a final price before the job begins to help you make an informed choice. Here is what you can expect to pay per square foot. Just multiply that dollar amount by the total square footage of your house, and you will get an idea of how much your siding project will cost.
| | |
| --- | --- |
| Material | Price per sq ft* |
| Vinyl Siding | Starts at $10.75 |
| James Hardie (Fiber Cement) | Starts at $14.00 |
| Maibec | Starts at $18.00 |
| Fraser | Starts at $18.00 |
| Cedar Siding | Starts at $19.50 |
| Cape Cod (Finished Wood) | Starts at $21.50 |
| Stucco | Starts at $22.75 |
| Longboard | Starts at $53.00 |
| AL-13 | Starts at $50.00 |
| Cultured Stone | Starts at $48.25 |
* Prices are guidelines only and can change based on the seasonality, availability of materials and complexity of your project.
Our Work Process
When you choose Ideal Siding, you will work with a team of knowledgeable and talented professionals, each with a minimum of seven years of experience in the siding industry. We are with you every step of the way, from the necessary prep work right through to the final walk-through.
After you have had the opportunity to review and approve our complimentary design mock-up showing you what your home will look like after the job is complete, we order the materials and have them delivered to your home. Additional time might be required for the custom orders or if any materials are out of stock.
Then we get to work.
Old Siding Removal
Our team begins by removing your home's existing siding, which can take anywhere from two to seven days, depending on the size of the project and the type of your existing siding. Some types of older siding such as vinyl or cedar can be removed quickly, while stucco and stone can take longer.
Sheathing Inspection and Repair
Next, we inspect your home's sheathing for rot, mold and other damage. The majority of homes most do not require sheathing repair. However, if repairs are needed, there is an additional cost of approximately $4 per s.f., including materials and labor. We provide you with an estimate once the scope of the work is determined.
Preparing Walls for the New Siding
After your home's sheathing has been inspected and any necessary repairs have been made, we install the rainscreen, which consists of building paper, flashings and strapping or mesh. This process is designed protect your house from water damage, which is especially important in York's rainy climate.
Siding Installation and Touch-up Work
The next step is installing a trim board around windows, doors, soffits, overcap corners and fascia boards. Additional work includes insect screens, flashings, dryer vents and light fixture boxes. We apply touch-up paint to the nails, matching the color of the siding to create a seamless, professional look.
Cleaning Up and Waste Removal
Before the project even begins, we place a suitable receptable on your property to contain waste as the work is being done. When the work is complete, we clean up your property, removing and recycling all construction debris according to the best practices in the siding industry.
Upon completion of the project, we schedule the final walk-through. Your Project Manager will inspect the work, followed by a meeting with you to explain the details of the warranties of materials and workmanship. We also provide maintenance instructions. You can be assured that our team is prompt, efficient and attentive to all details, ensuring that you will be satisfied with the result.
As one of the largest siding companies in Canada, we can start your project as soon as you decide on the siding you would like to have installed in your house. It can be as early as a couple of days after signing the contract, given the availability of the chosen siding materials.
Reasons to Work With Us
Here are just a few more reasons why you should use Ideal Siding as your trusted siding contractor:
Price Match Guarantee. Ideal Siding works with you to find the best material to meet your budget and needs. Regardless of what type of siding you choose, you will find our prices affordable, competitive and transparent. We offer high-quality service along with a price match guarantee on all projects for the same scope of work. All you need to do is show us a competitor's itemized quote, and we'll match it, no questions asked.
25-Year Workmanship Warranty. We are so confident in our product and services that we offer a 25-year workmanship warranty, covering everything from a minor repair to a complete replacement. In addition to providing you with upfront pricing with no hidden fees, we offer the best workmanship in the industry so that you can place your trust in us.
Complimentary Design Mockup. Your siding is as unique as your home itself. That's why we offer a complimentary design mockup showing the siding you selected. This allows you to visualize how your home will look and make any necessary adjustments before we start.
Overall, vast industry experience helps us establish an efficient process for each project with the closest attention to every detail. Whether it's a small repair job or re-siding the entire house – we've got the best solution for you.
Contact Information
Have questions? Need an estimate? Call us today to speak with a specialist or get a free quote on the siding that works best for you. We look forward to transforming your house into the home of your dreams!
We are serving the following municipalities at the moment:
Aurora, East Gwillimbury, Markham, Georgina, King, Vaughan, Newmarket, Richmond Hill and Whitchurch–Stouffville.