We Find an Ideal Solution for You
Your home is where the most valuable memories are built that will last through generations and where you spend the most time. Here, at Ideal Siding, we want to help you to create the house of your dreams with the unique style and design that suits your taste.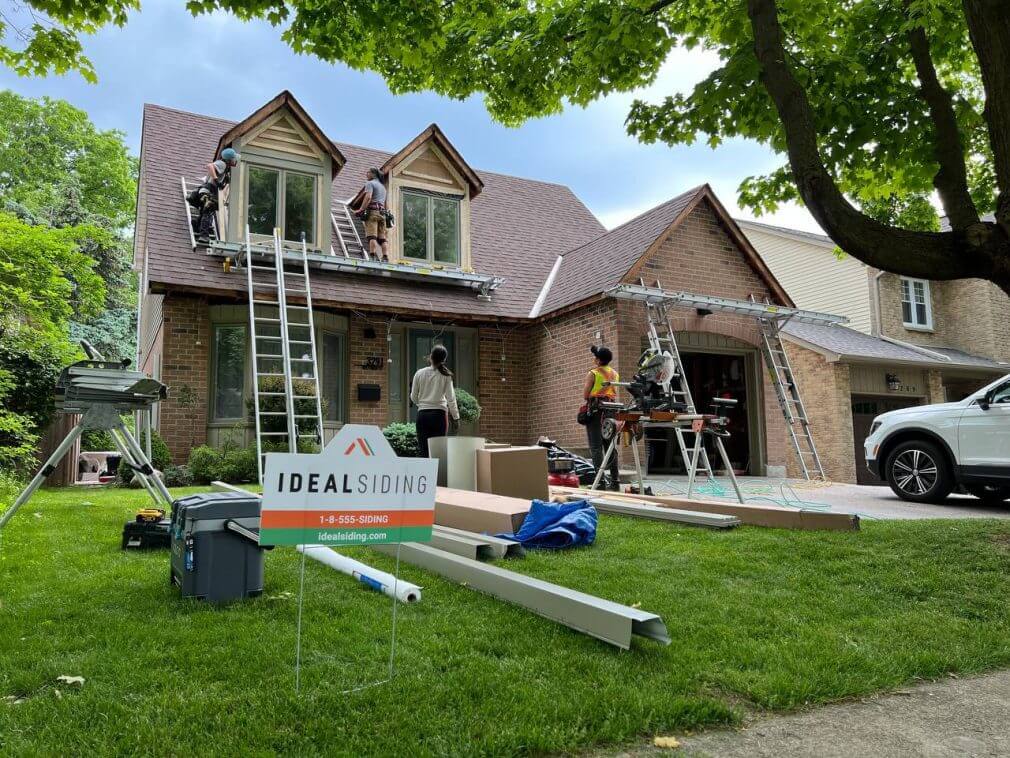 We offer a wide variety of materials and work only with reputable suppliers. We are also very transparent with our pricing structure and the scope of work included in the quote. We work only with reputable manufacturers and use high-quality materials.
Throughout the year more than 500 homeowners rely on our expertise and seek our advice on siding improvements for their homes. Whether it's an installation of the siding on the whole house or minor repairs, we are the contractors who will take care of your project with the utmost responsibility and care, guiding you through each step of the process.
Siding Options We Offer
There is plenty of siding types available for homeowners these days. We have decided to summarize the most popular ones to make the decision process a bit easier for you.
Fiber Cement Siding
Fiber cement siding is usually made by combining cellulose fibers, cement and some other ingredients depending on the manufacturer. It's a composite material that is fire-, moisture- and weather resistant with polished looks and various textures. This siding is manufactured to withstand harsh weather conditions, whether it's moisture or extreme heat, and customized to each climate zone.
Fiber cement boards are usually pre-painted in the factory or can be primed for painting after the installation. With various colours to choose from, even the pickiest of homeowners will find something they like.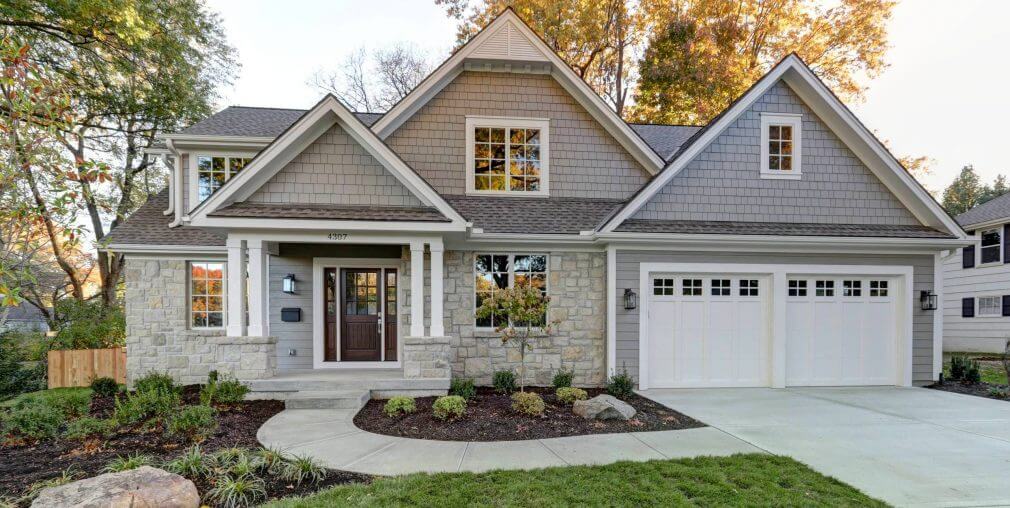 The fiber cement siding can be smooth or with a cedar-like texture to mimic the natural wood's look. Horizontal lap is the most popular and easy-to-install option when it comes to fiber cement siding. Other profiles are board and batten, panels and shingles with the new additions recently in tongue and groove and channel siding. The manufacturers in North America include James Hardie, Nichiha and Allura, to name a few.
Vinyl Siding
Vinyl siding is made of synthetic material, usually some blend of plastics. Lightweight yet strong and durable with various colours to choose from – vinyl has become one of the leading siding materials over the past few decades.
Low cost and maintenance are usually some of the critical decision-making points for the homeowners, and that's where vinyl siding shines the most. It will keep your home protected from the harsh weather elements while looking as vibrant as when you first installed it.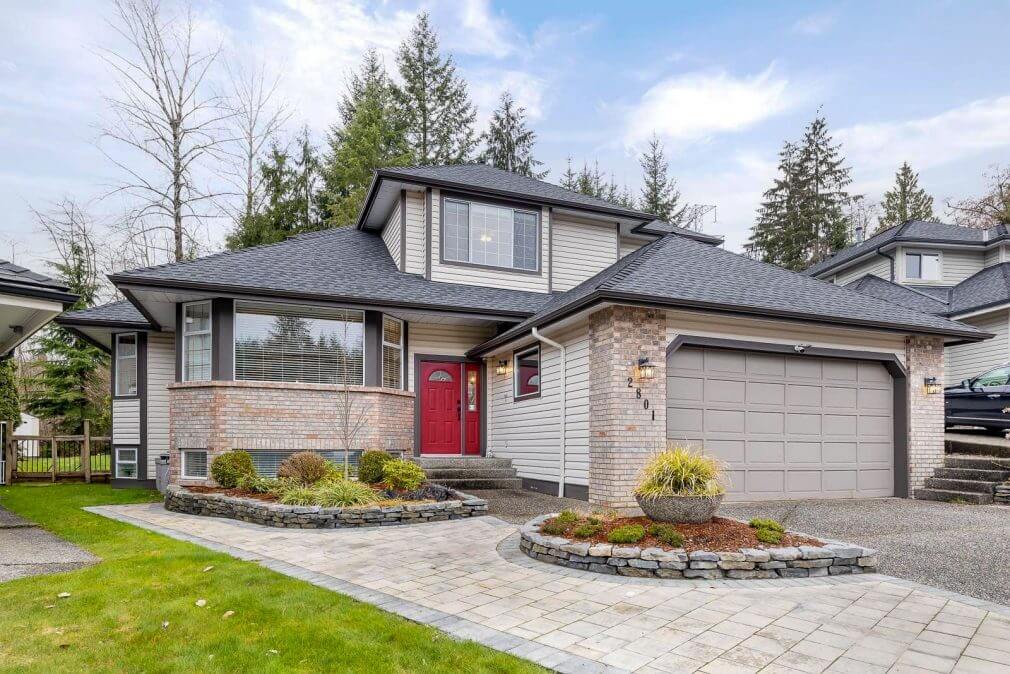 While talking about the pros of vinyl siding like low maintenance, affordability, long lifespan, multiple colour options and rot resistance, it is essential to mention some of the cons. The biggest ones are a low melting point and brittleness when exposed to extreme temperatures.
There are many vinyl siding manufacturers on the market right now, with lots of new ones appearing every year. However, some of the most popular brands amongst the homeowners and builders are Kaycan, Royal, Mitten and Gentek.
Cedar Siding
Cedar siding is one of the most time-tested siding options out there. Not only extremely popular in North America and Europe in the past few centuries, but also very aesthetically pleasing. Cedar siding is known for its durability and moisture resistance if cared for properly.
You can choose to keep the natural look with a clear coat stain making all the knots and texture visible or paint the siding in any preferred colour. Cedar is straightforward to work with to create any custom profiles or replace/repair small areas when needed. Cedar siding is definitely the most environmentally friendly option when it comes to siding materials.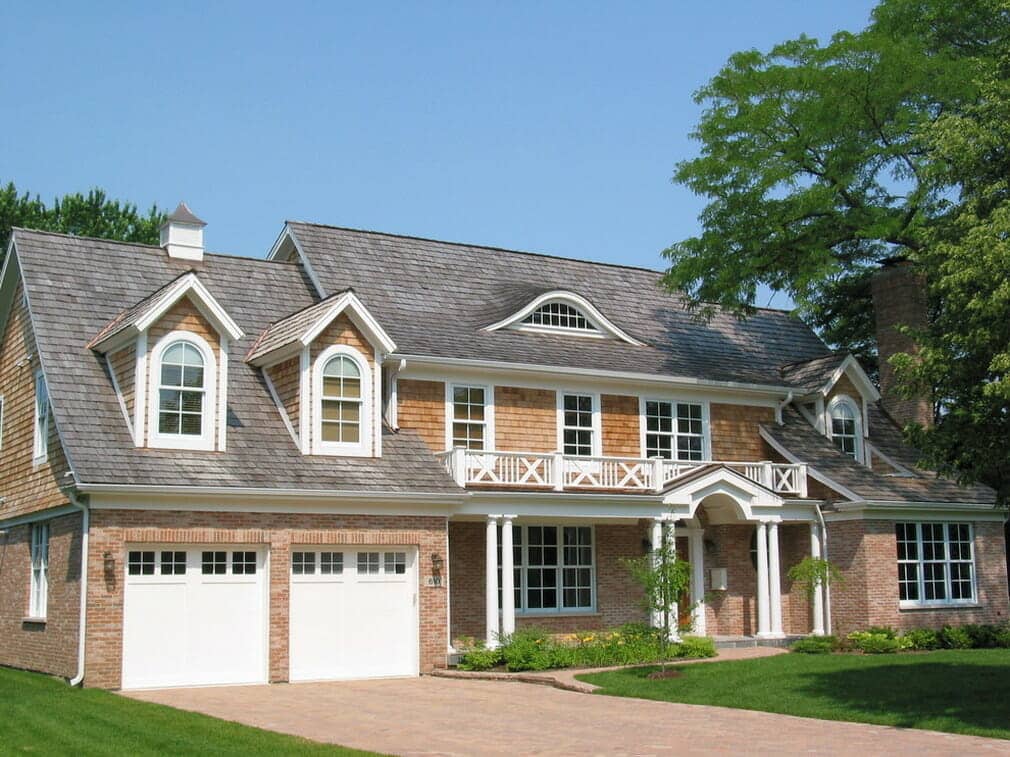 Cedar is highly versatile when it comes to siding profiles, and many custom options are available. It can be installed both horizontally or vertically. Some of the most popular styles: bevelled, channel, tongue and groove, shakes or board and batten. Cedar siding is often used as a soffit material or accentuating feature walls combined with other materials.
Engineered Wood
An engineered wood siding is usually made by combining various wood fibers and particles with resin and wax to make them water-resistant and mostly made from recycled wood content or leftover lumber materials to minimize the environmental effect.
Bound by adhesive resins, this type of siding is usually stronger than the natural wood while providing aesthetic beauty. The boards are entirely free of knots and can be pre-stained to any colour in the manufacturing facility. Relatively easy to install and maintain, this type of siding offers all the cedar benefits without extensive maintenance.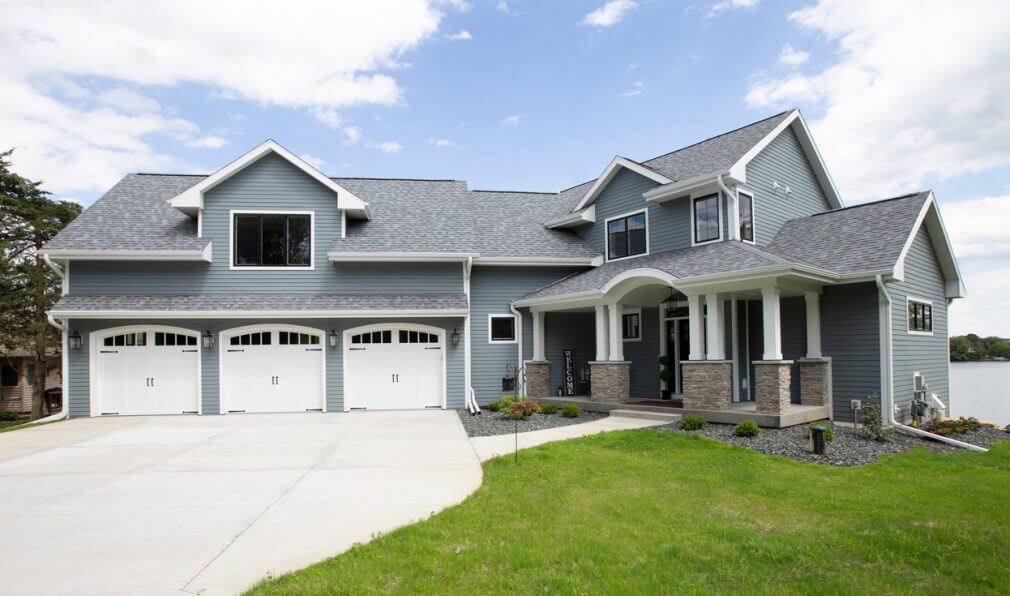 Since it's relatively new material on the market, you want to make sure it is installed according to the manufacturer's best recommendations. When choosing engineered wood siding, it is crucial to pick high-quality materials and an experienced contractor company.
The leading manufacturers for engineered wood siding in Oakville and nearby areas would be Maibec and Fraser, offering profiles such as lap siding, panels and shingles.
Aluminum Siding
Aluminum siding is a premium and durable material, with a beautiful design and a variety of profiles. The leading manufacturers for aluminum siding would be AL-13 and Longboard which offer numerous styles to choose from: from large flat panels to vertical or horizontal planks.
Colours for aluminum siding usually are solid or mimic the look of natural wood. Aluminum siding is a lightweight material that is moisture- and mould-resistant. Due to the nature of the material, it does not sustain any damage from insects or animals. It usually has great insulation capabilities, helping to reduce utility costs.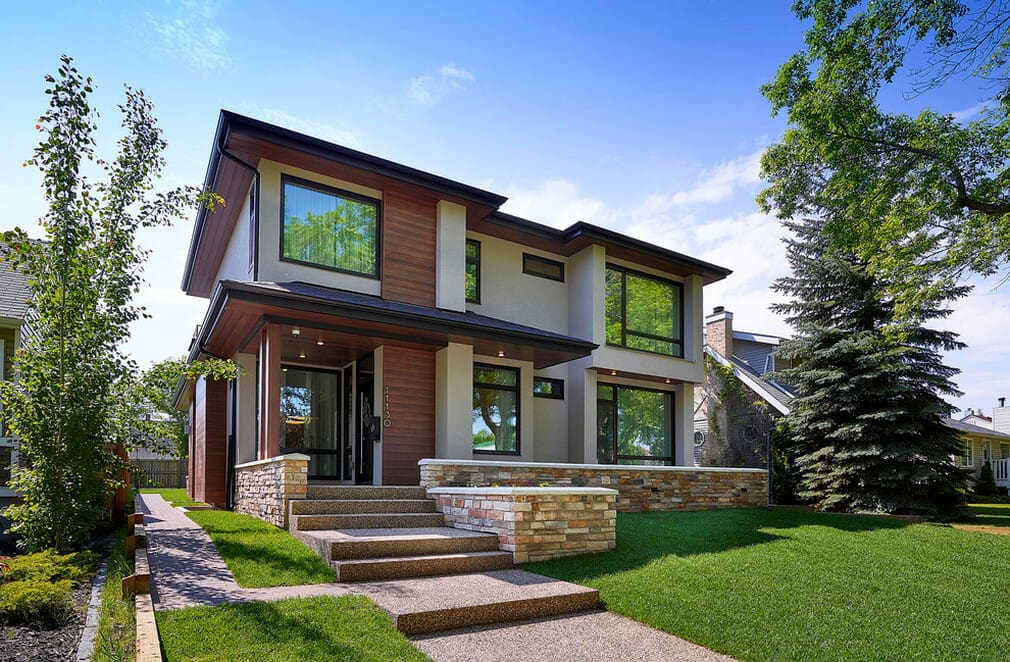 Aluminum siding is a popular choice for contemporary home designs, but with premium materials comes a higher price tag. High costs of material and installation usually are the main reasons why homeowners decide against using this type of siding.
How Much Does It Cost to Side a House?
Below you will find some information on pricing for siding installation:
The siding installation cost would be approximately $10 – 12 per sq ft for the vinyl option. For the whole house, which is 2000 sq ft on average, you might end up paying $20,000 – $24,000.
The same-sized house re-sided with James Hardie siding will cost around $14 – $16 per sq ft or $28,000 – $32,000.
Compared to the other two options, cedar siding will be pricier. The average cost is $20 per sq ft, so the final price will be around $40,000. Please also account for the additional costs of painting and staining the cedar.
Listed in the table below, you will find pricing for some of the most popular options in Oakville and nearby territories:
| | |
| --- | --- |
| Material | Price per sq ft* |
| Vinyl Siding | Starts at $10.75 |
| James Hardie (Fiber Cement) | Starts at $14.00 |
| Maibec | Starts at $18.00 |
| Fraser | Starts at $18.00 |
| Cedar Siding | Starts at $19.50 |
| Cape Cod (Finished Wood) | Starts at $21.50 |
| Stucco | Starts at $22.75 |
| Longboard | Starts at $53.00 |
| AL-13 | Starts at $50.00 |
| Cultured Stone | Starts at $48.25 |
* Prices are guidelines only and can change based on the seasonality, availability of materials and complexity of your project.
Our Work Process
Our Project Managers will guide you through each step of the siding project on your house and will gladly answer any questions you might have. Once you chose to work with us, you can rest assured that every detail will be taken care of from the beginning till the completion. Here is the step-by-step process.
Removal of Old Siding
We begin each new siding project with the removal of the old siding, which depending on the size of the area, can take anywhere between 2 to 7 days. We do not recommend installing your new siding on top of the old one as it might void any material and labour warranties, but there are exceptions to that and one of our experienced Project Managers can consult you on this further. In some cases, where there's no old siding present we proceed with the next step right away.
Sheathing Damage Inspection
After we carefully remove the old siding, we proceed with the sheathing inspection to check for any damaged or rotted areas. Moisture trapped between the siding and the walls and extreme temperature changes are usually the reason sheathing might deteriorate over time. In the many years of siding renovations projects, we have experienced that only a small percentage of homes require sheathing repairs.
Preparing Walls for New Siding
Once the old siding has been removed and the sheathing has been inspected, we start with the preparation of the walls for the new siding. We begin with the installation of the building paper to protect the walls from the moisture and water getting inside. The next step would be to install the strapping which is highly recommended (but not mandatory). The strapping installation will help to create the airflow between the new siding and the walls of the house prolonging the lifespan of your new siding by 5-10 years.
Siding Installation and Touch-ups
The new siding installation can take anywhere between 7 to 10 days depending on the materials chosen and the design layout. During this step, we would also install flashings, dryer vents, light fixture boxes and bug screens. We use flashings to protect your new siding from the water and melted snow getting inside. Depending on the material type, we would also use touch us on the nail heads to match the siding colour caulking to seal any open areas between the siding boards. At this stage of the project, we also would install soffits, trim boards around windows and doors, overlap corners and other decorative elements on the house.
Cleaning Up and Final Walk
Throughout the whole time we are working on your siding project we strive to keep the area as neat and clean as possible. All construction waste will be removed and placed in the recycling bin. After the project has been completed, the Project Manager will check the new siding for any deficiencies that might be present. That's also when we will set up an appointment with the homeowner to go over the project, the details of the warranties for materials and workmanship. The Project Manager will also provide tips on how to take care of the new siding.
We begin preparations for your project right after you sign the quote. If the siding materials that you choose for your home renovation are available in stock with the suppliers, we can proceed with your project without any delays.
Why Work With Us?
When it comes to renovation projects, there's never the same approach as each house is unique and requires tailored solutions. Over the past few years, we have helped many homeowners to transform their houses into the homes of their dreams.
Here is what we offer:
25-Year Warranty On Workmanship. Home renovations can be a costly project and a great investment in the value of your house. The new siding can protect your house from the harsh weather elements and save you money in the long term run on never-ending repairs. We stand by our workmanship quality and take every project with the utmost responsibility, whether it's a small repair or the whole house siding replacement.
Price Match Guarantee for the same scope of work. We know how big of a challenge it can be when it comes to the decision of choosing the right siding contractor company. With so many options available on the market, it can sometimes be challenging to make the right choice. That's why we offer to match the competitors' pricing, given it's the same scope of work and materials used.
Complimentary Visual Design Mockups for your house. With the plentiful options for materials out there, we know how difficult it can be to decide on the new siding for your home, whether it's a decision about the colour combination or the design layout. After one of our Project Estimators meets with you to discuss the preferred material options and takes your house's photos, we will create visualizations based on the materials and colours you choose.
Each project is always completed following the industry's best practices, manufacturer's recommendations, and the city's building codes in mind.
Contact Information
As one of the biggest siding companies in Oakville and the nearby area, we take pride in the speed and excellence with which we execute each siding project. Let us help you with the home of your dreams!
We are serving the following municipalities at the moment:
Oakville, Milton, Burlington, and Halton Hills areas.