James Hardie Siding in Calgary
When you need to install new siding for your home in Calgary, whether you're building a home from scratch or replacing previous siding materials, you can't do better than James Hardie®.
Also called "fiber cement siding", James Hardie® siding is an advanced and durable solution that works well for any type of home, both aesthetically and for long-term damage resistance. Made by mixing cement, sand, cellulose fibers, water, and sometimes other materials together, it is a visually appealing and high-quality material for any siding needs.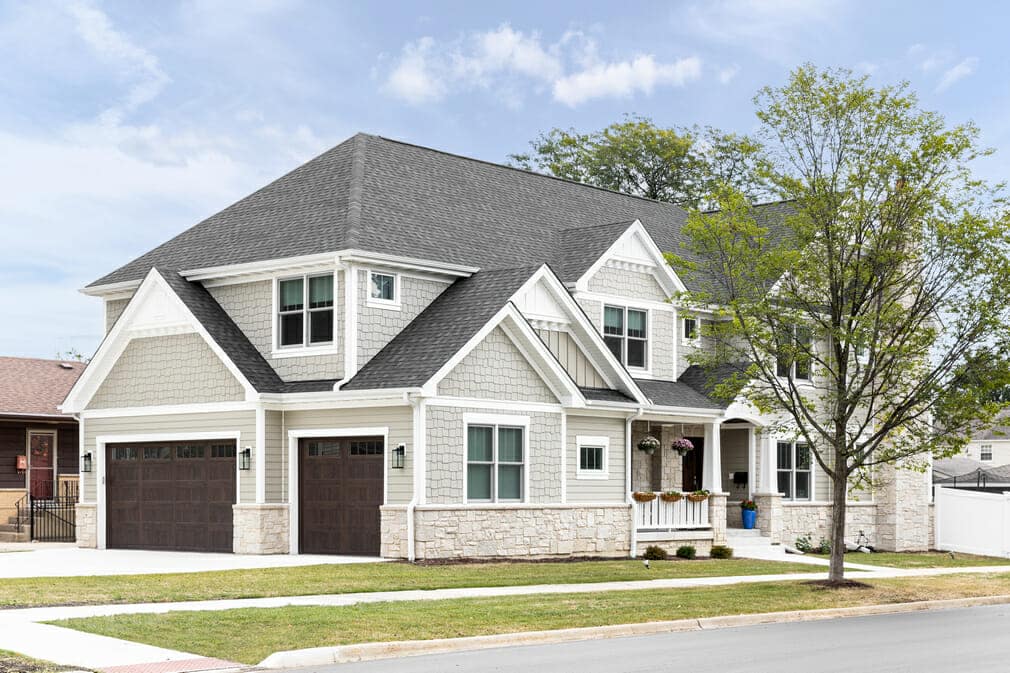 In fact, fiber cement siding is one of the best choices you can make, bar none, even compared to other materials like vinyl, wood, or engineered wood.
Why Choose James Hardie® Siding?
There are plenty of reasons why you should consider installing James Hardie® siding for your Calgary home as opposed to other types:
Durable against environmental hazards, including water, rust, insect damage, and fire. That's because the materials, when mixed together, are less vulnerable than other siding types made from just one material.
Long-lasting. James Hardie® siding is significantly thicker than typical vinyl siding – vinyl siding is usually 0.05" thick while James Hardie® siding is usually around 0.5" thick. Thus, fiber cement siding will last for many more years compared to other choices.
Resistant to heat damage. Summer heatwaves or fires can quickly melt or burn vinyl or wood siding. But James Hardie® siding can withstand significant heat stress, both saving you money on repair bills and preserving your home's curb appeal.
Easy to match existing aesthetics. You can find a wide range of colours, textures, and profiles, making it easy to match new siding to your home's existing colour scheme or style. This is partially because it's a fiber cement product and is thicker than other options. Mimicking certain textures without taking on any of their shortcomings, like wood, is a popular James Hardie® board look pick.
The aforementioned durability applies to the colour and texture you choose for your siding. You can expect James Hardie® to last for up to 10 years on average with its original appearance!
However, all of these benefits do come with a few minor caveats:
This siding type is a little more expensive compared to cheaper vinyl or wood. However, we provide affordable siding installation solutions for any homeowner.
The installation has to be done right, as it's difficult to correct mistakes without additional expense due to the fiber cement boards' durability. Therefore, you have to hire a good siding installation company if you choose to go with this option.
Styles of James Hardie® Siding
James Hardie® siding comes in three major types:
Planks – these pieces make horizontal siding sections. They typically have thicknesses of 5/16th of an inch and up to 6 width options: 5.25", 6.25", 7.25", 8.25", 9.25", and 12".
Panels – these are vertical siding pieces. They come in the same thickness as planks as well as three sizes in total: 4' x 8', 4' x 9', and 4' x 10'.
Shingles – these pieces are either staggered-edge or straight-edge panels used to cover smaller areas. They are typically 48" x 16", but also come with smaller width choices ranging from 4.2" to 10".
On the diagram below you can see what these products look like on the finished house.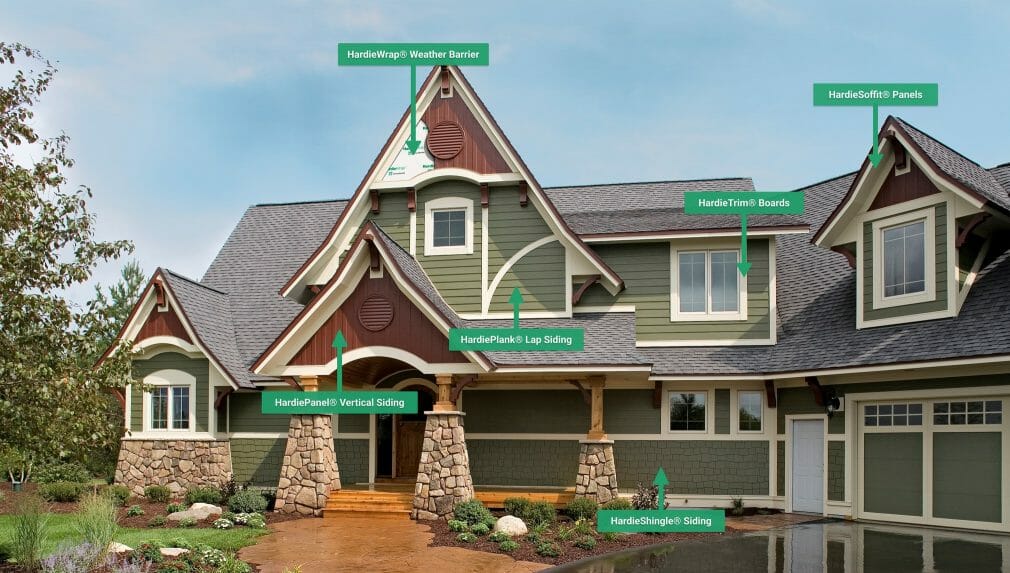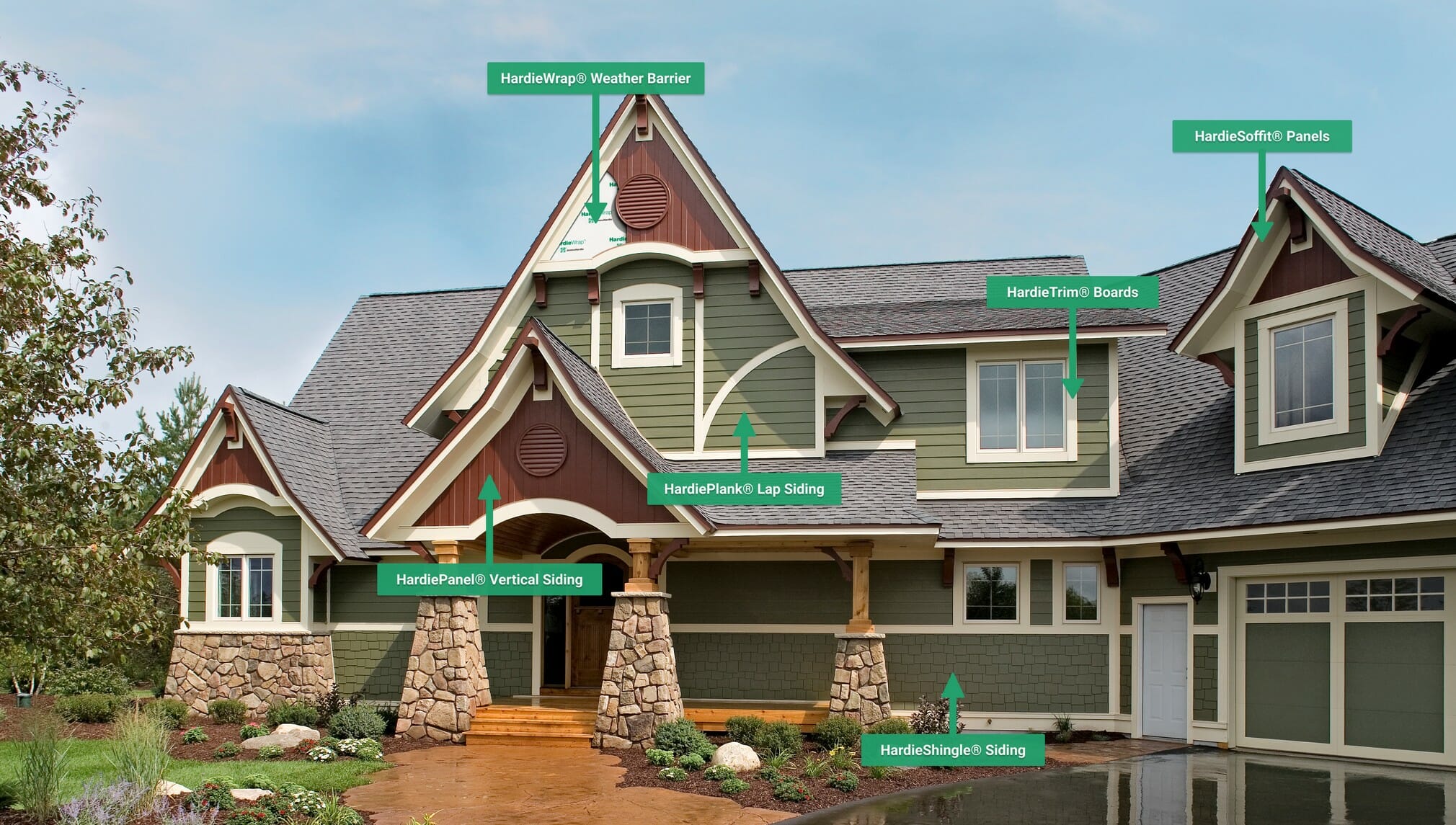 Colour Plus Technology
Want to have James Hardie® installation and ensure that it matches your home's existing colour scheme or aesthetic? You can take advantage of its ColourPlus tech, which is exclusive to this type of siding.
This proprietary finish is applied before materials are sent to your home. In this way, debris is eliminated and adhesion is optimized to guarantee long-lasting colour and texture and low maintenance requirements.
The ColourPlus material is applied in multiple coats and cured in a controlled environment, creating a stronger bond between the ColourPlus coats and the siding surface itself. No need to worry about chipping, cracking, or peeling over time! Even better, ColourPlus technology resists fading from exposure to sunlight, boosting lifetime home curb appeal.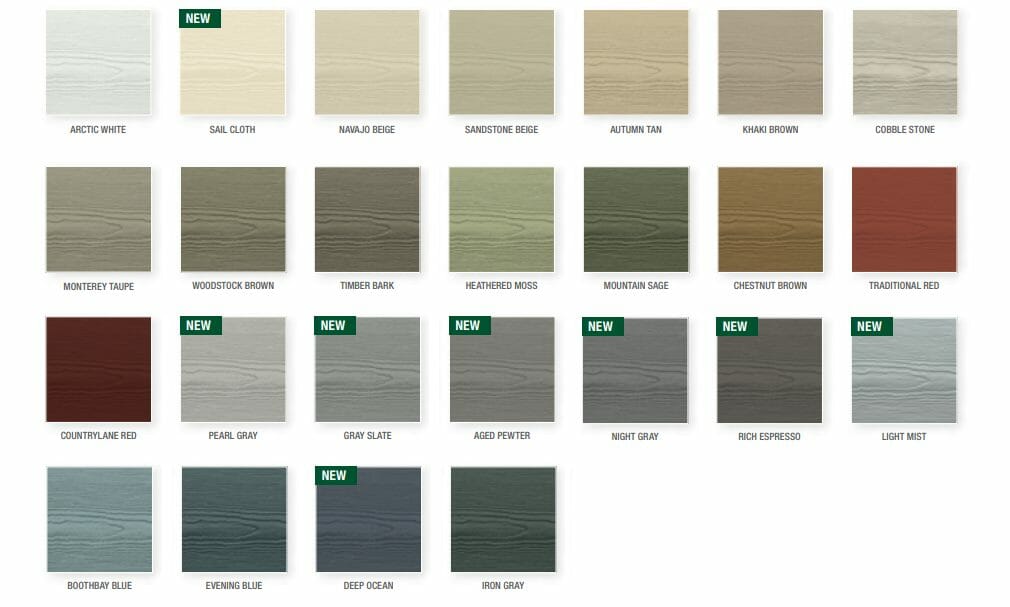 ColourPlus is so robust – and we're so confident in its ability to retain its colour and vibrancy – that it comes with a 15-year limited warranty. While it costs a bit extra compared to the plain siding option, it's a great choice if you want to maximize the synergy between your home's look and your new siding material.
Insurance Discounts and Rebate Offers
If that's not enough, consider this – anyone who installs James Hardie® siding in Calgary may qualify for certain insurance discounts. This is all due to the extra durability and safety inherent in JH siding panels, planks, and other pieces.
Since JH siding doesn't catch fire or melt like regular vinyl or wood siding, home insurance companies know that your home is less likely to be a hazard or sustain serious damage. Your rates will go down over time, saving you money in the long run.
Choosing the Right Contractor
While James Hardie® siding can help to reinvigorate the look of your home and maximize its curb appeal, it's important that you get qualified contractors to perform the installation. Subpar installation could result in serious damage to the JH siding pieces or cost you more money over time.
Ultimately, fiber cement siding installation is a complex process. You should only trust experts to get the job done right the first time. That's why you should contact Ideal Siding®: the number one team for siding in Calgary.
We will:
Create a plan and a visual mockup for facing your home with JH siding, taking into account all the unique nuances and features of your house.
Perform our work professionally and promptly, according to the industry standards and best practices.
Consider your schedule to ensure the renovation process is as pleasant for you as possible.
Our job will be perfect – as a bonus, this also means you'll maintain the manufacturer's warranty that comes with your purchase of it in Calgary. Pricing typically starts at $9/sq ft.
What are you waiting for? Contact us today and get a free estimate for your James Hardie siding installation!
Call us to request a free estimation:
+1-587-333-3223
+1-8-555-SIDING

Or send an e-mail: info@idealsiding.com