Aluminum Siding in Calgary
Do you need new aluminum siding in Calgary? We hope that you consider Ideal Siding first. We have plenty of options and a team of professionals available to install your siding. If you are looking for new aluminum siding in the area, you will want to keep reading to learn more.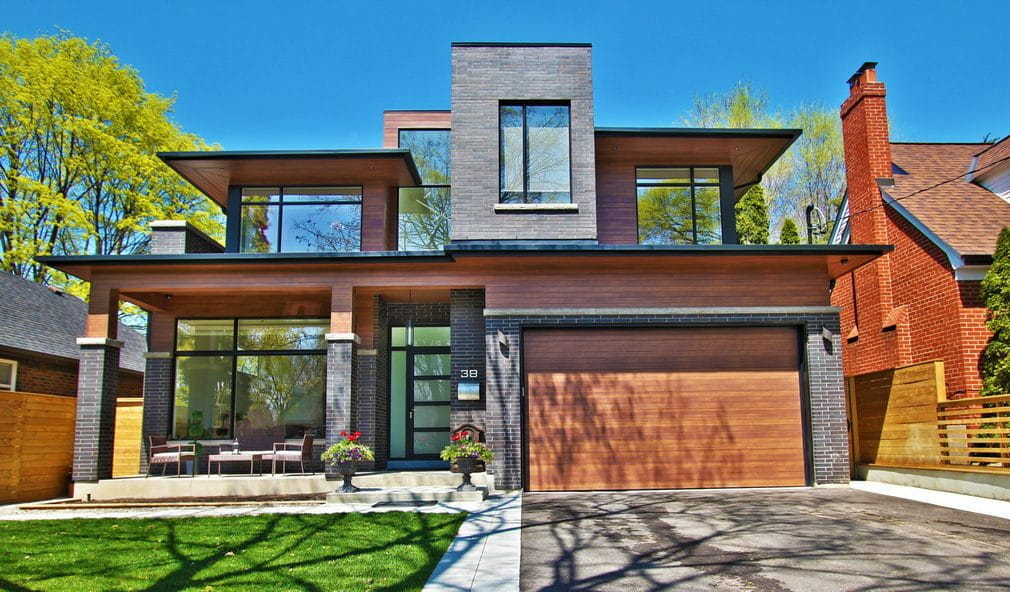 Aluminum siding is constructed from coiled aluminum. The material receives a chemical coating after it is shaped to protect the metal from the elements. After the pieces are coated, they are heated and may acquire additional enamel texture. At the end of the process, the aluminum siding is painted for style and further protection to your Calgary home.
Types of Aluminum Siding
Aluminum siding will come in many different styles. You can choose to have them placed horizontally or vertically as well. The most popular option is horizontal aluminum siding since it represents the traditional siding style.
There are regular and premium options for these types of siding as well. They have the following qualities:
Regular Options
This type of aluminum can be dented and bent easier. However, this material does not hold in moisture – so it will not rot or rust over time. Still, it is not as strong as the premium options, since it is very thin. Finally, this material also does come in a variety of colours and styles.
Some people do not like how this form of aluminum siding looks as time passes. The material can lose its colour and have a faded appearance. It can also make noise as it expands and contracts when the temperature changes.
Premium Options
Premium aluminum siding is much thicker – usually three to five times thicker. It also comes in much larger panel sizes. However, this does mean that you also get the premium price tag with it.
Despite the cost, many people feel that this material is worth it. You receive a product that never fades and comes in plenty of styles – which are much more defined than the regular option. It is also worth noting that this type of material lasts forever. While you do have to pay a high-cost upfront, you will never need to change your siding again.
The only real downside to this material is that it is harder to install. Still, we are professionals who have worked with this material many times before – so we are very familiar with the installation process for premium aluminum.
At Ideal Siding, we usually work with two different premium brands. Our team will only use high-quality materials during your aluminum siding installation – you can feel confident that you will get outstanding final results. These are the two premium siding brands that we usually carry – AL13 and Longboard.
AL13® Aluminum Cladding System
This aluminum cladding system comes with an extrusion machine – allowing us to cut your material on-site. You will not need to worry about transporting all of the required aluminum to finish the siding on your home.
As a premium aluminum siding brand, AL13® also comes with several styles and design options. You can have the aluminum siding look like wood or other materials. Plus, they are very durable and going to last you many years.
Longboard® Soffit & Siding
Longboard® aluminum siding is lightweight, premium-looking and will last forever. This company makes plenty of designs. You can find styles that resemble wood and even customize your siding completely. They are durable and can be customized as you see fit. We have several options and cut the pieces at your location.
Longboard® siding represents wood without maintenance. It is also more cost-efficient than siding your home with wood. Longboard® also offers an aluminum soffit system and also has privacy screens available.
No matter what material you are interested in, we recommend contacting us today for your consultation. We can offer you plenty of information, allowing you to make an informed choice when it comes to your home's siding.
Pros and Cons of Aluminum Siding
When thinking about upgrading to aluminum siding, you will want to consider all of the pros and cons first. That way, you know it is a good match for you. This material comes with many benefits you will want to know about- but you should also know the few negatives that come with it.
Here is what you will want to know before your aluminum siding installation:
Pros
Cost-effective. The biggest pro for aluminum siding is the affordable cost. You will be able to stay within your budget and feel comfortable with the installation costs. Aluminum materials can be made from recycled components, which significantly lowers their overall price.
Environmentally friendly. Aluminum siding can be made from recycled materials and is 100% recyclable. You can feel confident that your old aluminum siding will be recycled and reused when replacing it later on. The material is also an excellent insulator, which adds more energy efficiency to your home.
Durable material. Aluminum is made from coil stock, which makes it very strong. Several protective layers are also added to it. When installed by qualified professionals, aluminum siding has the potential to last for 50 years.
Low maintenance. Aluminum does not require a lot of maintenance. You will not need to deal with rotting planks or pests. The only care it requires is a good rinse here and there to remove debris.
Cons
Noisy. Aluminum expands and contracts when the temperature changes, which creates popping sounds. These noises are not too loud, but they can bother some people. Plus, aluminum is much louder when struck by rain, snow, high wind, or hail.
Colour loss. Aluminum fades over time, and it will look worn out. It can be challenging to match the siding colour if you need to replace sections of the siding later on. You will want to use the best quality of paints to avoid rapid fading.
Can receive small damages. Aluminum is prone to minor damage, which can add up over time. Aluminum is a soft metal, so even the densest gauges can be dented or scratched.
All these above-mentioned cons can be avoided if you decide to go with the installation of premium brands like AL13 or Longboard. They will cost more than regular options, but these cladding types literally last forever, offer a premium look and increase the cost of your property significantly.
Why Hire a Trusted Siding Contractor
You will want to hire a qualified siding contractor instead of doing the installation yourself. Our professionals have the experience, know-how, and tools needed to complete the installation with ease. We have installed siding many times before, so we know we can get you the results you need.
Plus, you will not have to worry about handling the installation yourself. If you have never done it before, it can be frustrating for many. You would not want to make a mistake and then have to call a siding contractor to fix it and finish the job for you.
Overall, our team is full of experienced professionals. We have all of the background and expertise needed to complete the siding job. If you are interested, be sure that you check out our samples of previous work online. We have many examples for you to browse through.
Finally, you can stay safe while we handle the project for you. Replacing or installing siding on a home may require that we use a ladder or other tools to reach certain areas. If you are not familiar with working high up, you will not have to worry about it with us managing the job for you.
We can handle all of the siding installations for you from start to finish. Our team can also offer you a price match guarantee. By using this benefit, you can be sure you never overpay when you hire us. Not only that, but we can also offer you a 25-year extended warranty on the workmanship of the installation. The warranty should give you peace of mind since you will not have to worry about maintenance or repairs – we will handle that for you.
Finally, we realize that we offer so many different siding options. That is why we make complimentary design mockups for our customers. The mockup includes a visual, allowing you to see what your home will look like after adding the new siding. Our clients greatly enjoy this feature since it will enable them to visualize the final results before we get to work.
Contact Us
There are many reasons why it is a good idea to choose Ideal Siding in Calgary to work on your home. We are always respectful and have the experience to work as efficiently as possible. Plus, we handle all of the work from start to finish – you never have to do a thing!
If you are interested in aluminum siding installation, make sure that you contact us for your free consultation and design mockup. We have several designs, materials, and colours for you to choose from, so we are sure that we can make something you will love for years to come.
Call us to request a free estimation:
+1-587-333-3223
+1-8-555-SIDING

Or send an e-mail: info@idealsiding.com