Vinyl Siding in Calgary
Vinyl siding is one of the more durable and hard-wearing house materials you can choose to help protect your home and keep it safe from the weather and harsh outdoor conditions which are not rare in Calgary. This material is available in a range of different sizes and colours, and can usually be installed relatively quickly.
It is made by extruding two different layers of PVC together to create the material. Both layers are carefully calculated to make sure you get the right properties, including UV resistance, waterproof qualities, weight, and durability, in addition to colour and other specialized properties.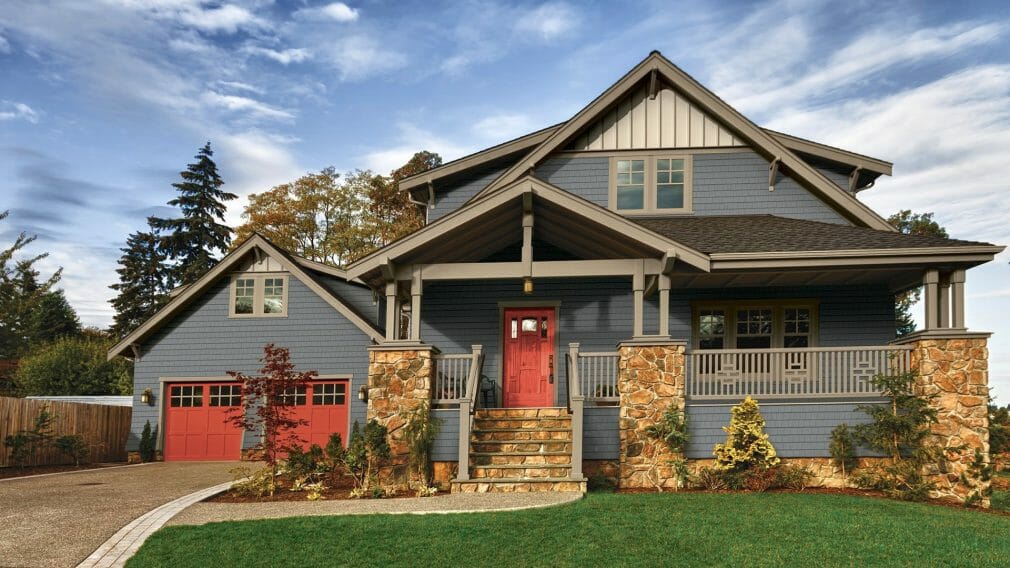 Main pros of vinyl siding:
It is colorfast and doesn't need repainting, as well as it offers some insulation advantages.
Generally vinyl does well with power washing.
It has low maintenance requirements.
The cost of installation is lower than alternatives.
Major cons of vinyl siding:
Installation problems tend to cause long-term complications.
It may slightly lower home value compared to other finishes.
It isn't environmentally friendly, however, it can be recycled.
Overall, this siding is incredibly versatile and is available in many styles and colours that can help express your personal style on your home while also protecting it.
How to Choose the Right Vinyl Siding
Of course, like any product, it's important to make sure you're choosing the right product for your home and the unique local weather conditions.
Here's a little more information to help you make an informed choice.
Style Choices
There are several different style options for your siding. These styles can make a significant difference in the appearance of your home:
Vertical siding looks like vertical stripes of material on your home. It's a little smoother looking, but vertical siding is also a little more expensive and time-consuming to install compared to other styles.
Horizontal siding is usually a little more affordable to install, but can also have a more exaggerated shape depending on the style of siding you choose.
Board and batten vinyl siding is a little more visually appealing and eye-catching, but it's also typically a more expensive kind of installation. This type of siding has a lot of rustic appeal. Board and batten also offers some weatherproofing advantages over other kinds of siding.
Shingles and Shakes. This type of siding looks similar to the shingles or shakes used on your roof, but the vinyl material is typically more attractive, comes in a wider range of colours, and is more affordable. This style is long-lasting and relatively low maintenance, especially compared to cedar shakes, but it can be more difficult to replace individual shakes if they come loose.
Colour Options
Vinyl comes in a wide range of colours. Really vibrant options are rarer since those colours are commonly disallowed by HOAs, and often aren't as colorfast as more muted colours, but you'll be able to get shades of the whole spectrum.
Standard Vinyl vs Premium Vinyl Siding
Standard vinyl siding offers a lot of advantages, but it's not as long-lasting or durable as premium options.
Here are the main advantages of premium vinyl siding over standard options:
Premium vinyl siding does better with power washing.
The vinyl is more colorfast and less likely to fade over time.
Better interconnection helps make premium vinyl siding more durable.
Standard siding is a little more affordable though, so it's really about balancing long-term advantages vs short-term cost savings.
Standard vs Insulated Vinyl Siding
Insulated siding is also sometimes called foam-backed siding. Just like it sounds, foam backed siding can be used to help increase the insulation of your home, protecting it from extreme heat and cold. Good insulation can also work to make your home more energy-efficient.
That doesn't mean that insulated vinyl siding is right for everyone. That's mostly because of the cost difference between the two options. Insulated siding is generally the more expensive option, though siding is still affordable compared to other readily available materials.
Insulated siding does help hold its shape and brand new appearance longer, however, because of the extra structure provided by the foam.
Insulated siding is also more durable and long-lasting than the standard siding, and can help save on energy bills, which can help pay back some of the upfront costs of this design. Still, standard vinyl siding can be a good option in areas with a mild climate, or as a siding option that's more affordable upfront.
Getting new insulated vinyl siding in Calgary is a great way to invest in your home's future.
How Long Does It Take To Install?
Actual project time varies depending on the installation. Simple installations may be slightly faster, complicated installations can take significantly longer. Your contractor should tell you if there are any problems that will increase installation time. If you're Calgarian, you probably know that many siding companies can be fully booked for several months ahead, especially after hailstorms.
As a good rule of thumb, the total process usually takes about 1 to 2 weeks. That gives your contractor the time to make sure they are providing a quality installation and to make sure they aren't skipping any steps during the installation.
The size of your home is also a factor. Smaller homes don't take as long since there is less square footage to over. Larger homes may take longer since there is more work that needs to be done for a quality installation.
Choosing the Right Contractor
There are many different siding contractors in Calgary and choosing a trustworthy one is critical if you want to have a high-quality finish on your siding. An untrustworthy contractor may skip steps, leaving your siding vulnerable to future damage that can force you to pay for costly repairs.
We work to make sure you can trust our services, from clear communication with our clients about the process and what to expect, to offering a price match guarantee so that money isn't what convinces you to choose an untrustworthy contractor.
We also offer a complimentary design mock-up so you can see what your home will look like before the work is even started.
Here's a look at what our installation process is like:
Old siding removal. It averages between 2-7 days depending on the size of your home and the kind of siding that was installed.
Sheathing inspection and repair. Sheathing helps protect the underlying structure of your home, as well as providing some insulation and support for your siding. Our inspection process looks for possible damage. Most of the time sheathing is in good condition, but it costs $1-2 per sq. ft. to repair if we do find damage.
Preparation of the wall for siding. During this stage, we will install building paper, flashings, and bug screens to help protect your siding and sheathing from water and insect damage.
Vinyl siding installation and touch-up work. After all the preparation is complete, we will start to install your siding, paying close attention to pattern and placement to make sure you have an attractive and effective finish. This is likely the bulk of your installation and generally takes 7-10 days.
Cleaning up and waste removal. After the siding is installed our project manager will meet with you, the homeowner, to go over the details of the project, the final costs, and what was done during the installation. We'll also remove any waste products, including your old siding, to leave your yard and home exterior as pristine as it was before we arrived.
Installation costs can vary quite a bit depending on what kind of vinyl siding you choose as well as the local cost of professional installation. However, vinyl averages about $5-$10 per square foot. Let's go on the low end. Vinyl siding that costs $5.50 on a 1,500 square foot house would cost approximately $8,250 in total.
Interested in getting some new vinyl siding? Contact us and we'll be happy to go over any questions you have and set an appointment to get your vinyl siding installed in the Calgary area as soon as possible.
Call us to request a free estimation:
+1-587-333-3223
+1-8-555-SIDING

Or send an e-mail: info@idealsiding.com