Steel Siding in Calgary
The type of siding that you choose to use on your home is a significant decision to make. Not only will that siding have a direct effect on the appearance of your home but it also must protect your home.
Siding takes a hit from the elements of the outdoors. From wind, rain, sunshine, and more, it has to be able to stand up to Mother Nature and continue to shelter your structure. There are many different siding options out there to choose from and steel siding for Calgary is one of the best.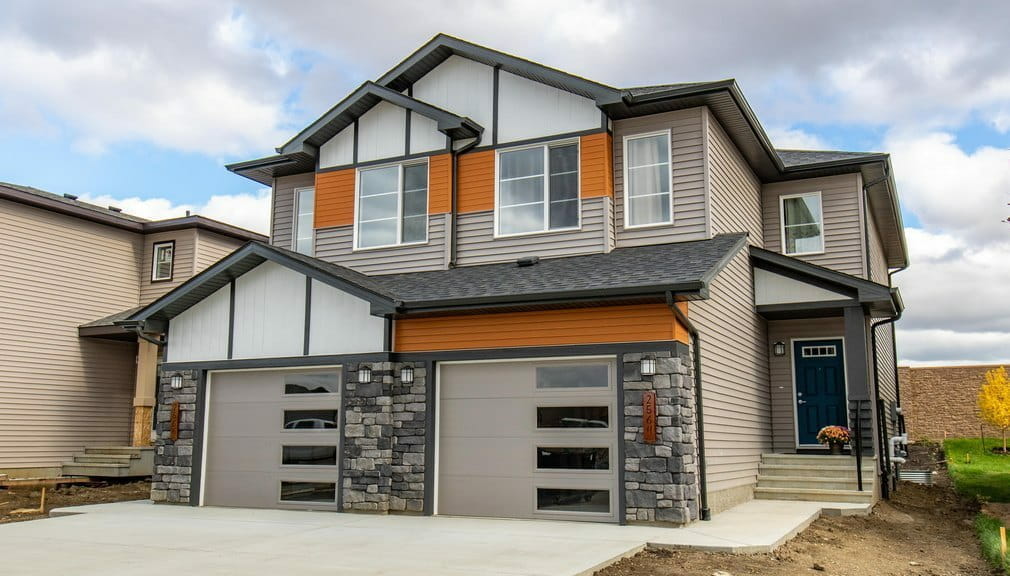 Steel siding is made out of metal and has become more and more popular as a siding option over the years. It's known for strength and durability but also low maintenance qualities. When you look at metal siding, there are several different styles, cuts, and designs to choose from. This allows steel siding to accommodate just about any look that you might want to achieve. At one time, steel siding came either in clapboard or metal sheet formation.
It has since significantly evolved and now steel siding can even be made to look like it is a wood grain textured if you want it to. It has certainly improved over the years, which is perhaps why people are more likely to consider it now. Ultimately, you can expect steel siding to be moisture and insect-resistant, fire-resistant, low-maintenance, fade-resistant, attractive, and durable.
Why Choose Steel Siding
As with any type of building material, there are both pros and cons to using steel siding. It's up to you to determine whether the pros outweigh the cons in your outlook. Different individuals will have different preferences and needs.
The pros and cons of steel siding we share below are based on the average viewpoint and are just some characteristics to consider before you ultimately make a decision that works for you.
Here are some of the basic pros that you might appreciate:
Resistant to damage from debris, wind, and elements because it is strong and thick, designed to be resilient.
Steel siding is low maintenance once it is installed. There is very little that you have to do for upkeep. It stands up against the elements as well as weather, pests, and even birds and animals. You may have to clean it on occasion but don't expect much more.
Fire-resistant qualities are a plus here. Metal is invulnerable to fire because it doesn't really melt or burn. With some insurance companies, you might actually qualify for reduced property insurance rates with steel siding.
Versatility and appearance are other pros here. Steel siding looks great and comes in several different appearance options. You can choose different styles and different colours, just like you can with other siding choices.
Finally, steel siding is environmentally friendly. Metal can be recycled and will last longer than most other siding forms, making it an eco-friendly solution.
While we certainly wish it were all sunshine, there are some potential downsides to using steel siding. We feel it's only fair to look at both sides and tell the full story.
Here are some of the basic cons of using steel siding:
The possibility of rust is probably one of the cons that stand out most to us. While steel siding is not affected by normal moisture like rain, snow, etc. it can rust with certain exposure. If you live in an area with high humidity, frequent fog, or potentially even sea spray, rust might be an issue for you. There are steps you can take to try to prevent rust.
The cost of steel siding can be a con as it is a more expensive side than most other siding options. When considering the cost, keep in mind it is heavier and will most likely last longer. The higher cost is generally up-front costs but it could potentially save you money over time.
Steel siding doesn't provide much insulation for noise or outside temperature so you may need to take other precautions or actions to improve these things.
Finally, steel siding is not fail-proof. While it is made to be impact-resistant, it may not always be perfect here. With enough force, steel siding can dent or scratch.
Almost all of these above-mentioned cons can be avoided if you decide to go with premium brands. They will cost more than regular options, but these cladding types literally last forever, offer a premium look and increase the cost of your property significantly.
Installation Process Explained
While you will most likely want to work with an experienced contractor, it's a good idea to be familiar with steel siding installation processes. If there is existing siding on the property, that will have to be removed. From there, there are several steps to follow in order to get the siding up and complete on your Calgary home.
These steps explain the basics of the installation process:
Demolition of old siding. For new structures, this step can be skipped as there is most likely no siding yet to remove.
Sheathing inspection and repair. If the old siding was removed, the next essential step will be to make a thorough inspection of the property and the sheathing in place. Repairs may be necessary.
Wrap the house with appropriate wrap paper to provide a water barrier underneath the siding.
Installation of strapping. It is essentially small wood strips spaced around the house which are used to mount siding panels.
Siding installation. Usually, it starts at the base of the home. Siding pieces have to be cut as needed to the appropriate lengths. Depending on the siding type different types of mounts and accessories could be used to secure the panels. Work goes in a horizontal pattern around the house until the whole house is covered.
Waste removal. Once the siding has a successful installation, it's time to clean up the mess. Usually, there is plenty of waste to dispose of and it has to be done in the appropriate manner.
If you decide to utilize steel siding, it is essential that you work with a metal siding contractor that has experience in the installation of this type of siding. You will want a contractor who is honest and fair and has a proven record of success.
Don't be afraid to ask for references and to see proof of their work so you can lay your eye on their quality for yourself. Many contractors will have addresses or pictures that they can provide you with to look at.
Why Choose Ideal Siding
Steel siding can be considerably more expensive at initial installation but it can help to reduce costs over time. You should keep in mind that steel siding is meant to be durable and is resistant to many elements. It also might save you some money on insurance, depending on your policy.
The cost of the siding itself will depend on whether you choose a standard style or a premium siding type. Standard steel siding is basic, corrugated steel, while premium options are more sophisticated. On average, the price of steel siding may be anywhere from $10 to $30 per square foot of coverage.
At Ideal Siding, we strive to provide our customers with the very best. We work with you throughout the entire process to keep you informed and to ensure that each step is completed properly.
Every individual on our crew is experienced and well-trained. We oversee every job personally and audit the quality to avoid errors or mistakes. We also offer a price match guarantee so if you get a lower bid, we will match it. Our prices are all-inclusive with nothing hidden and no surprises.
We understand that quality and reliability are important. Steel siding installation is a significant investment so you want to know that you are spending your money wisely and will be happy with the job when it is complete. Let us help you choose a design and make your home look beautiful. We look forward to working with you!
Call us to request a free estimation:
+1-587-333-3223
+1-8-555-SIDING

Or send an e-mail: info@idealsiding.com