EasyTrim QuickPanel System in Vancouver
The problem with some siding brands lies in the fact that they lack accessories to allow for really customizable installation and to make the final result truly clean. This is not the case with Quick Panel siding manufactured in Canada, shipped across North America, and available now in Vancouver.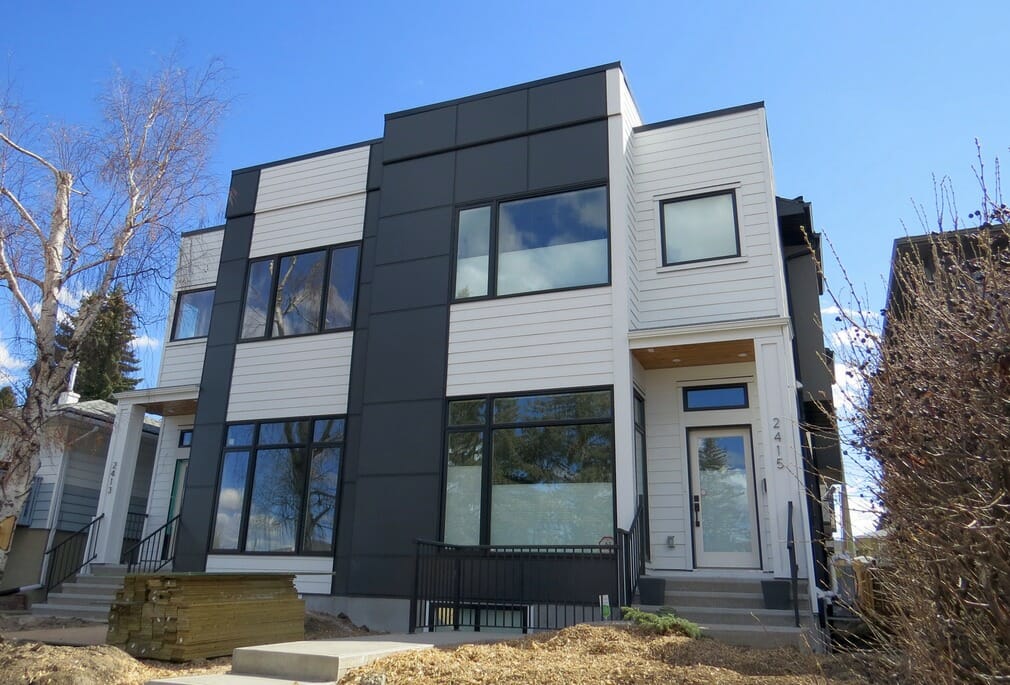 Actually, Easytrim Reveals is more about state-of-the-art aluminum trims than panels themselves. However, with reliable manufacturers like Alucoil among suppliers, Easy Trim offers high-quality aluminum composite panels coupled with a nice set of trims for a well-rounded cladding solution.
The Easy Trim Quick Panel system comes with aluminum composite panels made of coil-coated metal sheets with polyethylene or incombustible mineral material between them. While ACP has long been appreciated for its low weight, sturdiness, and durability, Easytrim Reveals adds even more value to them and your Vancouver home.
The manufacturer provides the whole range of aluminum extrusions to perfectly align with the panels. The QuickPanel system comprises flashings, corners, spacers, and attachment profiles along with small things like weather tape, silicone adhesive, weather-sealed screws, suction cups, and other accessories to make the installation process really easy and fast.
The system is highly customizable and allows eliminating off-site operations for cutting costs and time expenditures. An Easy Trim panel is available in the maximum size of 5′ x 8′ and can be cut to fit right on the spot. The same is true for all the trim profiles, which come with a maximum length of 10′. The whole installation process behind the system is streamlined based on Ez. Lock Trim 2-piece technology to make creating a pressure-equalized rainscreen a breeze.
7 Reasons to Opt For QuickPanel System
EasyTrim QuickPanel System has the following advantages:
4 mm ACP is thick enough to ensure rigidity while retaining its lightweight advantage. It is also PVDF-painted for outstanding resistance to wear, chemical agents, and weather impact.
The trims are manufactured from 6063-T5 aluminum boasting enhanced durability. If installed properly, the system works fine to eliminate both oil canning and building compression.
It is AAMA 508 and ASTM E330 certified, having a class A fire rating as well.
The company provides a 15-year warranty for the panel system and a 30-year warranty for the finish.
The QuickPanel system includes everything required to be installed with no specialized labour and tools employed.
Having a selection of standard finishes, the profiles can be painted to virtually any colour of your choice and even mimic some wood textures.
The Easy Trim Quick Panel cladding is suitable for both commercial and residential applications, including high rises.
Besides, QuickPanel installation provides no difficulties for professionals.
EasyTrim QuickPanel Installation
Since every single detail required for installation is already incorporated into the system, Easy Trim QuickPanel siding seems to spare homeowners the need to search for contractors with expertise in this area.
Indeed, the only equipment you may lack is a track saw, yet you may get one with your order for a QuickPanel project of 10,000 sqft or more. However, the job still requires plenty of measuring, cutting, gluing, and screwing along with strictly following the manufacturer's instructions.
So, if you want to have the best accuracy coupled with cost and time saving, feel free to get in touch with our experts in Easy Trim Quick Panel installation in the Greater Vancouver region. We are here to provide you with a free estimate of your project and professional services throughout its implementation.
Call us to request a free estimation:
+1-604-239-2898
+1-8-555-SIDING

Or send an e-mail: info@idealsiding.com