Vinyl Siding in Vancouver
Vinyl siding is a material with which you can impeccably design the exterior facade of any building. The house, whose exterior is made of vinyl siding, is advantageously different among surrounding buildings. In addition to external attractiveness, it is also a solid material – its performance characteristics allow it to serve impeccably for several decades.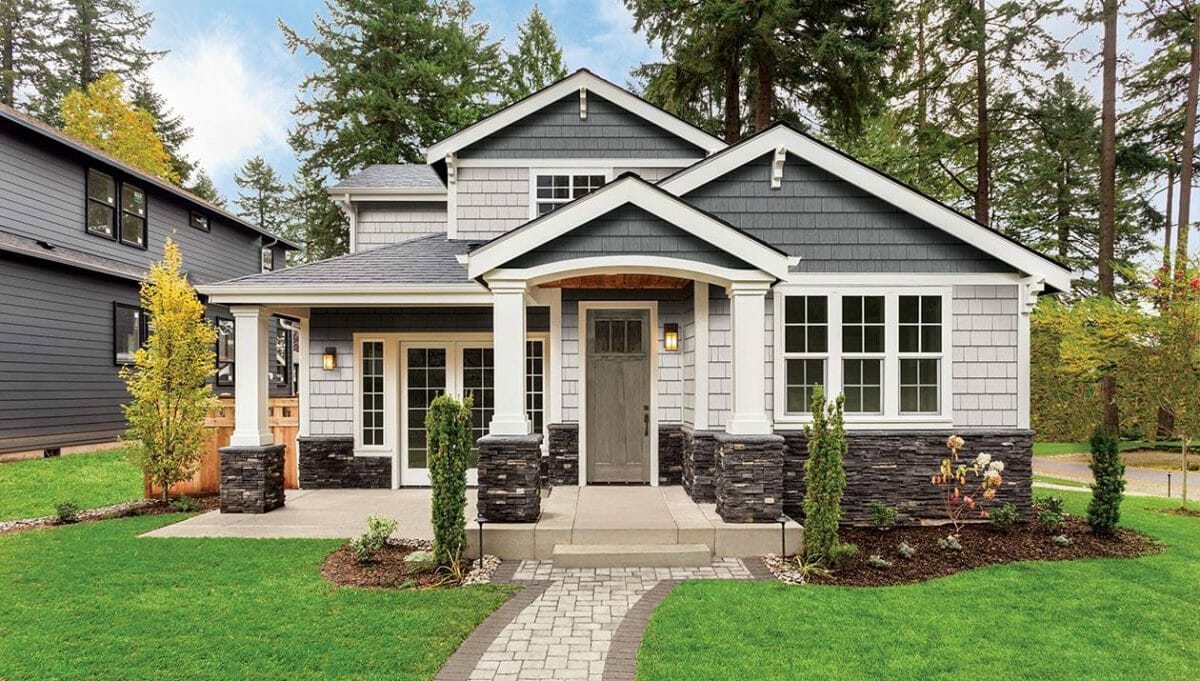 The facade exterior made of vinyl siding will look impeccable for 50 years. At the same time, the price of finishing works is quite acceptable for most people.
Advantages of a Vinyl Siding
In addition to the economical price per square foot and long lifespan, vinyl siding is considered one of the most environmentally friendly finishing materials.
It is made of polyvinyl chloride, has a thickness of up to 1.5 mm. The material is durable and rigid due to its monolithic nature and protection against fractures is provided.
Vinyl siding has the following undeniable advantages:
The material is not exposed to moisture;
Shows resistance to fungi and moulds;
Refractory and has improved fire-fighting properties;
Operated under various temperature conditions ranging from -50 to 50 degrees Celsius;
Successfully passed all necessary tests of specialized laboratories;
Has increased strength and durability;
Does not contain harmful elements and impurities of heavy metals;
Protected from ultraviolet rays.
Easier for installation
Vinyl siding can be customized into different designs and colours, and quickly overtaking wood as the most popular type of siding in the world.
Different Types of Vinyl Siding
Deciding what style of siding to install on your home is a big decision that will impact its look and curb appeal for many years to come. Many variables go into choosing the correct siding for your home, including the texture, width of planks, colour, and type of insulation.
There are four most popular varieties in Vancouver:
Vertical vinyl siding (board & batten, vertical panels);
Horizontal vinyl siding (traditional lap, dutch lap, and beaded styles);
Vinyl shingles and shakes;
Insulated vinyl siding.
Vertical Siding
As the name suggests, vertical panels installation is attached to the facade of your home vertically rather than horizontally. Accordingly, vertical siding requires another lath for attachment. In the case of ordinary siding, the lath is fixed vertically, and the siding is fixed horizontally.
If the house is covered with vertical siding, everything changes – horizontal lath and vertically located panels.
Horizontal Siding
The horizontal siding type is equipped with perforation intended for a condensate drain.
Joints between elements formed during the installation of horizontal and vertical siding panels are arranged with special frame profiles, installation of which is mandatory.
The colour of such a profile most often corresponds to the tint of the main panels. Many homeowners choose a contrasting version of the edging for installation.
Shingles and Shakes
Vinyl Shingles and Shakes are available in a wide variety of styles and patterns mimicking the texture of natural wood with none of its maintenance or offering a sleek modern design.
They add distinctive rustic character to the look of your Vancouver house and are mostly used on gables to accentuate the texture and colour. Some of the most popular styles are staggered edge, straight edge, and round shingles.
Insulated Vinyl Siding
Vinyl siding also can be insulated. As a heat insulator, a polymer similar to polyurethane foam is applied to the reverse side of the material. The use of insulating material allows to minimize heat losses and makes the lining of brick or wooden houses of better quality.
Additionally, the insulated siding increases the sound insulation of the building. The facade material looks good and solid.
The use of panels with a thermal insulation spraying layer is not an alternative to separate insulation of the facade from the outside since the polymer layer does not exceed 38-40 mm.
Vinyl Siding Installation
Vinyl siding has a lot of advantages compared to other types of siding, such as easy maintenance, energy conservation, and lower cost. However, improperly installed by contractors, it can leak water and cause damage to the wood sheathing underneath. Therefore, it is worth trusting the vinyl siding installation to a professional company.
We offer:
Fast and high-quality installation of vinyl siding in Greater Vancouver;
Any scope of work in a short time;
Only high-quality material of proven manufacturers;
The best prices in the region (and price-match policy);
Crews with extensive experience;
Competitive prices (regular vinyl starts at $6.25/ft2 and premium options start at $7.00/ft2).
The work will be performed professionally and comprehensively. We will deliver all necessary measurements, provide you with a catalogue of materials to select the most suitable and calculate the required number of materials and accompanying elements.
Materials will be delivered at a convenient time for the customer. By agreement with the client, we set the terms and dates of the work. You get your dream house at an affordable price, which will become the most stylish and bright among other homes nearby!
Call us to request a free estimation:
+1-604-239-2898
+1-8-555-SIDING

Or send an e-mail: info@idealsiding.com