James Hardie Siding in Houston
When the time comes to renovate your existing home or build a new one, one of the most important decisions you will make is what kind of siding to choose.
Houston's humid subtropical climate, with its tornadoes, tropical cyclones and severe flooding, is particularly hard on homes. If you are looking for durability, affordability and a wide range of colors and finishes, you can't go wrong with James Hardie siding.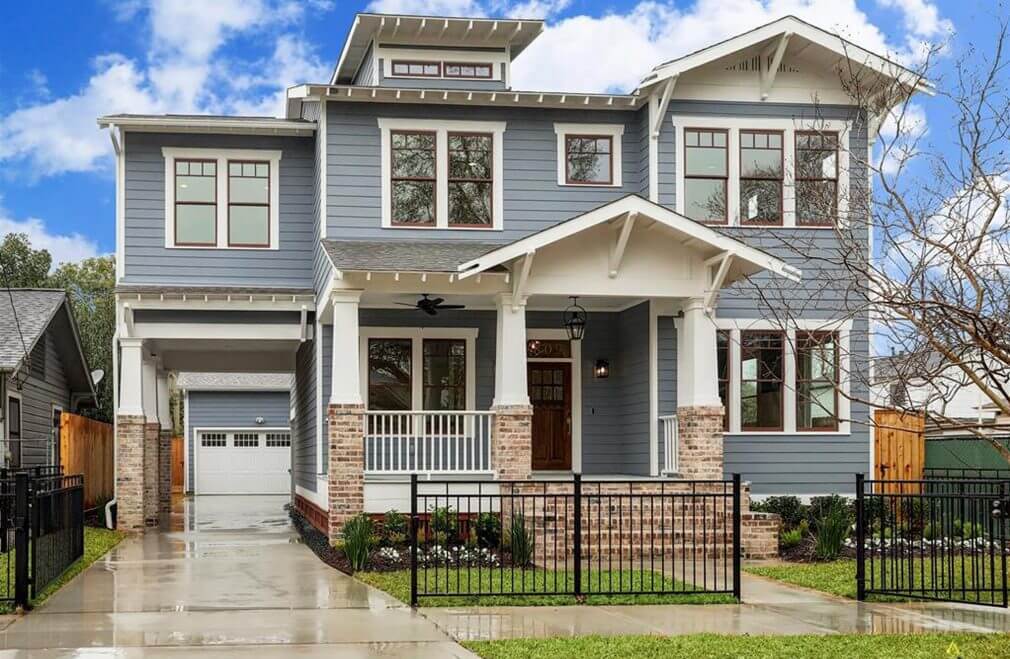 What is James Hardie Siding?
James Hardie siding is one of the best brands of siding on the market today, installed in over 8 million homes throughout the United States. Also known as fiber cement siding and Hardiplank, Hardie siding is manufactured by James Hardie, a company that was established in 1888. It introduced high-performance fiber cement siding a hundred years later, quickly becoming the world's number one manufacturer of the product.
James Hardie siding is a fiber cement siding made from a mixture of cement, sand, and cellulose fibers. Produced in long, horizontal strips, it is prized for its durability as well as its ability to resemble virtually any siding material, including wood lap boards, cedar shingles, and wood shake siding. This versatile product installation is done in the same way as a traditional lapboard or wood siding and is available in a wide range of color options.
James Hardie Profiles and Color Options
James Hardie siding is available in planks, panels, and shingles:
Planks – Also known as lap siding, plank siding is the most popular type of siding. It is installed horizontally in long planks, with the course of the top siding overlapping the course of the one under it. Hardie plank is typically used in traditional homes. The panels are 5/16" thick and come in 6 different widths: 5.25", 6.25", 7.25", 8.25", 9.25", and 12".
Panels – Panel, or vertical, siding can be identified by its tall, wide panels that are installed vertically. It provides a clean appearance that is popular in contemporary homes. It is 5/16" thick and comes in lengths of 4' x 8', 4' x 9', and 4' x 10'.
Shingles – Also called shake siding, shingle siding is easily recognized in the exteriors of Cape Cod and Victorian-style homes. These pieces, which are available with either staggered, straight edges or half-round edges, are typically used to cover small areas. Their standard size is 48" x 16" but comes in smaller widths, ranging from 4.2" to 10".
In the diagram below, you can see what these products look like on the finished house.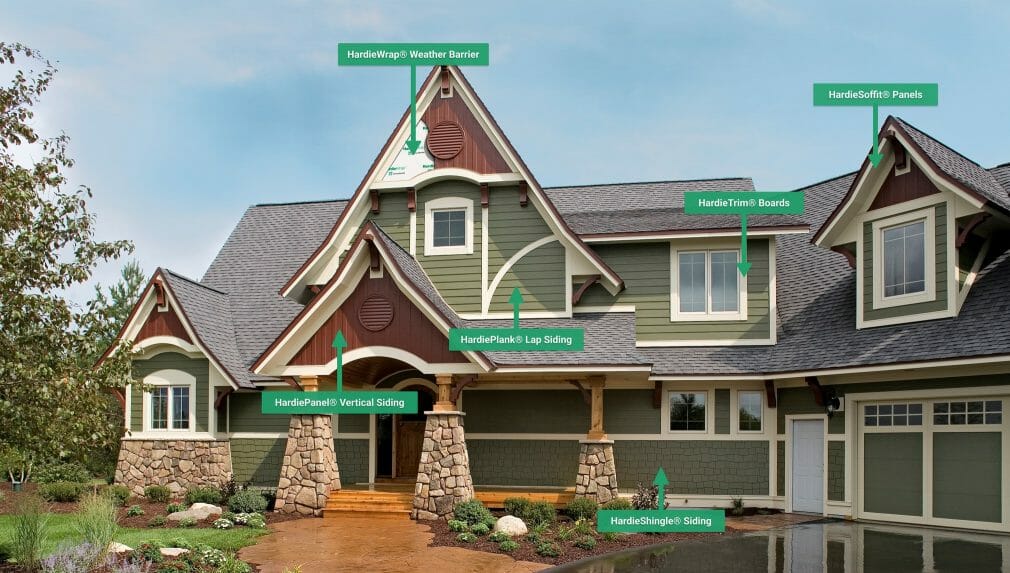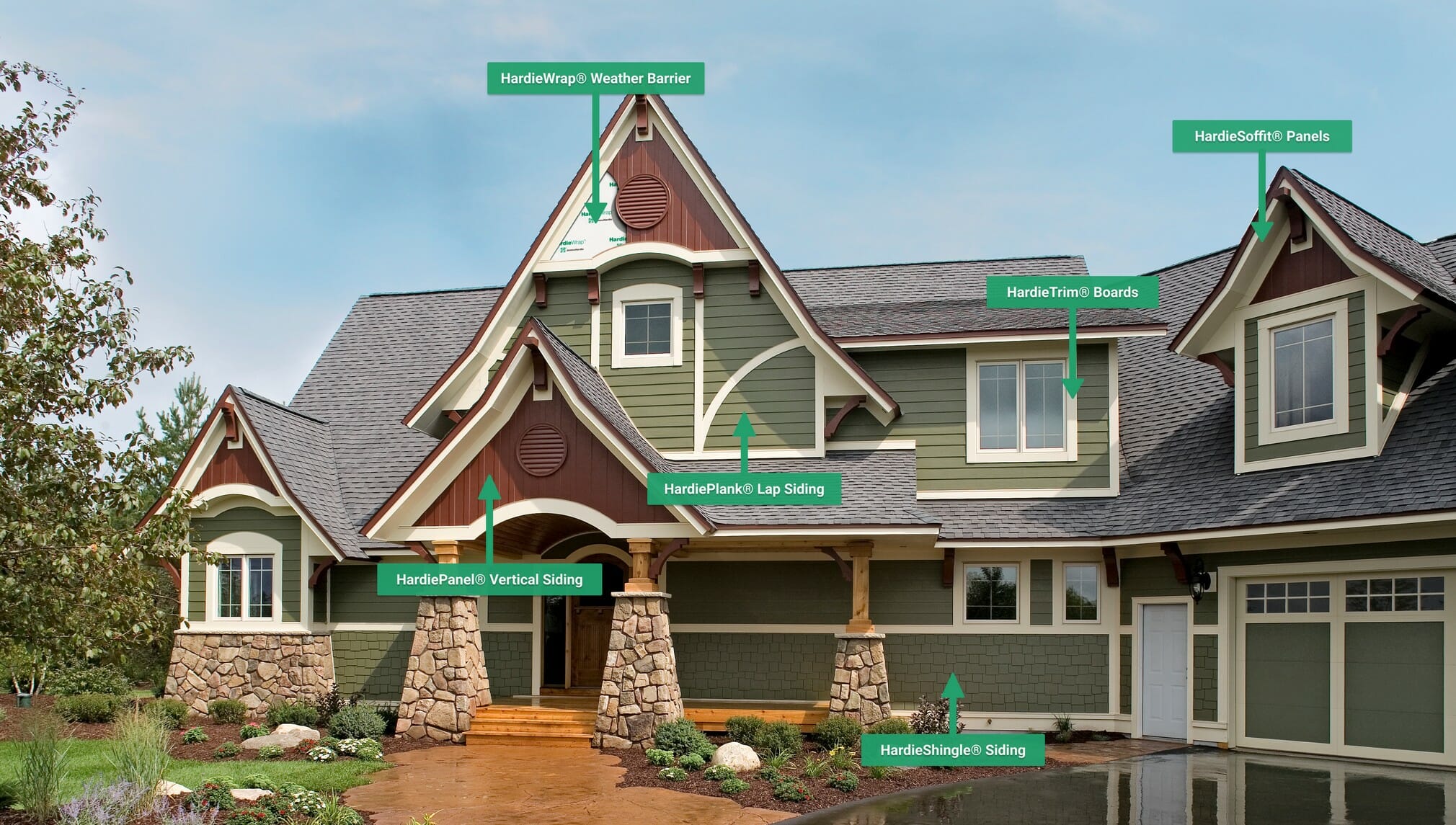 Hardie siding is available in a smooth, wood grain or stucco texture. It also comes with a beaded bottom edge. Its shingle siding, which mimics cedar shingles, includes options for straight edge, staggered edge, and half rounds.
Hardie offers over 20 colors in its durable Statement Collection™ so that you can match your siding to your home's color scheme. It offers great resistance to fading, peeling, chipping, and cracking, which means it is remarkably easy to maintain.
Hardie's ColorPlus proprietary finish is applied at its factory. During the process, paint is applied in multiple coats and cured in a controlled environment, creating a stronger bond between the paint coats and the surface itself. This technology allows the it to retain its color and vibrancy and is backed by a 15-year limited warranty.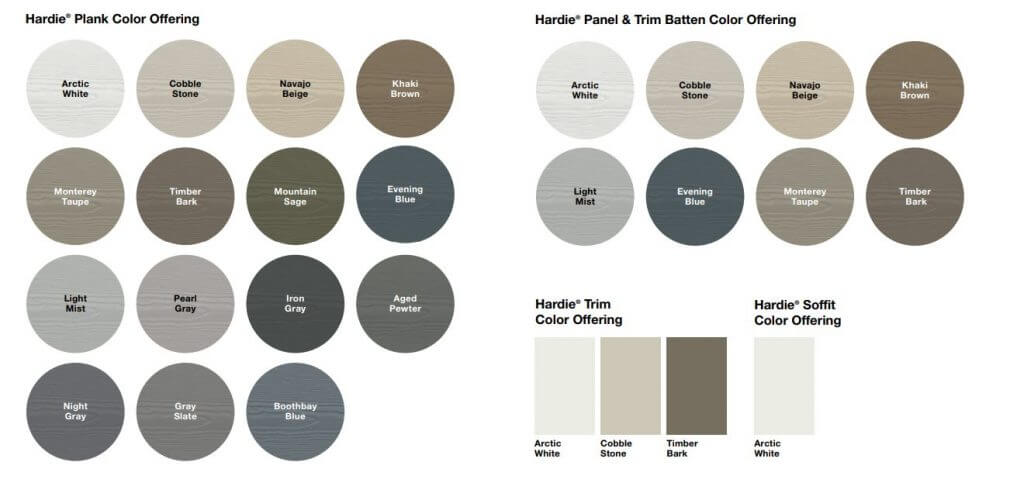 Pros and Cons of James Hardie Siding
There are innumerable advantages to using James Hardie siding. While durability and a wide variety of choices are among the most obvious, there are many other reasons to choose James Hardie siding:
Weather resistant. Particularly important in Houston's harsh climate, James Hardie siding is approved for installation in areas with wind speeds of up to 200 mph.
Fire-rated. Composed of 90% sand and cement, it is inherently fire-resistant and non-combustible. It won't ignite when exposed to a direct flame.
Low maintenance. It is easy to maintain because it doesn't rot when it gets wet and is resistant to mold and insects.
Long lifespan. It is estimated that James Hardie siding will last for 50 years.
Attractive look. It is aesthetically appealing and will increase your Houston home's value and curb appeal. It can be made to look like almost any other type of siding that you are considering.
Environmentally friendly. The James Hardie Company's sustainable practices, along with the product's material make-up, result in environmentally friendly siding.
Customizable. The many available styles of Hardie siding offer a wide range of options to match your home's architectural style. You can also choose the perfect color.
Elements-resistant. Thanks to the siding's mix of durable materials, you won't have to worry about damage from water and rust. It can withstand significant heat stress from heat and fire. Also, direct exposure to sunlight will not cause fading.
Thermal insulation. The siding has excellent heat retention, eliminating the need for a layer of installation.
There are not a lot of reasons not to choose Hardie siding, but here are a few to consider:
More expensive than vinyl. While its initial cost is more costly than vinyl siding when amortized over its lifetime of an average of 50 years, it is a significant investment. It will increase your home's resale value and provide the highest ROI in the industry.
Heavyweight. Hardie siding weighs approximately 300 pounds per 100 square feet, as opposed to vinyl siding's 60 – 70 pounds, so it is more challenging to install than its wood and vinyl counterparts. However, using our expertly-trained contractors for your installation will make the job go smoother.
Improper installation is expensive to fix. If the installation is not done correctly, it can be costly to correct. That is why using our contractors is a safe bet.
James Hardie vs. Vinyl Siding
The James Hardie siding's physical appeal is one of the main reasons to choose it over vinyl. Because it is more than five times thicker than vinyl, it allows for deeper grooves, which results in a more authentic wood grain effect. It will lend elegance to a home that vinyl will not, increasing its value and curb appeal.

How Much Does Hardie Board Cost in Houston?
James Hardie siding costs, on average, is $15 per square foot, about twice as much as vinyl, so figure on paying approximately $15,000 for a 1000 sq. ft. exterior surface. According to the James Hardie website, using it to replace the siding on your home provides the "number one" return on investment of any exterior remodel and a higher ROI than going with vinyl siding.
There are various factors that will determine the exact cost of Hardie Siding installation. These include:
Design and size of your home.
Local labor rates.
Cost to remove existing siding.
Extent of your project (full or partial replacement).
Keep in mind that when your Hardie Siding is installed properly, it is backed by the company's 30-year limited warranty. And it will last for decades.
Why Hire Us for Your Project?
You will get no better result than using Ideal Siding to install your James Hardie siding, whether your project is a new home or a renovation. That's our specialty, so no wonder we're good at it!
Here are a few reasons why you should use us as your trusted siding contractor:
Price Match Guarantee. Ideal Siding offers high-quality service along with a price match guarantee on all projects in Houston for the same scope of work. All you need to do is show us a competitor's itemized quote, and we'll match it, plain and simple.
25-Year Workmanship Warranty. We are so sure of the product and services we provide. As trusted contractor, we offer a 25-year workmanship warranty, which covers everything from a minor repair to a complete installation replacement.
Complimentary Visuals for Your House. We offer a complimentary mock-up of your home showing the siding you selected, giving you the opportunity to visualize how your home will look, and make adjustments if needed.
We have the top crews in the industry and work with the most reputable suppliers and contractors in Houston.
Ready to get your FREE no-obligation quote or have questions about our services? Please call one of these numbers to talk to one of our project managers:

+1 (346) 258-7188
+1-8-555-SIDING

Or e-mail us at info@idealsiding.com

We offer James Hardie siding with a 25-year Workmanship Warranty and a Price Match Guarantee.
These are the signs that it's time for your home to get new siding:
Fading siding color or in need of frequent painting.
Peeling paint or lose wallpaper inside your home.
Fungus, mold, or mildew.
Blisters or bubbles on your siding.
Cracks, gaps, warping, or rotting siding.
High energy bills.
Sound like your home? Call us today to speak with a specialist or get a free quote.