Vinyl Siding in Houston
Are you planning to install vinyl siding on your home in Houston? In that case, you're in the right place. Here, we've mentioned some basic aspects of vinyl siding and its installation that you need to know before moving forward with your siding project.
At Ideal Siding, we have a skilled and experienced team of professionals who can help with the installation and selection of vinyl siding. We also provide a 25-year warranty on workmanship.
Types of Vinyl Siding
There are three most popular types of vinyl siding, which are lap siding, shingles/shakes, and board & batten. What are their differences?
Lap siding comes in horizontal panels with the grain running parallel to the plank's length to make it look like hardwood. To make installation easier, most planks are installed with a tongue and groove system.
Shingles and shakes – resemble the shingles or shakes used on roofing. Shake sidings are usually thicker and more durable than shingles.
Board & Batten – mix wide and narrow planks together. Battens (thinner planks) hide the connections between the larger planks (boards). This type has some weatherproofing advantages. Because it is commonly used in barns, it's also known as barn siding.
These styles are the most popular. Overall, consumers have a huge variety of brands, colors, thicknesses, textures, profiles, and styles to choose from.
Pros and Cons of Vinyl Siding
Not only is vinyl siding highly functional, but it also provides plenty of benefits. It costs relatively less per square foot and endures harsh weather conditions, offering you a longer lifespan. Also, if you're looking for an environmentally friendly option, this should be your choice. It is relatively easy to recycle it at the end of its lifespan.
Purchasing the highest quality vinyl siding means you'll get siding made from polyvinyl chloride with at least 1.5 mm thickness. Thanks to this, it is extremely durable and has the ability to bear fractures and pressure. Polyvinyl chloride composition also gives it a monolithic nature.
Other benefits you can enjoy by investing in vinyl siding.
Resistance to molds and fungi.
Free from heavy metals and harmful elements.
Lower maintenance but beautiful appearance.
Easy and cost-effective installation.
Relatively long life span.
The most appealing benefit of vinyl siding is that you can customize it in different colors and designs. This property makes it an ideal, functional, and efficient substitute for wood. So, if you want to protect the outside walls and boost your home's curb appeal, vinyl siding from credible Houston installers is the perfect option for you.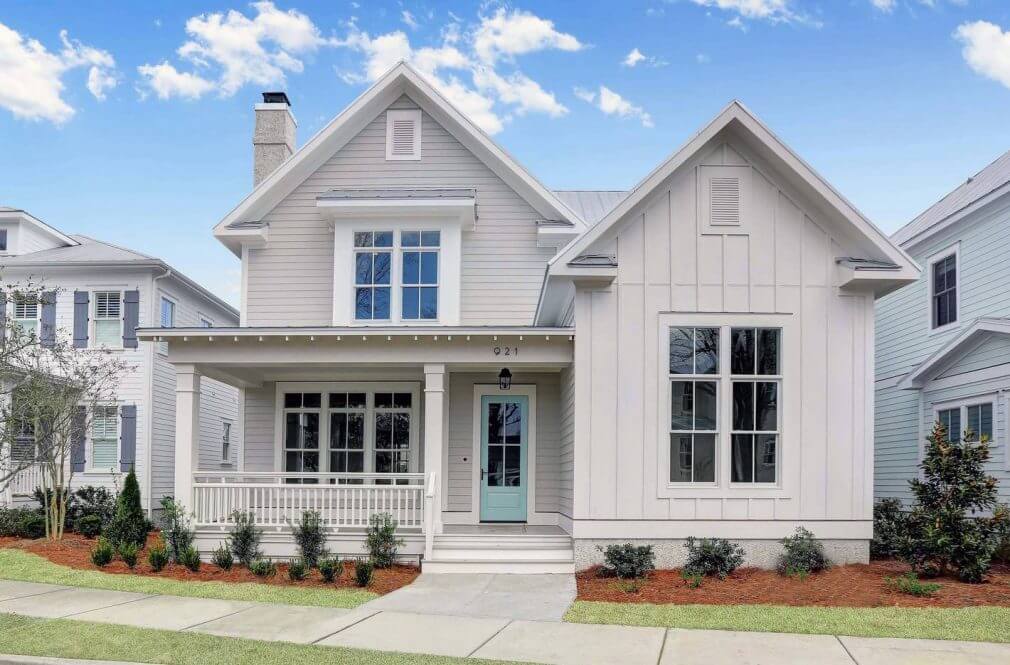 Like all other household construction products, vinyl siding has some disadvantages. For instance, replacing individual panels is pretty challenging if they suffer from damage, cracks, or discoloration. Poor quality materials may also fade if you don't keep up with maintenance. This can happen in extremely hot weather which could be the case in Houston.
Other drawbacks that you might have to consider are as mentioned below:
Installing vinyl siding yourself without a professional could result in improper installation, which will void warranties.
The improper installation, like tightly nailing the siding, can cause it to warp, crack, or bulge.
Product warranty will not be valid for problems that occur due to faulty installation.
The siding might allow moisture formation under the surface.
Well, these drawbacks might look worrisome, but you can decrease their risk of developing by choosing prime-quality products from credible and reliable suppliers and installers.
Carefully-made vinyl siding is durable and strong, so you can use it without having to replace it for a decade or more. But most importantly, proper and strategic installation of vinyl siding is something that can offer long-lasting results. Practicing the right methods and tools to install each siding is important. So, hire experienced and skilled experts like Ideal Siding to get promising results.
How Much Does the Vinyl Siding Cost in Houston?
The cost of vinyl siding installation varies depending on the contractor, brand of vinyl, house size, and other factors. Also, the quality of the vinyl you choose greatly impacts product cost. In general, vinyl siding can cost you around $7 to $10 per square foot, including the cost of installation and labor.
If you're planning to hire cheap labor to reduce the cost, hold that thought. Vinyl siding can offer a long list of benefits, but the improper installation of vinyl siding can lead to water leakage. As a result, it can damage the home's sheathing. So, it's better to hire experienced vinyl siding contractors.
If you regularly maintain your property, don't nail things, or put any pressure on your siding, it can last around 20 to 40 years. Also, vinyl siding requires a fresh coat of paint every ten years. The harsh Houston climate – extremely warm summers and cold winters, can cause the paint to fade over time. However, if local weather conditions remain favorable in the area, you can wait a few more years before repainting the siding.
Why Choose Us as Your Contractor?
Since new siding installation is an expensive project, it's best to hire a contractor who knows the nitty gritty of vinyl siding and its installation process. Our team can help you get the most out of your siding project by providing guidance throughout the process. We can also save you from early repairs and replacements by installing the highest quality vinyl siding, and by practicing the right methods.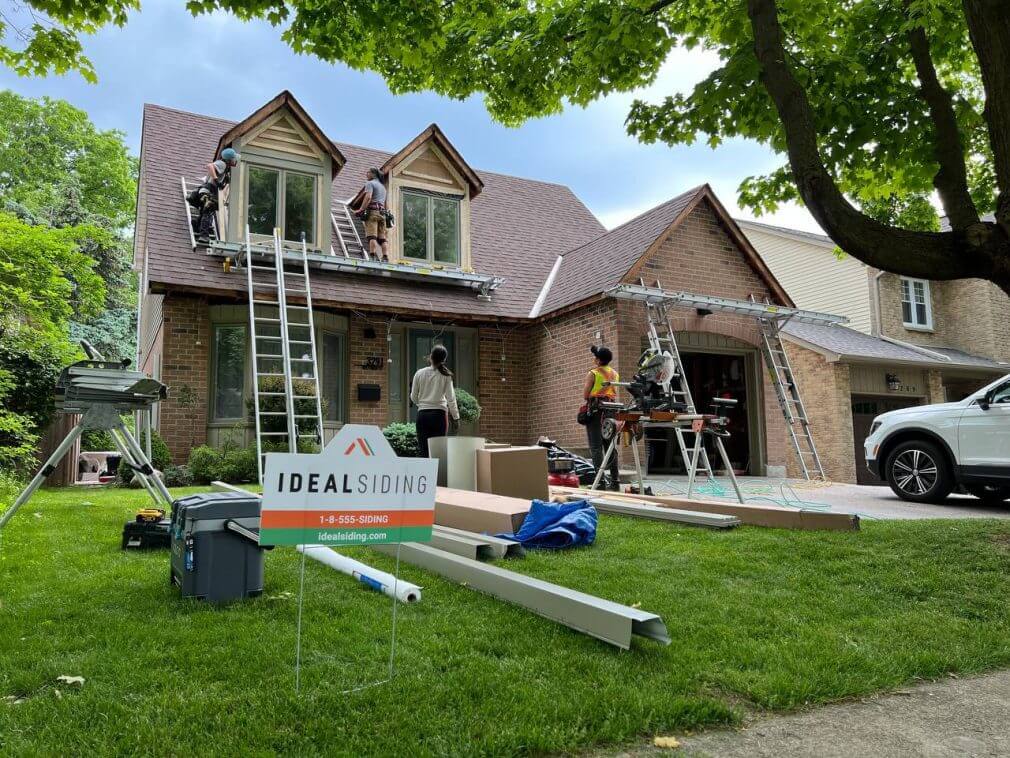 By hiring Ideal Siding, you can enjoy the following benefits:
Advice by considering the local climate and building codes.
Assistance and support before, during, and after the project.
Free, no-obligation customized options and quotes.
Complimentary mock-up so you can know the look of your house before you commit.

High-quality and fast installation by installers with at least 7 years of experience.

Premium quality materials made from popular brands.

25-year warranty against labor defects.
Price match guarantee for the same scope of work as our competitors offer you.
We can show you projects we have completed in the past as a reference.
Our team uses a set of rules to deliver the best quality results for customers. Once you hire us, we will set a time and date with you to begin the project. It usually takes a week or two for quality siding installation. We will use the right practices and methods to help you achieve your dream home with a high curb appeal.
Ready to get your FREE no-obligation quote or have questions about our services? Please call one of these numbers to talk to one of our project managers:

+1 (346) 258-7188
+1-8-555-SIDING

Or e-mail us at info@idealsiding.com

We offer vinyl siding with a 25-year Workmanship Warranty and a Price Match Guarantee.
We have been in the industry for years. Therefore, we use the construction industry's modern, cutting-edge technologies, materials, and methods. We make sure to improve our services year by year and provide long-lasting results to our clients.