Cedar Siding in Houston
There are lots of reasons why you may want to choose Cedar siding. It's undeniably beautiful, durable, customizable, and can increase the value of your home. Ideal Siding will install cedar siding that effectively repels insects and adverse weather as long as it is adequately maintained.
Cedar is an ornamental tree and a valuable, practical source of wood products. It grows quickly and easily, which means it can be easily replaced when harvested to make cedar siding. For many years this fast, easy growth and aesthetically pleasing wood appearance have made cedar a natural choice. No other siding options offer this kind of durability, beauty, and natural insect repellence.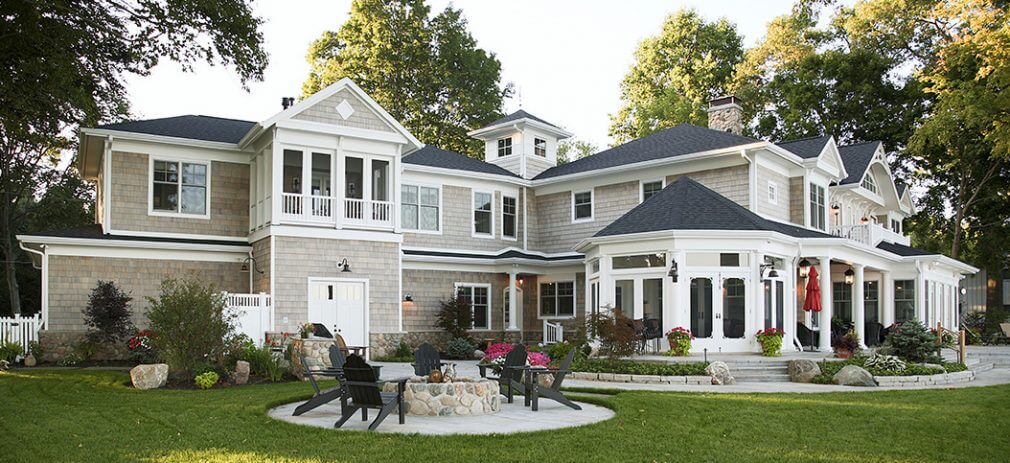 Cedar can be cut in various ways to create all kinds of different siding styles. As a result, you can get just about whatever look you want with cedar siding. Do you like shingles? Choose from patterns, straight edges, or staggered. Prefer boards? Shiplap or straight boards can offer a sweet or modern effect. Would you rather boards be vertical, horizontal, or some combination? The choice is yours.
Here's what you need to know about cedar siding and why proper installation is crucial.
Pros and Cons of Cedar Wood Siding
Listed below are the characteristics and many benefits of cedarwood wood:
Appearance. Cedar or any wood siding is one of the most attractive choices in siding. Whatever style you're going for, there is likely a cut of cedar siding that will look lovely on your home. Additionally, it has a pleasant aroma!
Reasonable cost. Especially when compared with other decorative siding and considering how long cedar siding can last, cedar is reasonably priced.
Natural insulation. This durable wood is an excellent insulator that helps to maintain climate control and control noise.
Cedar doesn't warp or swell. Cedar holds its shape nicely and can handle fluctuating temperatures, and won't warp even on the hottest or coldest days.
Environmentally friendly. Cedar grows quickly and can readily be replaced in the environment, making it an easily renewable resource.
Resistant to insects and rot. Cedar has some natural resistance to insects, but with the proper paint or sealant treatment, it forms a very good seal against pests and moisture.
The main downsides of wood-type of siding are that it is flammable and needs to be cared for properly. Cedar naturally deters insects to some degree, but it is susceptible to insects and moisture damage if it's not maintained correctly:
Cedar should be stained or painted every three to five years, depending on the exposure and conditions in the area.
If any damage occurs from storms, wind, etc., the siding panels must be promptly replaced to prevent any further damage to the material underneath the siding.
When cedar is installed correctly, regardless of the chosen style, the installer will lay boards very close together so that they'll form a natural seal.
Well-maintained cedar siding can last up to 40 years.
How Much Does the Cedar Siding Cost in Houston?
Cedar siding really stands out in terms of look and curb appeal. It is pretty easy to work with but requires more maintenance than the other options. This is more of a premium option starting at $16 per square foot, so a 2000 square foot home would cost $32,000- $40,000.
Although Cedar siding is more expensive than some other siding choices, with Ideal Siding, you can expect quality, expert installation, and top-notch service. We do offer price-match guarantees to make sure you can hire a reputable contractor for the same money and scope of work our competitors in Houston offer.
Types and Profiles of Cedar Siding
Those who prefer cedar siding can choose from a wide range of selections.
Bevel or bevel lap is made by resawing lumber at an angle to create two pieces, one edge thicker than the other. It is more commonly installed in a horizontal pattern.
Clapboard is laid horizontally on external walls in long, narrow boards, often overlapping. Several species of cedarwood can be used to make clapboard wood siding.
Shiplap is flexible and can be arranged horizontally or vertically, depending on your preference. Shiplap has a rustic-meets-modern appearance that quickly transforms a space from drab to pleasant.
Tongue and Groove can be arranged vertically, horizontally, or diagonally in exterior and interior spaces. Common uses include ceilings, siding, cladding, and accent walls.
Board & Batten has a vertical design in which wide clear or knotty cedar wood planks are spaced apart, and the joints are concealed with smaller boards. Its layered look and geometric style can significantly elevate a space.
Shingles give a smooth, consistent appearance across the entire roof surface. They are sometimes left natural, but they are more commonly painted or stained. Some shingle subtypes include pattern, round edge, staggered, and straight edge.
Shakes provide a rougher appearance than shingles because each piece is slightly different. They are more substantial and thicker than shingles and are constructed from high-grade wood.
Log is also called a log cabin because its thick panels resemble one. Cedar is an excellent material for country cottages, cabins, pool houses, and similar structures.
Wavy Bevel is also called a wavy edge or live edge, this type of siding consists of a natural log edge that has not been cut into a straight line.
The presence or absence of spots and knots in the field of wood grain allows us to classify it as follows: class A, class AB, class B, class C, STK.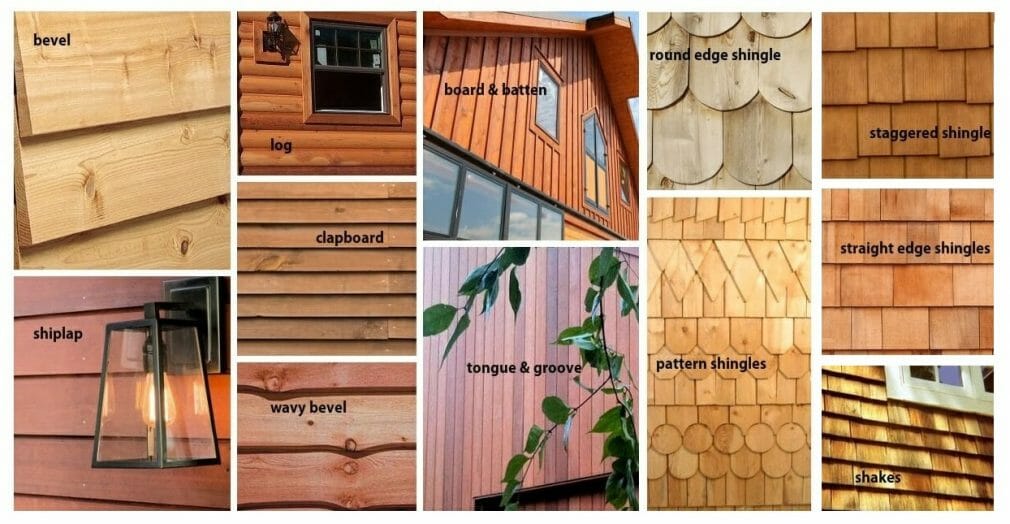 How Long Does Cedar Siding Last?
Cedar siding can last for 40 years or more when properly maintained. It can easily be stained, painted, or otherwise treated to continue to match the style of the house, even if you change the paint, roof, etc.
The expected lifetime of cedar siding will last depends on a couple of things:
How properly it was installed.
How well it's cared for.
The position of the siding and how much weather and wind it takes.
The temperature and humidity in your region.
Whereas the weathering that occurs as siding reaches the end of its life makes other kinds of siding look old and unattractive, it looks very charming even as it gets older.
Will Cedar Siding Add Value to My Home?
Installation of any new siding would improve your property value, and installing cedar siding can raise the value of your home even more. Cedar siding offers a very desirable curb appeal and can be a good market value ROI. Quality cedar siding can last a very long time, so anyone who buys your home will know that they won't have to worry about replacing the siding for some time.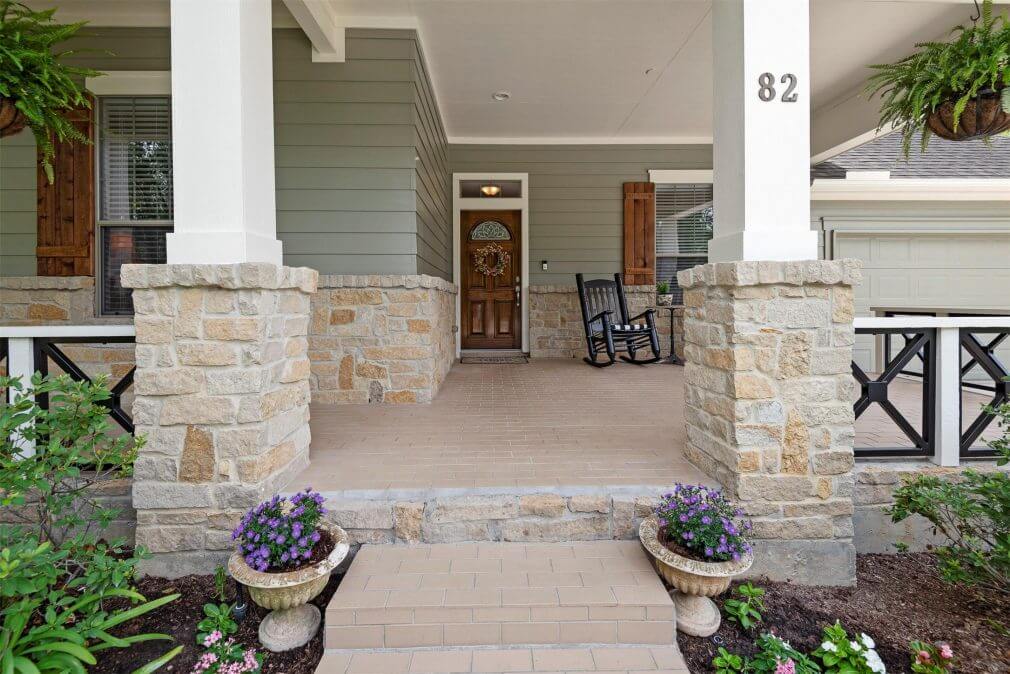 Thanks to the variety of structures and warm shades, it looks spectacular. Cedar siding is a warm, attractive choice that can add tremendous charm to your home. It may be that wow factor that convinces someone on the fence to purchase your home.
Why Choose Us as Your Contractor?
You may be tempted to try cedar siding installation yourself or hire someone who isn't licensed and insured but is affordable to get the job done. You may want to think twice before hiring someone who doesn't have the right credentials or an established reputation in the industry.
It is so important to choose a trusted and reliable contractor. At Ideal Siding, we guarantee the outcome with minimal fuss and outstanding results.
Ready to get your FREE no-obligation quote or have questions about our services? Please call one of these numbers to talk to one of our project managers:

+1 (346) 258-7188
+1-8-555-SIDING

Or e-mail us at info@idealsiding.com

We offer cedar siding with a 25-year Workmanship Warranty and a Price Match Guarantee.
Correct wood siding installation is extremely important to the integrity of your home. The cedar siding contractors that you choose need to follow the manufacturer's guidelines and install each panel of cedar with the utmost care to prevent the siding from damage or defects. At Ideal Siding Houston, we have experienced, licensed, and insured teams, so you can have peace of mind knowing your home is in good hands.