Engineered Wood Siding in Houston
The range of options can be confusing when you're looking to install new siding on your home. Vinyl, cedar, and fiber cement have advantages and disadvantages. However, in recent years, engineered wood siding has become an increasingly popular choice among homeowners in Houston, Texas.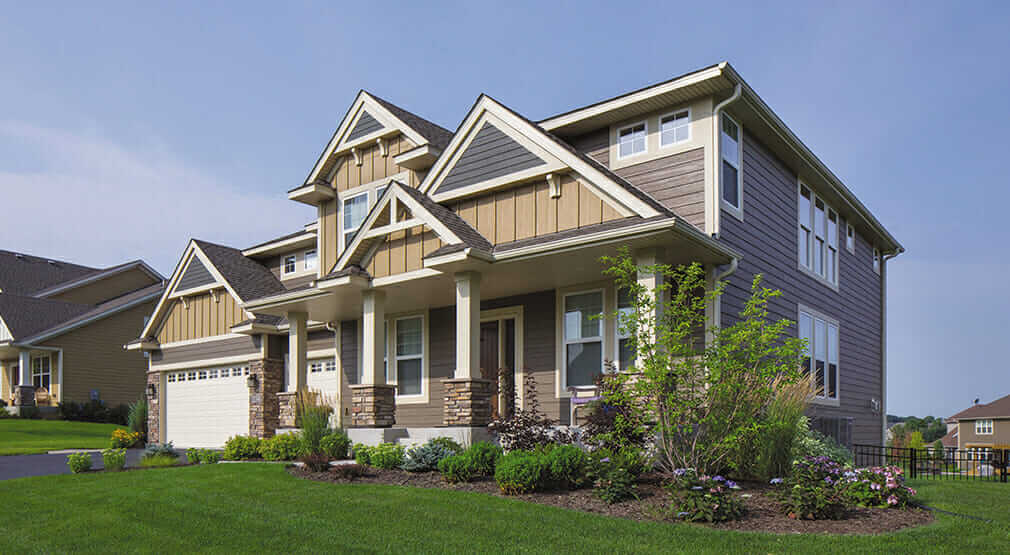 Engineered wood siding is manufactured from residual wood pieces bonded together by gluing and compressing pieces of waste wood and resins. The result is a composite product that resembles solid lumber but costs less. In terms of sustainability, the manufacturing process of engineered wood is an intelligent use of wood waste that maximizes environmental benefits and improves the use of natural resources.
When installing engineered wood siding, homeowners typically look for a mix of value, quality, and durability. In addition, they demand a product that looks fantastic and will perform trouble-free for decades.
Pros and Cons of Engineered Wood
When it comes to engineered wood siding, Houston homeowners tend to choose it over other options for many reasons:
Installing engineered wood siding typically costs half the price of natural cedar.
Installation is faster and easier than the alternatives, thanks to the material's lighter weight and advanced interlock systems.
Engineered wood is durable and can perform trouble-free for 30 years+.
Ongoing maintenance costs are far lower than for wooden siding.
It's fade-resistant and will look great for some years before needing to be repainted.
There's a vast range of styles and finishes to choose from, including vertical or horizontal panels, lap, shakes, and smooth or textured surfaces.
If you're looking for a rustic vibe, engineered wood siding mimics the appearance of natural wood closer than any other cladding material.
Engineered wood siding panels protect your home from the extreme summer temperatures here in Texas and resist fungal and pest infestations.
It's far less inclined to warp or twist than alternative siding types.
Quality of engineered wood siding is backed by impressive warranties of up to 50 years.
It provides exceptional impact protection against hailstones and can withstand wind gusts up to 200mph.
Many homeowners are attracted to the beauty of traditional wood as an exterior siding option, but the downside is that wood comes with several challenges as a natural, biodegradable material. For example, it may deteriorate over time due to high humidity, insect and fungal infestation, or the annual punishment it receives from the Houston summer heat.
Engineered Wood Siding Brands
So how can you install siding that looks as good as wood and you can rely on to last for decades, with very little maintenance? At Ideal Siding Houston, we've got the answers you need. We're focused on quality, and we guarantee work on every installation. We want every customer to be 100% satisfied with the look and performance of their siding.
As a result, Ideal Siding only installs market-leading products; some of the most popular products we work with are LP, Maibec and KWP.
LP SmartSide
Installation of LP SmartSide siding, the most popular choice in Houston, has taught us that it has several advantages over well-known rivals such as fiber cement (James Hardie). These include:
Lower upfront cost. It offers significant savings over other siding types of the same category.
Light and easy to install. Minimizes inconvenience during installation and reduces labor costs.
Extreme durability. It lasts decades with minimal maintenance.
Resistance to deterioration due to moisture, fungi, or infestation by pests.
Impact resistance. Tough enough to withstand impact from our Houston hailstones.
Industry-beating 50-year transferable warranty. It provides peace of mind and is an asset if you sell your property.
Green credentials. As it's composed of waste wood, it's an environmentally conscious choice.
LP SmartSide is available in 16 classic and contemporary prefinished and long-lasting colors to match the style of your home –without the annual hassle of repainting. LP Smart Siding & Trim is explicitly designed to offer durability and outstanding protection from moisture, mold, termites, and weather elements.
Maibec CanExel
We also work with industry-leading companies such as Maibec, famous for their innovative moldings and joints, which guarantee a flawless look. They have new and innovative pieces that ultimately provide a flawless finish. It's also fast and easy to install as a whole.
Their moldings and joints usually come in matching colors to the siding, so you can always have a perfect look. In addition, Maibec CanExel siding has been recognized by the North American Benchmark for its integrated siding systems.
KWP NatureTech and KWP Eco-Side
And for eco-conscious consumers concerned about reducing their environmental footprint, we recommend sustainable solutions from KWP. NatureTech is an engineered wood siding made from 100% recycled wood, yet it is still durable and reliable and looks great.
Their EcoSide product still contains 100% recycled content but may have additions besides timber as part of the formula. Both NatureTech and Eco-Side lines are tough, durable, and low-maintenance, with a strong aesthetic appeal.
Engineered Wood Siding Cost in Houston
Let's be clear. Engineered wood siding is typically slightly more expensive than traditional vinyl siding or fiber cement. Expect the cost for engineered wood planks to be in the range of $15 per square foot. For a 1,500-square-foot home, the price of materials would be in the region of $22,500.
However, once you've considered installation costs, you'll find that the total price of a project using engineered wood siding costs significantly less than if you choose the other two alternatives. Installing engineered wood siding is usually faster and easier, which translates into lower labor costs – which are rising significantly.
Traditional vinyl and fiber cement both have their specific advantages. However, choosing the 'cheaper' options to save money may well be a false economy as the higher installation cost could cancel out any savings you'd make.
Get the Right Contractor for the Job
Installing engineered wood siding is typically faster and easier than installing alternatives such as James Hardie or natural wood. But that doesn't mean you should entrust your siding project to anyone who talks the talk, who may cut corners to save a few dollars when it comes down to it. There's no getting away from it. The end result will reflect the installation company you choose.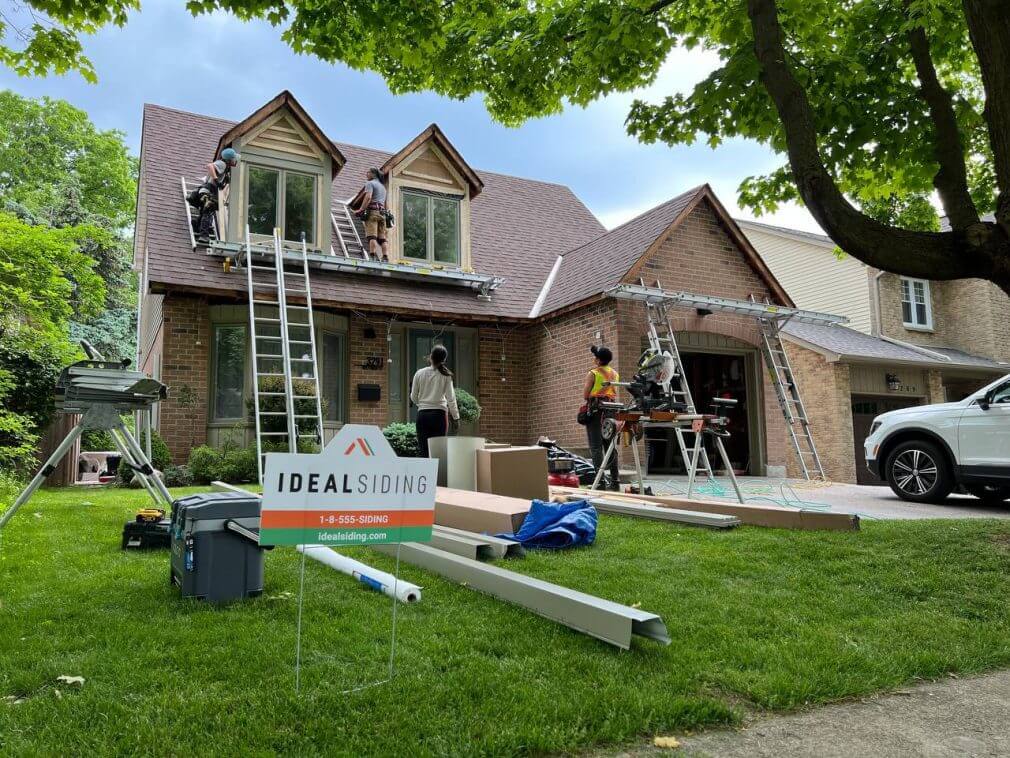 When you work with us, you can be confident that you'll benefit from the experience of the top Houston specialists in this material. We pride ourselves on attention to detail, and we're never satisfied until we know our customers are satisfied. We're so confident of our quality and service that we certify our workmanship with a 25-year warranty.
Moreover, we offer price matches for the same scope of work with no surprises or hidden fees. When you decide to go ahead, our team will guide your installation project:
Free project estimate.
Walkthrough of available brands and colors to fit your goals and budget.
Complimentary mock-up so you can know the look of your house before you commit.
Pre-installation service, including dismantling of existing siding if required.
Professional installation in full compliance with manufacturer's instructions and meticulous cleanup after.
25-year warranty against labor defects.
Still unsure whether engineered wood siding is the best option for your home? Call us to talk through the options and get a free, no-strings-attached estimate.
Ready to get your FREE no-obligation quote or have questions about our services? Please call one of these numbers to talk to one of our project managers:

+1 (346) 258-7188
+1-8-555-SIDING

Or e-mail us at info@idealsiding.com

We offer engineered wood siding with a 25-year Workmanship Warranty and a Price Match Guarantee.