Aluminum Siding in Houston
Aluminum siding has become increasingly popular as technology has advanced, enabling many more styles, colors, and varieties in quality. Aluminum siding is made from aluminum coils that are chemically coated, so the metal is protected.
The material is baked for even more durability. Enamel and paint add style and further protect the aluminum. Aluminum siding is often made from recycled aluminum and can be recycled again.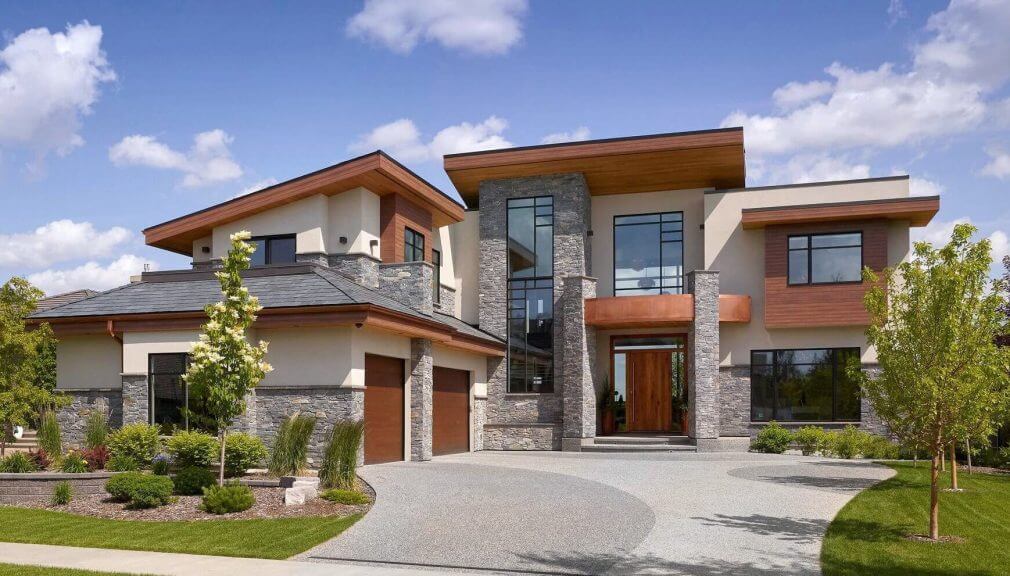 You would probably be amazed by how many buildings you see with aluminum siding without realizing that the material used is aluminum. Whatever look you're going for, there is likely an aluminum siding option that will meet your needs perfectly.
If you're looking for aluminum siding in Houston, look no further than Ideal Siding. Here's what you need to know about the installation options available in aluminum siding, considerations in aluminum siding cost, and how to decide whether aluminum siding is right for you.
Pros and Cons of Aluminum Siding
There are a few considerations that favor aluminum among other types of siding:
Light. Aluminum is an extremely light and versatile metal. It typically doesn't require much hardware to attach, so no extra weight is added to secure it. Aluminum is one of the lightest options you can choose for the exterior of your home.
Durable. You won't have to apply many treatments to keep your aluminum siding in good shape since this material is naturally highly durable and resistant to rot, rust, and insect damage.
Recyclable. Aluminum is 100% recyclable and is an excellent insulator that adds energy efficiency to your home. Aluminum siding has lasting value and will likely still be useful as a raw material even after it has served its purpose as your siding.
Naturally resistant to fire. Aluminum being metal doesn't need any additional treatments to resist catching on fire. Aluminum is fire, water, and wind resistant, perfect for any climate.
Easy to maintain. Aluminum is easy to clean just by washing it. If a panel becomes damaged, it can easily be replaced.
Lots of styles. Horizontal or vertical? Textured or flat? Imitation wood, brick, or stone? Aluminum siding comes in so many different options and profiles that it can please just about any taste.
Affordable. With all of the advantages of aluminum, you may be surprised to learn that it is pretty reasonable. Aluminum siding can be made from recycled materials, reducing the price.
Despite all its benefits, aluminum siding is not perfect. Here are a few disadvantages of choosing this type of material for your home:
It might make noises. Popping sounds can sometimes occur when the aluminum expands and contracts when the temperature changes. Aluminum is louder than other siding options when bad weather strikes, especially hail.
It doesn't have the best color fastness. Aluminum may tend to fade as time goes on, especially in direct sunlight. This can be especially problematic if you want to match the color when you replace sections of siding down the road.
It will become weathered. Aluminum is not an especially hard metal, and a lifetime of shielding your home from the outside world can weather your aluminum with nicks, scratches, and dents. Periodically repainting will protect the aluminum siding and hide some of the weathering. Weathering usually doesn't cause any problems in the functionality of the siding.
It's not the best insulator. Aluminum doesn't provide as much insulation from noise or outside temperature as some other siding options but provided you currently have the appropriate insulation for your home, you'll probably find that you overlook issues associated with insufficient insulation.
All these cons can be easily avoided if you choose premium aluminum products, like Longboard® Architectural Products or AL-13®. At Ideal Siding Houston, we supply and install only the best metal siding materials available to homeowners so you can create a unique look with various style options that suit you and provide the durability you need.
How Much Does Aluminum Siding Cost in Houston?
Aluminum siding comes in a wide range of thicknesses, coating, etc. Depending on your choice, you'll find that the price varies quite a lot. Here are some of the options you may make in your aluminum siding that might affect the cost:
Width and profiles.
Type of coating.
Degree of overlap for weather resistance.
Textures and even colors.
That said, here's a rough approximation of the cost of putting aluminum siding on an average home:
AL13® aluminum cladding starts at $28.50 per sq. ft., so a 2000 sq. ft. home would cost around $57,000 for siding installation.
Longboard® aluminum siding starts at $32.50 per sq. ft., so it would cost $65,000 for the same home.
While Longboard® siding comes at a higher price, you may decide it's worth the extra expense. Longboard® is a premium, lightweight, and incredibly durable product. In addition, there is a wide range of designs to choose from, including some that convincingly replicate wood.
Why Choose Us as Your Siding Contractor?
If you have decided that aluminum siding installation is the right choice for your home, don't hesitate to seek out the services of Ideal Siding Houston. You may think about hiring contractors who aren't licensed or insured to save money. You may even think about doing the job yourself. But you may leave your home vulnerable to damage and expensive repairs in the future. Mistakes can be costly.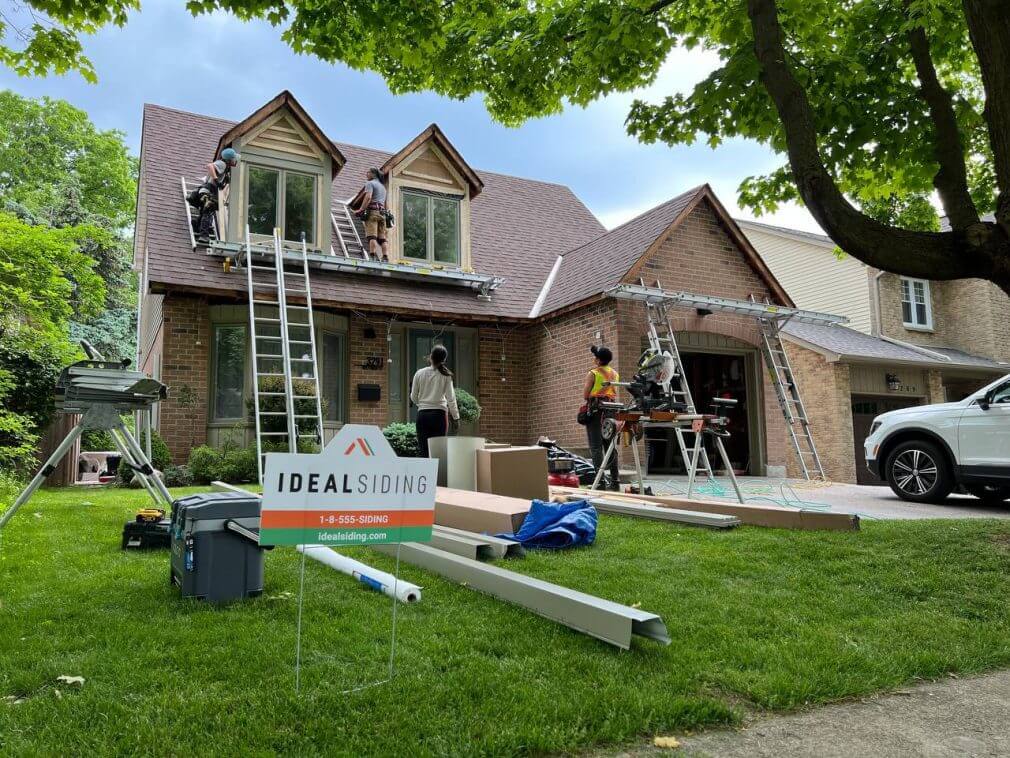 With Ideal Siding, you are backed by a 25-year warranty on workmanship, so you can have total confidence and peace of mind that we will do the job to your satisfaction. We also offer a complimentary mockup design to help you see what your home would look like if you went with the type of aluminum siding you're considering. Finally, you may be considering multiple quotes, so you have the option to take advantage of our price match guarantee offer.
Ready to get your FREE no-obligation quote or have questions about our services? Please call one of these numbers to talk to one of our project managers:

+1 (346) 258-7188
+1-8-555-SIDING

Or e-mail us at info@idealsiding.com

We offer aluminum siding with a 25-year Workmanship Warranty and a Price Match Guarantee.
Once you choose to work with us, you can rest assured every detail of your siding project will be taken care of from the beginning till completion. Our Project Managers will guide you through each step of the siding project on your house and will gladly answer any questions you might have. Here is the step-by-step process.
Old siding removal and sheathing inspection. We'll carefully remove your existing siding and repair the sheathing if needed. This step is where the quote we gave you may go up. If there is damage under your current siding, it will need to be repaired before we can install your new siding. It's not always apparent that there is damage underneath until the siding has been removed. So, while we have many years of experience looking for damaged sheathing when we prepare quotes, the truth is that it's often difficult to spot damage under the old siding.
Siding installation. Once the sheathing underneath is repaired, we will prepare the wall with a rain screen and install the aluminum siding. The rain screen protects the walls underneath your aluminum siding from humidity and rainfall. We also install bug screens to keep any insects that might sneak through gaps in the siding out of your walls. We'll install finishing touches around the aluminum siding to make it look polished and to help it hold up through the years.
Clean up and waste removal. Finally, we'll thoroughly clean up the work area. We take great pride in our work site and never leave any debris behind. Then, you can walk through the site with our experienced project manager, who will instruct you on how to care for your new siding and use the warranty if necessary.
When deciding to reside in your home, the options may seem overwhelming, and you may not know where to begin. We are just one call away from helping you to achieve the home you've always dreamed of!