Everlast Composite Siding in Houston
Meet the newest member of our impressive collection of man-made siding for your home in Houston: Everlast siding. Introduced in 2009, it is produced by Chelsea Building Products, a Pennsylvania-based company established in 1975 that is the leading manufacturer of extruded building products in the US.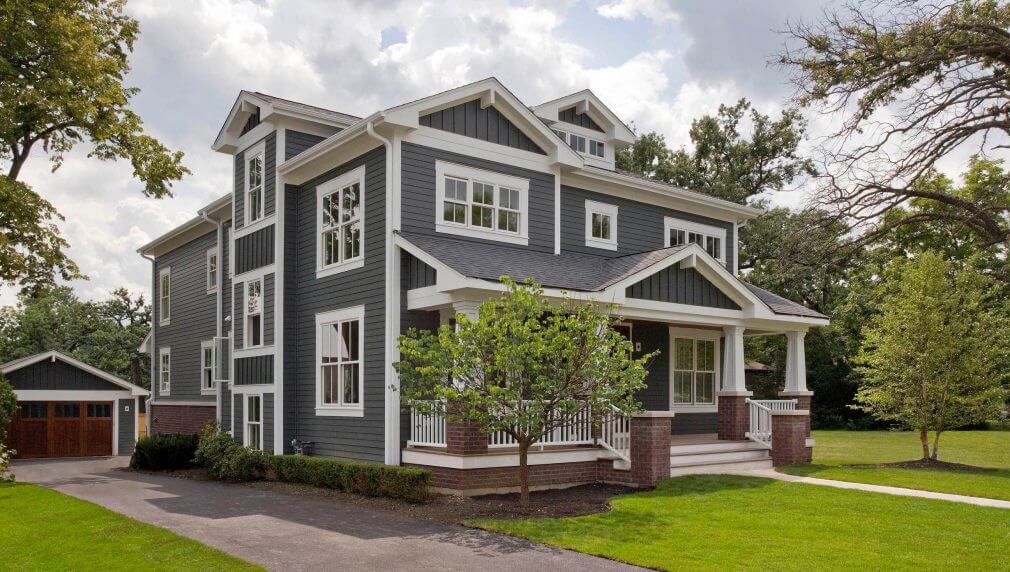 Everlast composite siding has a lot going for it – good looks, great price, and unparalleled durability. The most advanced composite siding on the market, it is made with a combination of crushed rock, polymer resins, and acrylic colorants, which are combined to produce cellular PVC, the most durable siding material you can purchase for your home.
No siding is better for Houston's humid subtropical climate than Everlast composite siding. It will also boost your home's curb appeal and resale value. It even comes with a "Length of Ownership" warranty, good for as long as you live in your home.
Pros and Cons of Everlast Siding
There are so many reasons to choose Everlast siding for your home in Houston! Here are some of them:
Weatherproof. The ability to withstand high winds, hail, and flying debris.
Highly durable. It does not warp or crack, 543% thicker than average vinyl siding.
CedarTouch Finish® makes it the most UV-resistant option on the market.
Water-resistant. It doesn't absorb water, making it impermeable – it will never swell, bow, split, or rot.
Pests-resistant to wood-boring insects and other pests.
Maintenance-free. There is no need for it to be sanded or scraped. It does not require painting.
Curve appeal. Everlast siding has a realistic wood grain texture.
Easy installation. It weighs less than fiber cement siding and requires no special tools or caulking.
Approved by the Texas Department of Insurance, making it ideal for Houston residents.
Lifetime warranty by the manufacturer against color change, cracking, corroding, flaking, and peeling, with a 100% replacement guarantee.
While it offers many advantages, there are a few cons when deciding to use Everlast siding:
With only 15 color options, it has fewer color sections than other siding materials.
It has a limited choice of profiles, available only in lap siding planks, and board and batten.
Not as eco-friendly because it is man-made and uses petroleum-based products and polymers.
Costs are relatively more than some other siding installation options.
Everlast Siding Styles and Colors
The siding's surface is made from a highly durable and fade-resistant acrylic colorant layer that is chemically bonded to the substrate. The planks and panels are embossed with CedarTouch Finish® finish, an imprint of a rough-sawn genuine cedar, resulting in siding that is authentic-looking and UV-resistant.

Everlast siding's lap siding planks are available in 15 different shades, and its vertical board and batten have 10 colors to choose from, all specifically curated to complement any type of architecture, from traditional to modern. The Everlast color-matched trim collection is made from the same proprietary materials and colors as its siding. 
Because this siding is composed of capstock, a hybrid of two material types with an exterior layer of vinyl PVC, it boasts long-term fade resistance and color retention. Unlike other types of materials, you do not need to repaint or stain it.
Everlast siding is available in 3 choices of styles and sizes:
4.5" x 12' horizontal clapboard.
7" x 12' horizontal clapboard.
11" vertical board and batten farmhouse-style.
The three color-coordinating accessory parts include a 3-1/2″ outside corner post, a 3-1/2″ lineal, and a 1-1/2″ J-channel. These coordinate with the siding profiles in all available colors.
Does Everlast Siding Rot?
Everlast siding's primary ingredient is stone. Whereas wood-based siding absorbs water and, therefore, can be susceptible to rot, Everlast siding is made without any wood or wood byproducts. As a result, it will not rot.
This type of siding does not require repainting to keep it looking fresh. However, if you wish to change your siding's color, it is possible to paint over the existing one without sacrificing its moisture and pest-resistant qualities. We suggest using an exterior acrylic latex primer and paint.
There are two caveats to painting your Everlast siding yourself: it voids the lifetime warranty, and it can diminish the genuine-looking wood grain texture.
How Much Does the Everlast Siding Cost?
Because it's half the weight of fiber cement, Everlast composite siding is easy to install. There is no need for special tools, and very little dust is created during the process.
When it comes to Everlast siding installation, it is important to choose a trusted professional contractor. If the siding is not installed correctly from the start, it may affect your warranty and result in costly defects and damage to the integrity of your home.
Everlast Siding is well-priced and affordable at $12.50 to $14.00 per sq. ft., including installation. The cost for siding on an average 2000 sq. ft. home would therefore range from $25,000 to $28,000.
Why Hire Us as Your Siding Contractor?
When you make an important investment, such as installing new siding on your house, you want to work with only the best siding contractors in the industry; otherwise, you might end up with costly repairs down the road.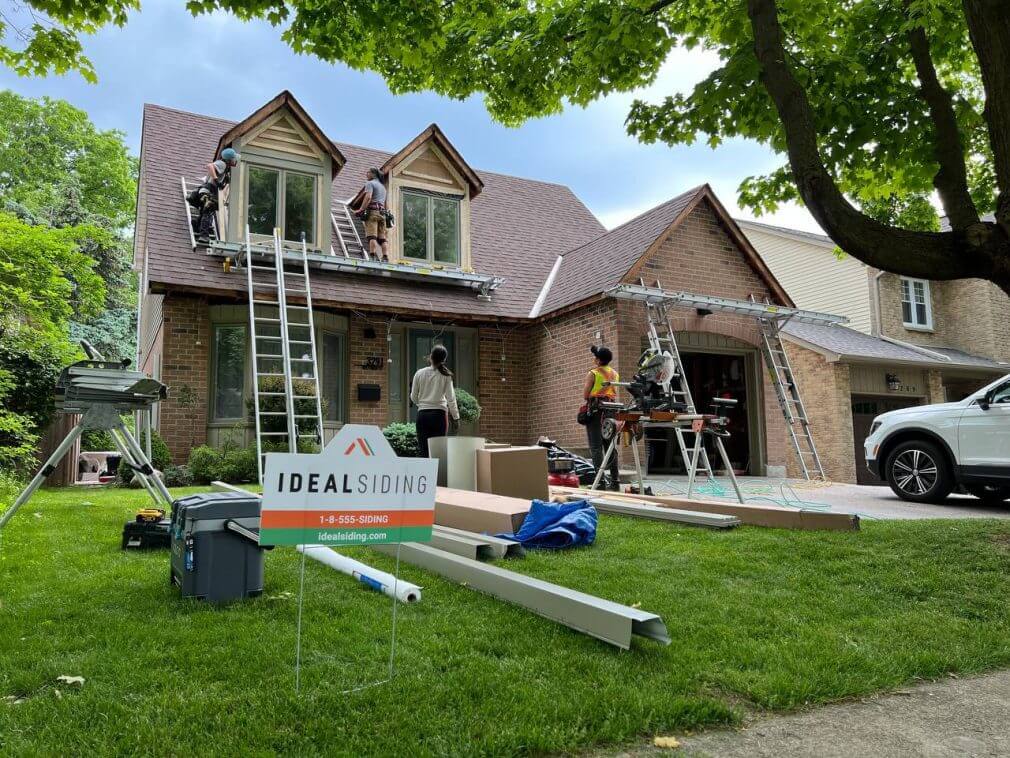 We offer a complete siding service, starting with a free quote. Here are a few more reasons why you should use us as your trusted siding contractor:
Price match guarantee. Ideal Siding offers high-quality service along with a price match guarantee on all projects for the same scope of work. All you need to do is show us a competitor's itemized quote, and we'll match it, no questions asked.
25-year workmanship warranty. Everlast offers a best-in-category Limited Lifetime Warranty to the original owner with a 100% replacement guarantee against excessive color change, peeling, flaking, cracking, rusting, blistering and corroding. If you sell your home, the warranty may be transferred to the new owner as a fifty-year prorated warranty. On top of this, we give you a 25-year warranty on installation defects by Ideal Siding.
Complimentary visual renderings for your house. We offer a complimentary mock-up of your home showing the siding you selected, giving you the opportunity to visualize how your home will look, and make adjustments if needed before you sign any papers.
You will get no better result than using Ideal Siding to install your Everlast siding, whether your project is a new home or a renovation. That's our specialty, so no wonder we're good at it! We have the top crews in the industry and work with the most reputable suppliers and contractors in Houston, TX.
Ready to get your FREE no-obligation quote or have questions about our services? Please call one of these numbers to talk to one of our project managers:

+1 (346) 258-7188
+1-8-555-SIDING

Or e-mail us at info@idealsiding.com

We offer Everlast siding with a 25-year Workmanship Warranty and a Price Match Guarantee.