Cedar Siding in Seattle
Are you looking for siding installation ideas to use for your home exteriors in Seattle? Cedar siding is a fantastic choice. Wood provides a timeless, natural appearance that remains attractive throughout the year. This is the best option if you want your home to have a rustic feel.
We've put together this guide to help you learn about cedarwood siding for your house's facade.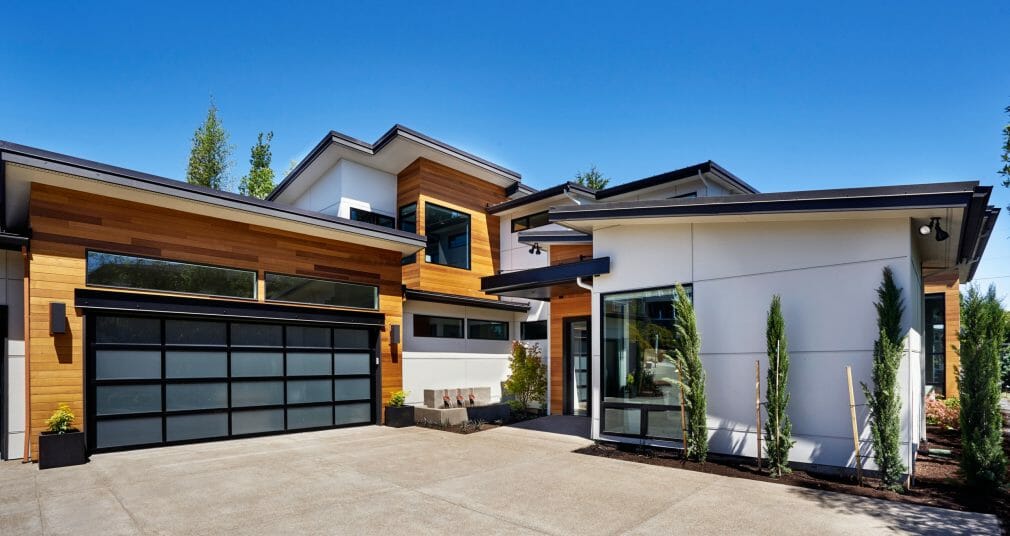 Let's talk about the basics first. What is cedarwood, and how is cedarwood siding made? Cedar is a coniferous softwood that is perfect for home decor. It is often used for siding, decking, and fencing all around the house.
Some varieties of cedarwood can even be used to make dressers and cabinets because of their pleasant smell and natural insect-repelling properties.
Pros and Cons of Cedar Siding
Cedar siding is best known for its fantastic combination of durability and aesthetic appeal. It is often used for outdoor walls and other external applications.
Listed below are the characteristics and many benefits of cedar wood:
Ease of installation. It is easy to cut and shape wood.
Appearance. Cedar is an appealing wood variation with beautiful reddish color tones and a superb finish when stained and treated. It looks fantastic when applied on siding and roofs because of its consistent grain.
Temperature resistance. Cedar is a suitable wood material for siding, roofing, and other external purposes. Cedar can withstand extreme weather conditions—it is even used to build boats!
Moist. Cedar contains a healthy amount of moisture, so it can be used at any altitude. As a result, it's less likely to break or distort.
Durable. Cedar contains oils and chemicals that prevent fungi from growing. Cedarwood is also a natural bug repellent, so insects avoid the wood. Using a natural or clear sealer is an excellent approach to keep wood siding in good condition.
Longevity. Cedar siding can last between 20 and 40 years after installation. Untreated cedar siding may change color over time, giving it a significantly rougher appearance than stained cedar wood siding.
Many price options. There are a lot of cedar siding choices available, depending on your budget. There are many species in the cedarwood family, and they have different costs. You'll be able to find cedarwood at various price levels in the current market.
Any wood siding must be well maintained to achieve its optimum lifespan, with a few planks needing to be replaced after only 10 to 15 years.
Despite all its benefits cedar siding is not perfect. Here are a few disadvantages of choosing this type of siding for your home in Seattle:
Hard to identify. It can be difficult to differentiate between real and fake cedarwood. If you are not familiar with woodwork, you may not know if you are getting your money's worth. To avoid this, hire licensed, trustworthy, and well-regarded suppliers and contractors.
Flammable. Cedar is combustible, just like any other wood. The presence of natural oils in the wood is the primary cause of its flammability. But don't worry, you can easily address this by using specially treated cedarwood, which is less flammable. Discuss your options with your supplier or contractor.
Sensitive. Cedar siding is made of delicate wood that can scratch or dent relatively easily. This is why cedarwood wood is not recommended as flooring. Cedar also reacts to iron, so you must avoid using iron nails for cedar siding installation.
Any type of wood siding needs maintenance. Because cedarwood is a softwood, it may require frequent upkeep. According to experts, if you use cedarwood for siding, roofing, or other external use, you should maintain it every 3 to 5 years. Well-maintained cedar siding can last 20 to 40 years.
Types of Cedar Siding
Those who prefer cedar siding for their house have an immense selection. We can offer you many styles of cedar siding, unlike other companies, namely:
Bevel. Also known as bevel lap, this type of siding is made by resawing lumber at an angle to create two pieces, one edge thicker than the other. Its pattern features a triangular design with a thick bottom and a narrow upper edge. It is more commonly installed in a horizontal pattern.
Clapboard. Clapboard is laid horizontally on external walls in long, narrow boards, often overlapping. Several species of cedarwood can be used to make clapboard wood siding.
Log. It is also called a log cabin because its thick panels resemble one. Cedar is an excellent material for country cottages, cabins, pool houses, and similar structures.
Shiplap. This can be used in home exteriors and interiors alike. It is flexible and can be arranged horizontally or vertically, depending on your preference. Shiplap has a rustic-meets-modern appearance that quickly transforms a space from drab to pleasant.
Tongue and Groove. This siding can be arranged vertically, horizontally, or diagonally in exterior and interior spaces. Common uses include ceilings, siding, cladding, and accent walls.
Board & Batten. Cedar board and batten cedar siding has a vertical design in which wide clear or knotty cedar wood planks are spaced apart, and the joints are concealed with smaller boards. Its layered look and geometric style can significantly elevate a space. There are no standard widths; instead, different combinations create a range of looks for large and small applications alike.
Wavy Bevel. Also called wavy edge or live edge, this type of siding consists of a natural log edge that has not been cut into a straight line.
Shingles. Cedar shingles give a smooth, consistent appearance across the entire roof surface. They are sometimes left natural, but they are more commonly painted or stained. Some shingle subtypes include pattern, round edge, staggered, and straight edge.
Shakes. Shakes provide a rougher appearance than shingles because each piece is slightly different. They are more substantial and thicker than shingles and constructed from high-grade wood. Thus, they are often more durable and last much longer.
The presence or absence of spots and knots in the field of wood grain allows us to classify cedar siding as follows: class A, class AB, class B, class C, STK.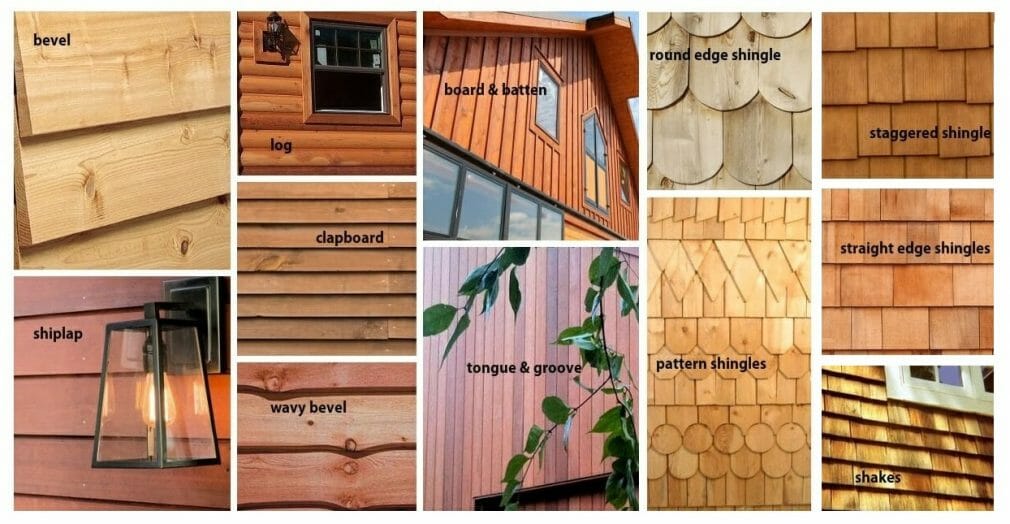 Cedar Siding Installation
Once you have decided on your preferred color and pattern, cedar siding contractors can begin the installation.
Here's a quick rundown of what cedar siding installation with Ideal Siding looks like:
Dismantling of your old siding.
Checking for damage and implementing repairs (if needed).
Attachment of wall protections (building papers, rain screens, and insulation).
Installation of sliding with flashings, dryer vents, light fixture boxes, bug screens, soffits, trim boards, overlap corners, and other decorative elements.
Cleaning of the construction area.
Inspection by the project manager and client.
Our project managers at Ideal Siding will assist you throughout the entire process. They will remain in constant communication and gladly answer any questions you may have. This is how we make sure you're confident in your decisions every step of the way.
Get the Best Contractor for the Job
Even a minor error in a single step of the siding installation process will lead to undesirable results and a lot of wasted money. This is why hiring a licensed wood siding contractor whose team is well-experienced and trusted in the industry is crucial.
If you are living within or near Seattle, look no further! Ideal Sliding is one of the best and fastest-growing siding companies in North America. We work hard to make sure that all of our customers are always satisfied with our work.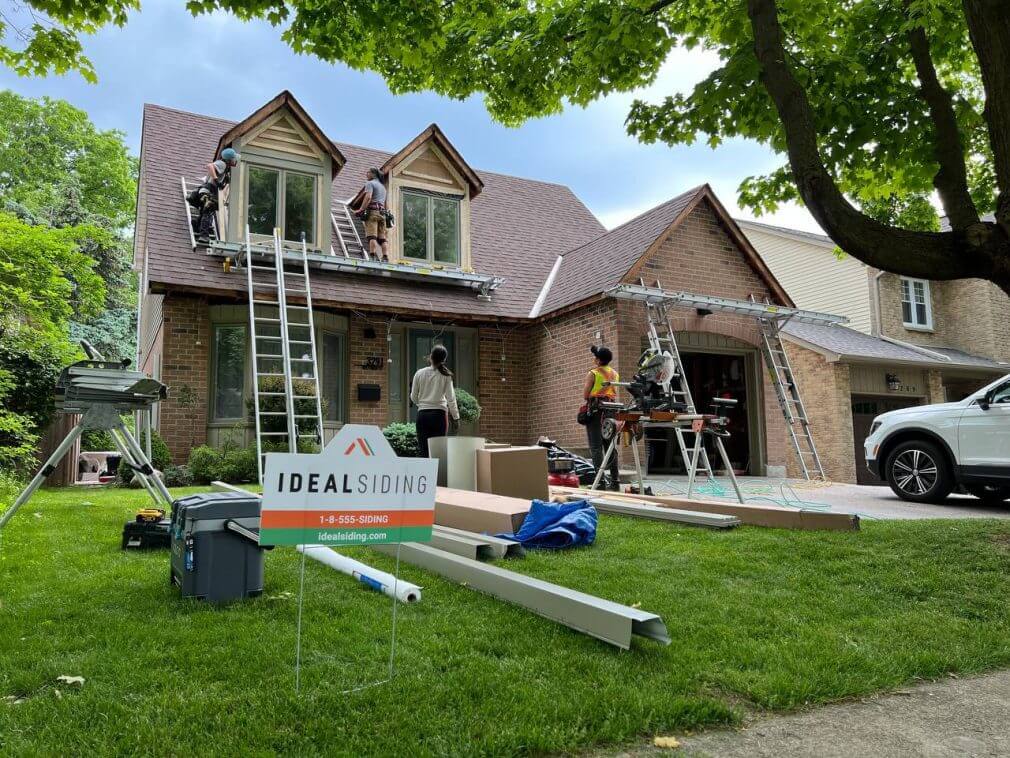 Ideal Siding is the most experienced contractor in cedar siding in Seattle, with more than 500 projects completed! We have professional crews with decades of experience in every aspect of siding installation.
We will be happy to answer any questions you may have about our services. Feel free to contact us if you would like a walk-through of the installation process.
Ready to get your FREE no-obligation quote or have questions about our services? Please call one of these numbers to talk to one of our project managers:

+1 (253) 785-3775
+1-8-555-SIDING

Or e-mail us at info@idealsiding.com

We offer cedar siding with a 25-year Workmanship Warranty and a Price Match Guarantee.