James Hardie Siding in Dallas
When installing new siding on your home, fiber cement is a natural choice. It's valued for its high visual appeal and ability to withstand any climatic conditions and resist moisture and insect damage.
James Hardie invented fiber cement technology in the mid-1980s, and it now protects and enhances over 8 million homes across the USA.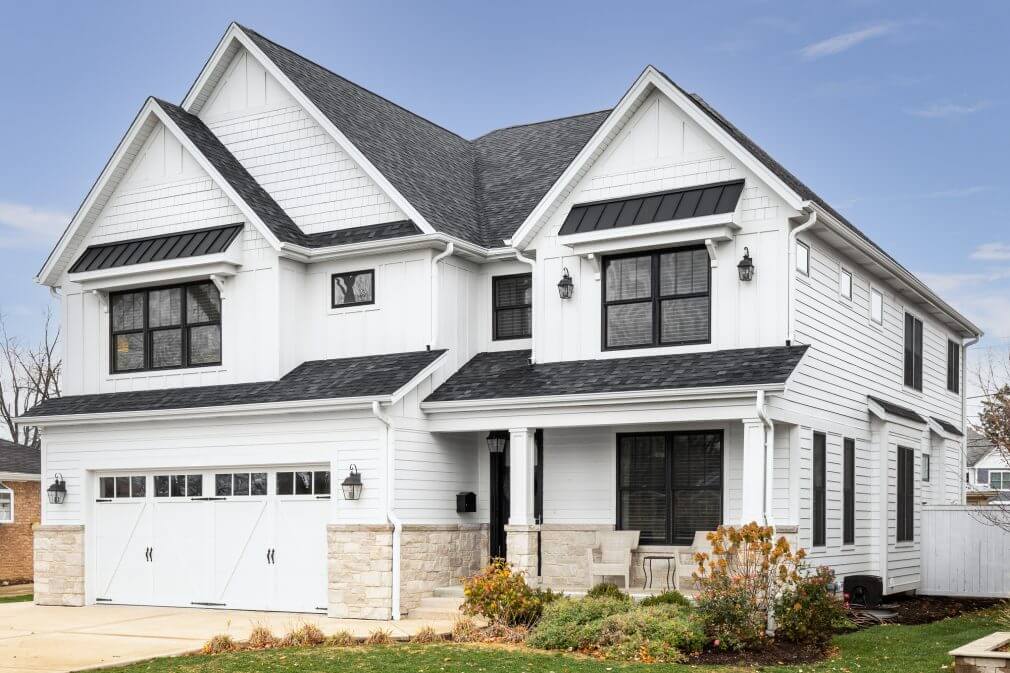 Unsurprisingly, James Hardie products are the most trusted on the market, valued for their aesthetic appeal, as well as their strength and durability.  In addition, an unrivaled 30-year non-prorated warranty confirms its position as the industry leader in fiber cement siding and trimmings.
How is Fiber Cement manufactured?
Fiber cement is made by mixing Portland cement, sand, and water and then compressing them with cellulose fibers to reinforce and strengthen the end product. During manufacture, the front-facing side of the board is given the required texture and finish.
Siding comes pre-primed or finished in 23 colors using James Hardie's exclusive ColorPlus technology. This process optimizes adhesion to provide shades that will last for years without fading and require little or no maintenance.
Pros and Cons of James Hardie Siding
There are many reasons to choose James Hardie fiber cement siding over the alternatives. These include:
It's low-maintenance. Made from long-lasting and robust fiber cement suitable for residential and commercial structures, Hardie siding is primed with a 100% acrylic primer at the factory.
The proprietary ColorPlus pre-finishing typically lasts three to four times longer than paint applied on-site. An occasional wash-down with a mild soap solution is all required to keep the siding looking as good as new.
Durability. At around 0.5" thick, James Hardie siding is approximately ten times thicker than vinyl siding. This means it is more robust and will last longer than alternatives in a similar price range – as the 30-year warranty attests.
It withstands environmental hazards, including water, UV, insect attack, and fire damage. That's because the mix of materials makes the siding less vulnerable than other types of siding constructed from a single material, such as natural wood. In addition, it's resistant to fungus or algae.
Resistant to heat damage. Texan summer heat waves or even wildfires bring with them the risk that vinyl siding could soften and distort, or wood siding could burn. However, James Hardie fiber cement siding can withstand significant heat and humidity. This avoids the repair costs associated with vinyl or wood siding and keeps your home looking great – even through the hottest summers.
It's easy to achieve the look you want for your home. Because it's thicker than other options, James Hardie Fiber cement is available in a wide range of textures – from sleek, contemporary finishes to cozy cottage styles. And with a wide range of colors to choose from, it's easy to coordinate the color of your siding with the style of your home. Whichever palette you select, it's available in pre-primed or completed shades.
UV resistant. Prolonged exposure to sunlight won't affect the color or condition of the siding. That's why, when it comes to James Hardie siding, Dallas homeowners know it pays to invest in a product that won't fade or peel.
Industry-leading warranties. With correct installation, finishing, and maintenance, James Hardie fiber cement siding is guaranteed against deterioration for 30 years.
Made in the USA. James Hardie siding is manufactured to the highest standards in Texas, not imported from halfway across the globe.
What are the cons of James Hardie siding? Well, there are a couple of things to consider. Hardie siding can be slightly more expensive than vinyl for material and installation. However, it is less costly than brick, synthetic stucco, and some types of wood siding. It also pays to think long term and consider the savings on maintenance, repairs, and potentially early replacement of the alternatives.
Also, James Hardie siding must be installed correctly (as per the manufacturer's guidelines) because mistakes are expensive to correct once it's in place. Faulty installation can also void the product warranty. Therefore, it is essential to choose an experienced Hardie siding contractor in Dallas that you can trust to get it right the first time.
Types of James Hardie Siding
James Hardie siding comes in three types to complement all styles of property.
HardiePlank® Lap Siding. The most popular option is chosen by around four out of five homeowners. Available in a range of colors and textures, factory-primed fiber cement planks are typically used for horizontal lap siding sections. HardiePlank lap siding is available in 12 ft. lengths. It's 5/16th of an inch thick and available in 6 widths: 5.25″, 6.25″, 7.25″, 8.25″, 9.25″, and 12″, depending on the look you want to achieve.
HardiePanel® Vertical Siding. These panels are ideal for sleek, contemporary designs. The clean lines help draw the eye to interesting architectural details on any property. Panels come in various colors and textures, smooth and cedarmill, and in three sizes: 4' x 8', 4' x 9', and 4' x 10'.
HardieShingle® Siding. Shingles are a fantastic way to attract attention to specific home areas, adding warmth, charm, and elegance. They also allow homeowners to create a unique look for their property, as they're available in an extensive range of colors, sizes, textures, and shapes. The standard size is 48″ x 16″, but shingles are also available in smaller widths ranging from 4.2″ to 10″.
The diagram below shows what these products' installation look like on the finished house: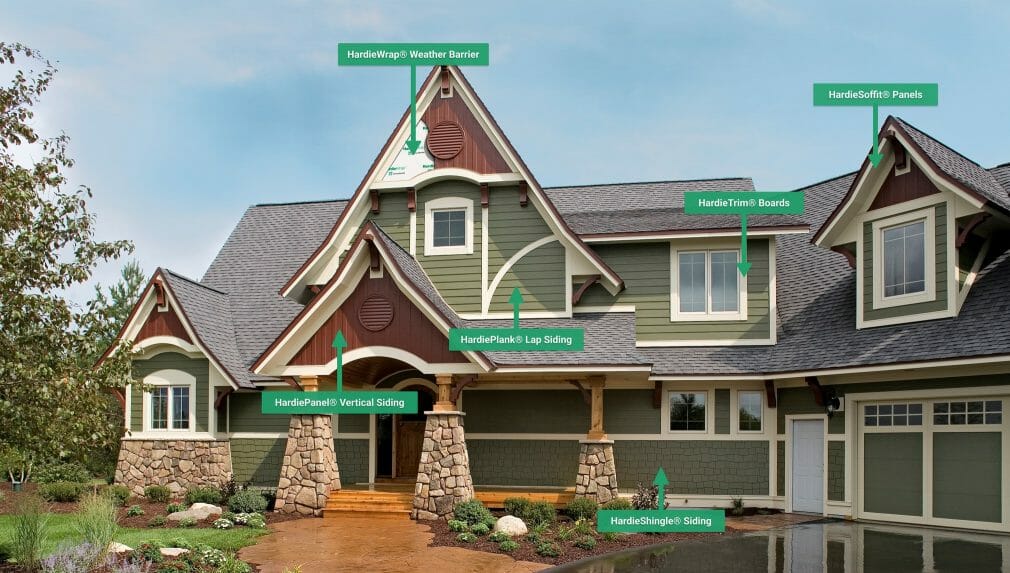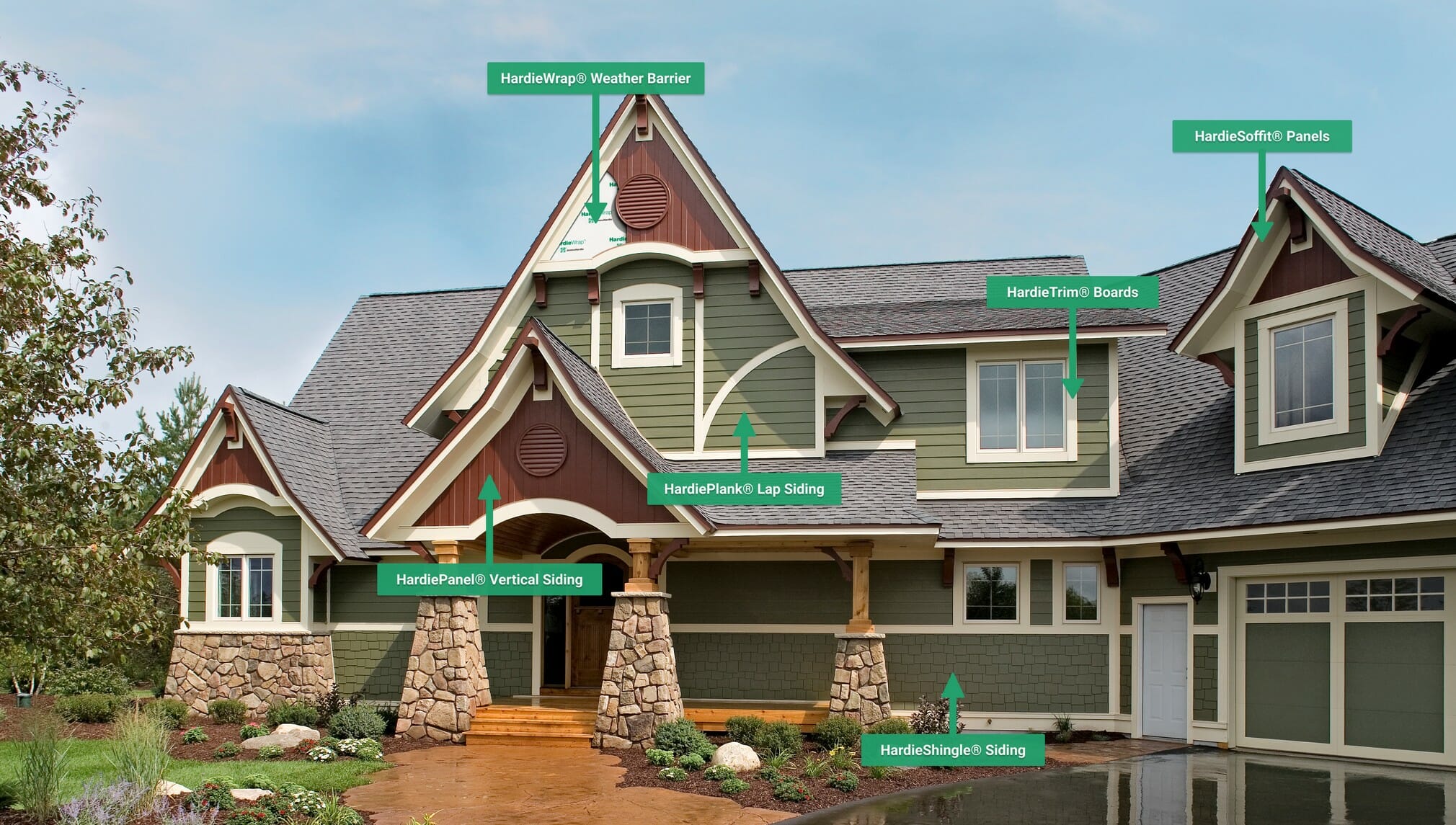 ColorPlus® Technology
Fiber cement materials from James Hardie feature unique ColorPlus technology. This patented finish optimizes adhesion to ensure a durable, low-maintenance solution.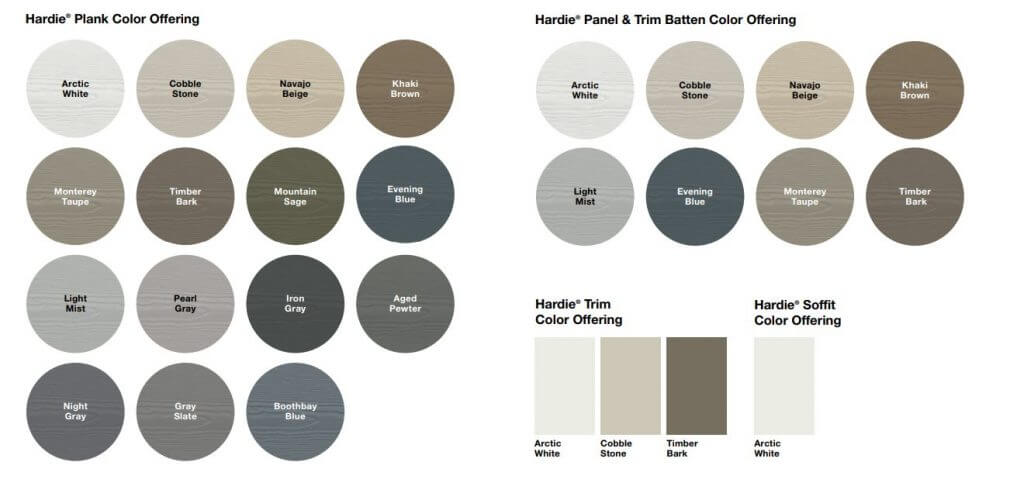 How does it work? The ColorPlus material is applied in several coats and then cured in a controlled environment, creating a powerful bond between each coat and the surface of the Hardie siding. The combined fiber cement with baked-on finish results in durable, lower maintenance finishes with enhanced fade resistance.
This process eliminates worries about chipping, cracking, or peeling, even after years. In addition, ColorPlus technology ensures that your siding will resist color-fading due to high levels of UV exposure here in Dallas.
Another pro is that ColorPlus siding typically requires virtually no care and maintenance – just wash down with soapy water from time to time to remove any debris – no need to pressure wash. And while most siding typically needs repainting within 7-10 years, all ColorPlus products come with a 15-year no peel, chip, and fade warranty!
And the cons? For some homeowners, the slightly higher upfront costs may be a concern. But if you're looking for a top-quality siding product from the industry leader that will outlast any alternative by years – James Hardie ColorPlus siding is worth your investment.
Choose the Right Contractor in Dallas
While Hardie siding can transform the exterior of your home and enhance its curb appeal, it has to be done right. Faulty installation could result in severe damage to the siding materials, void your warranties and cost you time, money, and hassle.
That's why, for James Hardie siding, Dallas homeowners prefer to work with qualified contractors with extensive experience installing fiber cement sidings on properties of all kinds. And who understand the specific environmental conditions homeowners in Texas face.
Get the work done right the first time and contact Ideal Siding. We're the most trusted James Hardie siding contractors here in Dallas. We'll make the process easy for you.
To ensure you create the look you want for your home and your siding will last virtually maintenance-free for up to 30 years, we'll:
Work with you to design a look that reflects your taste and the unique architectural features of your home. We'll create a visual mock-up to ensure the result will be precisely what you want.
Carry out the installation professionally and promptly, in line with industry standards and best practices.
Fit in with your schedule so that the renovation process is as easy and hassle-free for you as possible.
We value our reputation with the local community above all else. So our work will be nothing less than perfect – as the manufacturer's warranty requires.
If you're considering upgrading your home's curb appeal and increasing the value of your property, why wait any longer?
For James Hardie siding installation, Dallas homeowners trust us to deliver the best results and the best value. So call us now for a free estimate for your siding installation!
Call us to request a free estimation:
+1 (682) 688-9923
+1-8-555-SIDING

Or send an e-mail: info@idealsiding.com

We offer James Hardie siding with a 25-year Workmanship Warranty and Price Match Guarantee.