James Hardie Siding in Seattle
James Hardie® fiber cement siding is engineered to stand up to the elements, and stand out in your neighborhood in Seattle. Their products installation graces the sides of more than 8 million homes across North America.
Invented more than a century ago, this type of fiber cement siding was originally used as the outer covering of the house to make it able to withstand extreme climatic conditions while preserving the beauty of the building itself.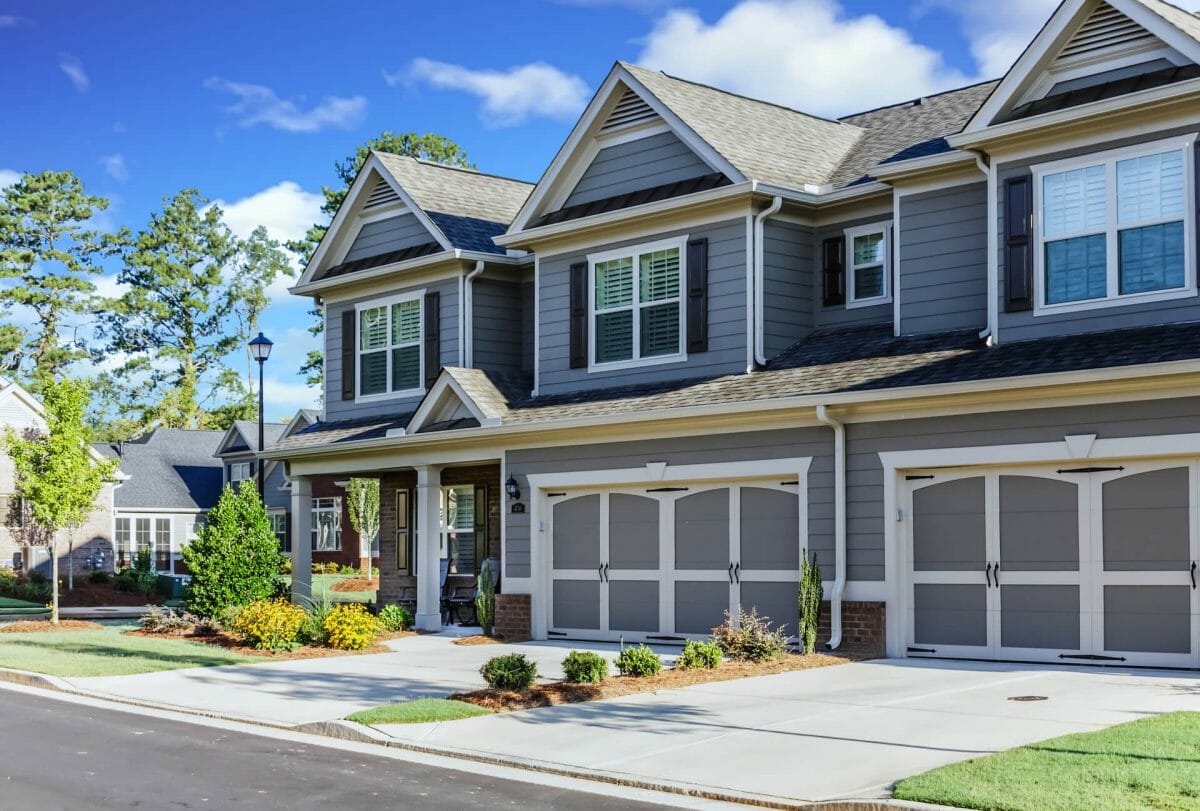 Stylishly designed and expertly manufactured, James Hardie fiber cement siding is built to outlast any other type of siding available on the market today.
What Is Fiber Cement?
Fiber cement is a long-lasting material with a high overall value. It is made up of Portland cement, sand, water, and cellulose fibers. The exact composition varies depending on the manufacturer. James Hardie incorporates additives that improve the product's overall efficacy and durability.
Compression is achieved with concrete, with cellulose fibers as a reinforcing filler. As a result, the siding is long-lasting and free of harmful chemicals. The front side of the board can have an entirely different texture and finish.
Pros and Cons of James Hardie Siding
James Hardie materials are designed to withstand the rigors of any particular climate. With the right installation, they are meant to last for decades, potentially saving you a lot of time and money for repairs and maintenance.
It has the following advantages over traditional siding materials like wood and vinyl:
Low maintenance. It is made with long-lasting and robust material utilized for residential and commercial structures.
Impact-resistant. It is designed to withstand moisture and rot damage. It holds up against environmental dangers such as rain, sleet, snow, water, rust, fire, and insect damage.
Heat resistant. Heat waves or fires in the summer can quickly melt or burn vinyl or wood siding, unlike fiber cement siding. It is designed to survive extreme heat, so it will save you money on repairs and preserve the house's appearance regardless of the harsh weather.
Heat insulation. It has excellent thermal insulation qualities. Additional layers can also be installed between the house walls and panels.
UV resistant. Exposure to sunlight does not change the color or quality of the siding.
Corrosion-resistant. James Hardie siding is not subject to rust, decay, fungus, or bacteria.
Long-lasting. Compared to other siding options, fiber cements siding lasts far longer because it is substantially thicker. You can anticipate James Hardie to keep its original appearance for up to ten years!
Blend with existing styles. There are many colors and textures to choose from. It is easy to match with existing schemes or aesthetics because it is available in various pre-primed or completed hues, including dark, neutral, warm, cool, light, and fresh palettes.
While James Hardie siding has many benefits, there are also a few disadvantages:
Price. This type of siding is a little more expensive than vinyl siding.
Professionals needed. Installation and maintenance require experienced contractors.
In terms of price, James Hardie siding costs about the same or less than hardboard or composite siding, but it is more expensive than vinyl. It is also less costly than brick, synthetic stucco, and a few types of wood siding.
ColorPlus Technology
Fiber cement materials from James Hardie feature ColorPlus Technology, a patented finish that optimizes adhesion for a low-maintenance solution.
ColorPlus Technology is designed to resist UV radiation, ensuring that your color choice is maintained for long periods. These products resist fading, chipping, and cracking, requiring less care and maintenance on your part.
Note: ColorPlus products also have a 15-year limited warranty!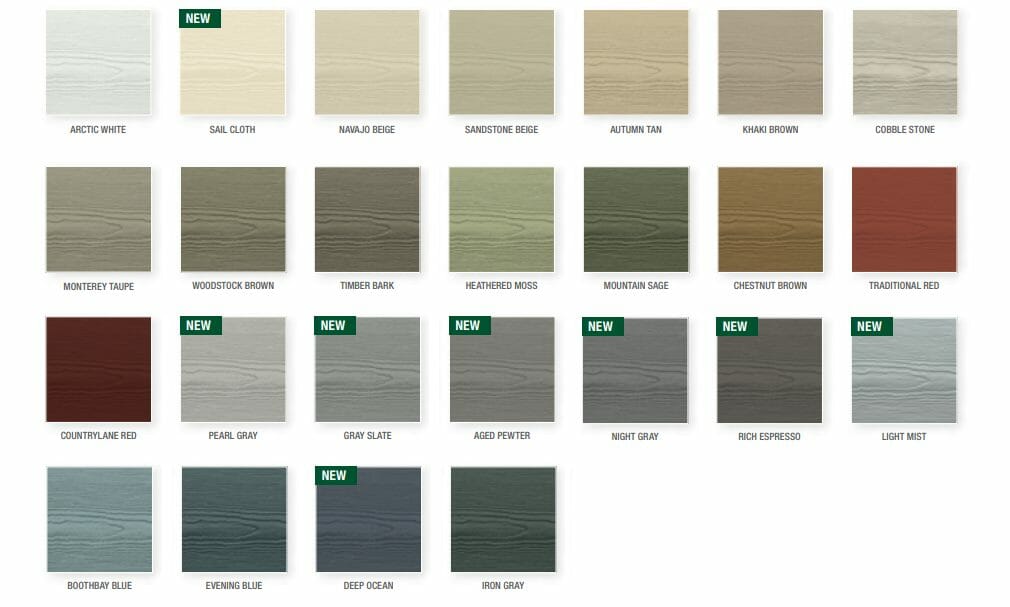 Types of James Hardie Siding
Your choice of siding significantly impacts how your home resists various climates. It also affects your home's overall aesthetic, character, and value.
There are numerous materials and siding styles from which you can pick. Here are three of the most common options.
Hardie® Plank Lap Siding. Last year we refurbished an average of 80% of houses in the hardie plank style. This siding is 5/16 inches thick and has six different width options: 5.25 in, 6.25 in, 7.25 in, 8.25 in, 9.25 in, and 12 in. It installation is ideal for creating a classic, warm, and inviting look.
Hardie® Shingle Siding. This vertical type of siding is 5/16 inches thick with three different width options. Siding shingles are another popular siding choice, and depending on the materials used, they can have a variety of looks. Shingles are a great way to draw attention to specific areas of the structure while adding quality and contrast. They are great for making your property stand out, and adding warmth, charm, and elegance to your house's overall aesthetic.
Hardie® Panel Siding. These James Hardie panels are an excellent option for a modern look and offer a sleek design featuring some of the most innovative siding techniques in the industry. They provide an alternative contemporary style for a modern, minimalist, and elegant aesthetic. They can be either smooth or stucco/cedarmill texture and usually cut on-site to match the design you've chosen for your home. They help attract attention to the architectural details around them while providing clean lines for your house.
The diagram below shows what these products look like on the finished house.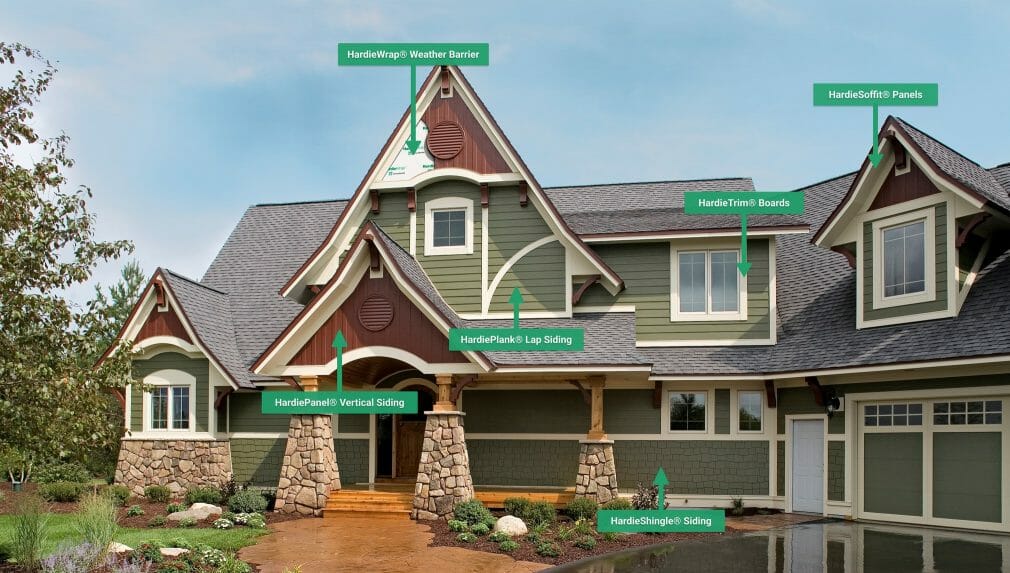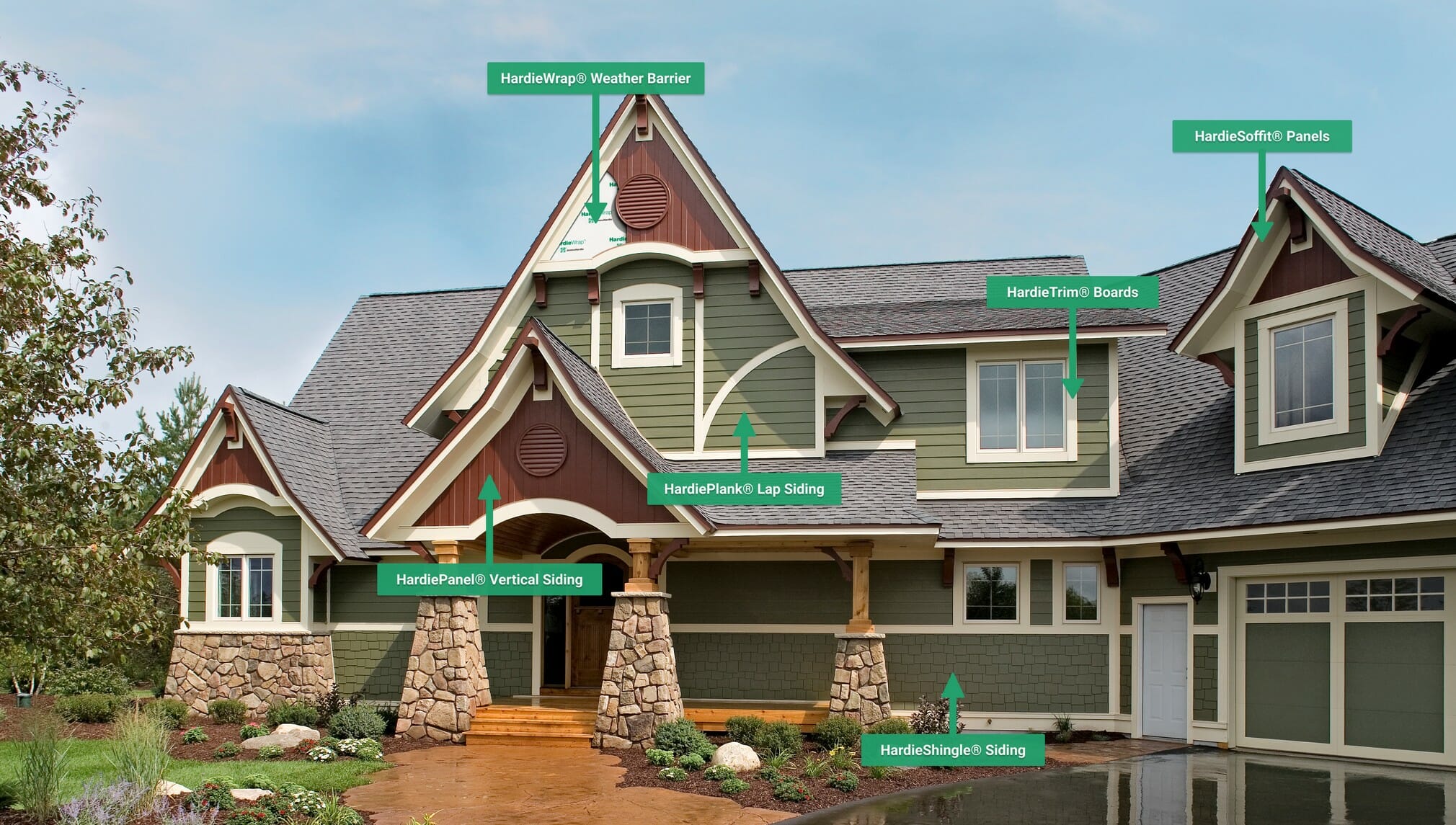 Frequently asked questions
How much does James Hardie installation cost?
James Hardie fiber cement is considered to be affordable, durable and an excellent choice for homeowners. It can be challenging to install, so hiring professional siding installers is key. Ideal Siding is a preferred James Hardie siding installer and we guarantee that the work will be performed professionally and comprehensively. Our crews will do the job on time and fully comply with the manufacturers' instructions. To give you an idea of pricing for a typical Hardie project, it starts at $9-10 per sq foot, bringing the total amount for a 2000 sq. ft. house to around $18,000 – $21,000.
Do termites eat Hardie siding?
Hardie Board Siding is made from a combination of cement, sand and cellulose fibers so it is termite resistant. The presence of cement prevents the termites from chewing through and accessing the nutrients they require, so it's not the most attractive material for termites. It still needs to be cared for and maintained well because if it is neglected it can become damaged and decline in its quality, increasing the potential for pests. To maintain the Hardie Board it is recommended to wash/clean the siding regularly, and maintain gutters, spouting and drainage.
Can Hardie Siding Be Painted?
Yes, absolutely you can paint or stain it and it is relatively easy to do so. Hardie Siding already comes with a wide range of colours to choose from or primed ready to paint if you would like a very specific colour that we are not able to provide. Ideal Siding can offer a wide range of colour solutions and textures to install Hardie Fiber Cement siding on your house in Seattle.
Is the board impenetrable?
It is not completely bulletproof but it is extremely durable! Resistant to weather, termite and rot, it is also Class A fire rated!
Finding the Right Contractor in Seattle
James Hardie siding installation is a complex task that requires experienced, trained experts. To take full advantage of this siding and revitalize your home's appearance and increase its appeal, you must hire a qualified James Hardie siding contractor in Seattle to install it.
Poor installation could cause significant damage to the siding components, require repair, and cost you more money in the long run.
Here's a glance at what Ideal Siding offers:
We will create a plan and a visual mockup for the front of your house, considering your property's specific characteristics and features.
We will complete our installation task professionally and promptly, according to industry standards and best practices.
We will work within the agreed-upon schedule to make the renovation process as smooth and hassle-free as possible.
Ideal Siding is North America's fastest-growing siding firm. We have learned from years of experience to ensure the best installation results for our customers.
If you are looking for a supplier and contractor for James Hardie siding in Seattle, your search is over: Ideal Siding is one of the most trusted siding companies in Seattle. We're an Elite Preferred siding contractor and hold many of their excellence badges.
Ready to get your FREE no-obligation quote or have questions about our services? Please call one of these numbers to talk to one of our project managers:

+1 (253) 785-3775
+1-8-555-SIDING

Or e-mail us at info@idealsiding.com

We offer James Hardie siding with a 25-year Workmanship Warranty and a Price Match Guarantee.